If you have been living in the capital, then you know Delhi's bittersweet winter has become synonymous with breathing hazardous air that envelops the city every year during the cold months. For Delhiites, seeing the air quality going from 'very poor' to 'severe' has become a regular affair—especially during festivities, when the recorded poor AQI (air quality index) easily slips beyond 400. 
We say it's time to ditch the hazardous polluted Delhi air and soak in some warm, fresh air by making a quick trip to these homely abodes nestled around greenery and nature to help you with some much-needed 'lung cleansing' therapy.
1. Atali Ganga, Rishikesh, Uttarakhand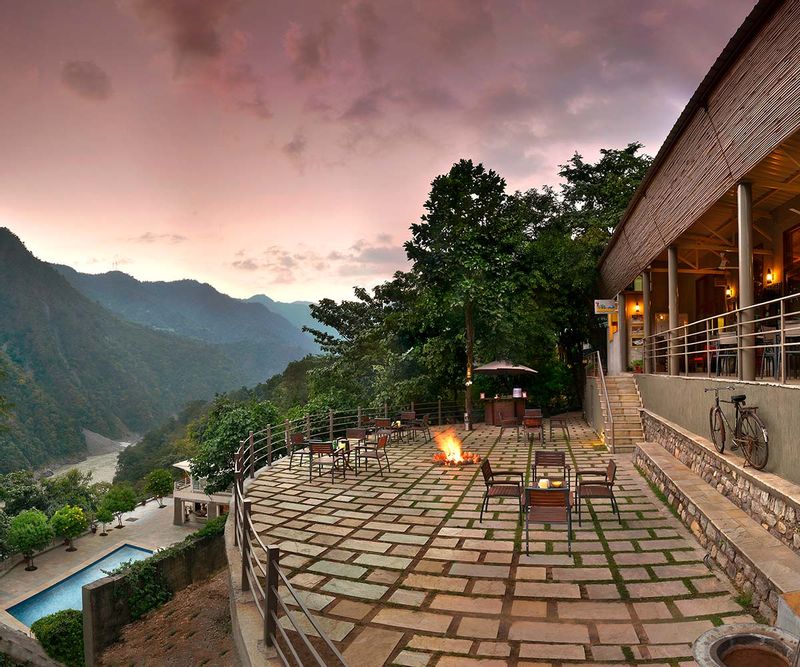 Conscious luxury travel is about putting people and the planet first—an utmost necessity during these times. Just 265 kilometres away from Delhi, Atali Ganga lies 30 kilometres north of the main Rishikesh town, comfortably avoiding the hordes of travellers that come for day trips and quick temple trails. It lies ensconced amidst the lower Himalayas, overlooking the green snaking river below, gushing down from the melted glaciers. A part of Rare India, which is a community of conscious luxury hotels and experiences, the quaint place is a hub of adventures, especially for those looking forth to nourish their soul with river rafting, wall climbing, mountain biking, camping, kayaking, and the 'Eskimo rolling' in the pool. What a sheer joy it must be to unwind and be in the company of nature! 
2. Noor Mahal, Karnal, Haryana
For anyone living in the capital, the boundaries of Karnal may seem like another Greater Noida or Surajkund in the making. However, those who are looking for a two- to three-hour getaway drive from Delhi can opt for this decadent royal experience in the district. With lush green fields surrounding the hotel and solace from the hustle-bustle of Delhi-NCR's traffic, you can feel the freshness in this palatial luxury hotel, Noor Mahal—which personifies the grandiose and elegance of a destination with its Rajputana and Mughal architecture. You can unwind here with walks around the hotel in the midst of beautiful palatial architecture, royal decor and gorgeous gardens. And if you're someone who likes to squeeze in an architectural landmark, this one-of-a-kind place is filled with rich antiques and artworks. 
3. Mary Budden Estate, Binsar, Uttarakhand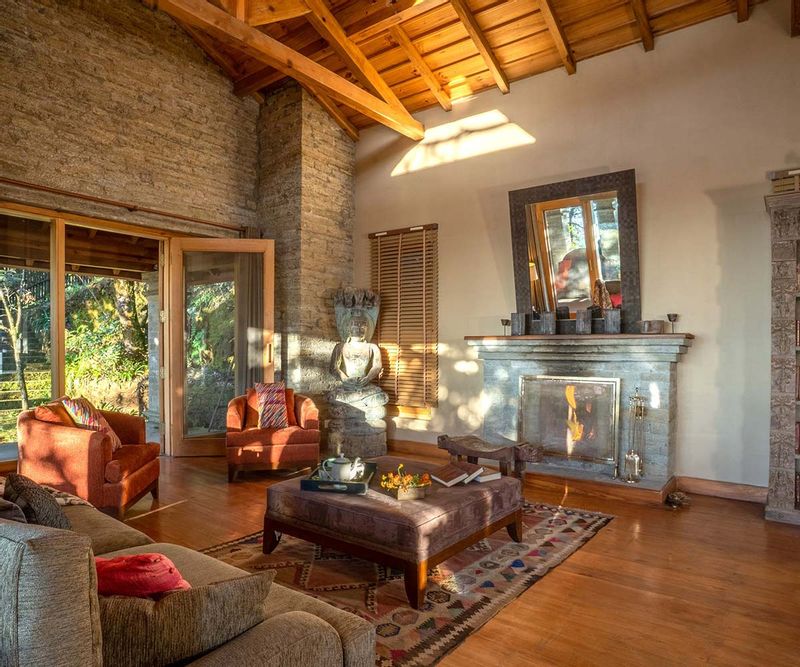 While Himachal Pradesh is always the first choice for mountain lovers, we say take a break from the usual places and explore one of Uttarakhand's best-kept secrets, Almora. Almora offers so much more than expected—stunning snow views, dense jungles, idyllic villages, rare temples, and clear rivers. A short uphill drive of about 45 minutes from the main road of Almora town (a nine-hour drive from Delhi) will take you to the beautiful Binsar Wildlife Sanctuary that nestles a space of awakening between the primaeval forests, i.e. the Mary Budden Estate. 
One of the most picturesque destinations in the Kumaon region, Binsar is unspoilt—protected by rolling valleys and mighty mountains letting you be amidst birds, tall trees and solitude.  A stay at the Mary Budden Estate means going beyond adventure and wildlife. Ideal for those who want to disconnect or go for a digital detox, the Estate is a sanctuary not just for the flora and fauna, but for the soul as well.
When here, trek to hidden villages, learn secrets of medicinal plants, and discover ancient temples; and after all these activities, rest your weary feet with a slumber on one of their cosy day beds with breathtaking views all around.
4. The Lodge at Wah, Palampur, Himachal Pradesh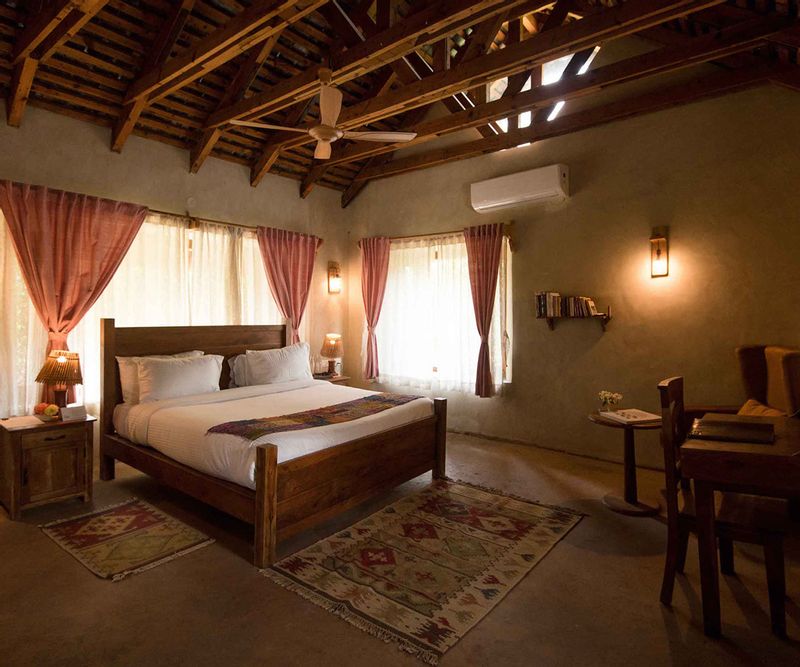 Another scenic place that you can bookmark from the Rare India community is The Lodge at Wah. For those looking for a sustainable, eco-friendly stay that too with an immersive tea experience, this property is a must as it lets you sit back and enjoy the beauty and greenery of the Dhauladhar range. The tranquil atmosphere that you can enjoy here away from the bustling tourist crowds of Mcleodganj and Dharamshala makes sure you are in nature's haven. Just a 10-hour drive from Delhi and about an hour from Dharamshala—the lodge is a charming, quaint homestay where you can cycle in the tea gardens, learn about the journey of tea leaves from the garden to your cup, try paragliding, or head off to a trek in the Kangra region. Better yet, if  'doing nothing' is on your agenda, then this is the perfect place.
5. Narendra Bhawan, Bikaner, Rajasthan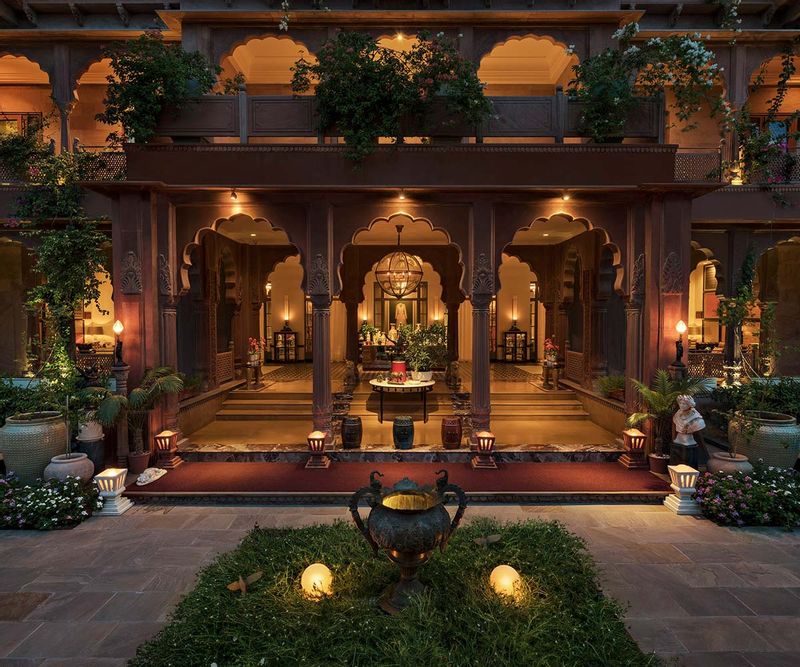 Weekend getaways to luxury hotels are in vogue again. Being away from the usual tourist hotspots is precisely what makes Bikaner a great escape from Delhi and even Mumbai. From Delhi, Bikaner is about an eight-hour drive away—with daily flights (takes about a one-and-a-half hour) available as well. Considering this is the best time to visit Bikaner, which enjoys the typical desert climate, people staying at Narendra Bhawan Bikaner will find themselves far away from the bustle of people in pristine settings that are almost biblical. Who wouldn't love to spend their leisure days at a heritage property that housed the last reigning Maharaja of Bikaner? Moreover, the property's art-deco inspired interiors lend to its charm even more. A decadent royal experience with avant-garde outdoor spaces, deep blue infinity pools, and plush courtyards makes this a calm sanctuary set apart from the hyperactivity of the city.
6. The Gateway Resort, Damdama Lake, Gurugram, Haryana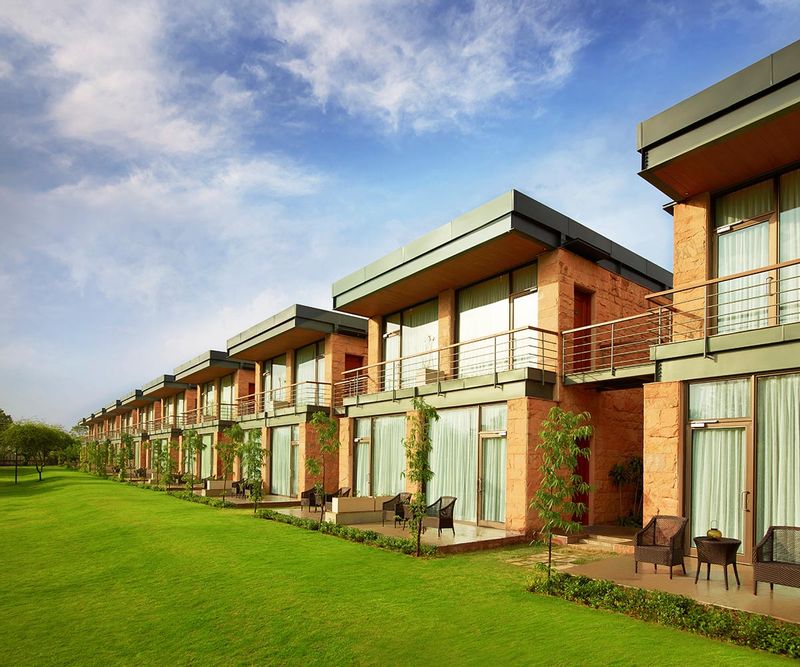 You might be thinking what is Gurugram doing on this travel list. Well, Gurugram houses a 3,000-acre man-made reservoir lake called Damdama, which is surrounded by hills. Situated 24 kilometres south of Gurugram, off the Gurugram-Alwar road—it's an hour's drive away from New Delhi and has a calm and peaceful vibe to it. Surrounded by the rocky Aravalli hills, this serene place makes for a surprising getaway to leave behind your hectic lifestyle and polluted air of the capital city. One of the finest options around—Gateway Resort Damdama Lake by Taj has a rustic, homely atmosphere nestled amid a lush environment. The architecture attempts to dissolve the literal boundaries of the building to integrate the inside and outside, so as to celebrate the natural surroundings. Consequently, the artwork—including scrap metal sculptures, embroidered and hand-painted textiles and studio ceramics—lends a similar experience by reflecting the essence of the natural habitat around. You can recharge your mind with a brisk walk through acres of lush greenery listening to a symphony conducted by migratory birds around, engage in extreme adventure sports facilities in the resort and beyond, or indulge in a morning of golf.
7. Neeralaya, Kullu, Himachal Pradesh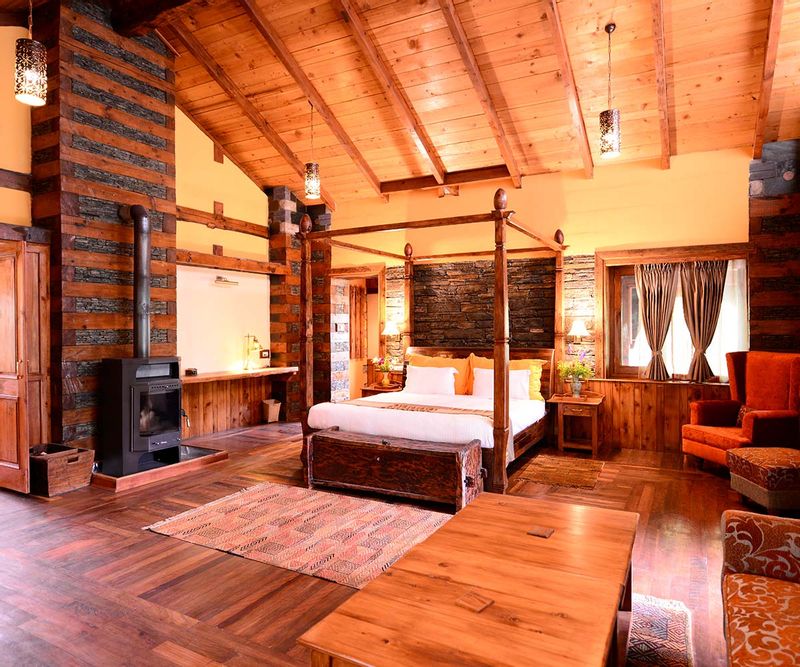 If you have dreamt of residing in a quaint 'little house by the river' ever since you were a kid, then it's time to live there in reality (at least for some time!). A 13-hour drive (or just a one hour flight) from Delhi, there's an idyllic riverside retreat spread within an orchard located on the banks of River Beas, close to Kullu-Manali, called Neeralaya. The place enjoys visitors looking for a long stay or a quick stopover when going to or coming from a Trans Himalayan journey across the Rohtang Pass into Spiti and Ladakh. The hum of the waters of the Beas is a constant soothing presence in this retreat. It is built using the traditional technique of timber bonded architecture of the Western Himalayas, with the villas made up of recycled timber from dismantled old homes. Away from the chaos of tourist-filled places, the retreat with its charming timber and stone cottages around tranquil but mesmerising views makes it one of the most heavenly places to visit during winters. 
---
Photo: Featured Brands