India is a country with a wide range of cultures, traditions, and topographies. India offers a wide variety of bike road trips that will astound every biker with its stunning mountains, enormous deserts, and picturesque coasts. In this post, we get you seven of India's most well-liked bike road trip locations in more detail, along with the ideal season to go.
1. Leh-Ladakh 
Leh-Ladakh, in the very north of India, is without a doubt one of the most difficult yet breathtaking places to visit in India on a bike. Every biker's dream location, the roads here are narrow, steep, and wind across high mountain passes. This location's attractiveness is greatly increased by the breathtaking views of the snow-capped Himalayas, deep valleys, and crystal-clear lakes. 
The greatest time to visit Leh-Ladakh is from June to September when the roads are open, and the weather is good. Bikers may see the breathtaking natural beauty of this area in full bloom during this time. Nonetheless, it is important to keep in mind that the area has a hard winter, making the winter months impassable.
2. Spiti Valley
Spiti Valley is the ideal road trip destination if you're seeking a once-in-a-lifetime experience. This secluded area, which is in the Himalayas of northern India, is untamed, wild, and breathtakingly beautiful. Even for experienced bikers, the gravel roads here wind past picturesque villages, high mountain passes, and small valleys.
June through September, when the weather is beautiful and the roads are open, is the ideal time to visit Spiti Valley if you're considering a biking road trip. Chandratal Lake, Key Monastery, and Kaza Hamlet are just a few of the breathtaking scenery options in the valley that bikers can discover during this time. It is important to keep in mind that the area gets extremely chilly and snowy throughout the winter, making travel impossible.
3. Manali to Leh
One of India's most well-known and iconic biking road trip locations is the route between Manali and Leh. The journey, which is almost 450 kilometres long, passes through some of the most breathtaking natural settings on Earth. Every biker's ideal destination, the route is filled with snow-capped mountains, deep valleys, and stunning rivers.
From June to September, when the roads are open and the weather is favourable, is the ideal time to ride this trip. Bikers can experience the region's breathtaking natural splendour during this time, including Rohtang Pass, Keylong, and Sarchu. It is important to keep in mind, nevertheless, that the path is impassable during the winter because of the amount of snowfall.
4. Goa
Goa is the ideal location for a bike road trip if you're seeking somewhere with both breathtaking scenery and buzzing nightlife. Goa, which is well-known for its stunning beaches, mouthwatering seafood, and energetic environment, offers a distinct experience that every rider should take advantage of.
When the weather is nice and the rainy season is over, which is October through March, is the finest time to visit Goa. Bikers can travel the charming villages and gorgeous coastal roads during this time, stopping at beaches along the way. Also, they can take part in Goa's thriving nightlife, which is renowned for its clubs, bars, and parties.
5. Rajasthan
The western state of Rajasthan is renowned for its beautiful architecture, vibrant culture, and extensive history. Bikers can travel through the Thar desert while making pit stops at historic forts and palaces. The wide, well-paved roads here make this a top place for a road trip on a bike.
Rajasthan is most pleasant between November and February when the area experiences its winter season. The picturesque cities of Jaipur, Udaipur, and Jaisalmer, noted for their beautiful architecture, lively markets, and delectable cuisine, are open to biker exploration at this time.
6. Kerala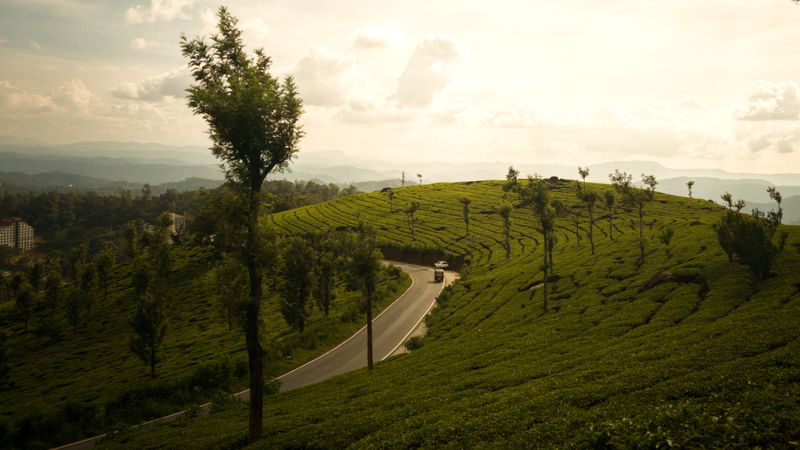 Kerala is a southern Indian state renowned for its lush vegetation, backwaters, and stunning beaches. For riders seeking a calm and serene ride, this is the ideal place to visit in India on the bike because of the well-maintained roads and stunning surroundings.
Kerala is best visited between September and March when the weather is nice and the monsoon season has passed. Bikers can visit the lovely hill towns of Munnar and Wayanad, go along the tranquil backwaters, and unwind on the stunning beaches of Kovalam and Varkala during this time.
7. Darjeeling
Darjeeling, a picturesque hill station in northeastern India, is well-known for its magnificent tea estates, picturesque surroundings, and comfortable climate. Bikers can ride around the twisting roads while admiring the stunning surroundings and stopping at several vantage spots.
March through May and September through November are the best months to travel to Darjeeling because of the lovely weather and clear skies. Bikers can tour the tea estates during this time, ride the renowned Darjeeling Himalayan Railway, and walk up to Tiger Hill to see the magnificent sunrise over the Himalayas.
India has a wide range of riding road trip locations that satisfy the requirements and tastes of every biker. India offers both hard rides across high mountain routes and leisurely rides through beautiful backwaters. To ensure a safe and pleasurable journey, it is crucial to organise your vacation according to the optimal time to visit each place. Enjoy your ride!
If you're not a biker and are just getting into cycling then check this out for cycling routes across India and be sure to check out these amazing road trip routes in India
---
Photo: Shutterstock