The Silicon Valley of India is lined with towering skyscrapers that define the city's resplendent skyline. But hidden behind these mighty architectural marvels are some of the most beautiful sunset places in Bangalore. A treasure trove of magical moments, there's nothing quite like watching nature retreat into darkness before illuminating the world one last time for the day. Sunset in Bangalore is undeniably beautiful, no matter where you watch it from. But if you have the chance, head to these best sunset points in Bangalore for the most captivating experience.
7 Best Sunset Points in Bangalore    
1. Ulsoor Lake  
A popular sunset and sunrise point in Bangalore, Ulsoor Lake is frequented by early birds who enjoy a brisk walk around the area. A secluded spot in the bustling metropolitan, Ulsoor Lake is encircled with verdant greens that allow streaks of warm sunlight to illuminate its tranquil waters. Watch the sky turn a shade of bright orange to deep red as you try to capture the moment in a picture for your Instagram feed. It truly is one of the best photography places in Bangalore.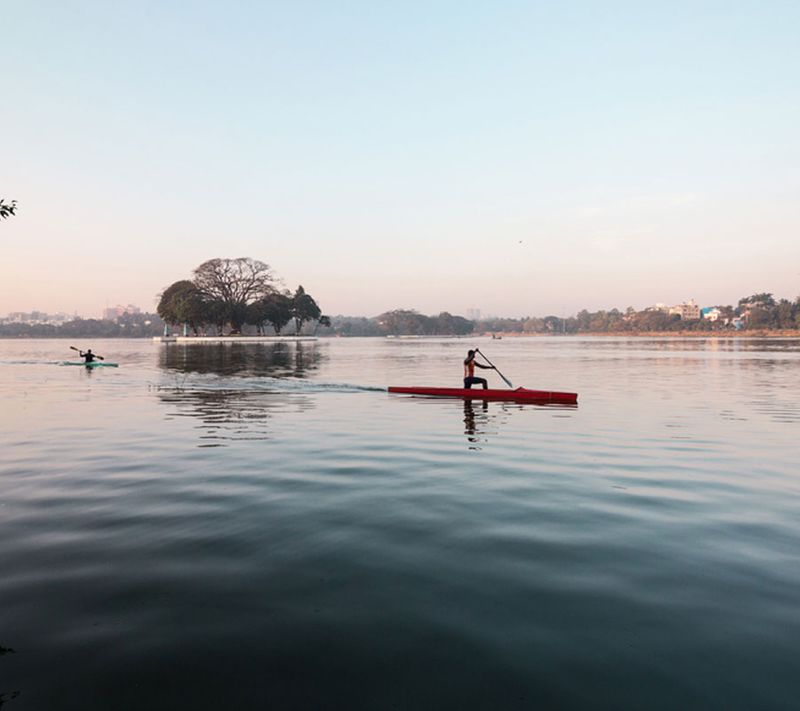 2. Sankey Tank  
Nature has healing powers, and this sunset point in Bangalore is proof. Located in Malleshwaram, Sankey Tank is lined with benches for visitors to sit and soak in the scenic setting that fringes the area. Had a long week at work? Head to Sankey Tank for the best sunset in Bangalore, where the sweet chirpings of birds and fluttering ducks will soothe your mind and soul. There are plenty of South Indian eateries in the vicinity, and a cup of hot filter coffee never hurts.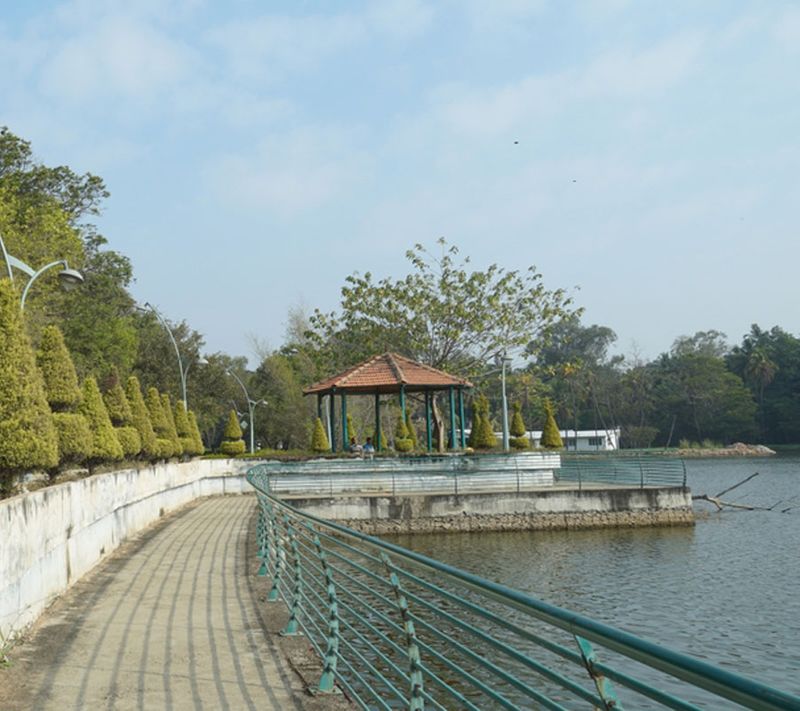 3. The 13th Floor  
As a tourist, one of the unique things to do in Banglore city is to witness its surreal natural beauty. But did you know you can watch the sunset with a glass of beer? The 13th Floor is a popular restaurant in Barton Centre on MG Road that offers an immersive experience. Feel the soothing Bangalore air turn from a warm whiff to a pleasant breeze as the sun slowly sets over the city. Full bellies and fuller hearts make The 13th Floor one of the best sunset places in Bangalore.
4. Kaikondrahalli Lake  
The best sunset point in Bangalore, Kaikondrahalli Lake, is a sprawling area of 48 acres that allows visitors to stroll for a good two-kilometre stretch around the lake. Looking like a scene right out of a fairytale, Kaikondrahalli Lake is home to migratory birds that flock around visitors for breadcrumbs. Enjoy a family picnic, bring outdoor games, watch a romantic sunset, and make use of the scenery to revel in nature's raw beauty.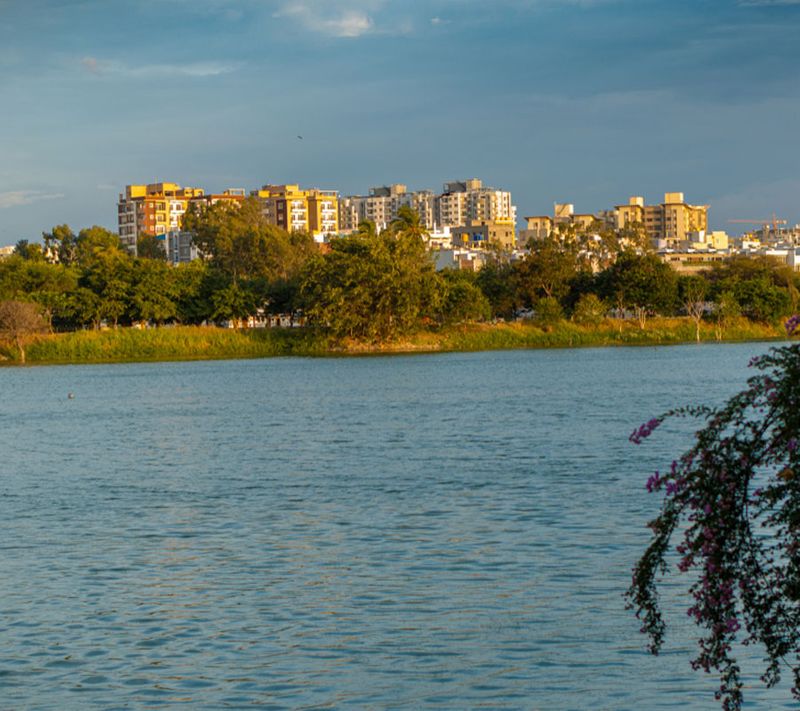 5. Siddara Betta  
The sunset in Bangalore is beautiful, but if you're game to travel just 100 kilometres north of the city, you will be rewarded with an unforgettable sunset view. An easy trek through lush greens and rocky terrain will unfurl a bird's eye view of the majestic Siddara Betta mountains that turn a shade of golden brown come dusk. If you enjoy morning treks, the mountain top is also one of the best sunrise spots in Bangalore.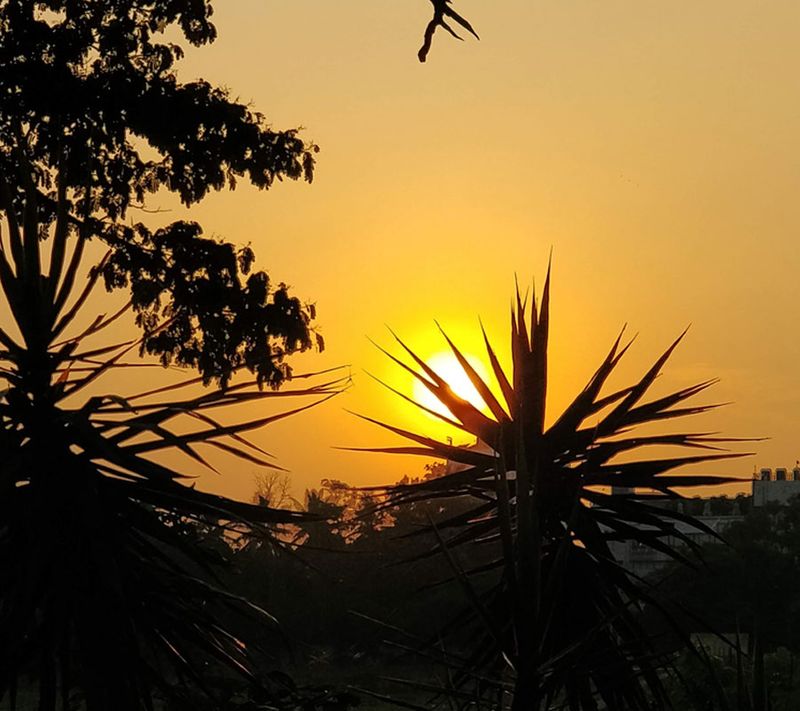 6. Hesaraghatta Lake  
Another breath-taking sunset point in Bangalore is Hesaraghatta Lake. A man-made reservoir 18 kilometres northwest of the city, the lake offers a pleasant break from the city's everyday hustle-bustle. Peaceful cool winds and lush surroundings will set you in a state of trance as you watch the clear blue skies turn a shade of orange.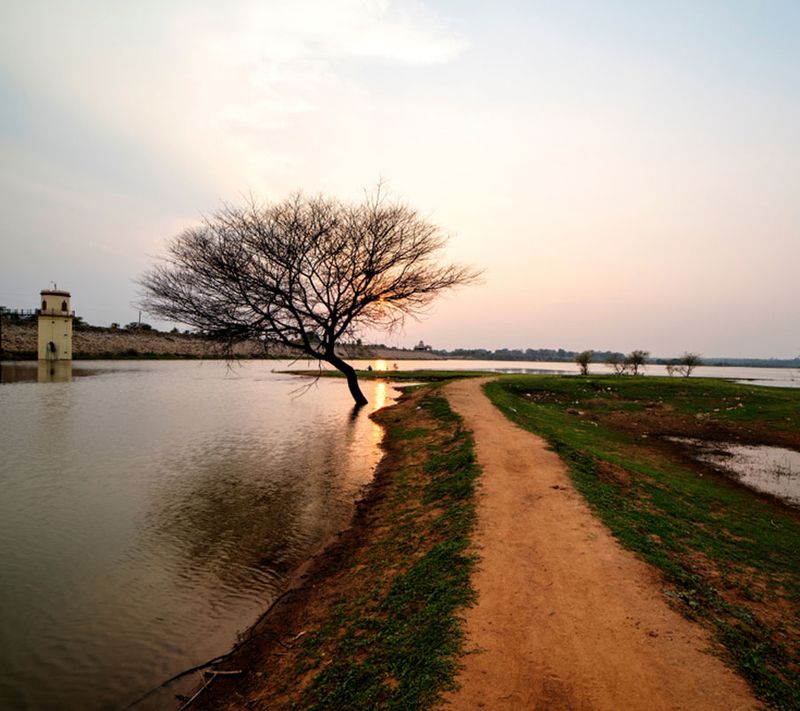 7. Skandagiri Hills  
A hidden gem located 62 kilometres from the city of Bangalore, Skandagiri is a tranquil mountain fortress overlooking the charming Nandi Hills and the best sunset point in Bangalore. You can choose to trek up the carpeted slope or watch it from Kalavara, a quaint hamlet at the foot of the mountains. While both spots offer equally rewarding sunset views, Kalavara allows you to get acquainted with the village culture and befriend the warm locals that lead a simple but wholesome life.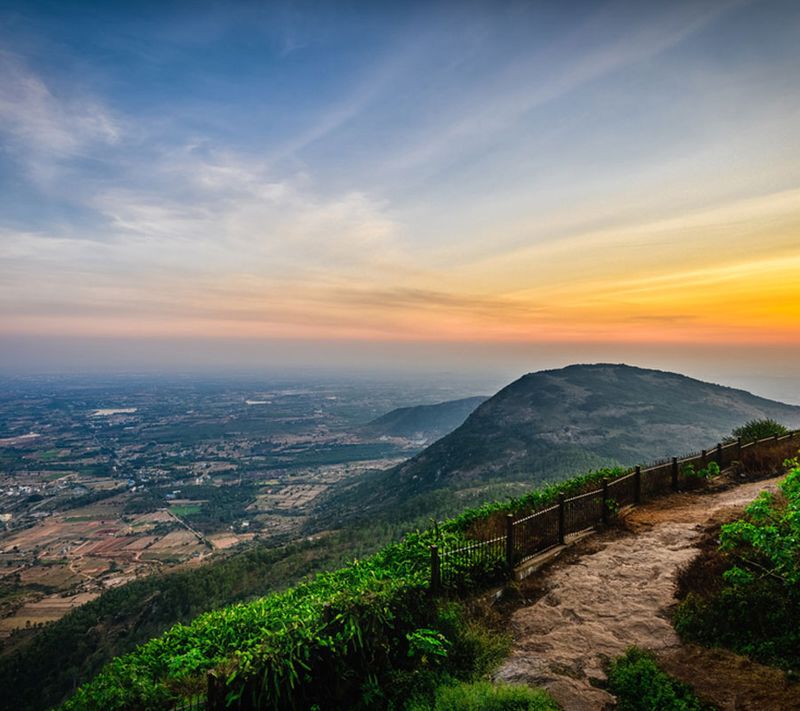 You can choose to hike up to sunset points near Bangalore or unwind with your friends at sunset places in Bangalore with a drink in your hand while watching magical views. While the city continues to awe with its chaotic crowds, let nature slow you down and douse you in pacifying tranquillity. 
---
Photo: Shutterstock