It is so easy to leave all negative emotions behind us when we are surrounded by the beauty of lakes, the sea, or gushing waterfalls. Waterfalls demonstrate how strong, magnificent, and forgiving water can be. A quick trip to a scenic waterfall around your city can never fail to rejuvenate you from within.
If you are in Bangalore and are looking for getaways to witness nature's beauty in and around Karnataka, we recommend you visit the falls near Bangalore to make the most out of it.
Here are six waterfalls near Bangalore that you must visit:
1. Thottikallu Falls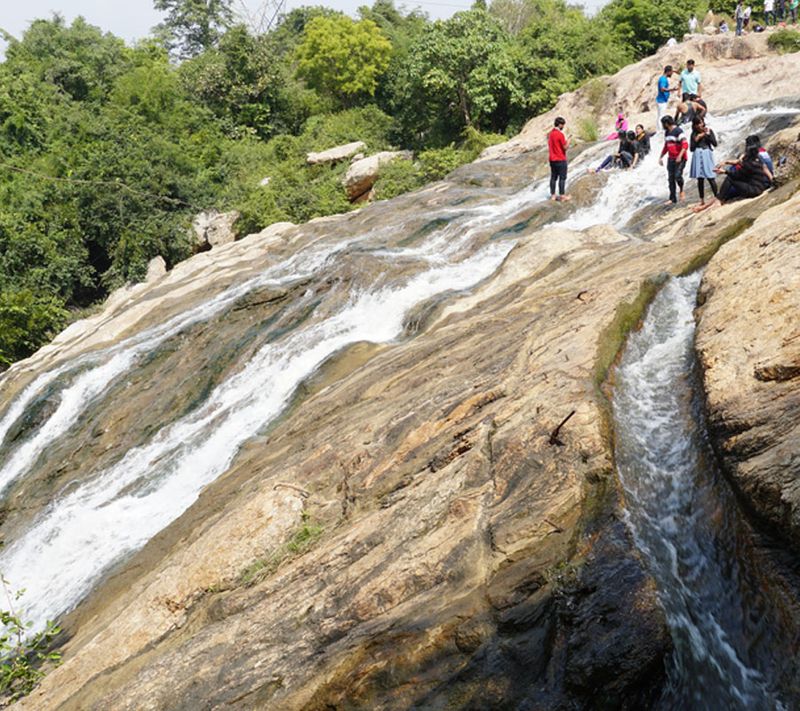 Among the waterfalls in Bangalore, this is the closest one that you could easily visit for a day trip. This nearby waterfallis at its best after the monsoon season is over, with some sunshine above our head and just the right amount of water cascading down the stones. The waterfall in Bangalore is also known as Swarna Mukhi Falls locally.
Distance from Bangalore: 34 km (Kanakapura Road)
Best time to visit: October to March
How to get there:  Buses from Majestic bus stand. You can drive in your vehicle as well.
Things to do: Visit the Muneshwara Temple at the start of the waterfall.
2. Muthyala Maduvu Falls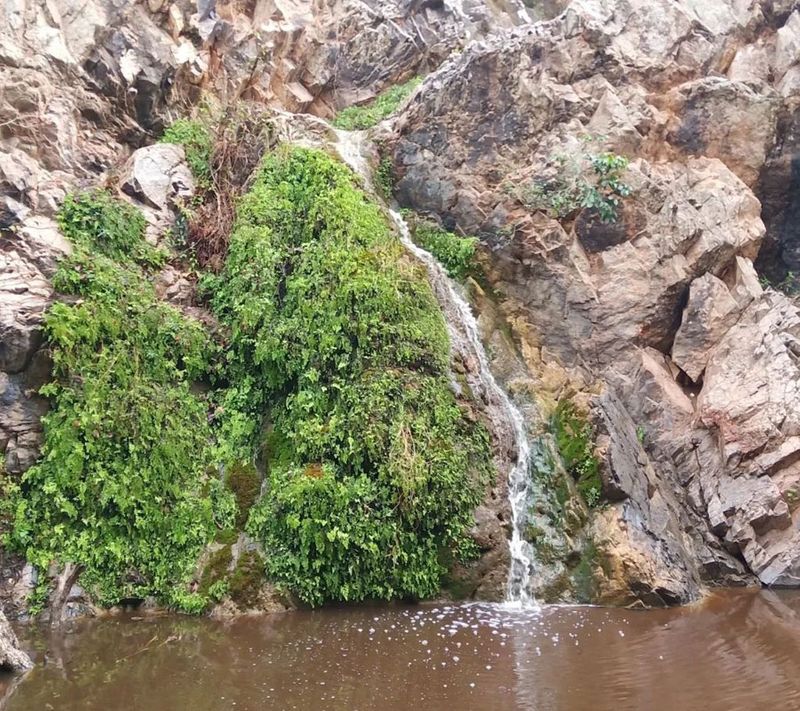 This waterfall in Bangalore is a top attraction and a popular tourist destination for locals and tourists in Karnataka. Muthyala Maduvu is also known as the 'Pearl Valley'. The waterfall in Bangalore is placed amidst the hills which attract trekkers as well. Its amazing mountain views with water gushing between the rocks make it a good picnic spot.
Distance from Bangalore: 43 km (Anekal)
Best time to visit: October to March
How to get there: Bus to Anekal or city bus number 372MA/600CA or private vehicle.
Things to do: There is a small temple of Lord Shiva where you can attend the morning prayer.
3. Chunchi Falls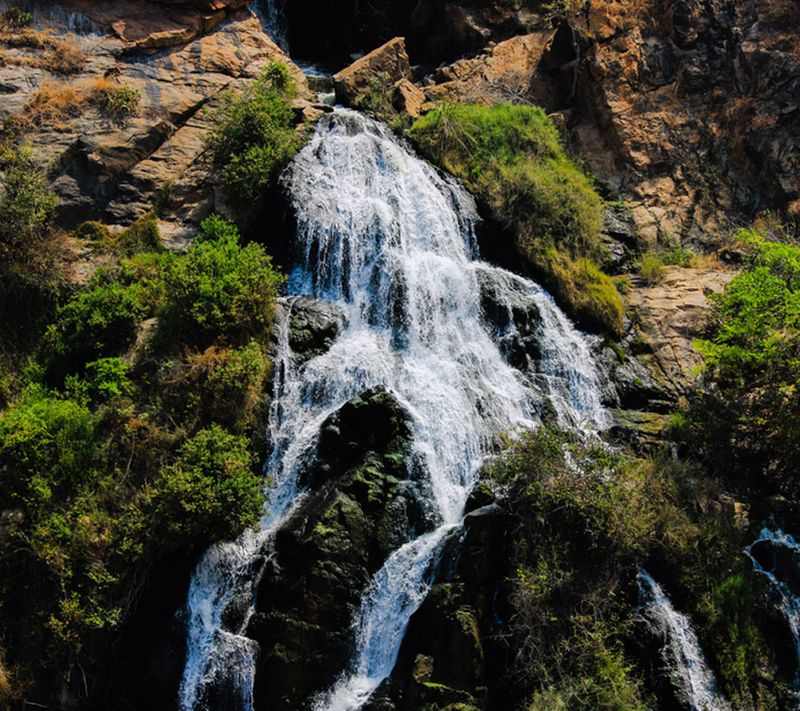 It is one of the popular waterfalls near Bangalore when you are up for a mini road trip. The water forms a small pool, great for a quick dip and a swim. This waterfall near Bangalore is a great spot for family picnics.
Distance from Bangalore: 90 km (Shivanahalli)
Best time to visit: October to March
How to get there: It is best to drive your vehicle, as the location is not so convenient for a continuous bus route.
Things to do: Along with swimming, you can also do one-day camping or trekking around the nearby hills.
4. Mekedatu Falls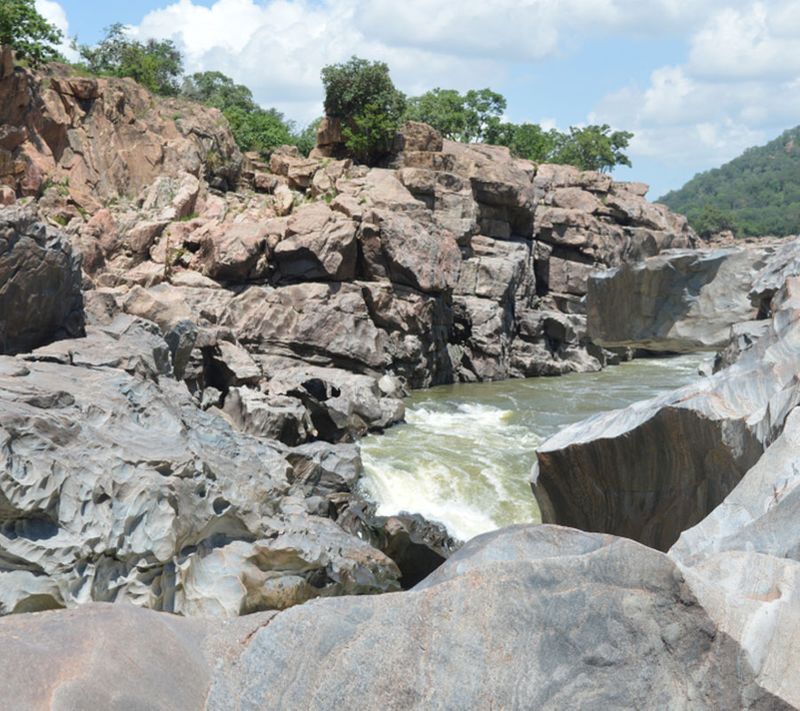 This waterfall near Bangalore feels like a unique experience, with the water flowing in the narrow granite rock structures. The river Kaveri is the source of water for this waterfall, a river that is considered holy in the southern regions of India. The waters are a bit dangerous, so it is generally recommended to stay out of this waterfall near Bangalore, but the views are a great excuse for a trip here!
Distance from Bangalore: 100 km (Kanakapura)
Best time to visit: October to March
How to get there: Catch a bus till Sathanur and hire a taxi, or get your private car or bike.
Things to do: You won't be able to get down in the water, but you can trek around the region and do some fishing.
5. Shivanasamudra Falls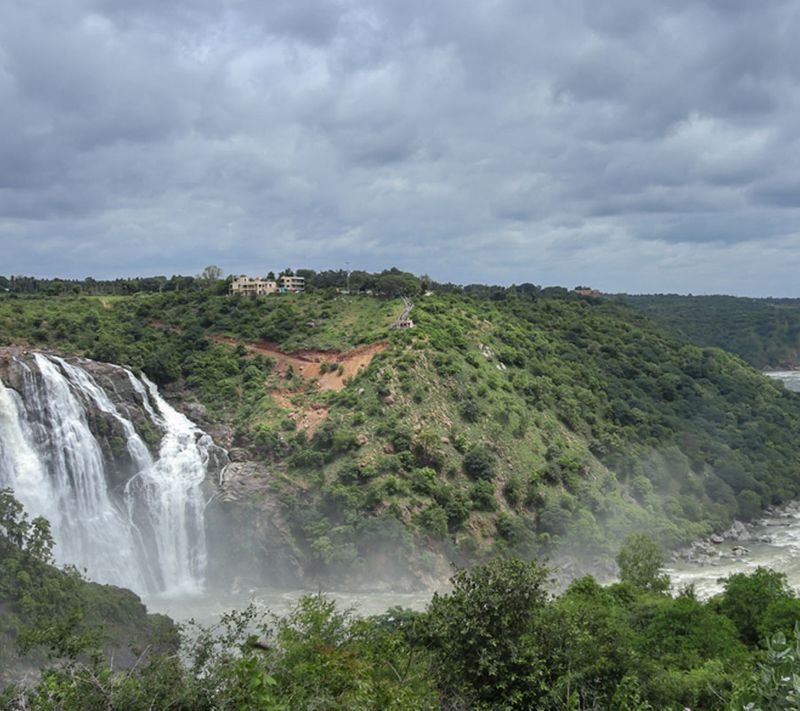 Many locals in Karnataka state are devotees of Lord Shiva. And that's where this waterfall near Bangalore gets its name from. Shivanasamudra is an island town, and this island splits the river Kaveri into two waterfall tributaries, Gaganachukki and Bharachukki, which are the Shivanasamudra falls.
Distance from Bangalore: 130 km
Best time to visit: September to January
How to get there: Bus to Shivanasamudra from the city. You can choose to get a car or bike if you seek more convenience.
6. Hogenakkal Falls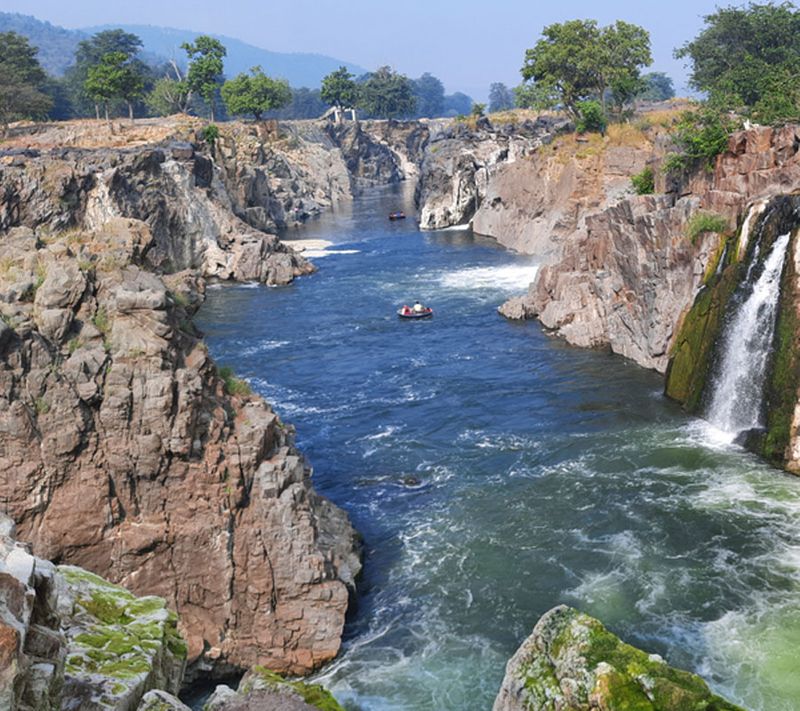 This is one of the famous waterfalls near Bangalore on the border of Tamil Nadu and Karnataka. The name means 'smoky rocks'. Travelling to this waterfall near Bangalore is bound to be a surreal experience. The popular and critically acclaimed movie 'Bombay' was also shot at this location. This fall near Bangalore is referred to as the 'Niagara Falls' of India.
Distance from Bangalore: 146 km
Best time to visit: October to February
How to get there: You can bring your vehicle here for a quick one-day trip. Alternatively, you can take a bus to Dharmapuri and then travel by taxi to this spot. You have to take a boat ride once you get closer to access the waterfalls.
Things to do: You can go camping and explore photography here. Many opt to stay overnight in the vicinity.
There are many more beautiful waterfalls near Bangalore that are like mini havens for travel and nature lovers. You can start with some of the most accessible ones that can easily be covered over a weekend!
---
Photo: Shutterstock