Home to the Mysore Palace that lights up anyone's Dussehra, the Hampi ruins that showcase the grandeur of a bygone era, and Chikkamagaluru that is lush with plantations and ready to brew a great kaapi any time you seek one, Karnataka's attractions are endless. There's something to do, see, and eat (or drink!) in each of its regions.
One of the main reasons to visit Karnataka is for its cultural diversity. Home to a number of different communities and cultures, including those who speak Kannada, Tamil, Telugu, and even Marathi. You can see the diversity reflected in the food, music, and art of the state, which makes it a unique and interesting place to visit.
There are several things to do in Karnataka. And, it is also home to a number of natural attractions, including the Western Ghats, which is a UNESCO World Heritage Site and home to a variety of flora and fauna. The state also has a number of national parks and wildlife reserves, including Bandipur National Park and Nagarhole National Park, which offer visitors the chance to see a range of wildlife, including elephants, tigers, and a variety of avian species.
Karnataka is a beautiful and culturally-rich state that offers a wide range of attractions and activities for tourists. Whether you are interested in exploring the state's cultural heritage, enjoying its natural beauty, want to go on a food trail of Bangalore's popular dishes, or simply relaxing and taking in the sights and sounds of the region, Karnataka is an excellent offbeat destination to consider.
Things to do in Karnataka
1. Tour Bengaluru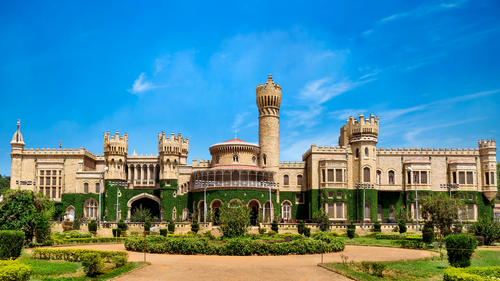 The capital city of Karnataka, Bengaluru's (previously called Bangalore) cultural diversity and pleasant climate instantly puts it on the list of things to do in Karnataka. If your trip involves sightseeing Karnataka, do make a stop in Bengaluru, as several of Karnataka's attractions are here. You can visit the 19th-century-built Bangalore Palace, which is known for its Tudor-style architecture, and it's one of the prime tourist spots in Bengaluru. Tour the Tipu Sultan's Summer Palace, a beautiful 18th-century palace that was once the summer residence of Tipu Sultan, the ruler of Mysore. Explore the Lalbagh Botanical Garden, which features a variety of plants and flowers, as well as a glass house that is modelled after London's Crystal Palace. Visit the ISKCON Temple, a beautiful Hindu temple dedicated to Lord Krishna. And naturally, take a stroll through Cubbon Park, a large park located in the heart of the city that is home to many species of trees and plants. If you're spiritual, visit the Bull Temple, a temple dedicated to the Hindu deity Nandi that is known for its large stone statue of Nandi. If you're an architecture buff, check out the Vidhana Soudha, a beautiful building that houses the state legislature and the secretariat of Karnataka. Don't forget to try get a taste of Bengaluru's popular dishes during your visit.
2. Admire Mysore Palace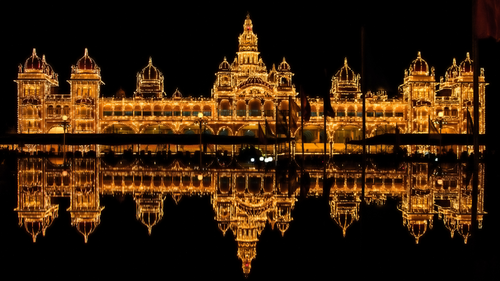 If you're planning which places to visit in Karnataka, the city of Mysuru (previously called Mysore) should be on your list. Known for the awe-striking Mysore Palace, which showcases the grandeur of the royal family, it's one of the many things to do in Karnataka. Other popular attractions in Mysuru include the Mysore Zoo, which is home to several animals and is one of the oldest zoos in India, and the Mysore Sand Sculpture Museum, which features intricate sand sculptures made by skilled artisans. Mysuru also has several markets worth exploring, which are filled with colourful stalls selling traditional handicrafts and souvenirs. You can also take a tour of the city, visiting the local temples and other historical landmarks. Recently, several new-age bakeries have mushroomed in the city, but you should also pack some Mysore Pak to take home after your trip.
3. Climb boulders and explore the ruins of Hampi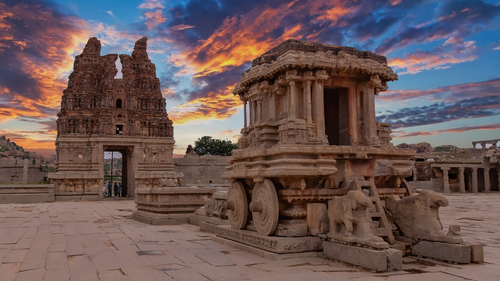 A lazy village town, Hampi is a UNESCO World Heritage site known for its historical and cultural significance. Ancient temples, palaces, and historical structures that were built by the Vijayanagara Empire in the 14th and 15th centuries are the mainstays of the town. But, its landscape includes rock boulders and rice paddy fields, allowing this town to be one of Karnataka's famous places to visit for rock bouldering too. You can plan a weekend trip to Hampi from Bengaluru, as this is one of the things to do in Karnataka whether you're a local or a tourist. When in Hampi, explore the historical monuments scattered throughout the village. Some of the popular attractions include the Virupaksha Temple, the Vittala Temple, and the Hampi Bazaar. Go on a nature walk or climb atop boulders for picturesque views of the sunset. Hampi is divided by the Tungabhadra River, and you can flock to either side in a coracle boat ride, which offers a unique experience. There's ample to eat and sip on in Hampi. Each restaurant offers a wide variety of breakfasts along with local cuisine. You will also find cafes serving European bakes and fresh juices all through the year.
4. Soak in Kodagu's lush green landscapes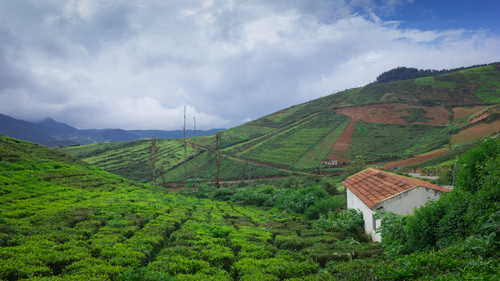 Kodagu, previously known as Coorg – as several Coorg Travel guides will tell you – has stunning natural beauty, with rolling hills, lush forests, and sprawling plantations. The region is also home to a number of tribal communities and has a rich cultural heritage. So, naturally, when it comes to things to do in Karnataka, you can visit Kodagu for activities such as hiking through the hills, visiting tea plantations, and exploring the local tribal villages. You can also visit the Dubare Elephant Camp, where you can interact with and learn about elephants, or go birdwatching in the Nagarhole National Park. Additionally, visit the Tibetan Golden Temple, a popular place of worship for Buddhists in the region, or try your hand at white water rafting in the Cauvery River. Some of Karnataka's famous places are in Kodagu, including the Abbey Falls, a picturesque waterfall located in a serene setting, and the Raja's Seat, a popular viewing point offering stunning views of the surrounding landscape. The Madikeri Fort, which was built by the local rulers in the 17th century is also a tourist attraction worth visiting. And, the Omkareshwara Temple, a popular Hindu temple located in the heart of the city is a place to visit in Karnataka too.
5. Explore the caves in Badami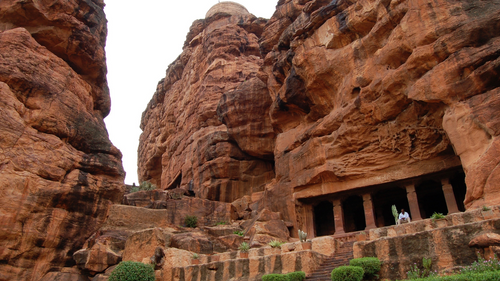 Known for its beautiful caves and ancient temples that are carved out of red sandstone, exploring the caves in Badami is a must on any list of things to do in Karnataka. Walk through the four main caves full of intricate carvings and sculptures of Hindu gods and goddesses. The nearby Agastya Lake, which is a popular spot for boating and picnics, is also a place to visit in Karnataka. Make a trip to the Badami Fort as well, which is located on top of a hill overlooking the town. The fort offers panoramic views of the surrounding landscape and is a great spot to view the sunset. Guided walking tours of Badami are also something to opt for, they will take you through the narrow streets and alleyways, showcasing the rich cultural heritage of the area.
6. Take a food trail around Udupi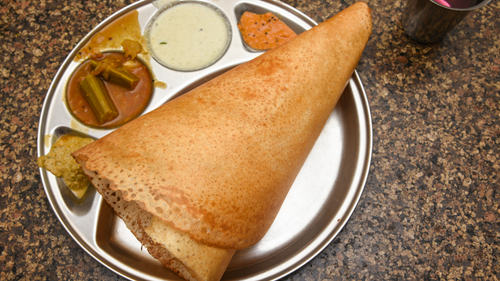 Pastel-coloured churches, historic structures, and some of the most delicious food in Karnataka. Udupi is known for its traditional food that the city helped popularised across India. That's why a food trail of Udupi seems an ideal thing to do in Karnataka.  The city is famous for Kosambari, Koddelu, Avalakki Upkaari (red chilli poha) and Holiges (sweet pancake). And, of course, the masala dosa.
When you're not eating, you can visit Karnataka's famous attraction, the Udupi Sri Krishna Temple, which is known for its delicious prasad. Tour the Udupi Palace, a historical palace that was once the residence of the Udupi royalty. It's now a museum and offers guided tours for visitors. Other popular attractions in Udupi include the St. Mary's Island, a group of small islands off the coast of the city, and the Ananthapura Lake Temple, a Hindu temple located in a natural lake. The Karkala Jain Temple is also a beautiful temple to visit.
7. Live on the beach in Gokarna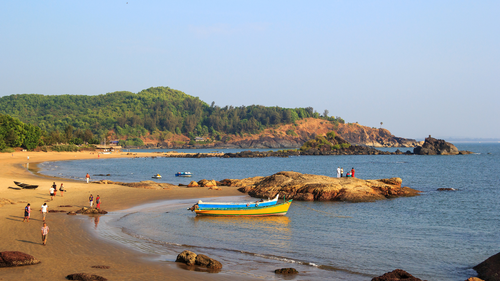 You should skip the trip to Goa and head for the beach town of Gokarna instead. If you're looking for adventure activities as some of the things to do in Karnataka, Gokarna offers paragliding, snorkelling, certified scuba diving, and many other water sports too. The beautiful beaches, holy temples, and serene atmosphere are the mainstays of why you should visit this town. During your stay here, visit the famous Mahabaleshwar Temple, and enjoy the beautiful beaches, such as Kudle Beach, Om Beach, and Half Moon Beach. The beaches are perfect for swimming, sunbathing, and water sports. Beach trekking is also a popular activity in Gokarna. The town is also known for its colourful markets, where you can shop for souvenirs and local handicrafts. 
8. Walk around the plantations in Chikmagalur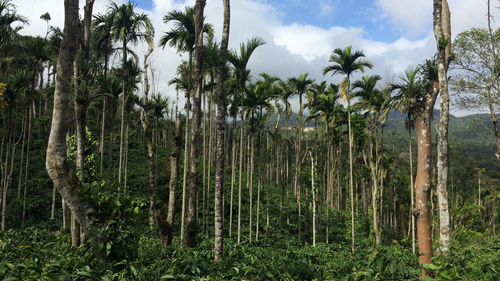 Beautiful landscapes and natural surroundings, including the Baba Budan Giri Hills, the Kudremukh National Park, and the Bhadra Wildlife Sanctuary – there are several things to do in Karnataka, and in Chikmagaluru alone, you could do a lot. One of the best things to do in Karnataka while you're in Chikmagaluru is to visit the coffee plantations. India's coffee production is largely carried out here, and there are many coffee estates to visit and learn about the process of coffee production. While at the plantation, go on a nature trail and hike around as these plantations are also excellent spots for bird watching and nature photography. You could also consider booking a stay at one of the plantations that offer such facilities. Other popular tourist attractions include the Manikyadhara Falls, the Bhadra Dam, and the Mullayanagiri peak, which offers stunning views of the surrounding landscape. There are also several adventure sports available in the area, such as rock climbing, paragliding, and ziplining you can partake in. 
9. Marvel at the scenic beauty of Jog Falls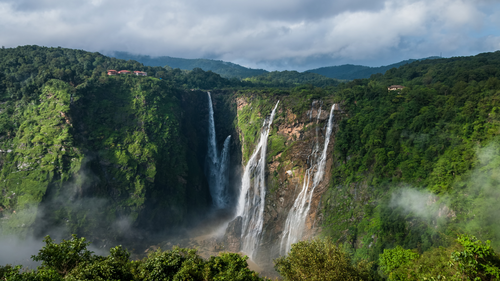 A beautiful waterfall in the Shimoga district of Karnataka, Jog Falls is the second-highest plunge waterfall in India, with a height of 253 meters. Formed by the Sharavathi River, which plunges down into a deep ravine, the falls create a spectacular sight. Take a stroll along the trails surrounding the waterfall and get a close-up view of the falls. You can also go on a boat ride on the river and get a unique perspective of the waterfall from below. There are several viewpoints around Jog Falls, from where you can get a panoramic view of the falls. Visit the nearby Jog Dam, which is an engineering marvel built on the Sharavathi River. The dam provides electricity to the region and is a popular tourist attraction in its own right. The falls need to be on your list of things to do in Karnataka because of how rare their formation is. 
10. See the wild side of Karnataka at Kabini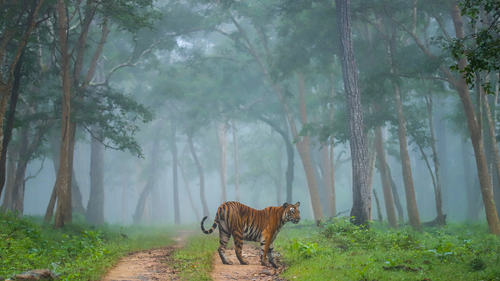 Kabini is a small town in the Mysuru district and sits on the banks of the Kabini River, a tributary of the Cauvery River. Known for its rich wildlife and natural beauty, with the Nagarhole National Park being located in its vicinity, Kabini is a must-visit for those who love wildlife safaris. Take a safari of the Nagarhole National Park, which is home to elephants, tigers, leopards, sloth bears, and avian species such as parakeets, hornbills, and kingfishers, among others. The Kabini River is a popular spot for boating and fishing, so it's a good idea to hire a boar and go out on the river to enjoy the tranquil surroundings. You can also trek in Kabini as the region around is dotted with hills and forests, and there are a number of trails that will take you through the lush green forests and offer stunning views of the surroundings. When you're exhausted from exploring Karnataka's wild side, relax at a resort. Kabini is home to a number of resorts that offer a range of amenities to tourists, such as swimming pools, spas, and restaurants.
Best time to visit Karnataka
With so many things to do in Karnataka and places to visit, the best time to visit Karnataka depends on your preferences and the activities you plan to do. October to March is the ideal time to visit Karnataka if you want to experience pleasant weather and enjoy outdoor activities such as trekking and sightseeing. June to September is the best time to visit Karnataka for festivals and cultural events. Karnataka celebrates several festivals during the monsoon season, including the Hampi Utsav. April to May is the peak tourist season in Karnataka, with a large influx of tourists visiting the state to enjoy the beautiful flowers and greenery. However, it can get quite hot and humid during this time.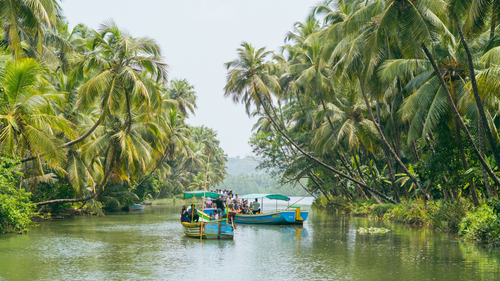 How to reach Karnataka
There are several ways to reach Karnataka and travel around the state.
By air: There are several international and domestic airports in Karnataka such as Bangalore, Mangalore, and Belgaum. You can book a flight to any of these airports and then travel around the state by taxi or bus.
By train: Karnataka is well connected to the rest of the country by rail. You can book a train ticket to any of the major cities in Karnataka such as Bangalore, Mangalore, or Mysore and then travel around the state by taxi or bus.
By road: Karnataka has a good network of roads connecting it to other states in India. You can book a bus ticket or hire a car to reach Karnataka and travel around the state.
By boat: Karnataka has a long coastline and you can reach the state by boat from other coastal states such as Kerala and Goa.
Once you reach Karnataka, you can travel around the state using various modes of transportation such as buses, trains, taxis, and car rentals. You can also opt for self-driven car rentals or hire a private taxi for a more comfortable and hassle-free journey.
---
Photo: Shutterstock