For the longest time, jewellery has been associated with only women. The term men's jewellery is limited to the scanty options that include a wedding band or chain and a social stigma that surrounds other more experimentative pieces. And it's not like this is an age-old notion. British Victorian men wore rare pearl brooches, while Indian Maharajas were often seen in exquisite gemstones that to this day are heirloom pieces for the nation.
If you are a man who enjoys wearing his metal chain and beaded bracelet but is apprehensive about flaunting it, we can help you navigate through this complex territory. In our guide below on how to wear jewellery, you can learn about the burgeoning fashion scene that is effortlessly stylish, timeless and gives your personality an extra je ne sais quoi.
How to wear jewellery for men
1. Metal chain
Wondering how to wear jewellery that can be worn on different occasions and still look effortlessly cool? Keep it simple and minimal with a thin metal chain in gold or silver. You can pair the chain with a simple black t-shirt and razor-black jeans. If you like something more unique and rugged, try a modern metal chain that hangs low till the mid-chest and adds character to your killer ensemble.
If you are a die-hard romantic, get matching chains for yourself and your beautiful woman. Here are some Everyday Jewellery Collections that will ensure the two of you sync in style.
2. Beaded bracelet
When it comes to styling a beaded bracelet for men, avoid oversized and chunky designs. Instead, opt for versatile pieces that infuse an attractive vibe into your everyday look. From complementing your 9-5 outfits to elevating your weekend garb, combine a chic cuff with a textured beaded bracelet for a refined arm party.
A beaded bracelet looks great on its own, but if you want to make a statement, a watch on one hand and a black agate stone bracelet on the other are pretty cool.
3. Hoop earrings
The OG of men's jewellery, earrings for men, is the 'it thing' in modern-day fashion. Impeccably stylish, high-quality hoop earrings are versatile accessories that complement every type of personality. A proven staple in the modern man's capsule wardrobe, you can never go wrong with a pair of classic hoops. Simple yet elegant, gold hoop earrings are a refreshing change from the over-the-top diamond studs.
A pair that you can eat, sleep and live in, this evergreen men's jewellery will see good and bad times with you and become a part of your everyday life. Check out these modern jewellery designs for men and women that are quite the statement-makers this season.
4. Silver bracelet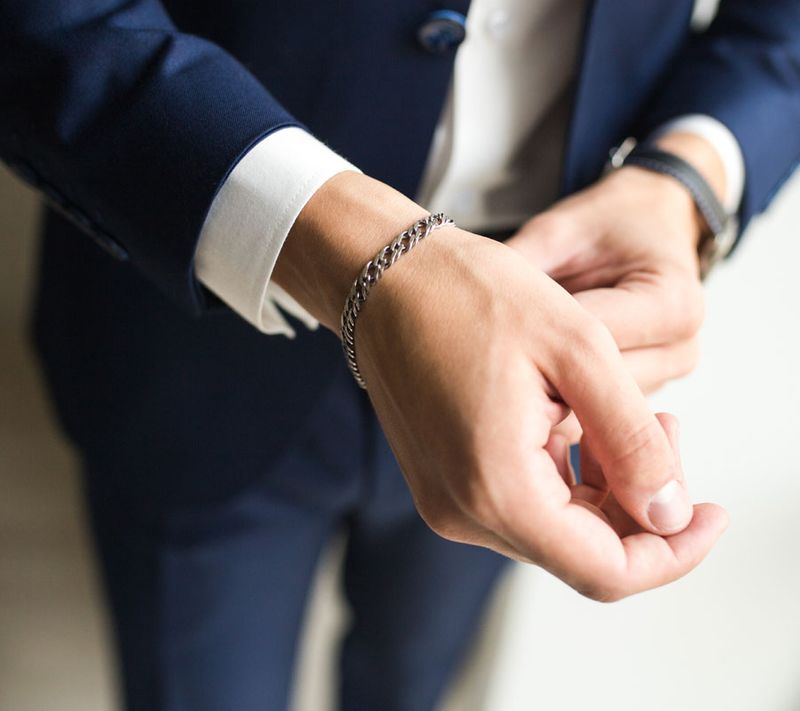 Love statement accessories but wondering how to wear jewellery that will brighten your personality? Try the quintessential silver bracelet as your first investment piece. Sophisticated pieces of jewellery like a silver bracelet are easy to style for casual and professional wear. These pieces are receiving a lot of hype after celebrities like Jay Z, Micheal Strahan and other artists were seen sporting them. A single solid silver bracelet works when peeking under the cuffs of a formal shirt. The chain-linked silver bracelet with a casual dinner jacket and crew neck t-shirt is a bold, masculine look.
5. Rocker ring
If you asked a man how to wear jewellery ten years ago, he'd show you his wedding band. But times have changed and so have the options for men's jewellery. Finally getting the love and appreciation they deserve, rocker rings are basically biker rings with either a stone or embellishment of the wearer's choice. A good quality rocker ring is a valuable investment that is not just another ornament but an embodiment of your macho spirit.
6. The bottomline
Whatever statement accessory you choose, the important thing is to first learn how to wear jewellery. Opt for styles you genuinely love and can wear regularly with ease. A piece of jewellery is an investment that encapsulates your adventures and priceless moments of life. These Men's Fashion Trends will ensure your ensembles and jewellery are always on point for all the journeys life takes you on. 
---
Photo: Instagram/Siddhant Chaturvedi; Instagram/Ranveer Singh; Shutterstock