Skincare has become an inevitable part of everyone's life today. Unfortunately, the erratic lifestyle and lack of routine have led to frequent skin breakout situations; dark spots and acne are like siblings to some- stubborn and omnipresent. However, Bollywood actor Malaika Arora has a solution to some major skincare problems. 
In an old interview with a publication, the actor revealed that she uses papaya-tomato-potato juice for the face regularly to avoid skin breakout. She added that her homemade potato juice for skin recipe reduces dark spots and acne and detoxes the face muscles. 
Further, Malaika Arora shared her recipe for potato juice. She added papaya, potato, and tomato to a blender to make them into a liquid and gooey paste. Then, she poured the juice into the ice tray to use it whenever required. 
For the unversed, Potato is rich in Vitamin C, and it can reduce dark spots, blemishes and acne scars. Mixing Potato with acidic ingredients like tomato, yoghurt, lemon juice, and others, increases its efficacy further. If you are fighting skin troubles, try Malika's potato juice for dark spots and acne. 
Here are some ways to use potato on the face to solve major skincare woes: 
No more dark spots
Potato juice is an effective remedy for dark spots, tan, and blemishes. You can just apply the juice with a cotton ball to the dark spots, tanned areas, or blemishes. Let it dry, and then wash it off with lukewarm water. You can put some honey and cucumber juice into the potato juice for additional benefits. 
Say goodbye to acne
Potato juice is a wholesome and natural treatment for acne, and safe, too. Apply the mixture of potato juice, tomato pulp, oats, and honey on the face evenly. Massage it into the skin in circular movements for approximately fifteen minutes and wash off with cool water. This will help reduce acne scars. You can apply this face mask twice or more every month to solve acne issues, among others. 
Welcome firmer and younger-looking skin
The use of potato on the face rejuvenates the skin and gives your face a natural facelift. Make a mixture of grated potato and glycerine. Apply it to your face and keep it for fifteen to twenty minutes. Wash it off with water. This mask replenishes your skin and strengthens its elasticity. 
Lighten dark circles
This potato juice-based solution for skin is very effective in treating dark circles- mix potato juice and cucumber juice, two teaspoons of each. Apply the mixture under the eyes before you go to bed. Keep it overnight and wash it off in the morning with water. Do it regularly for excellent results. 
Hydrates skin 
If you follow Malaika's method of storing potato juice, then the face mask will work wonders on your face. Anyhow, potato juice is known to hydrate your skin and help clean the skin pores, which will bring a natural glow to the skin. A glass of raw potato juice is suitable for people with dry and flaky skin.  
What is potato juice?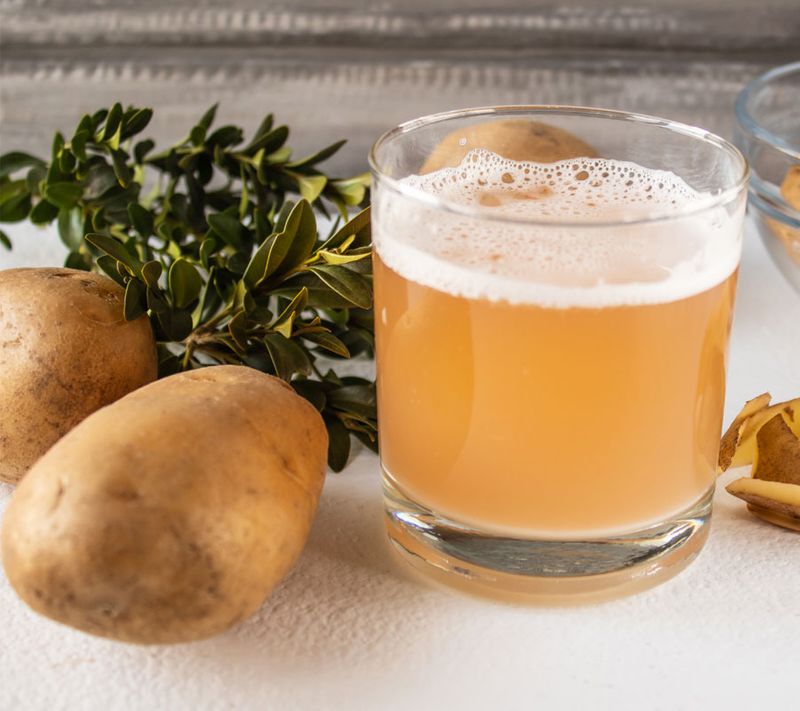 Potato juice is a magic lotion for the skin. It enriches and nourishes your skin, especially your face, in almost magical effectiveness. Potato juice is rich in vitamins and minerals. The juice works like a magic on the face. 
Potato juice has starchy consistency and can be mixed with other vegetable juices as well. Potato juice contains an array of nutrients, including vitamins C and B, calcium, potassium, iron, copper, and phosphorus. It is also beneficial for digestion, and hair fall, among other things. 
---
Photo: Instagram/malaikaaroraofficial