Known to have carved the eyebrows of Nargis Fakhri, Malaika Arora, Shruti Hassan, Daisy Shah, Shibani Dandekar, celebrity and royalty brow specialist, Arti is the artist we have been looking for. From microblading and other eyebrow practices like brow tinting and brow lamination, she reveals all about what this trending beauty treatment feels, whether it works, and the aftercare required to flaunt the best eyebrows around. 
If you have been loading up your brows with gels and pencils every single time you step out only to have them slide off your face a few hours later, give micro-bladed eyebrows a shot. Since microblading is a relatively new beauty concept, we catch up with celebrity brow specialist Arti to know what's normal and what's not and whether you even qualify as a candidate for this semi-permanent procedure. Let's find out.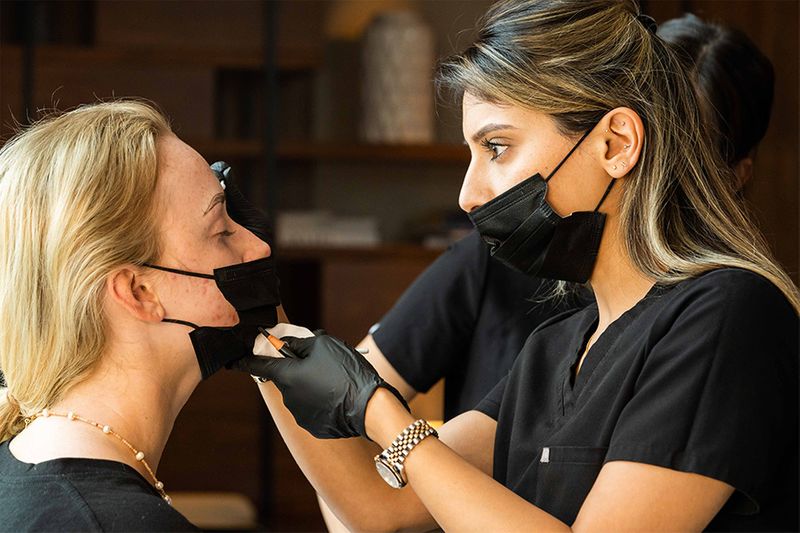 What is brow microblading?
Microblading and other eyebrow practices like brow tinting and brow lamination have continued to grow in popularity as people restore their over-plucked brows from the '90s. "Microblading is a semi-permanent makeup procedure that improves the aesthetics of your eyebrows. It is performed using a disposable pen and superfine small needles to create natural hair-like strokes," explains Arti, a celebrity microblading expert. Arti first consults with the clients to determine the size, width and depth that's best suited for their face shape. 
A colour that matches the natural hair colour and skin undertone is also chosen. The brow area is then cleaned and numbed for the treatment. Unlike using a tattoo machine, microblading is performed manually with a handheld tool to create hair-like strokes. The result is fuller-looking, perfectly shaped brows that you don't have to fill in daily for that trendy full-brow look. In India, Arti practices at The White Door, a luxury salon and spa in Mumbai.
Does microblading hurt? 
Not at all. And that's the best part. The procedure which lasts around 1.5-2 hours uses a numbing cream so it is almost painless. "Thanks to the numbing cream, the only sensations you'll likely feel are pressure or scratching from the microblading tool. I have clients that come on their lunch break and go back to work with amazing brows. It's not so invasive as you would think, as we only work on the upper layer of the skin. There is no downtime required so you can go back to your daily routine," she explains. Some even describe the feeling of the procedure as light cat scratches to not feeling anything. After the procedure, slight redness in the area is normal, which goes down after a couple of hours.
Will the brows fade?
Yes, because the pigments used in the service are natural, plant-based pigments and they are semi-permanent. But, unlike tattoo ink, they will fade true to colour. As your brows fade, they will look soft and natural. And because the pigment is only placed in the outermost layer of skin, the pigment will not bleed outside of the exact place that it was deposited. This means no blurry blue/grey/green/orange brows.
Who is a good candidate for microblading?
Anyone and everyone is a candidate for microblading, believes Arti. "Everyone needs a brow fix. Microblading isn't only reserved for thin, sparse brows. Even for those who are blessed with naturally full ones microblading can enhance what's already there. But the results are especially remarkable for people with thin brows (and can be nearly life-changing for people who live with alopecia). The added fullness and wake up-and-go ease of the micro-bladed brow is part of what's made it so incredibly popular," says Arti, who counts Nargis Fakhri, Malaika Arora, Shruti Hassan, Daisy Shah, Shibani Dandekar as her clients. "Most clients ask for fuller brows, defined shape yet natural which is what I am best at. I love a soft natural look," she says. However, if you're prone to keloids, or have eczema or rosacea, then microblading may not be for you.
The aftercare 
The best aftercare, according to Arti, is to keep the brows as dry as possible for the first two weeks. She suggests patting the area dry while the brows heal and avoiding using any makeup on the area for at least a week. When showering, make sure to avoid the face area. 
When cleaning or washing face, make sure to avoid brows and clean around them.
Do not put makeup on the brow area for a minimum of 10 days. Micro-bladed area is an open wound, using makeup may cause infections. Once the skin is completely healed, she says it's okay to go back to normal skin and makeup routine.
Things to avoid in the days immediately following the procedure are sweating, swimming, steaming, sauna, intense facials and sun exposure. The brow area will feel slightly itchy as it heals and will start to scab over lightly. Do not peel or pick at the scabs as this can affect the outcome and pigmentation. Apply the aftercare cream for comfort. Infection is possible if you don't follow proper aftercare procedures.
The most important product you can use after a microblading treatment once healed is sunscreen.
Like with other tattoos, sunscreens help extend the longevity of your brows and prevent fading from the sun. She also advises being off any Retin-A or retinol products about a week before an appointment and 30 days after getting your brows done, as those ingredients can cause pigments to fade prematurely. Brows will start to peel around day three, but you should not pick or scratch at them.
The brows will continue to lighten over a six-week period, as your skin regenerates and naturally exfoliates. Clients are encouraged to schedule a follow-up appointment four to six weeks after to make sure they are happy with the results or if they need little tweaks.
How long does microblading last?
When done correctly by a trained professional, microblading should last up to a year. "It's a semi-permanent procedure as the hair-like strokes aren't as deeply ingrained into the skin and the pigment used is different from the pigment used for tattoos. Results generally last for a year for most people, depending on the skin type (the ink fades faster on oily skin), products, and lifestyle," says Arti. After a year you will most likely need regular, yearly touch-ups to maintain the original results. Without these touch-ups, you would see the micro-bladed brows fade and will eventually disappear completely between1-3 years.
How much does microblading cost?
The price largely depends on the salon and the expert you choose. At The White Door, Mumbai, the cost of the initial session would range from Rs 40,000-60,000 plus taxes. Follow-up sessions range from Rs 10,000 -0,000 plus taxes.  
"We recommend a touch-up within four to 12 weeks after your first appointment because 40 percent of the pigment that's infused into the skin may fade, depending on your skin type. So the technician needs to go back in and reinfuse," explains Arti.
The dos and don'ts of microblading 
Not every microblading artist is the same. Before your appointment, read reviews, look at images of before and after and choose your artist wisely. It's best to get a recommendation from a friend and ask for a consultation.

Go with reference pictures of shapes and colours of brows you prefer. You can then work with the brow specialist to create the perfect brows.

Microblading techs should only use dark brown pigment even when doing someone with the darkest brows.

During the first 24 hours, gently blot your brows every hour using sterile gauze and distilled water to remove excess lymph fluids.

Slight redness or discoloration, tightness and scabbing are normal.

Avoid tanning so the technician can assess your natural skin tone. Do not have any type of facial or peel two weeks prior.

Stop using any retinol or vitamin-A products one month prior.

In the days leading up to the procedure avoid Aspirin, ibuprofen and Advil since they're blood thinners and can potentially lead to excessive bleeding and sensitivity.

You'll want to steer clear of Botox, facials, tanning, waxing and tweezing as well.

Post microblading do not use any cleansers containing acids or exfoliants.

Apply a very small amount of aftercare ointment to each brow morning and night. 
---
Photo: Arti; Shutterstock