We're all guilty of mindlessly scrolling through our Instagram feed—and nowadays, one scroll down means having to see someone walking down the aisle. For Indians, weddings are a symbolic affair weaved with sentimental values. And for some brides, this means making their wedding wear meaningful, honouring the beautiful maternal bond: a blessing from mother to daughter—from one bride to another. Brides today have taken it upon themselves to reuse ancestral and heirloom wardrobes by treasuring 'something old' and adding another penchant of significance to it.
Old meets new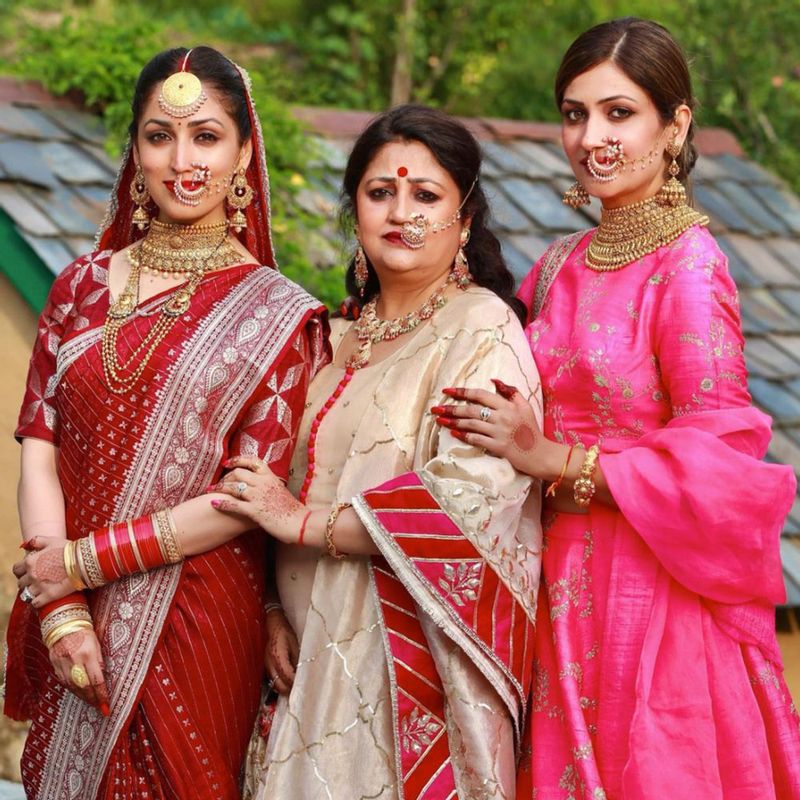 At a time when brides' mood boards are more or less ruled by celebrity chunnis and lehenga sets, a lot of Bollywood actresses have been coming out in the favour of an heirloom for the big wedding day. Take the example of Kareena Kapoor Khan here who wore her mother-in-law Sharmila Tagore's nikaah ghagra with gold embroidery, which was restored and embellished by ace designer Ritu Kumar. Even actress Yami Gautam wore her mother's crimson silk saree as her wedding attire. The demand for wearing heirloom pieces and pre-loved garments might have caught the imagination now, but it has been around for the longest time in our culture. 
Blame the pandemic but brides today take these tokens of tradition as a medium of their self-expression. Indian costume designer, Anju Modi who has designed for movies like Bajirao Mastani and Ram Leela shares a similar belief. "I think India is a country where the emotions of familial ties are quite prevalent. And yes, the pandemic accelerated the whole 'heirloom wedding wear' saga because people have now realised the meaning of relationships, connections more than ever," she says.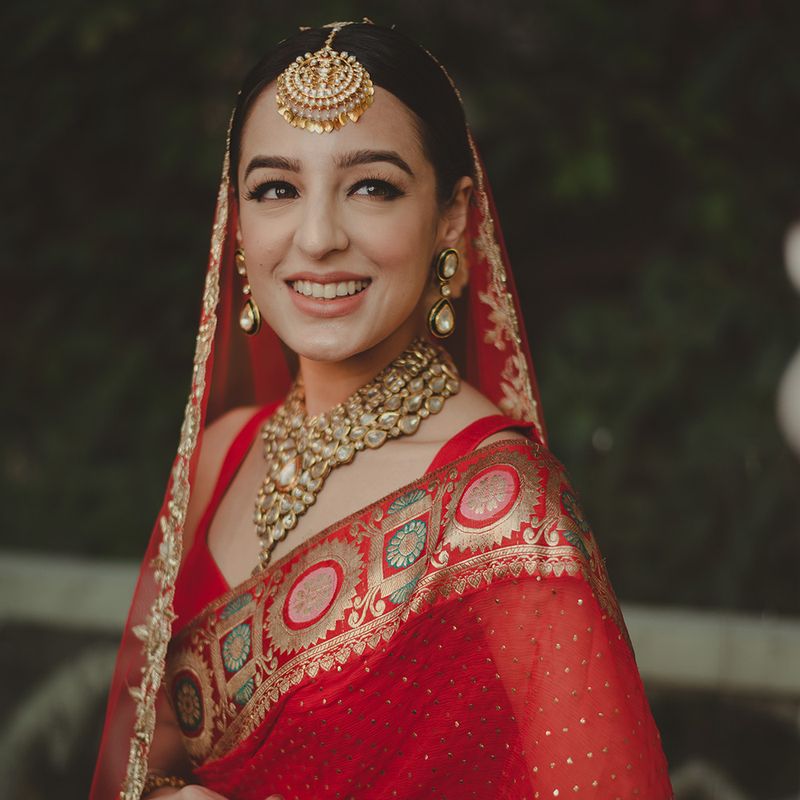 In November, when fashion influencer and entrepreneur Tarini Manchanda got married, she said that she wanted her wedding day to be authentic to who she is and how she lives her life. "I have grown up wearing both my mother's and grandmothers' jewellery so the idea of wearing pieces that have been passed down on the wedding day came naturally to me. My wardrobe has always been a mix and match of old pieces and new. What was more important to me was that our families could celebrate in a safe manner," says Tarini.
Tarini opened up about how her wedding was planned in four weeks, and so she just decided to wing it. For the main day, she wore a repurposed statement chiffon red saree, which she got restored by artisans in Lucknow who did traditional mukaish handwork on it. "I have always loved the way the delicate embroidery looks without being overbearing. Moreover, I am at 5 feet and always thought I'm too short to pull off a saree, but glad that I changed my mind. I have always had a soft spot for sarees. I believe they're elegant, versatile and timeless," she shares.
A year or so back when stylist, designer, and entrepreneur Pernia Qureshi tied the knot, she decided to keep her wedding reception look as close to her mother's bridal look, "The kaam was all sacha made in silver thread, just like how my mother's was. We changed the dupatta a little to beautiful woven fabric, and I opted for a smaller border. I was in love with the way my mother looked at her wedding and what made it even more special was that my Nani had hand-stitched her gharara. That was my most cherished look at my wedding. Family traditions and heirlooms mean a lot to us.  I really wanted to do justice to my roots." The refurbishing work was done by the House Of Kotwara, a couture house established to revive the traditional craft of the region of Awadh.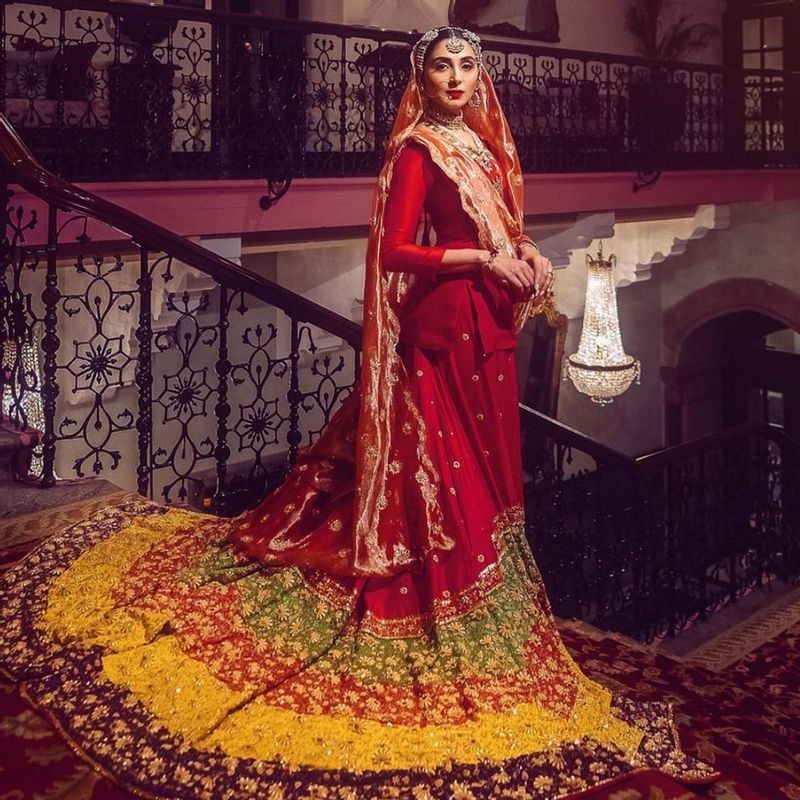 Indians have always had the tradition of passing wedding clothing down from generation to generation, so in a way, it has been in our culture to be circular. Handloom designer Vaishali Shadangule who recently debuted her bridal collection opens up about the whole concept of pre-loved wedding wardrobe and upcycling, "I feel like home! I have had bridal clients with different needs—from the ones with heirlooms in a real bad state where we could recover only the precious borders and those who wanted to marry one piece of an heirloom with a more modern one to the ones that just wanted a different way of draping a fully traditional outfit. It is a demand that has always been there. We have always had heirloom as an important aspect of our special day and maybe we should try to give this buzz a more modern language for it to stand the proof of time," she says.
Trend factor?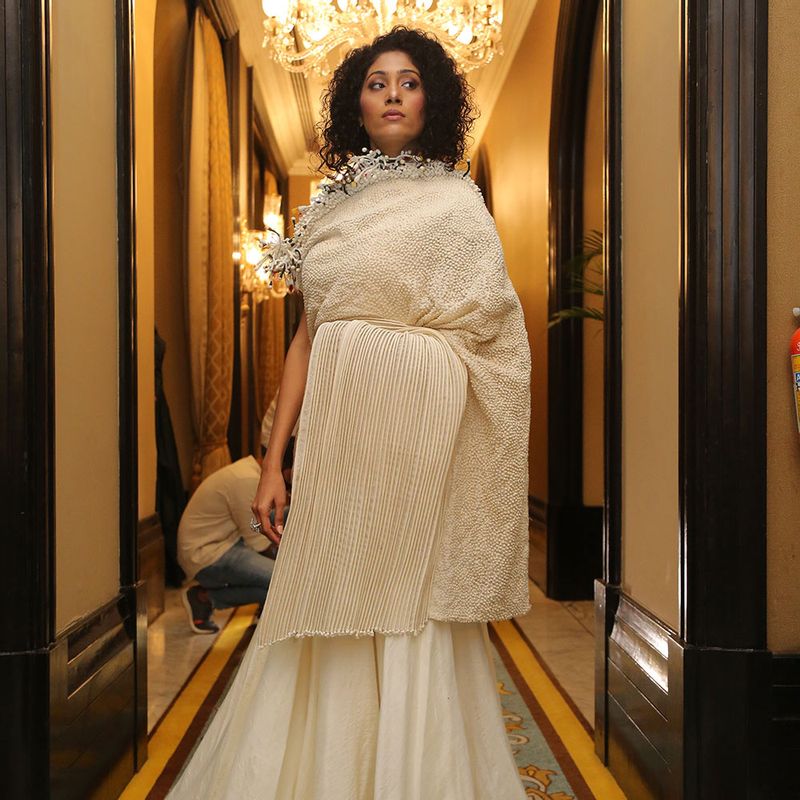 While most of us may take it as another wedding trend but looking into their mother's wardrobes is not new for Indian brides and they have been doing for quite some time. Vaishali asserts, "I don't know why we have to look at it as a trend coming from abroad or as something new: this is the way it has always been in India. We have always had heirloom as an important aspect of our special day!" While the tradition of passing on heirloom wardrobe is chalked up to warding off 'evil eye', in India it has always been in attempt to honour family ties. 
However, today's brides want something different in terms of silhouettes—a seamless incorporation of 'something old' and 'something new'. "Just like our hand weaves, which by the way are objects of heirloom, we need to give heirloom a new language—we have to make them part of a new way of expression. This is where a designer can be helpful: if knowledgeable and sensitive, a designer can give this slight aura of self-expression to a precious family treasure," Vaishali suggests.
The growing 'wearing heirloom' behaviour or upcycling wedding wear is gaining momentum, indicating that the idea of keeping a moving wardrobe allows more self-expression which is a unique high-on among the millennial crowd. "I believe that families look forward to donning beautiful clothing during weddings. The mindsets are changing, this is the new era for Indian wedding fashion and it will catch on very fast," says Pernia. But whether or not you can wear an heirloom garment depends on how those pieces are kept and safeguarded over the years. 
But everything can be fixed, and if your heart is set on your family's heirloom even if it is not in the best of quality, you can always 'mix and match' to get it right. Like, repurpose the choli with a new, contemporary skirt or vice versa. You can further modernize heirloom pieces with embroidery and other accents too. You can even take handcrafted adornments and use them on your new wedding wear as actress Priyanka Chopra did. At her wedding, the global star got a piece of lace from Nick Jonas' mother's wedding dress sewn into the pattern of her custom Ralph Lauren gown. It all symbolises the sacred continuity of love across generations. Even Anju Modi recalls a time when she took a very old brocade lehenga from a client's mother and made a dupatta and blouse out of it for the daughter (client).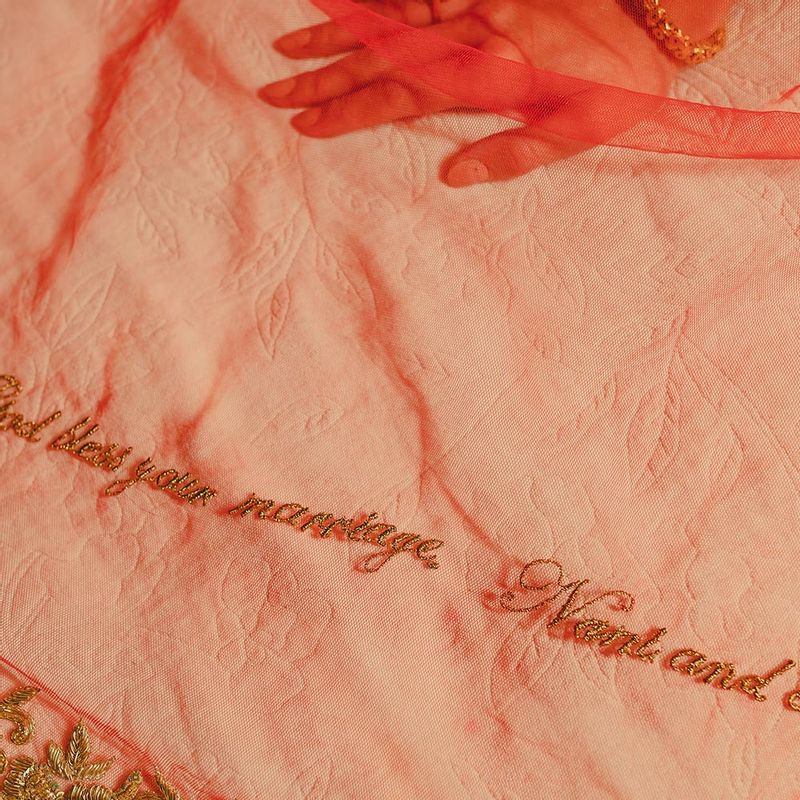 However, how to choose or mix the ensemble depends on the client's willingness to experiment. Vaishali suggests, "If we talk about 'smart' choices, then I totally support outfits that can be broken down in at least three pieces that can be worn many times and separately with more modern garments: a lehenga with a white shirt, a corset with a pair of blue pants, etc."  Going for classic styles that can be easily worn through seasons and different fashion cycles is the best way to go. 
Green equation
Although there is an argument that weddings tend to be intimate and small post-pandemic, designers, venues, and planners are still find their calendars to be filling up fast. The size of the weddings may have shrunk but has it curbed down the consumption of new wedding ensembles both for the bride-groom and their families? 
"Most of pre-loved purchases have been party wear or for wedding guests. If we think about the number of guests that a typical Indian wedding has, increasing circularity across the board is even more important than for just the bride and groom," answers  Shehlina Soomro who along with Pernia conceptualised a platform called Saritoria for pre-loved fashion for both sellers and buyers. However, Pernia is aware of the fact that sustainability might not even be the main reason for many people choosing Saritoria, however, it is the best by-product of that choice. "It opens up a whole new avenue for people who want to consume designer clothing during weddings but don't want to be stuck with the garment later," she says.
As per a report published by KPMG in 2021, India's current wedding market is estimated at $50 billion, accompanied by a rapid annual growth rate. Typical Indian weddings have mehendi, sangeet, haldi, and shaadi where each family member orchestrates the aura of 'royal, regal, and rich' through garments for four-five different events. "Unfortunately, Indian wedding wear is anything but sustainable. It's great to see a select number of Indian brands start to focus on using recycled materials but we still have a long way to go," warns Shehlina.  
Tarini shares a similar viewpoint too. "I would highly recommend upcycling and repurposing wardrobes, not just for weddings but in general too. I think it allows you to get creative, it's great on your wallet and also the environment. I think it helps you create a look that is not cookie cutter and one that is unique to you and your personality."  
While the lack of knowledge about the heavy carbon footprint through wedding wear that anyone might typically wear for only three to four hours plays a role in choices being made, one could argue that in India, the environment would not be a close factor in such decisions during weddings. The best way to be sustainable in wedding wear is to opt for vintage or heirloom, even if redesigned and updated in style; or wear preloved clothing that doesn't use up any more of the world's precious resources and saves clothes from going into landfills. 
---
Photo: Tarini Manchanda; Vaishali Shadangule