What's common to movies like Jagga Jasoos, Mubarakan, Aisha, Desi Boyz, Teri Meri Kahaani, Shootout at Wadala, Besharam, and Main Tera Hero? What do filmy Mumbaiya A-listers like Ranbir Kapoor, Varun Dhawan, Shahid Kapoor, Arjun Kapoor, Aditya Roy Kapoor, and lots of others share? The answer is Kunal Rawal—the go-to fashion designer for many of our dashing heroes.
The Kunal Rawal Label from this alumnus of the London College of Fashion is a luxury contemporary brand, and his Dstress store in Juhu, Mumbai is there for all ye young men—and to use a cliché, even the young at heart. Men looking for sherwanis, jackets, bundi-sets, kurta-sets, bandhgalas, waistcoats and the like can head to his store, where the promise is that each piece can be adapted to one's style aesthetic to express individuality.  
His latest collection Vision Quest reflects on a carefree journey that continues beyond labels and roles. Handcrafted in soothing fabrics such as linen, jute linen, cotton, organza, and silk—the intricate design elements in the collection use exquisite techniques of french knots, double layering, pleating, patchwork, and fraying to add a touch of super-luxe grunge to the pieces. The label also experiments with the revolutionary glow-in-the-dark embroideries.
Rendered in subtle hues of blue, lilac, dusty salmon, whitish-pink, lemons, mint, sage, ivory, and gold—the 60 unique styles on offer can be paired with mojris created from faux leather and sneaker-mojris. The collection also marks the launch of the label's new junior line for boys aged four to 14 years with a focus on comfort and functionality.
We asked Kunal Rawal a few questions that will help men look fashionable and dapper for the forthcoming wedding season.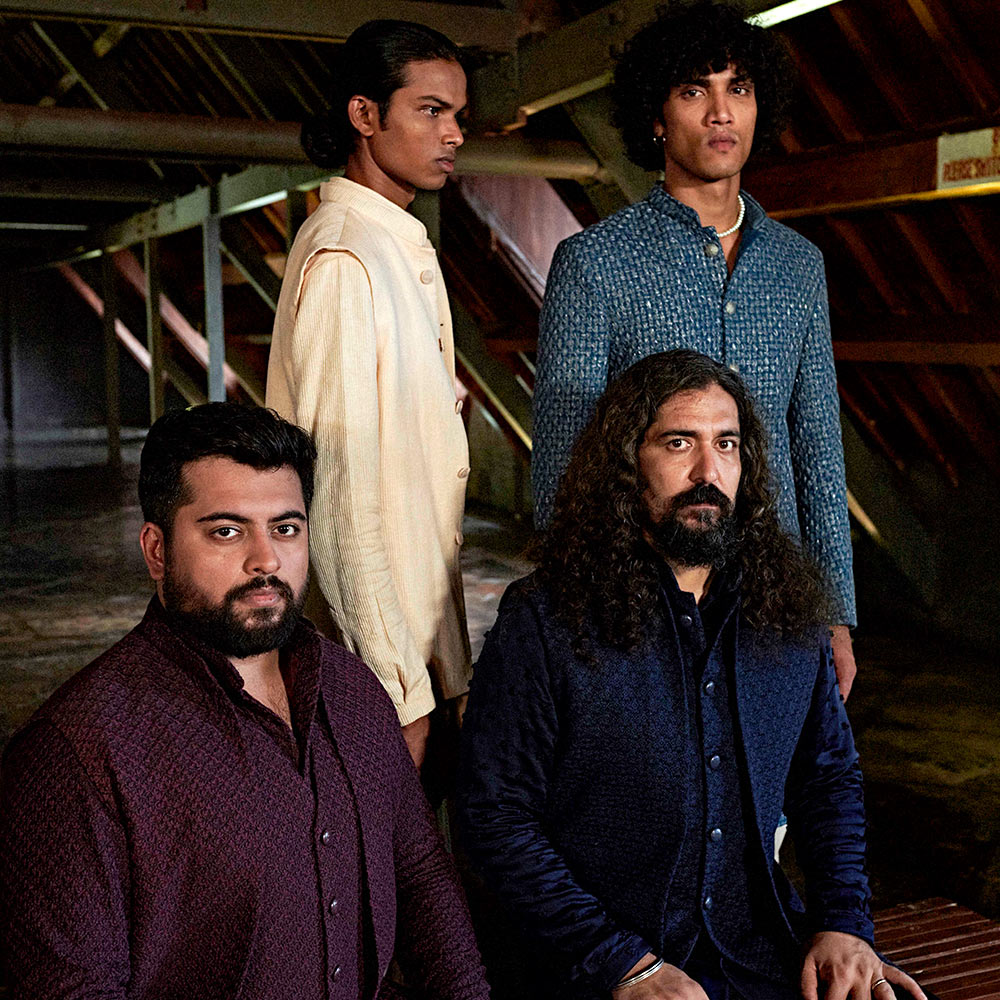 1. Timeless style rules 
Size and fit are very important while choosing a look because anything that doesn't fit you correctly won't look good. You must customise the hems to suit your body type. Whenever in doubt go for an above-the-knee or mid-thigh hemline because this works for most body types. 
2. Western or Indian wear 
Indian wear is far more democratic today. For a long,  long time, menswear was rather restrictive and clothes were designed based on the parameter of what a man should wear and what a woman should wear. Now, however, Indianwear is becoming cool again. Everyone loves traditional wear because it's part of our heritage. This year the shift is becoming more prominent, and playful modern silhouettes like the deconstructed sherwani will be in vogue this season.
3. Fabrics to invest in  
Since comfortable clothing is a major trend as the pandemic eases out, pick breathable fabrics and mixes like linen, jute linens, cotton-based suiting fabrics, organzas, denim, and handloom.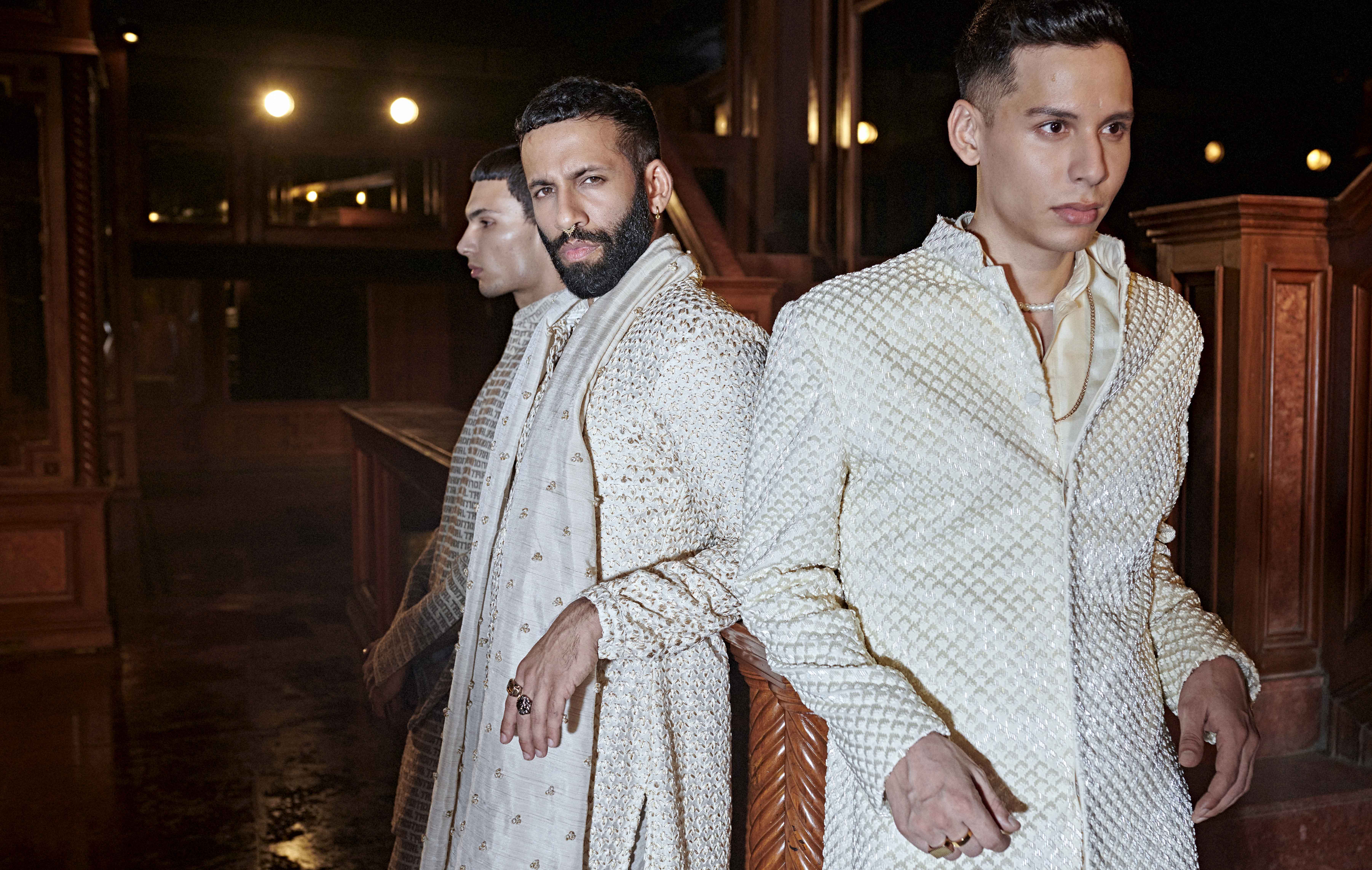 4. Colours and patterns to choose from
Dress for the occasion. It's very important to gauge the nature of the event to be able to pick the right outfit. Mehendi functions, more often than not, happen during the day so go for pastels and subtle colours like the "whitish salmons or whitish mints" in the Kunal Rawal Label collection. The images of your wedding day are probably going to be printed, framed, and kept in your house forever which is why classic pieces in classic colours will work best. In terms of prints, go for micro motifs because as a groom you would be looking for options that look good up close. Besides, micro motifs also make for easily repeatable outfits. 
5. Footwear to step out in style 
Two words— sneakers and mojris. Most Indian functions call for a night full of dancing, and it's important to be comfortable. Then there is the sneaker-mojri that looks like a mojri but offers the comfort of a sneaker and works well for day functions like the baraat and can transition for night events like the sangeet as well. When it comes to accessories, the golden rule is not to over-accessorise because Indianwear, in general, is so detailed and intricate that there are many layers to the beauty of an outfit.
6. How to dress like a star? 
It's definitely not hard to make a star look good because they bring so much to the table. In my opinion, the key to dressing a star is to use his/her personality to create the look. They are trend drivers for a reason and the key is to use that to make an outfit that caters to their personality.
Photo: FDCI x Lakme Fashion Week