If you've been seeing the term 'double cleansing' in beauty and skincare articles everywhere and wondering what it's all about, we've got just the decoder guide for you.
As the name suggests, double cleansing is a two-step face cleansing method. It involves the use of two different cleansers—an oil-based one followed by a water-based one. It is especially effective to take off waterproof and long-wear makeup, grime and other impurities from the skin. So, if you love your makeup, you better start loving double cleansing!
Believe it or not, double cleansing traces its origins back to the time of geishas! They used the method to remove their heavy makeup by massaging emollient oils into their skin. While it may have originated in Japan and Korea, it is now a global skincare phenomenon. Following this cleansing routine results in skin that is clean, refreshed and supple, ready for moisturising.
How Does Double Cleansing Work Exactly?
It consists of two simple steps—an oil cleanse and a water-based cleanse.
Oil Cleanse
To begin double cleansing, first, take a coin-sized amount of any cleansing oil or cleansing balm and emulsify it in your palms. Then, gently massage it all over your face and into the skin. The oil-based cleanser binds with the oil-based impurities and quickly dissolves all water-resistant makeup, sebum and sunscreen. Rinse it off with cool or lukewarm water. You will be left with skin that is soft, clean and hydrated with no greasy residue whatsoever.
Water-based Cleanse
Now that the outer layer of makeup, oil and grime is removed, follow it up with a gentle face wash or cleanser. This now reaches and pulls out the deeper layer of impurities from pores, including sweat and grit accumulated from pollution, providing a more thorough cleanse, without drying the skin.
Why Double Cleanse And When Should You Do It?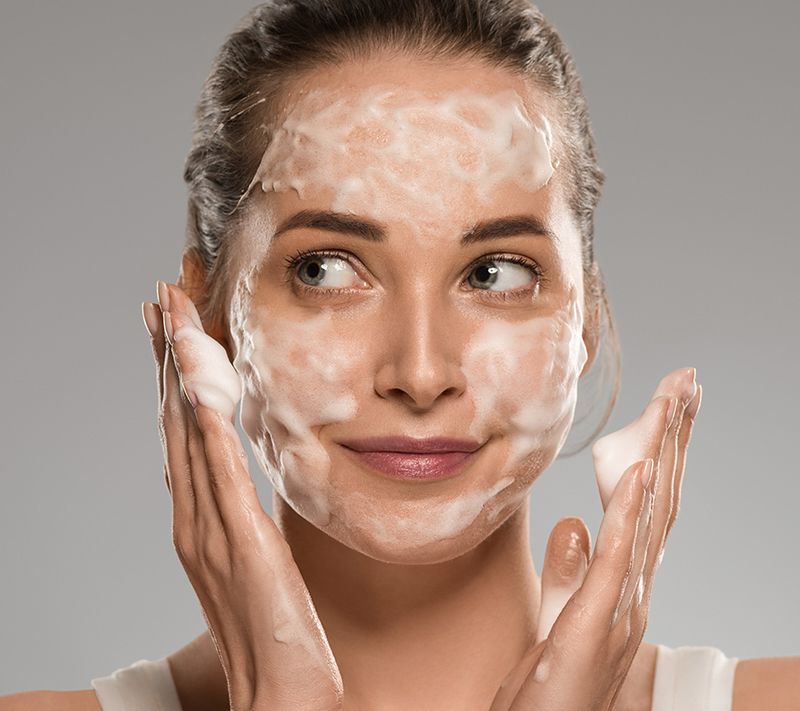 Double cleansing offers many different benefits. You can follow the routine in the morning, night or both times depending on your skin's needs. For example, if you tend to commit the cardinal skincare sin, that is, sleeping with makeup on at night, do yourself a favour and double cleanse! This will help you avoid clogged pores, acne flare ups, blemishes, dull skin and even premature ageing. Furthermore, if you feel like you wake up in the mornings with an oily T-zone or generally greasy skin, double cleansing can come to the rescue here too. It helps lift the sebum build-up which usually accumulates on the skin during the night.
The Many Benefits of Double Cleansing
If you're wondering 'Are two steps really better than one?' Then the answer is yes! Double cleansing goes beyond the act of simply cleansing the skin. Here are some of its many benefits:
Gently lifts off makeup and grime: The most important benefit clearly is that the first cleanser, an oil-based one, gently breaks down all waterproof makeup, removes dirt and excess oils accumulated over the course of the day. This helps you avoid rubbing or scrubbing your skin which could cause irritation and strip your skin of its natural oils.
Improves efficacy of other products: Double cleansing cleans the skin thoroughly and preps it to better receive other products that follow such as serums, moisturiser and sunscreen, helping them work more effectively.
Bye-bye clogged pores: If you enjoy your transfer-proof makeup, foundations, setting sprays and more, double cleansing can help take these off easily, thus preventing clogging of pores and avoiding future blackheads and blemishes.
Get 'glowy' skin: Double cleanse for a few weeks and you will notice that your skin is brighter as it helps improve your overall complexion. This is a result of the deeper and more thorough, but gentle, cleansing of the skin.
No makeup, no problem: Double cleansing isn't just beneficial for makeup wearers. Oil-based cleansers take off grime, sebum, pollution, sunscreen and other oily substances that naturally build up on the skin. After all, fresh, clean skin means radiant, healthy skin.
Reduces puffiness: The act of massaging your face with a cleansing oil is also a great way to stimulate lymphatic drainage which lessens puffiness on the face. This gentle massage also helps stimulate the production of collagen in your face. Music to our ears, isn't it?
Our Top 5 Picks for Double Cleansing
1. DHC Beauty - Japanese Double Cleanse Duo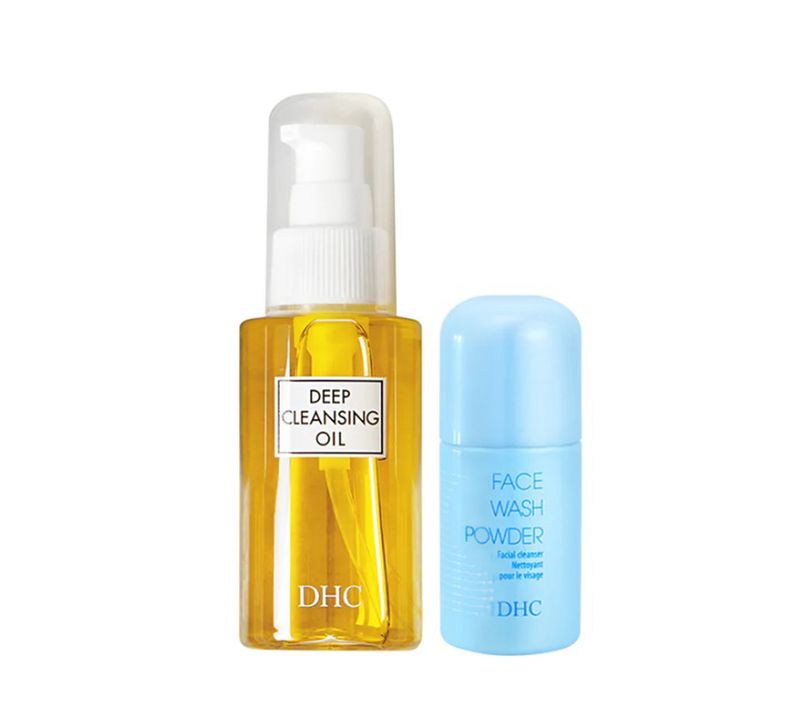 This duo consists of the cult favourite DHC Deep Cleansing Oil which is an olive-oil based one, and the DHC Face Wash Powder, a unique powder-to-foam facial cleanser that gently exfoliates and hydrates for a smooth complexion.
2. L'Occitane Double Cleansing Starter Pack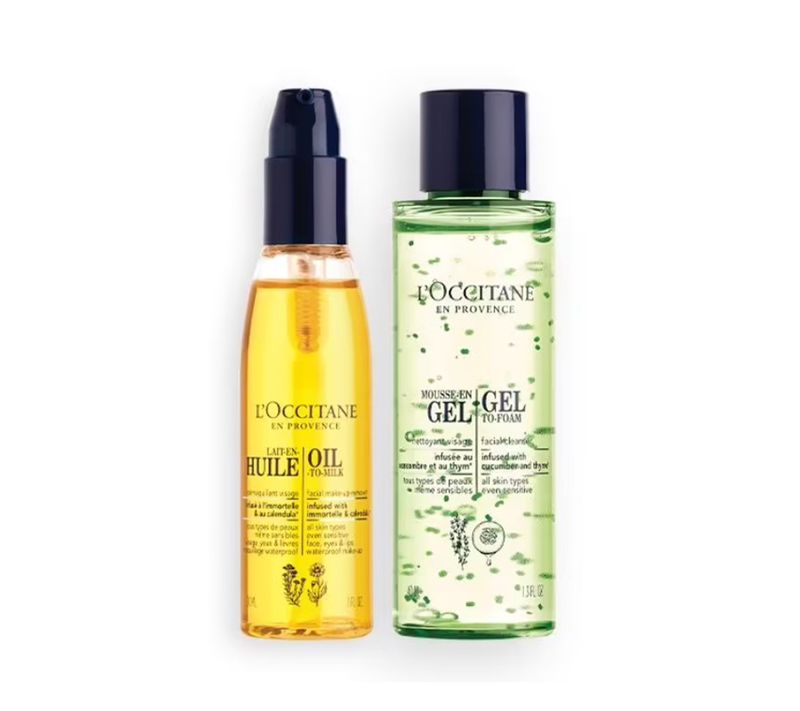 This pack includes L'Occitane's pH-friendly Facial Cleansing Oil infused with anti-ageing immortelle and soothing calendula flowers from the south of France, as well as the cucumber-infused Gel-To-Foam Face Wash Mini which transforms into a soft foam to gently cleanse the skin.
3. Suganda Clean Me Good- Double Cleansing For All Skin Types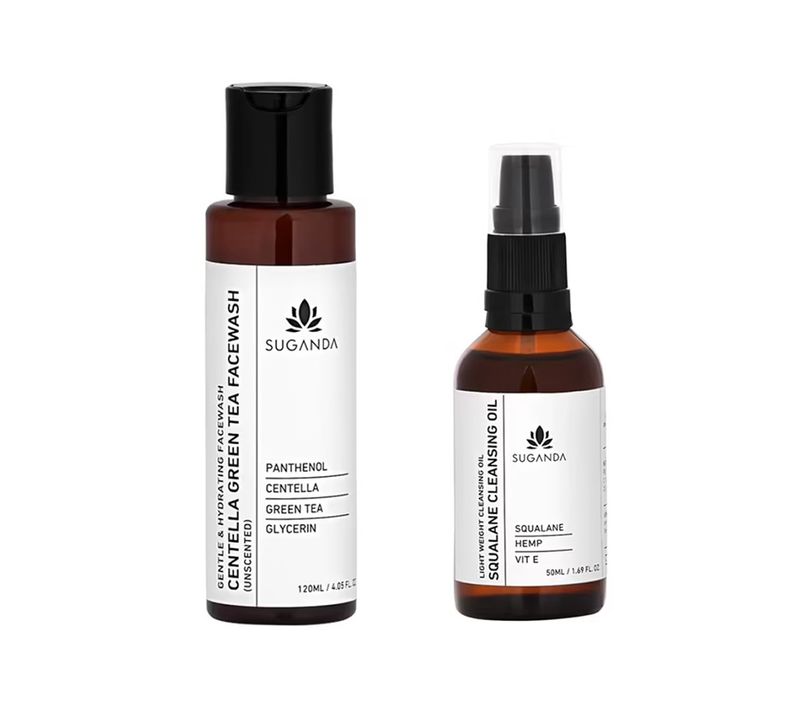 Here the Suganda Squalane Cleansing Oil dissolves makeup & removes impurities, while the Centella Green Tea Face Wash that hydrates and cleanses without drying the skin out.
4. Bioderma Sensibio H2o Makeup Removing Micellar Cleansing Solution & Sensibio Cleansing Gel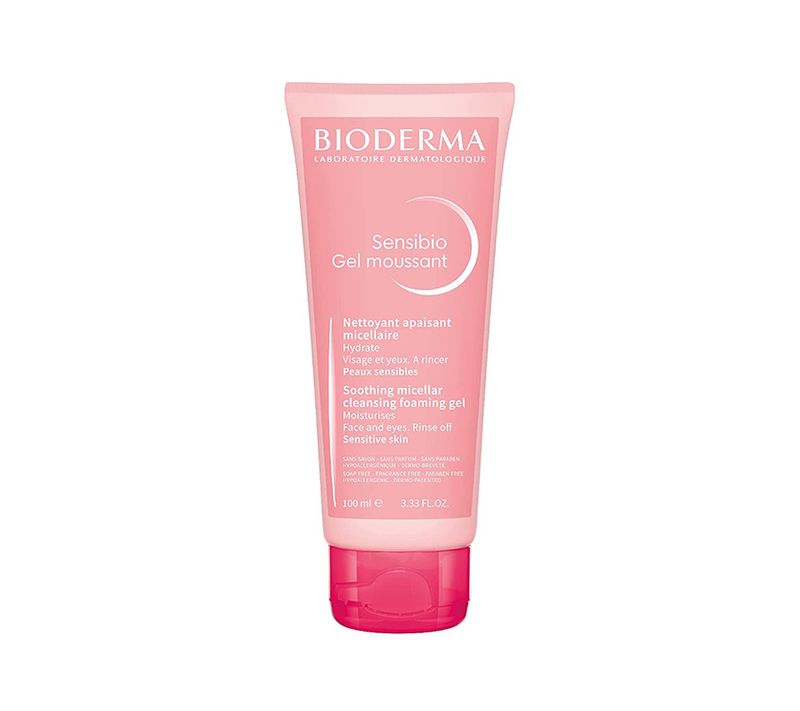 Pair this popular micellar water with the cleansing gel for a gentle but thorough cleanse. This micellar water is perfect for those who find cleansing oils & balms heavy for their skin type.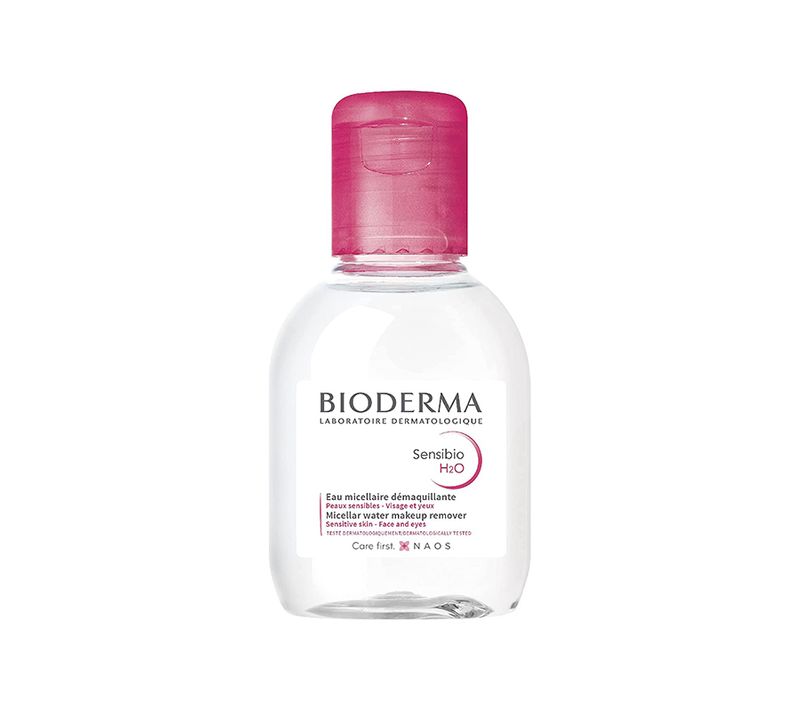 5. Dermalogica Double Cleanse Super Duo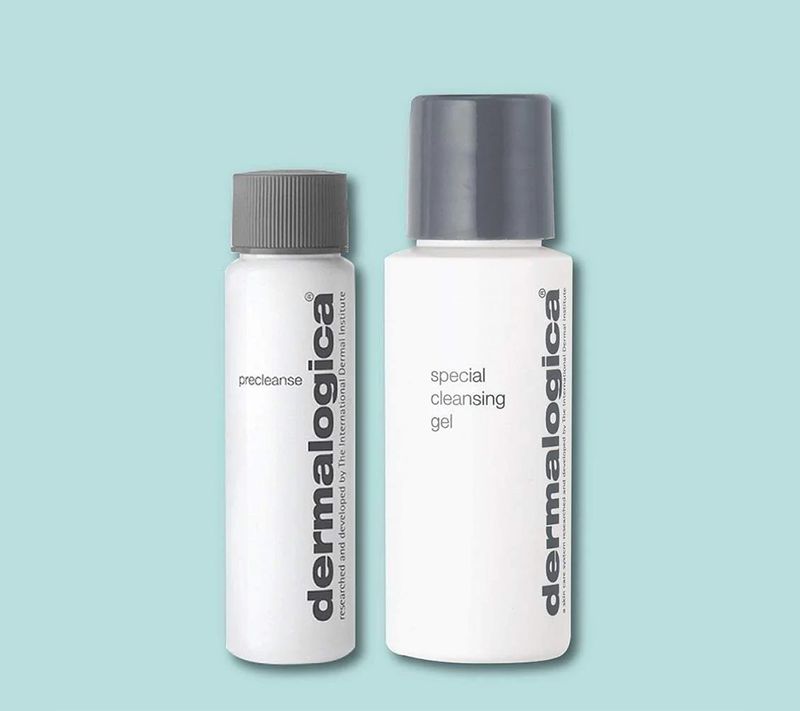 This kit contains minis of the brand's bestselling Precleanse Oil Mini and Special Cleansing Gel Mini. The precleanse melts away layers of excess sebum, sunscreen and waterproof make-up, while the soap-free, foaming gel cleanses without disturbing the skin's natural moisture balance.
Have we tempted you enough to try double cleansing yet? You're welcome!
 
---
Photo: Shutterstock