Ahead of National Handloom Day, which is celebrated on August 7 since 2015, in accordance with India's first Swadeshi movement in 1905, Prime Minister Narendra Modi urged the citizens of India to promote the local handloom industry and be vocal for local on Mann Ki Baat. In his address to the nation, he mentioned, "Whenever, wherever you purchase a khadi product, it does benefit our poor weaver brothers and sisters. That is why, in a way, buying khadi is a service to people, a service to our country. I urge you all to buy handloom products being made in rural areas and share them on #MyHandloomMyPride." 
So, what is handloom? 
The Textile Industry under the Handlooms (Reservation of Articles for Production) Act, 1985, defines it as 'any loom other than power loom; and includes any hybrid loom on which at least one process for weaving requires manual intervention or human energy for production.' Ikat from Odisha, kalamkari from Andhra Pradesh, bandhani from Gujarat, kanjeevaram from Tamil Nadu and paithani weaves from Maharashtra are a few examples of the rich array of handloom fabrics and weaves that our country has to offer. These are made using hand-work techniques that require days, sometimes, even months.   
The handloom industry in our country is regarded as the largest economic activity after agriculture. And according to the Fourth All India Handloom Census (2019-20), it employs 31.45 lakh people. These fabrics today are considered heirloom-worthy investments because they are one-of-a-kind, beautiful, handmade and reflect the rich heritage and craftsmanship our land boasts. 
Bollywood's love for handloom fabrics 
Every handmade fabric by a weaver or artisan speaks volumes of his or her hard work and dedication. They have a unique feel and appeal as compared to power loom fabrics. Perhaps, that's one of the reasons many Bollywood celebrities have fallen in love with these fabrics.
From Rekha to Vidya Balan and Sonam Kapoor, time and again, the best-dressed of Hindi film industry have shown their appreciation for the time and skill invested in the process of creating such works of art and lend their support to the artist communities. Also, they have used their position to generate awareness about the same and promote local fashion.
While most have stuck to the traditional ways and donned these handloom fabrics in the form of a sari, there are a few who have interwoven these with modern sensibilities. Scroll on to check our compilation of Bollywood actors who never miss a chance to wear handloom clothing. 
1. Vidya Balan 
The Sherni actor has a penchant for handloom saris and she has never shied away from showing them off. The 42-year-old has made a strong case of being vocal for local with the saris that she sported for her recent films Shakuntala Devi and Sherni. One of her most memorable looks is from her Sherni promotions – a cotton saree with Rabindra Sangeet lyrics block printed using Dabu technique in natural dyes on the border and pallu.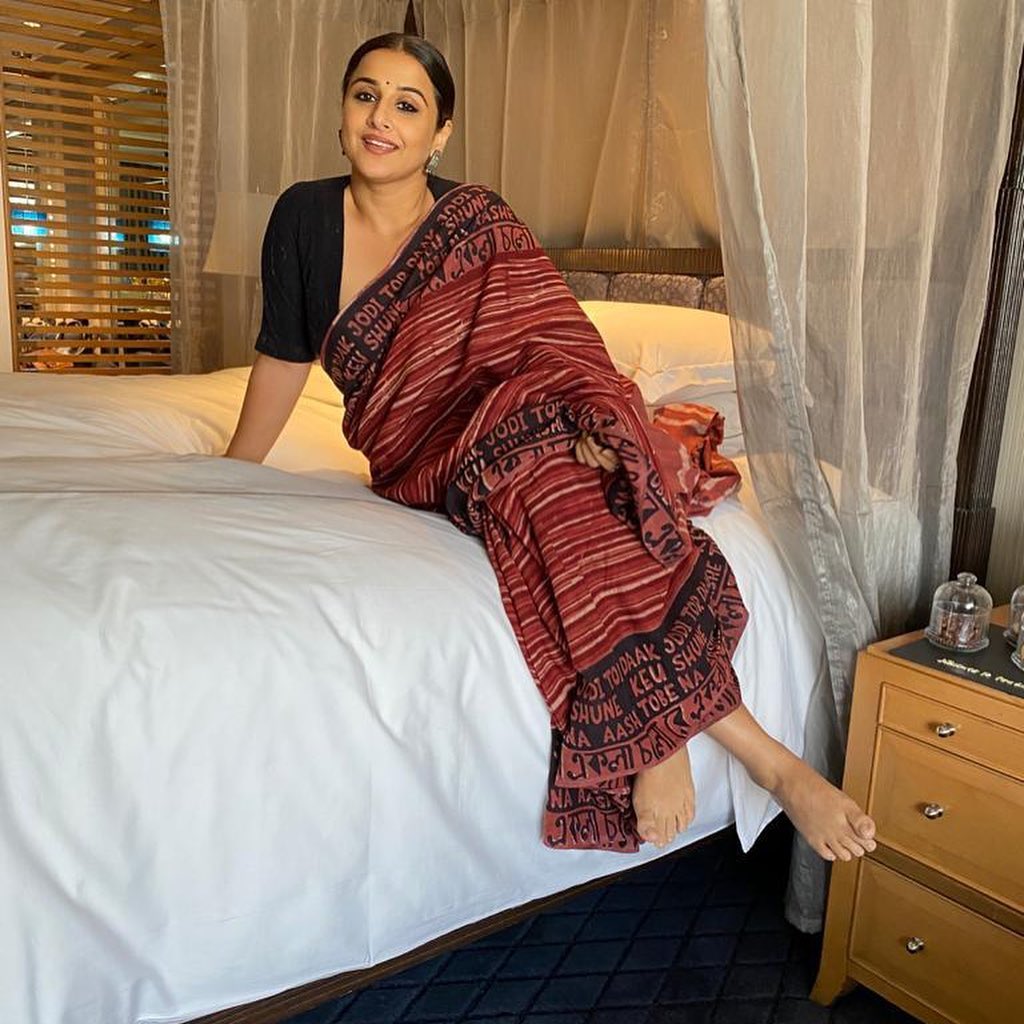 2. Rekha
The legendary actor's exquisite collection of kanjeevaram saris is mesmerising. Be it a red-carpet event or a party, Rekha always makes a show-stopping entry in a vibrant and beautiful zari-laden six-yard drape. She pairs it with a simple bun adorned with fresh flowers and a dark-shade lipstick (mostly, red). 
3. Dia Mirza
A glance through climate change activist and new mommy Dia Mirza's Instagram account, and you'll notice how brilliantly she puts the spotlight on local, handmade fashion and lifestyle labels. Also, how she stresses on the importance of making meaningful and eco-friendly sartorial choices. At the FDCI x Lakme Fashion Week 2020. Dia wore this understated yet stunning Bagru print saree on Benarasi and tussar silk from Taneira Sarees's The Fusion Edit collection. She complemented it with an ajrakh block print and zardozi embroidery blouse.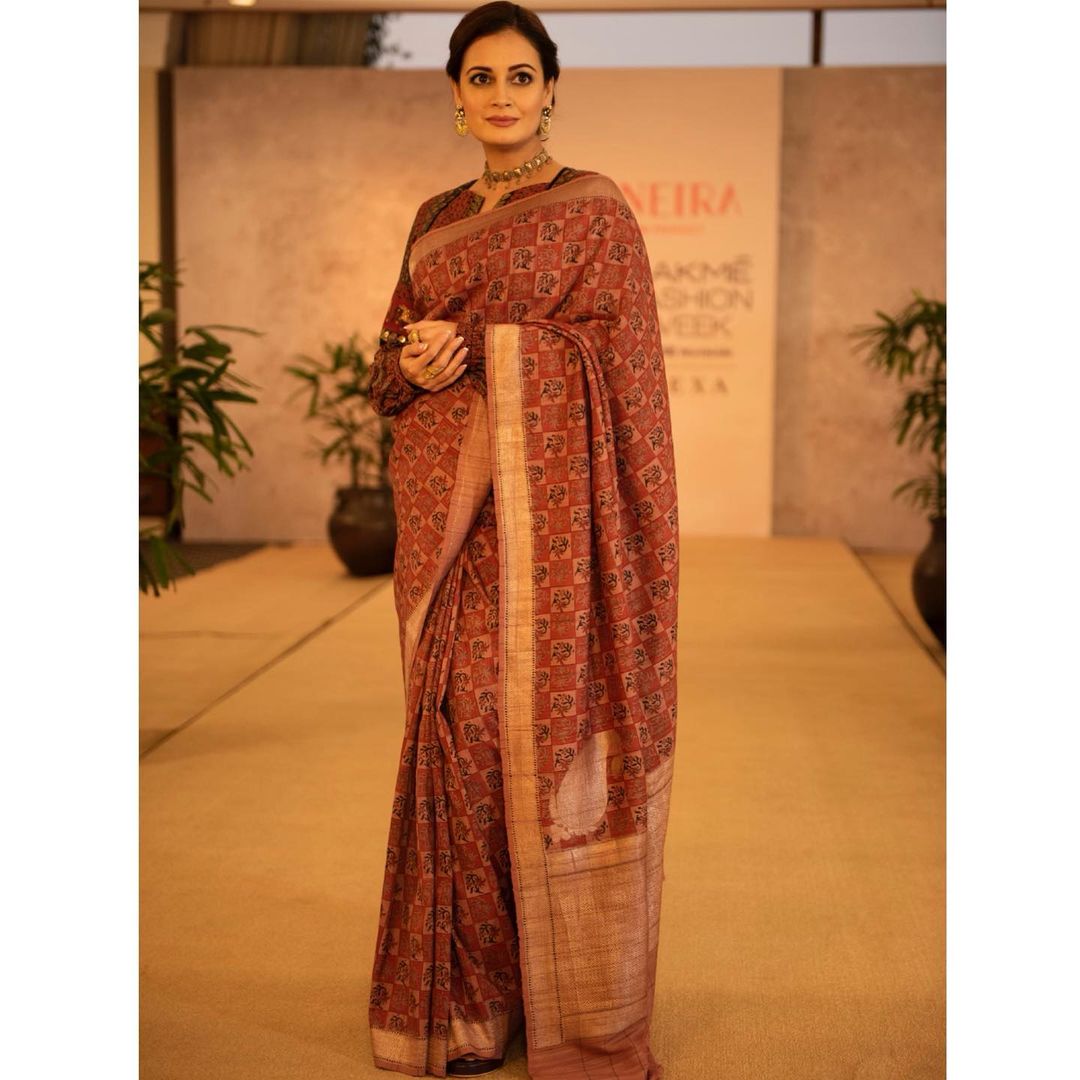 4. Kangana Ranaut
Indian handloom fabrics are a go-to for Panga actor Kangana Ranaut not only for airport looks but also for parties and red-carpet events. Back in 2019, she wore a kanjeevaram saree by Madhurya Creations with a customised Falguni and Shane Peacock corset at the Cannes red carpet and generated a lot of buzz around local Indian weaves and craftsmanship.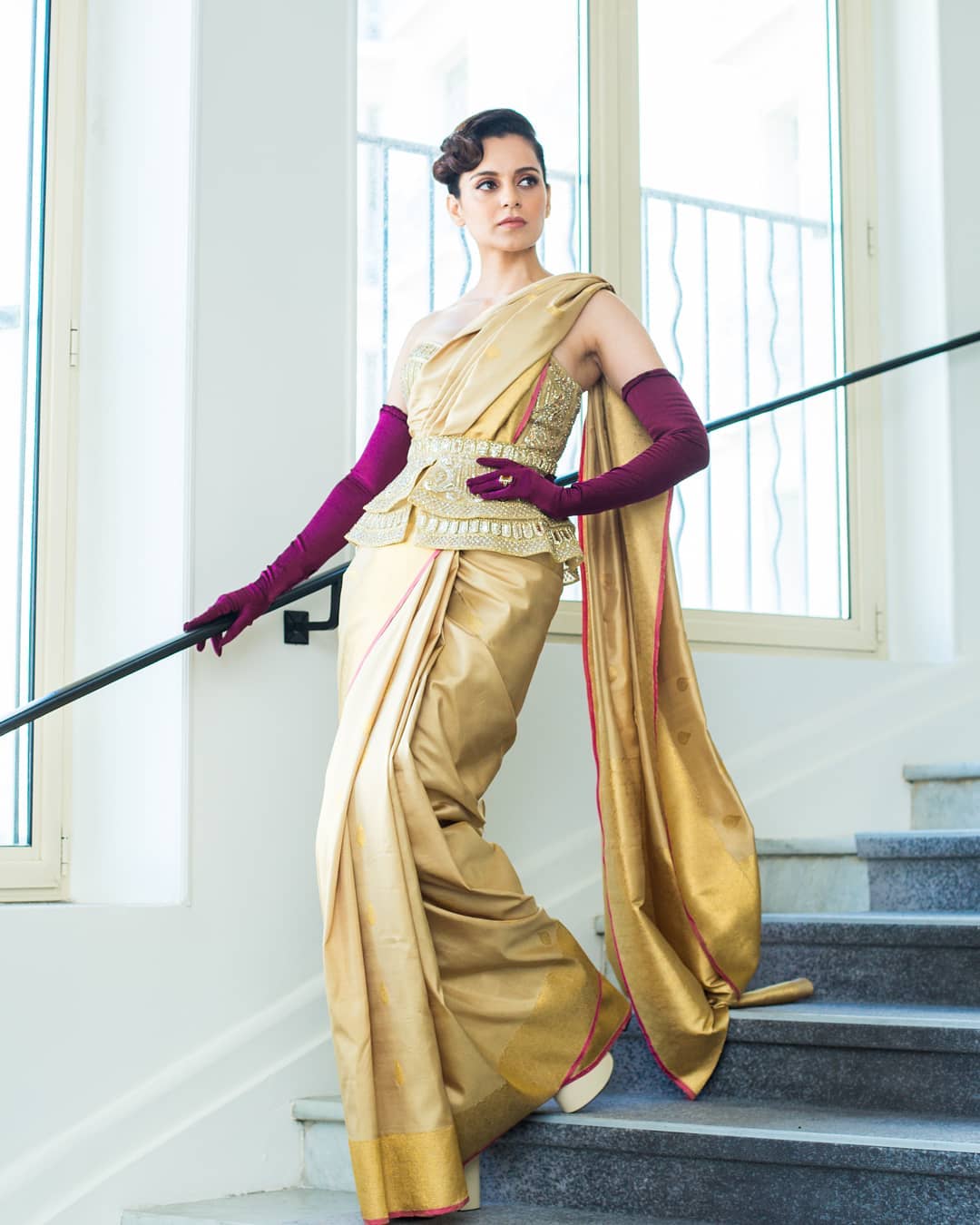 Speaking to Hindustan Times before the event, she had said, "As an Indian actor on a global platform, I have the responsibility of endorsing our weavers and wearing outfits that reflect our rich cultural heritage," and that, "The idea is to revive the forgotten weaves and bring them to the fore so that the world is more aware of our rich fabrics and culture." 
Recently, she posed in a Kerala Kasavu sari with a gold border. Her look was finished off with golden temple jewellery and cherry red lips.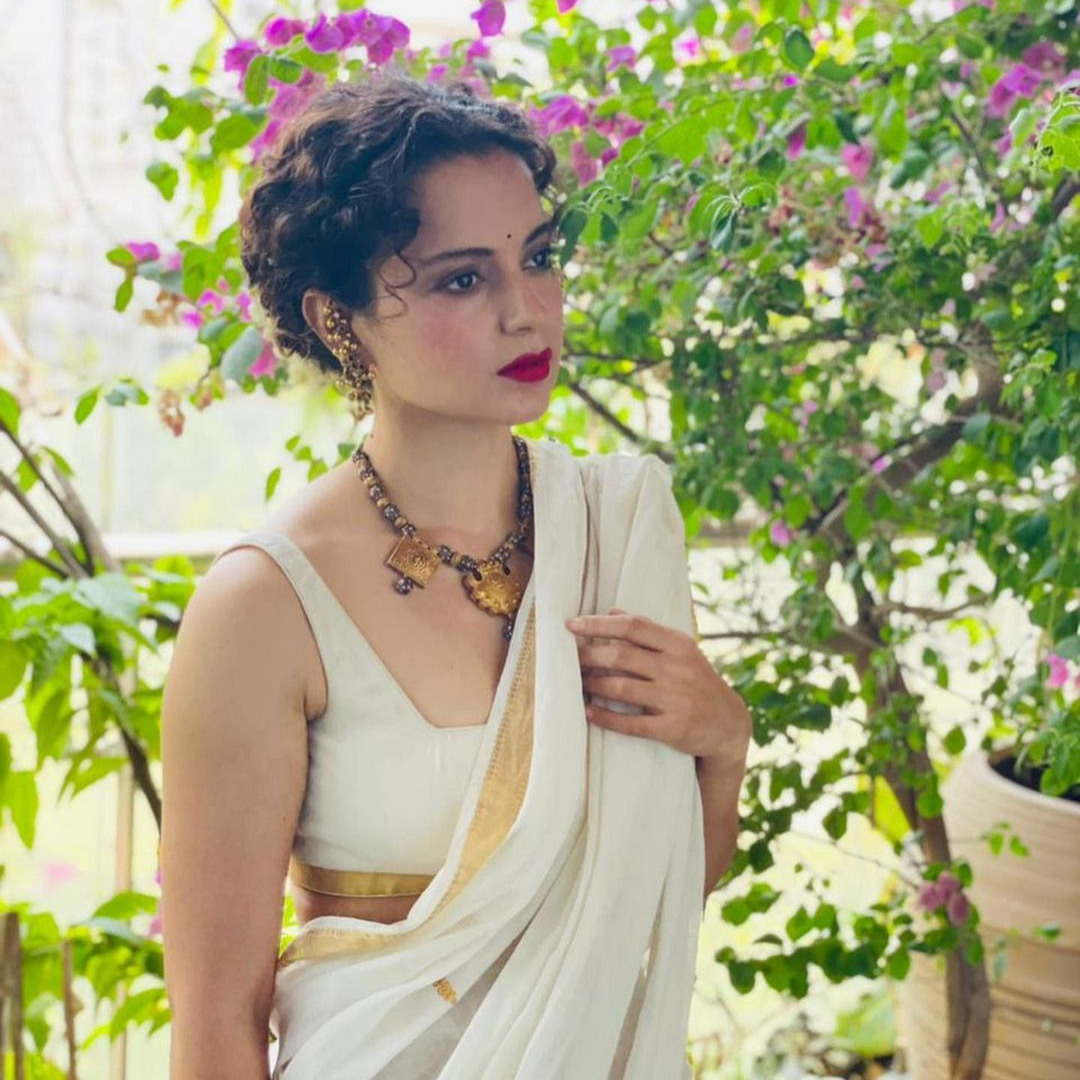 5. Sonam Kapoor
Thanks to her sister and stylist Rhea Kapoor, Bollywood star Sonam Kapoor has multiple iterations of heritage weaves, mostly worn with a modern twist. Styled by sister Rhea Kapoor, here she's wearing a beautiful brick coloured monochrome sari from designer Anavila Misra's festive 2020 collection. The look is finished off with a similar hued blouse and layered with a shrug.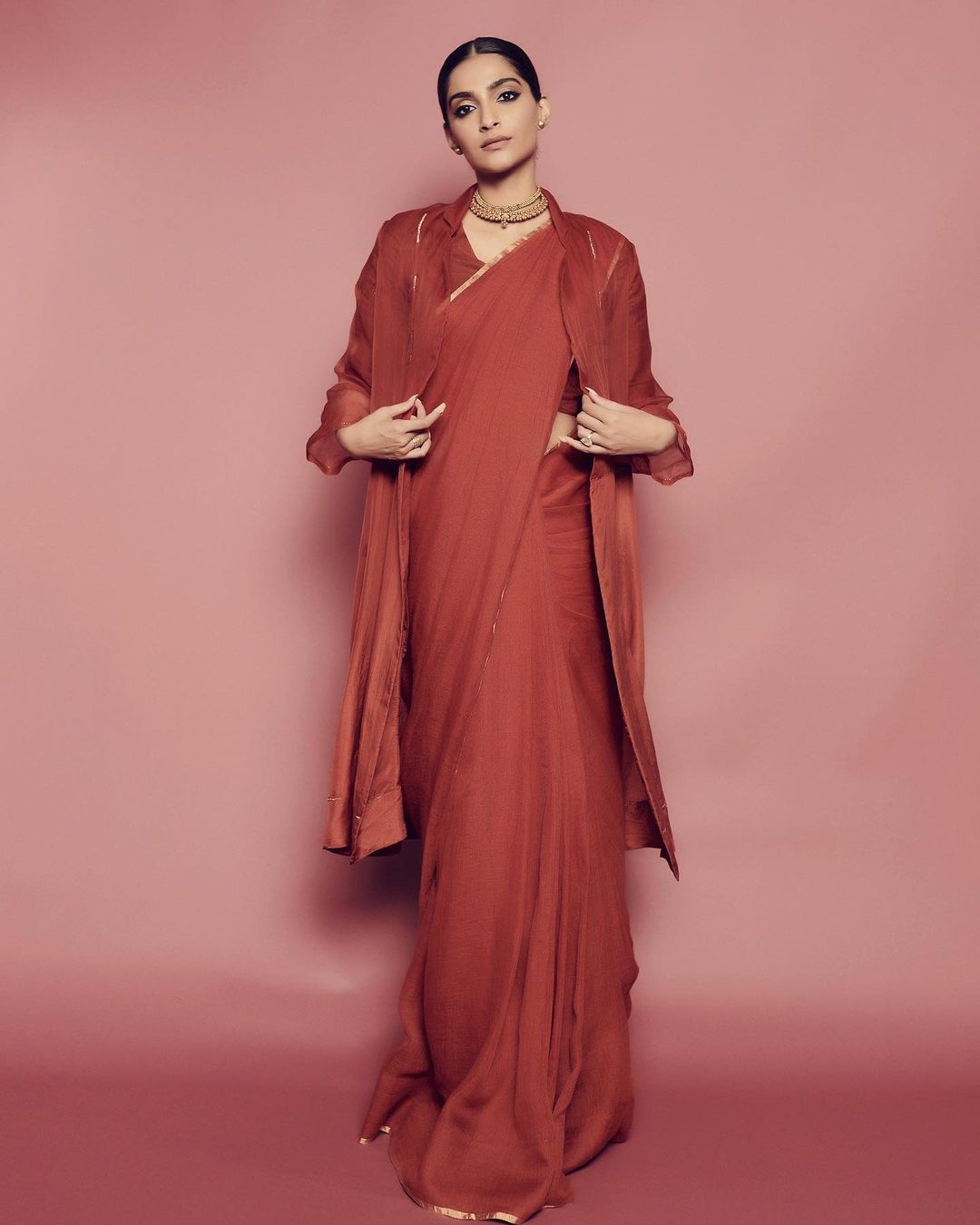 6. Konkona Sen Sharma
Konkona loves handloom cotton and linen saris and the understated elegance they bring. These have been her go-to for red carpet events and movie promotions. She usually relies on monochrome and minimalistic saris to make an impact. Take this Anavila Misra linen saree with a simple and elegant blouse accentuated with floral print as an example.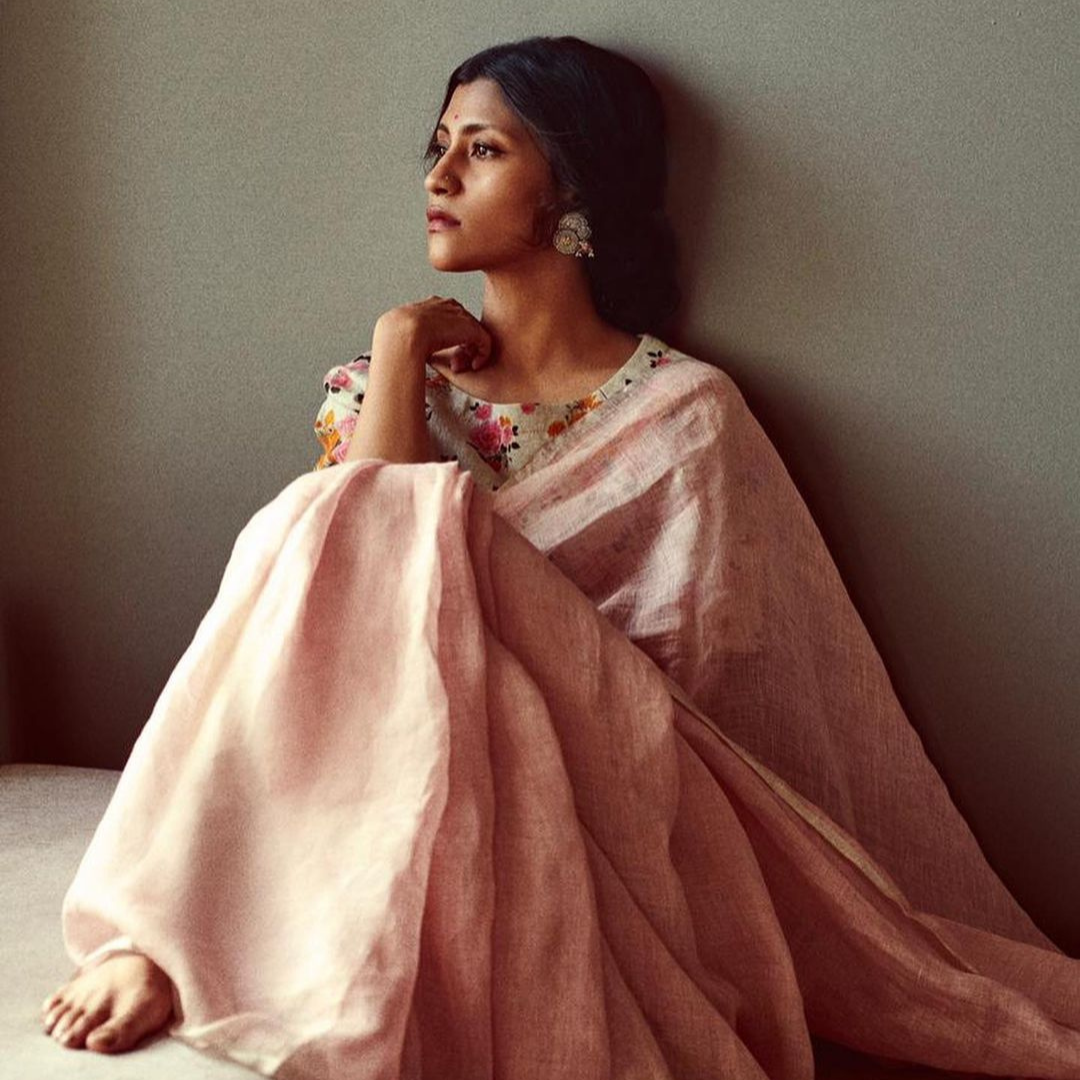 7. Shilpa Shetty
"Indian handlooms sarees are such a treasure to own! The artistry involved, their uniqueness, and the efforts invested make each piece so incredibly special," wrote Shilpa Shetty in her Instagram post last National Handloom Day and saluted the weavers and artisans of our country. One of her most memorable looks is this pink Ekaya drape with gold stripes and quirky motifs with a V-neck blouse in a matching hue.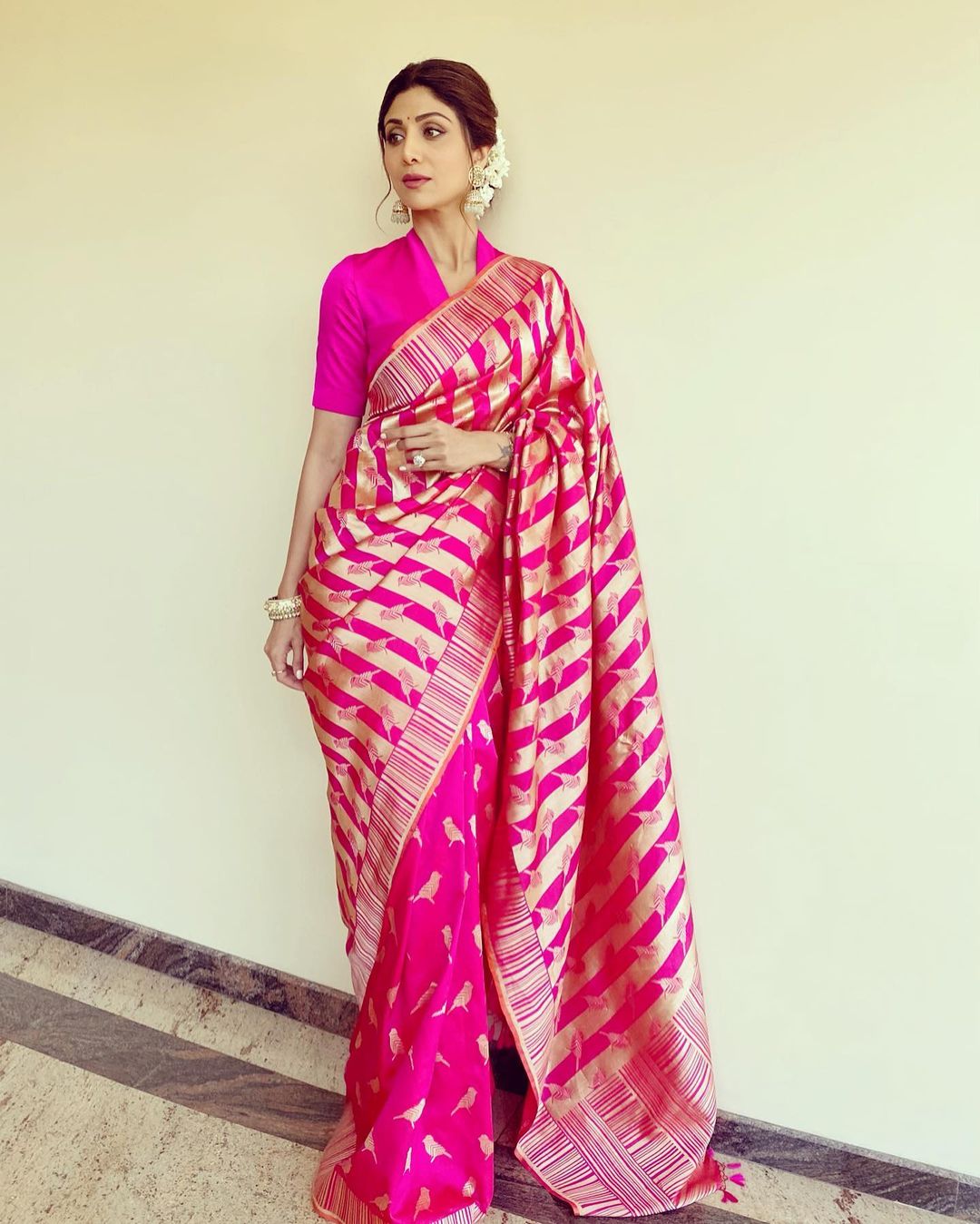 8. Janhvi Kapoor
Roohi actor Janhvi Kapoor has inherited her love for saris and handloom from her mother and late actor Sridevi. From the off-white and pink sari she wore to collect Sridevi's award at the National Film Awards in 2018, to the bottle green bandhani she donned for Isha Ambani's wedding, she has given us some bookmark-worthy sari looks. Here's Janhvi in a red and yellow half saree aka south Indian lehenga-holi.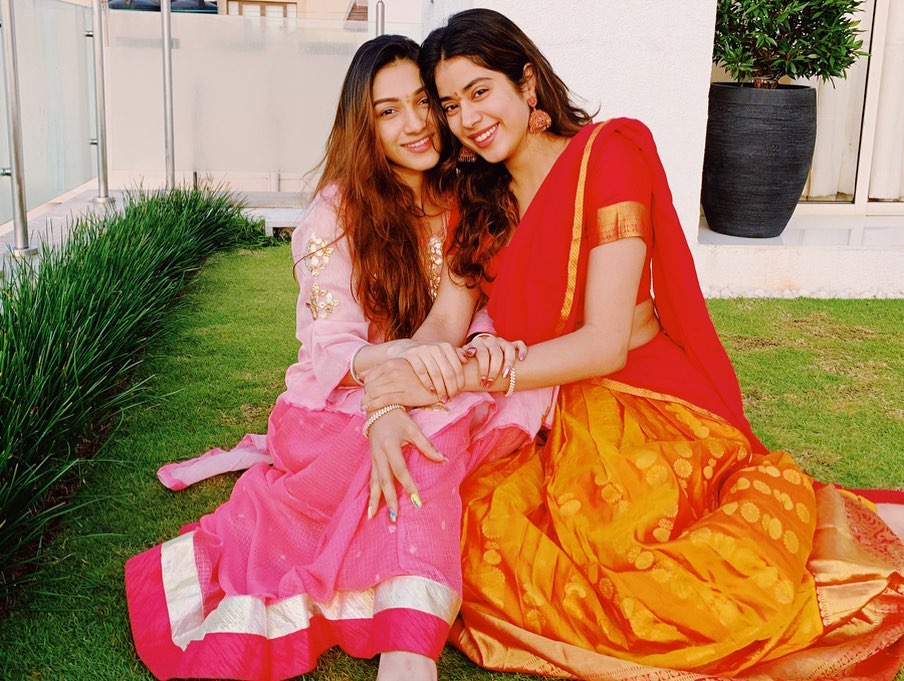 Photo: Instagram/Featured Bollywood Actors