As a Gen-Z star, Ananya Panday's makeup is often unpredictable and never boring. A quick skim through her Instagram reveals her never-ending love for soft glam makeup that is statement worthy. All her experiments with makeup offer ample inspiration for the party season, from classic dewy looks to metallic lids and timeless eyeliner and bun combinations that go with all kinds of silhouettes.
As the actor celebrated her 24th birthday this year, we take a look at her statement looks that could also easily transition from day to night. Here's how you can take cues from the star's dynamic and party-ready beauty styles:
1. Rosy radiant glow
Ananya Panday has always been the triumphant beauty in sporting the latest trends. If you enjoy monochromatic makeup or the casual blushed glam, her recent Diwali look is a standout. For instance, a glossy nude pink lip shade can be paired with a dewy base, light contour, mascara lad lashes and perfectly filled-in brows. Let your hair, sit back in a sleek middle-parted style and you're ready to win the game.
2. Statement red lips
There's nothing like red lips to add a pop of colour to an all-black outfit. And a classic black dress is a staple for the party season. When it comes to glam for an evening party, this bold lip and hair tied in a sleek bun is a fail-proof way to bask in the spotlight. To recreate the look, you need to be generous with the contouring. Next some blush, a dash of metallic gold on the eyelids and keep the rest of the makeup subtle and dewy.
3. Metallic lids
Smokey eyes may not be everyone's choice but high-shine metallic lids offer a welcome reprieve. Panday's metallic lids with rosy lips and a vibrant colour-block dress is a party-worthy look to recreate. For this look, keep the skin fresh by opting for a dewy base, her signature. For the eyes, go for a dark matte brown shadow and blend it all out. Enhance your eye makeup more with a metallic bronze shade and some glittery pigments. Eyeliner and fluttery lashes are a mainstay, no matter what look you're going for as it opens up the eyes. Some pretty pink blush and a dab of rosy gloss on the lip are how you complete it with.
4. Classic nude glam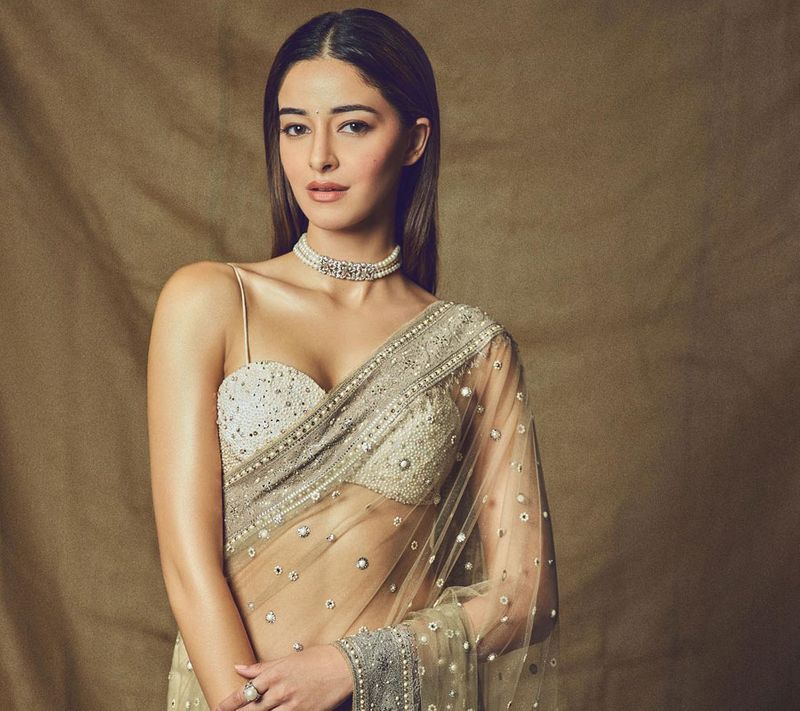 On the other hand, if you're one for the subtle 'less is more' approach, then a classic nude glam-up look is one to bookmark. Panday's slightly contoured cheeks and minimal kohl around the eyes make it a chic choice. While replicating this look, enhance your skin texture with a complementing base or just a concealer, then pick a nude eyeshadow and lipstick. You can make your eyes do most of the talking with a minimal kajal lined around the lash line. Blush and mascara can be optional based on how much you're toning it down.
5. Shimmery allure
Panday presents yet another lovely example of how to go less when your outfit and accessories are extra. For makeup, try a slightly elongated eyeliner flick and subtle shimmery rose gold lids with filled-in brows. As for the hairdo, go for a snatched, sleek back hair bun to draw attention to your shimmery eye makeup. A burgundy lip and some blush will finish off this glam look.
---
Photo: Instagram/Ananya Panday