A floral burst of varied colours greeted fashion enthusiasts who attended Delhi-based couturier Varun Bahl's mystical forest and garden-inspired couture show titled 'New Leaf' at the ongoing FDCI India Couture Week 2022 yesterday. 
Actor Rashmika Mandanna turned showstopper for the couture showcase wearing a red floral lehenga skirt coming with an embellished corset, and a multi-colour floral lehenga, marking her debut on the runway.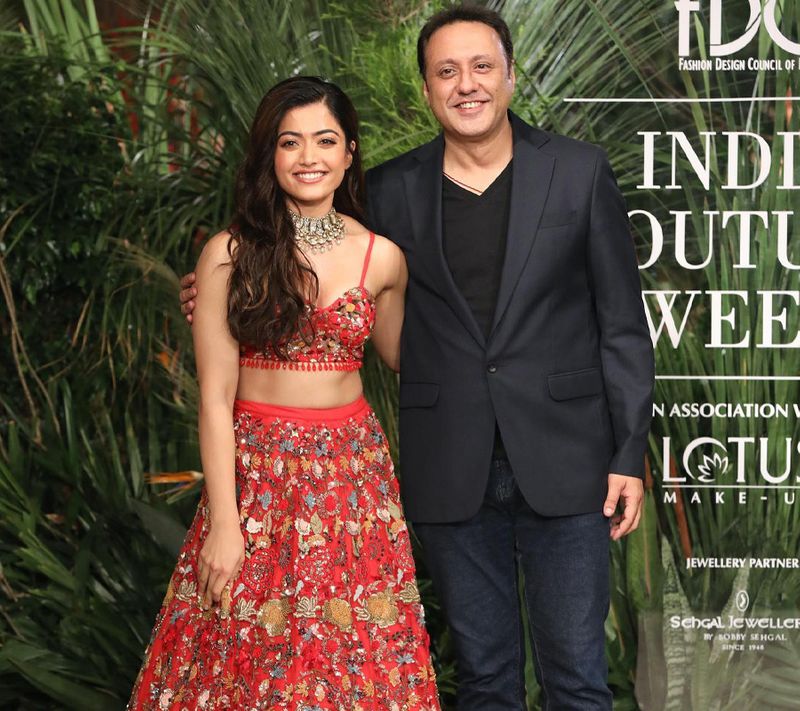 Bahl has been in the couture business for more than two decades now. His design DNA is dipped in floral motifs that he has explored in his earlier collections as well—although his approach this time around was more vivid. His dream-like approach marries the beauty of Indian hand embroideries with a contemporary sensibility. With the collection New Leaf, the ensembles inject a never-seen-before spin. "With this collection, I have experimented with fresh silhouettes, different textures, appliques such as feathers and sequins, and fabrics such as silks and velvets," Varun tells us as he takes us through the show.
If your vibe is more 'playfully whimsical' you will be delighted with the ominous, enchanted forest aesthetic created for the show. And Varun knows how to capture the audience with an enthralling set. "I have always loved showcasing my collections physically to my audience, to be able to gauge their reactions and make new memories with them." With the collection taking inspiration from the grandeur of the forest, the set of the show was indeed a mesmerising one, replicating the dense foliage with a bounty of real, rich, tall green grasses.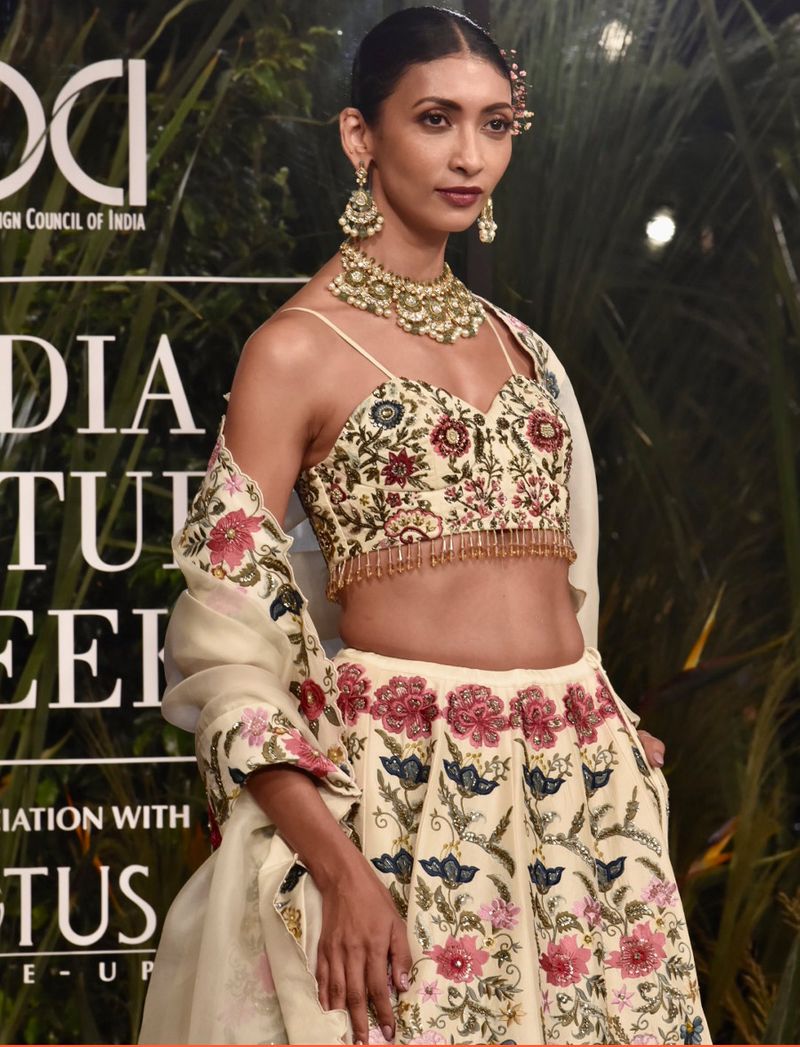 Classical Indian couture more or less focuses on wedding wear—lehengas and sarees—but Bahl brought in a fresh design in silhouettes with sheer dresses, gowns with ruffles and trains, intricately embroidered catsuits, cape jackets, pantsuits, crystal-encrusted dresses, and more. He also reintroduced his signature upcycled patchwork embroidery, in a revamped avatar over long capes, lehengas, flouncy dresses, and a blazer-pant set styled with a pastel bralette. "I am redefining and moving ahead from the pre-existing realm of traditional Indian couture by giving couture a global avatar and taking it beyond the Indian market," he shares. Beadwork, gemstones, and 3D embroidered flowers and leaves graced the ensembles, taking a leap from traditional wedding couture and exploring global couture in a novel way.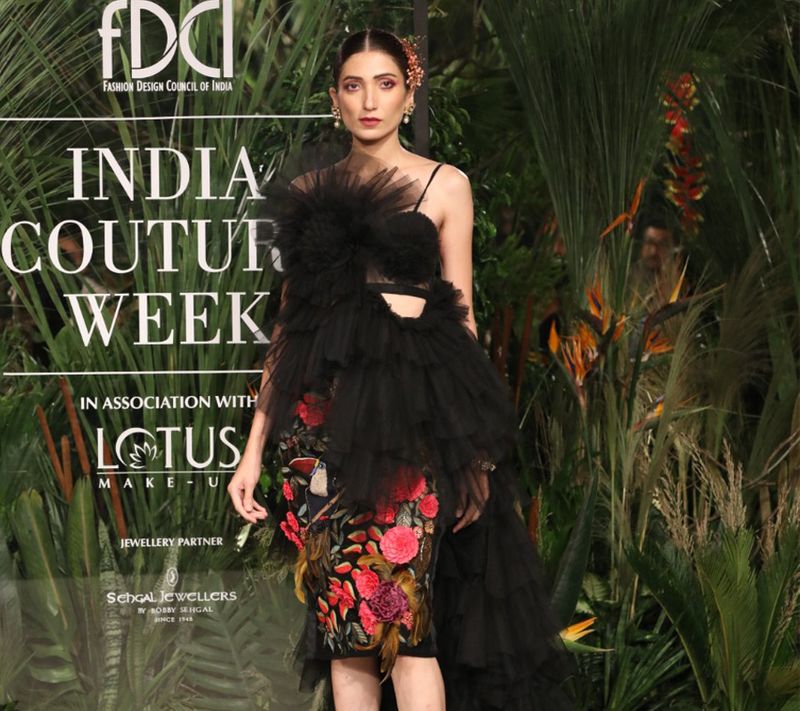 Coming to menswear, Varun brings a new insight into how Indian men can become 'flower men' today. The result is a new vision for menswear—albeit with a lot of ease and, dare we say, comfort, which is the antithesis of the traditional couture silhouette that menswear has been aligned with for years. "Every garment in the collection showcases couture for all genders in a fresh and fun manner," Bahl comments. The Bahl men walked the ramp with vigour clad in all-floral tracksuits, bandhgalas and tuxedo suits, Viking-like ensembles complete with faux fur coats, and golden embroidered blazers with sheer vests.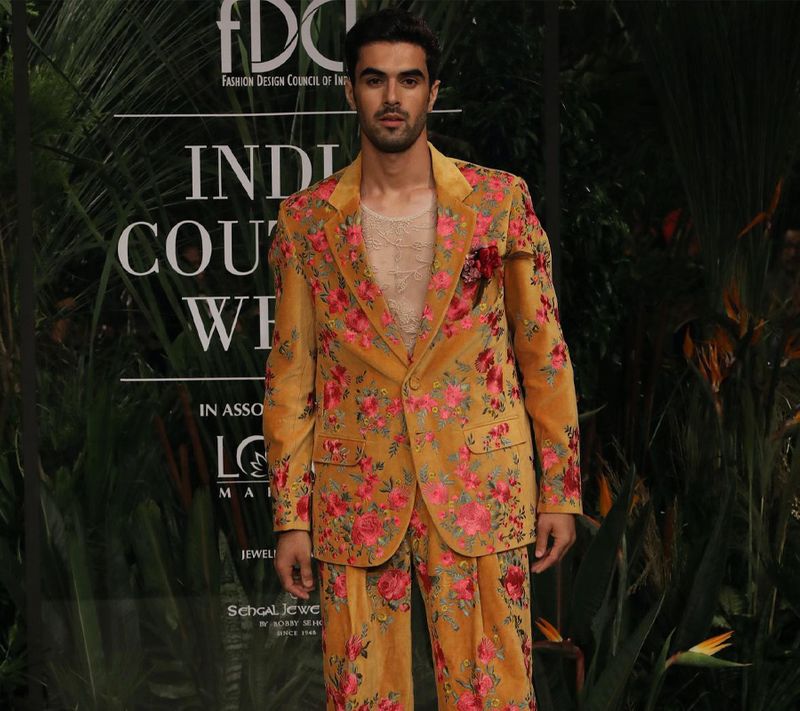 From an update on the classic Spanish floral hat to the much-loved straw bags—Bahl's show focuses on how Indian fashion shows must throw equal emphasis on other accessories apart from jewellery. With their ruffled gowns and big floral hats, feather-laden messenger and clutch bags, poppy-coloured pumps, and feathered heels—they brought a fresh perspective on the aesthetic potential of classical accessories.
What caught our eye was some standout looks that are not only experimental and international but also make for iconic wardrobe investments. In womenswear: an all-black look with an evening skirt and a long ruffled train, a sheer, jewel-encrusted dress with floral motifs on the centre, and flouncy lehenga skirts paired with elegant yet sexy bralettes. In menswear, we loved the dazzling sequinned suits paired with long faux fur coats, embroidered sheer vests, and an upcycled bandhgala with a gradient pink colour effect.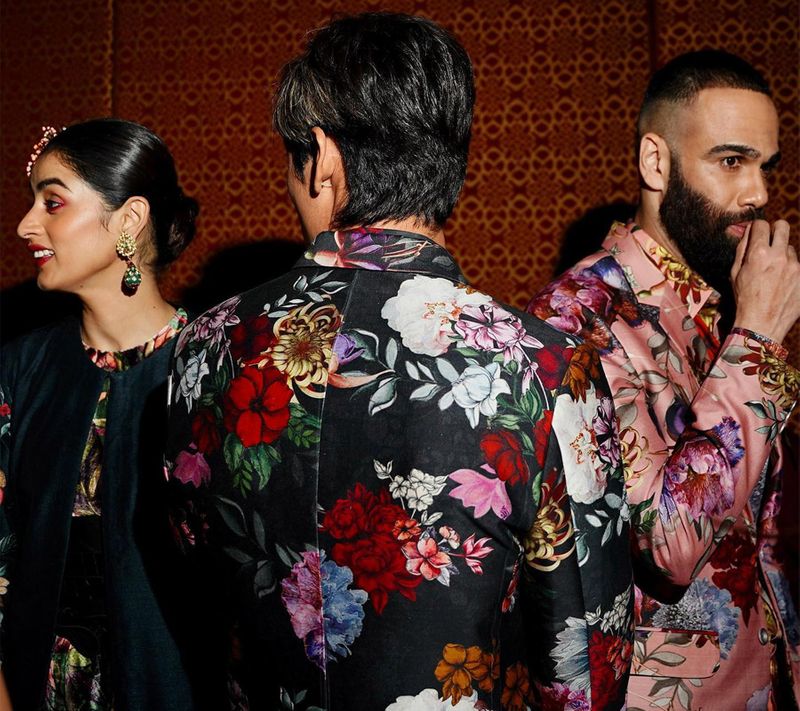 Despite the collection's twist on traditional Indian silhouettes, the use of 3D floral motifs and feathers in some ensembles looked overused and could be toned down a bit.
We caught up with Varun in a tete-a-tete to learn how Indian couture must evolve, the need to appeal to the younger generation, and also, the wedding-heavy Indian market:
Edited excerpts:
1. How does it feel to be back doing a physical couture show after a break of two years?
I am truly so excited and thrilled to be able to get back to physical shows post the pandemic. The pandemic has been a tough time for all of us, and it feels so good to be able to get back to the physical format of shows.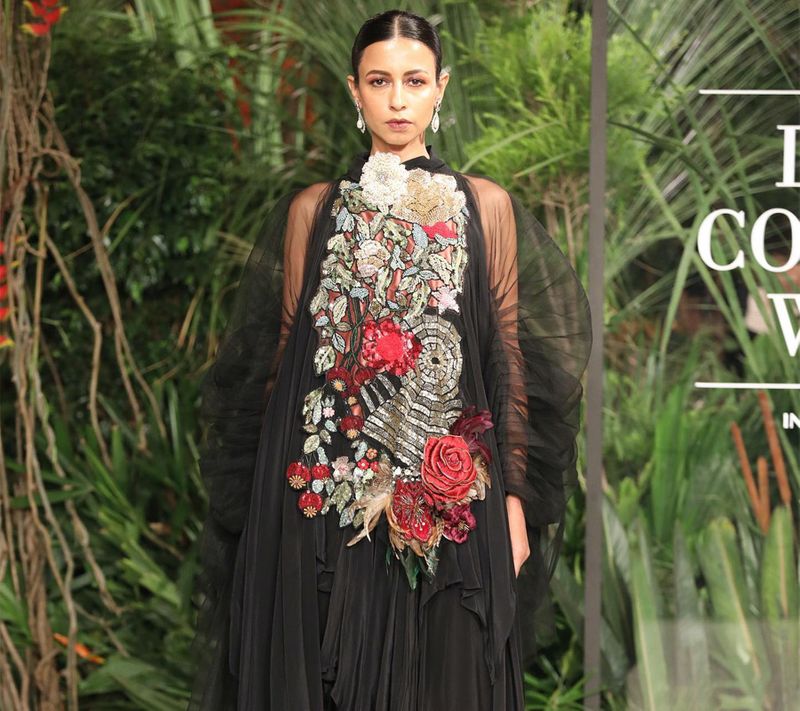 2. How do you relate to the conversations of mindful couture and design?
Sustainable fashion is definitely the future as almost everything is now being made and sourced from India, whether it's fabrics, embroideries or even ethical policies. There are different ways the industry can play its part to reduce the carbon footprint—one being minimising any form of wastage. Keeping this in mind, my new couture collection highlights my upcycled patchwork embroidery, but in a reinvented avatar, as it highlights how the material and products all of us as a society used to consider as waste, are essentially being utilised in a whole new way.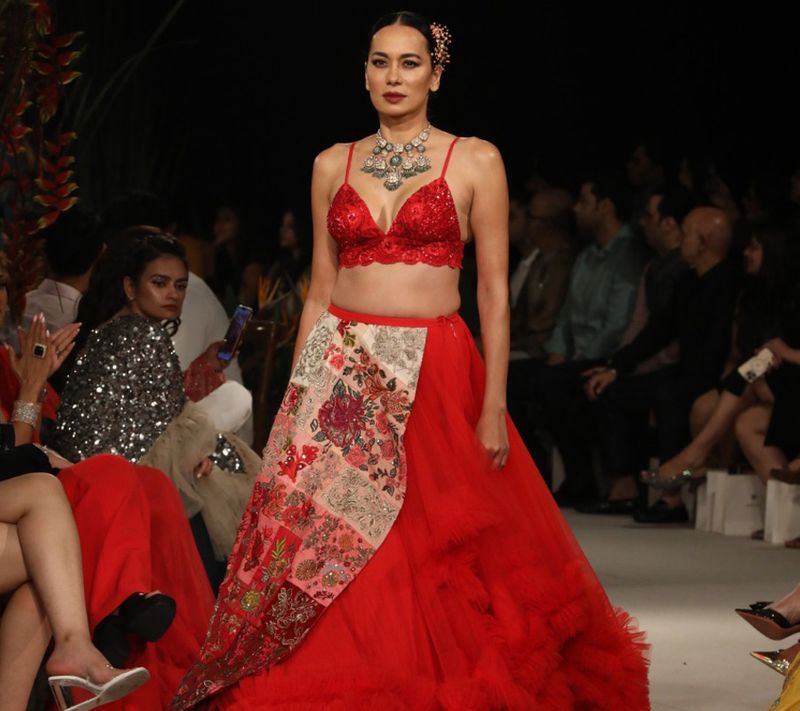 3. Are millennials and gen-z open to purchasing these highly crafted couture pieces over 'trendy' stuff?
As I restyle and redefine couture with this collection, I aim to cater to younger generations and completely reinvent the idea of couture. I believe this is the need of the hour, as the younger generation is also moving towards garments that are not only experimental and reusable but also pieces that make for iconic collectables in their wardrobes. The younger generation in the audience is looking for pieces that are contemporary, with a hint of fun and drama. Today's audience would like to invest in pieces that are sustainable in more ways than one—ensembles that can be re-worn, re-used and utilised multiple times in order to adopt a more sustainable and environmentally friendly lifestyle.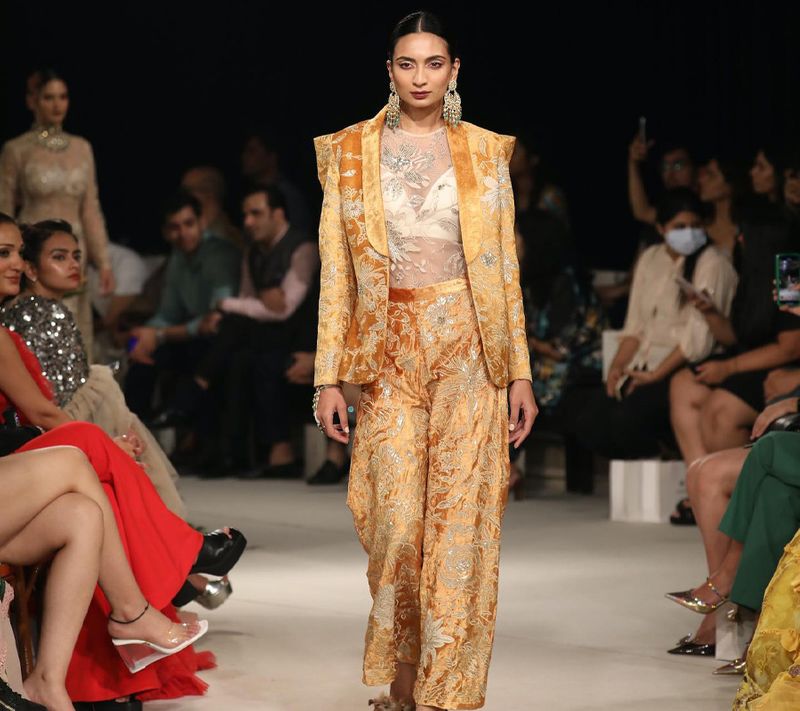 4. How much has your two-decade-long design approach impacted the buyers' sensibilities as well?
For me, couture was never limited to just traditional red bridal wear. A couture line should add solid design value to a wearer's wardrobe and enhance her personal style, have a timeless and versatile style, and be more accessible to all.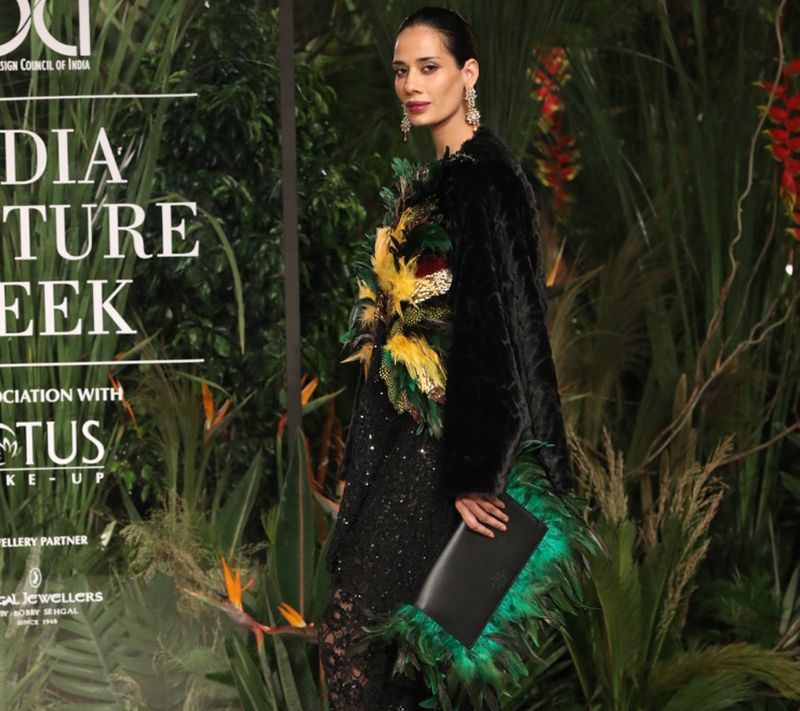 5. What do you think will be the key trends for the upcoming wedding/festive seasons?
While my new collection features lehengas and gowns, there's a rise in the demand for asymmetrical dresses, corsets, draped sarees, and jumpsuits that pave way for experimental silhouettes. There's a change in the colour palette too—a play of pale pink, sage green, midnight blue, dark fuchsia, burnt lavender, and ivory—all of which are ideal for the upcoming festivities, no matter where you are in the world.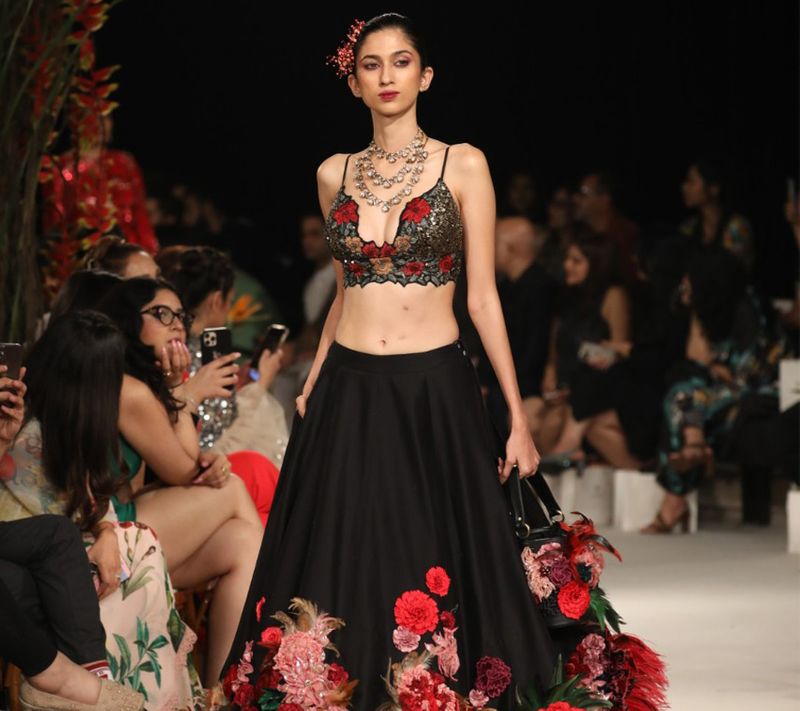 ---
Photo: Varun Bahl; Instagram/FDCI