What do you expect when you hear of Indian couture? The classical Indian couture comes with awe-inspiring and exuberant display of ensembles to which only an ace-couturier like JJ Valaya can stay true.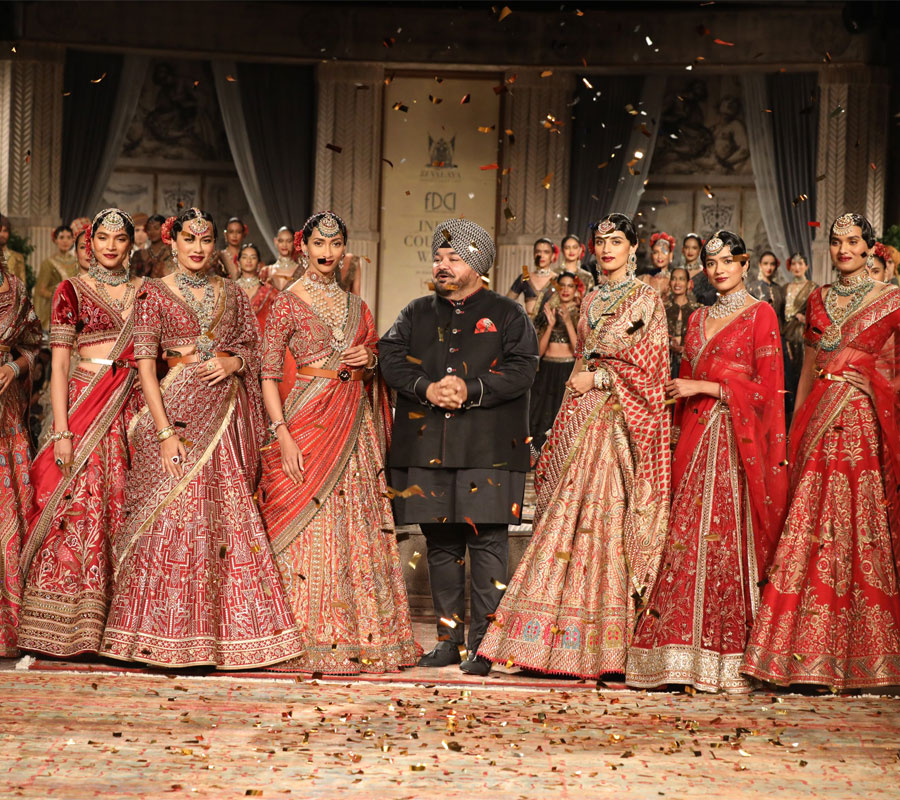 Celebrating his eponymous label's 30 years with an extravagant show at the ongoing FDCI India Couture Week (ICW) 2022, Valaya's grand display with couture pieces having subtle nuances from his past collection of three decades really established the magnificence of ICW once again. 
His dazzling designs never fail to impress, and the backstage is where you get to see the flurry of activities unfold; it's always a good idea to witness the high-octane energy and larger-than-life set a little ahead in a classic Valaya show. Amid all this, we could still find the prolific designer calmly meandering around the space, inspecting every single move of the show carefully. And that's what Valaya still is as he was 30 years ago, before he began his design house.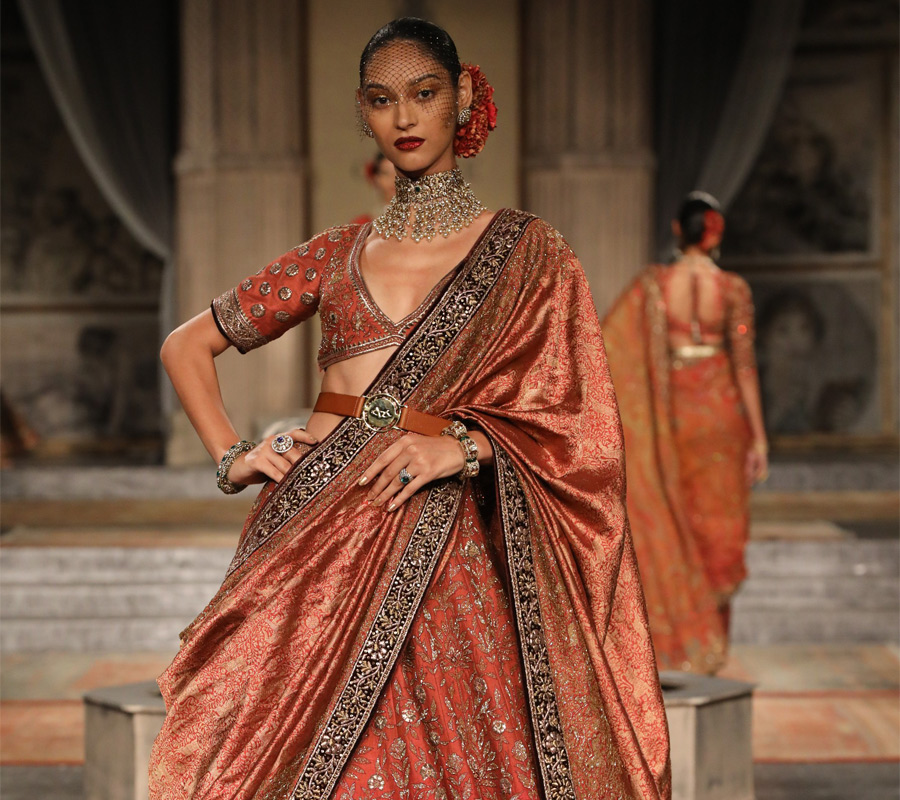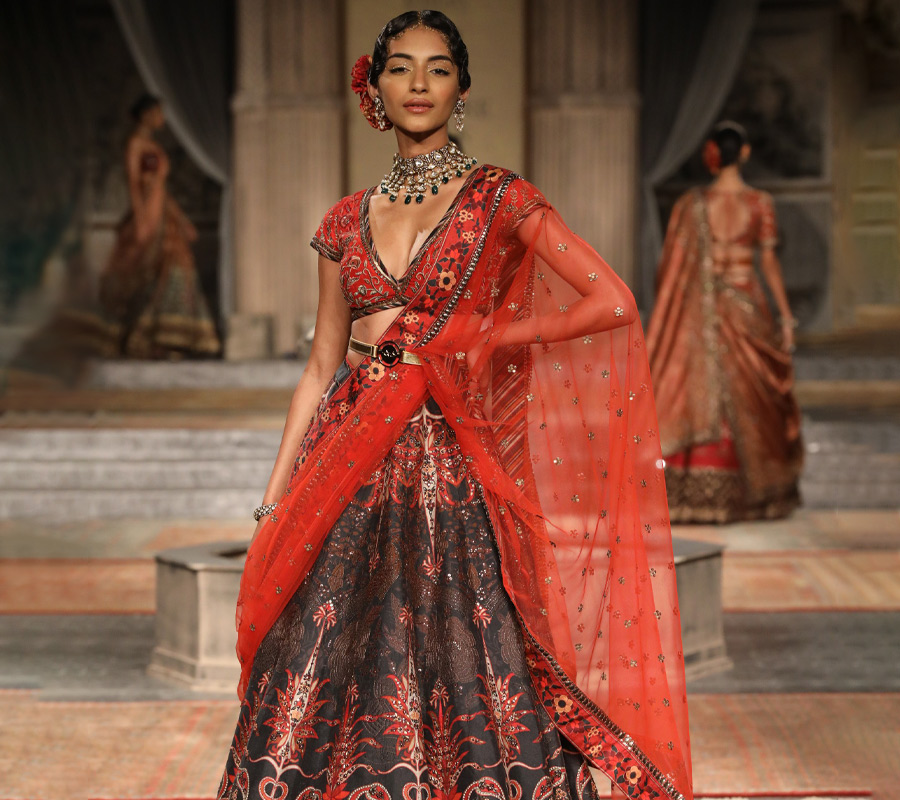 So, what would the czar of couture do to mark his 30th anniversary? The show began with a well-written anecdote about how the designer went from being Jagsharanjit Singh Ahluwalia to JJ Valaya who started his own brand after graduation from NIFT. His new collection titled, Alma is an ode to the country of Spain while Valaya's three collections, 'Royale', 'Nomade', 'ArtDeco' found their revamped versions in this diverse collection but not without expanding the definition and ethos of regal Indian couture.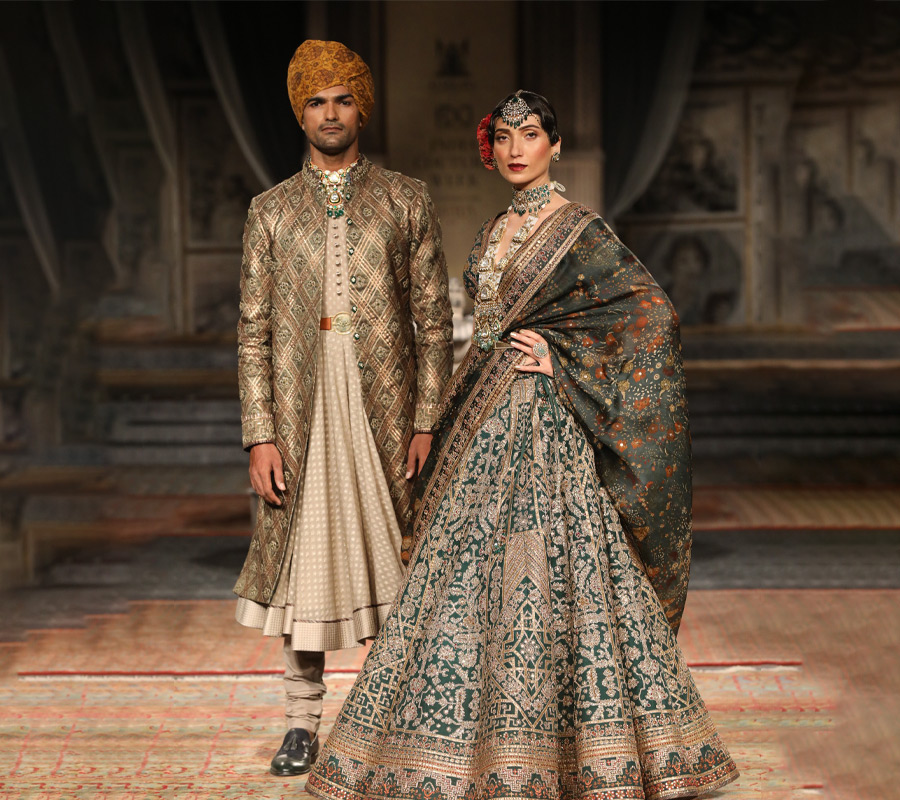 The opening collection saw the models strutting down in ornate, pastel and neutral-toned lehengas and sarees while the Valaya man came out in an intricately detailed bandhgala, a turban and shawl adding to the charisma.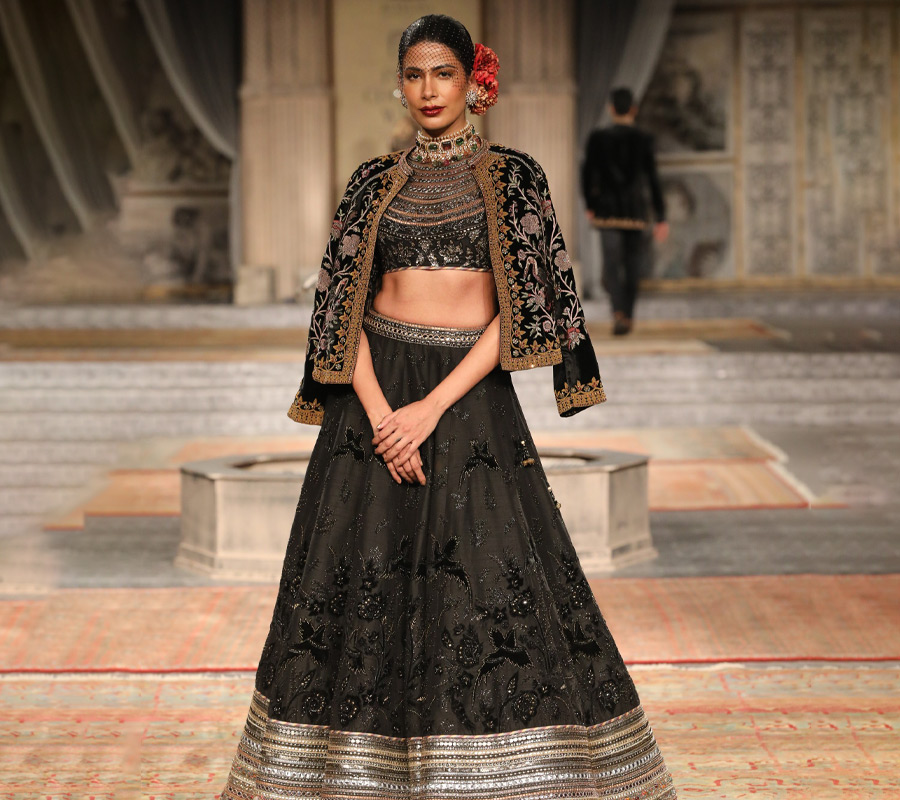 The next facet of the collection was followed by Valaya's iteration of his highly acclaimed chevron print that made for a sight to behold. Cool blues, crimson reds, and vivid yellows, greens were blended with darker greys and blacks over lehengas and sarees that were styled with his signature Valaya belts that added a sense of structure to the draped silhouettes. Luxurious fabrics, elegant details, timeless prints and embroideries defined his couture collection in all its glory. The models with fine facial netting with rhinestones, embellished eyes, and hair crowned with florals gave away for a timeless retro haute look. 
With his signature grandeur and opulence, JJ Valaya ensured that his 30th-anniversary show remains etched in gold.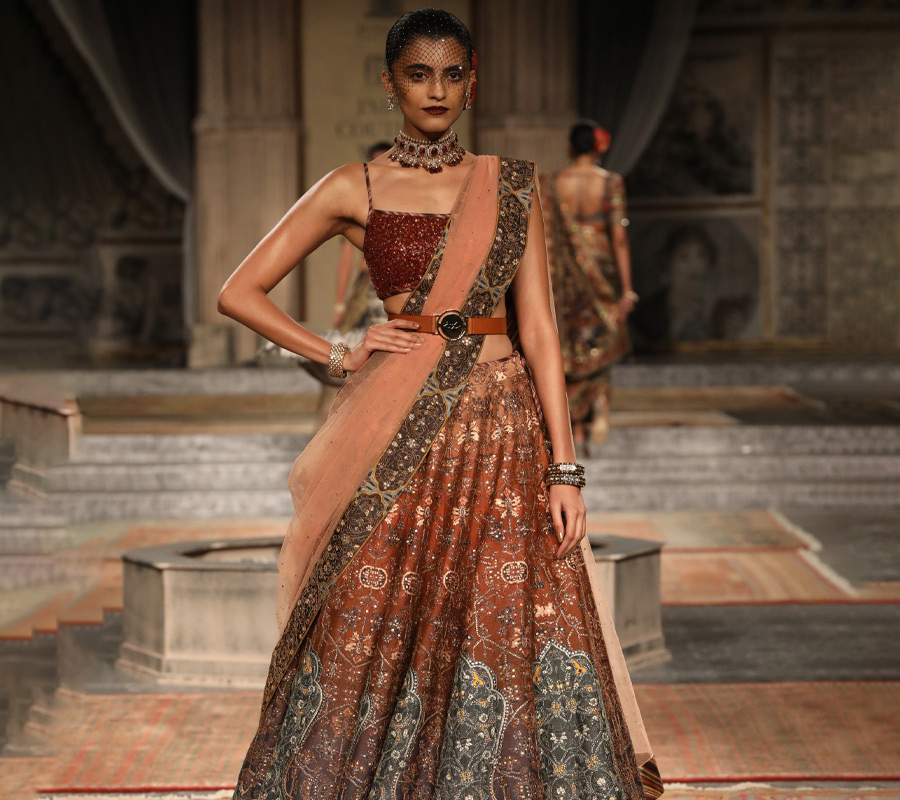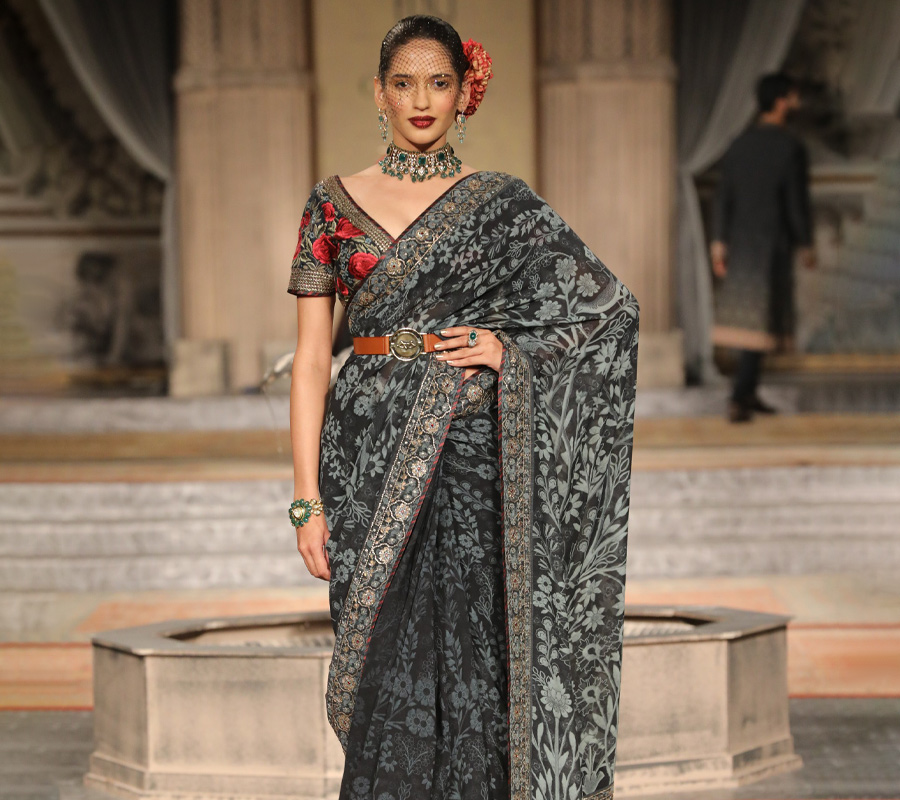 What you couldn't miss from the show was the soulful live musical experience that made the fashion show come into an even more spellbound celebration. Indeed, a magical moment to see the couturier's ace collection saunter down the ramp to live music created by a melodious symphony of musical instruments like sitar and sarangi. The fashion show set was also by far one of the best we had witnessed at India Couture Week - all speaking extensive notes of Valaya's opulence and design brilliance.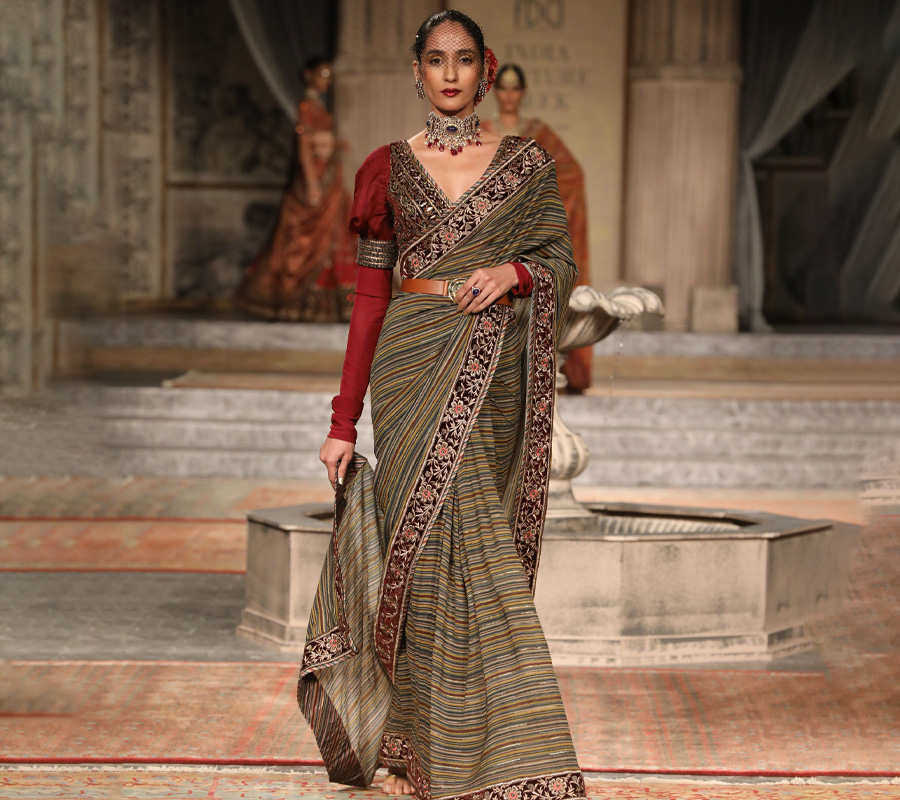 Photo: JJ Valaya