To be honest, I never started out having any grand plans of representing India on the global fashion stage. I was just doing my thing and going with the flow of things. As it happens, this led me to showing at Paris Haute Couture Week and then again to Milan Fashion Week this year—making me the first-ever Indian female designer to show at both events.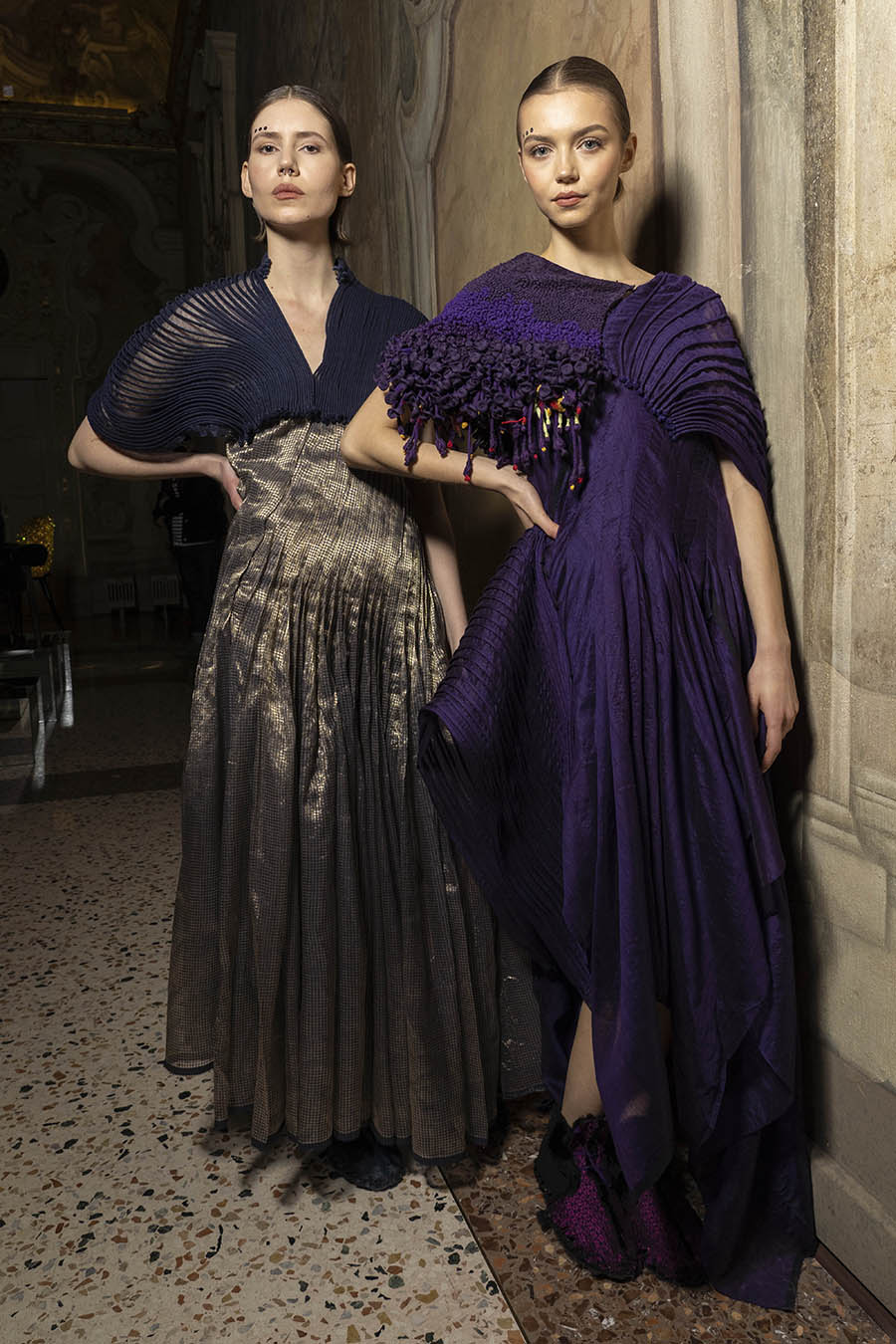 It was only when I got to Paris and Milan, did I realise that what was happening was way bigger than me—that being the first Indian woman designer to reach these stages suddenly felt like a huge responsibility, or should I say, a set of responsibilities. Being a female designer from the Indian fashion fraternity on these global stages was already a lot. On top of that, my collections were representing Indian hand weaves. I have always been very sure about my collections and their value, but on global platforms like these, the show itself is extremely important. I had to do a great job!
Succeeding despite the pandemic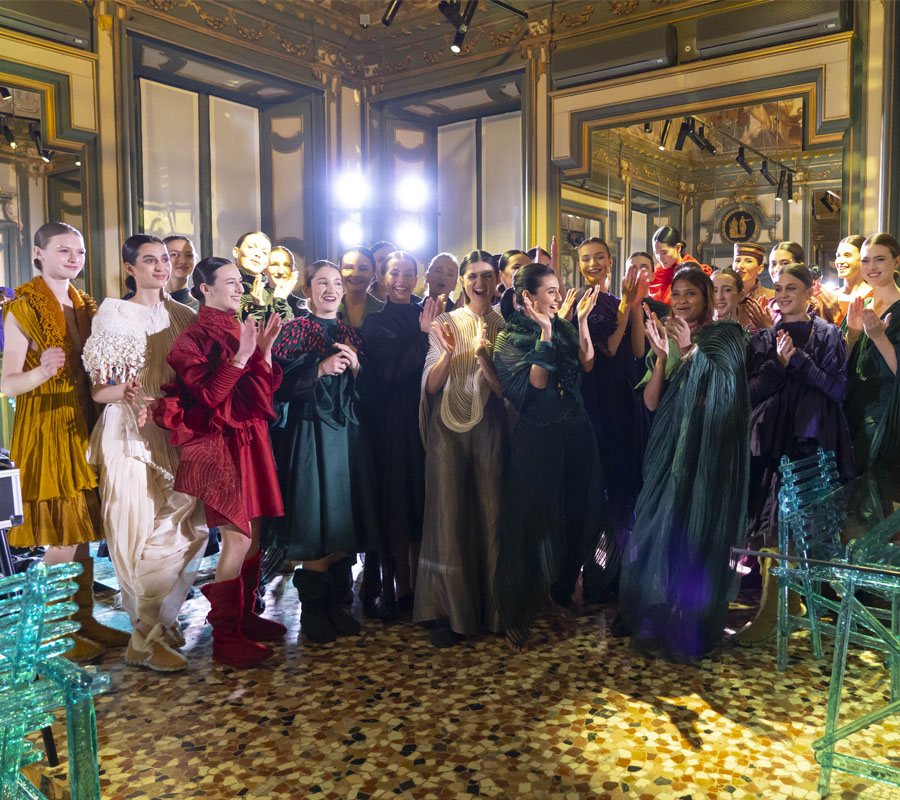 I think I did a good enough job in Paris, especially if you think of the time it happened—right after the second wave of COVID-19 had subsided in India. I had to create my entire collection and the supply chain that it entails, during the second lockdown. Not only that, but this was also during a time when there were very strict travel restrictions for Indians going abroad. In order to actually make it to the show, I travelled across six countries before I reached Paris.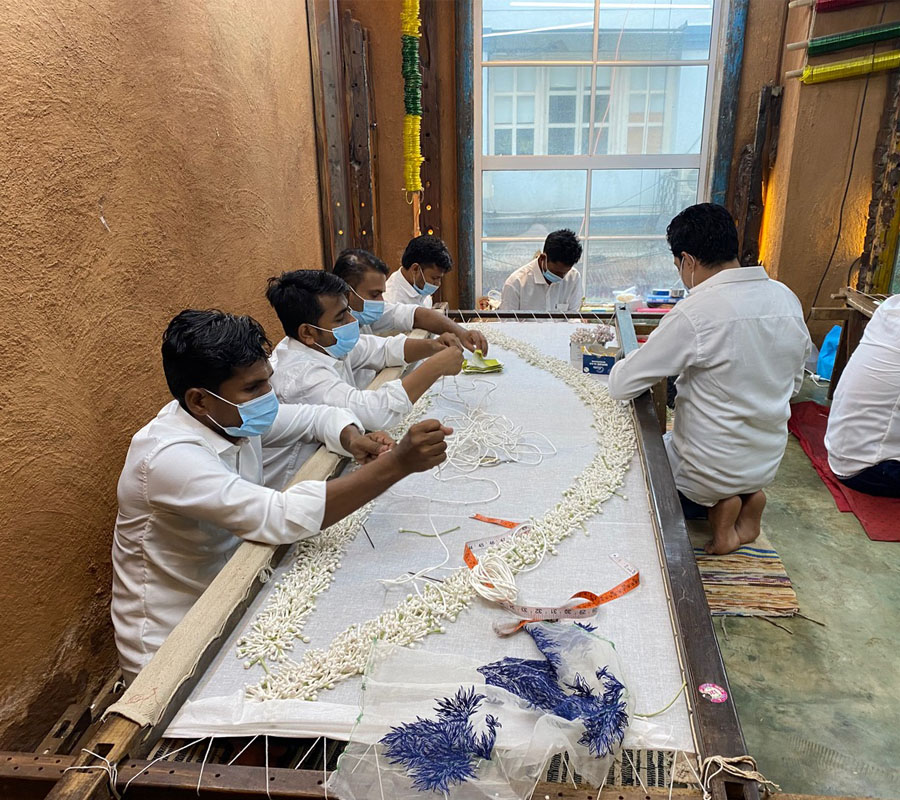 Showing this year in Milan was very different. Everything was much easier because the pandemic has largely slowed down and there are far fewer restrictions. Also, the fact that Milan is my business partner, Alessandro Giuliani's hometown really helped in making the experience much smoother. Another thing that helped is that fearing further lockdowns, I had moved my workshop closer to home and my store in Kala Ghoda. This larger space allowed me to have full control over the design and production of the collection as well as my kaarigars, and this ensured that work could happen seamlessly even if we face another lockdown.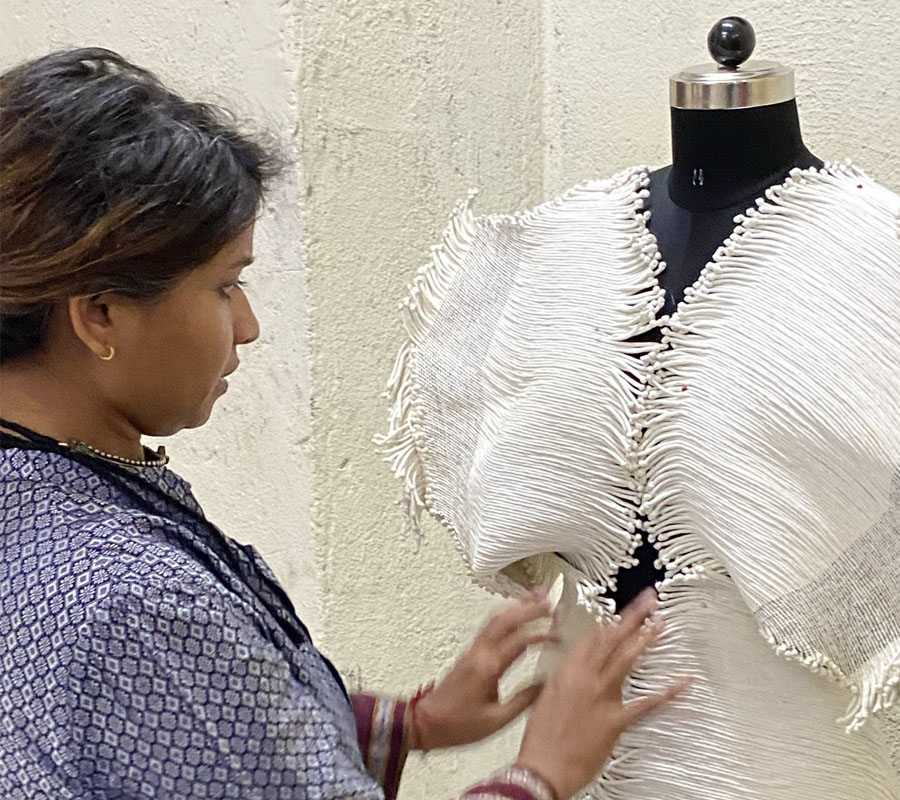 The end result in Milan was that it was truly a grand show. Thanks to our friends at Edra and our hosts Simone and Paola Vago, we staged the show at the stunning, frescoed Edra Palazzo Durini, in the heart of Milan's design district. Originally built in 1645, this is the same venue that Giorgio Armani did his first solo show in 1978. The erstwhile palace houses and displays luxury Italian furniture brand, Edra's, collections of super modern sofas, armchairs and furnishing accessories, all of which set the perfect backdrop for my collection because they capture the same sensibilities—that of having deep roots in heritage but with a modern and global design.
Overall, I think that with the Milan Fashion Week show we were successfully able to put Indian luxury workmanship on the world map, with a lot of designs shown in a very elegant way.
Leaving a mark on the Indian fashion scene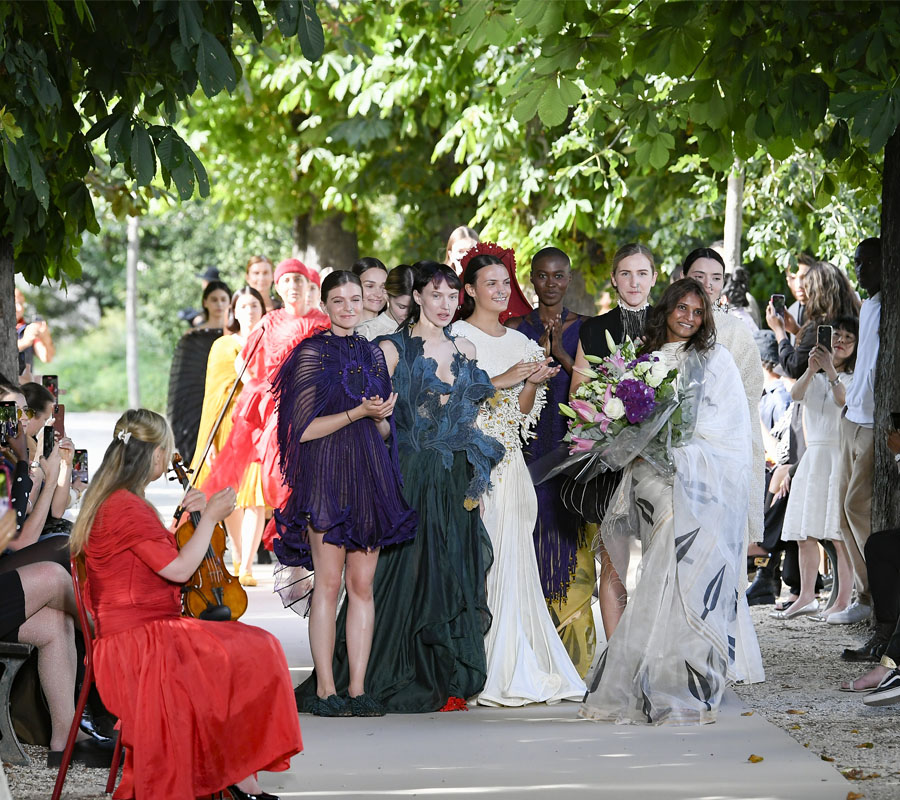 The Milan show is only the most recent milestone in my career in fashion that began in 2011. Over the years, I am proud to say that my journey has always been dedicated to the cause of Indian handlooms and handweavers. I give full credit to this ethos, which has helped me get through hardships in the fashion industry that are very difficult to get out of. Despite still being considered an 'outsider', I feel that my work speaks for itself, and it is this dedication that keeps pushing me onwards and upwards.
My 'start' in fashion was really more like stumbling into it. I was a computer science graduate from Bhopal. I then moved to Gujarat, where I worked for a short stint, before moving to Mumbai to be a gym instructor. Over the years, I have always helped people with their fashion choices, how to dress and match clothes, etc. I guess this stems from some type of attraction towards fashion. I finally needed the push– which came from one of my clients when I was a gym instructor–who helped me to take a very small loan and open my first small store.
In the early years, I feel like I was in search of something—but it was not clear to me what that something was. I finally realised my calling several years later when I ended up in Mumbai, after leaving home to pursue my studies, and then working a couple of other jobs. All throughout my journey, I have been following this call and at each stage of the process, I have been pushed to the next one.
The next step was when, after earning enough money I decided that I needed some formal education and did my double Masters' degrees. These gave me some more awareness about technical skills.
Then came the to start showcasing at international shows. This was the time I realised that global fashion was a big step ahead and that international buyers needed keen attention to quality, packaging, follow-up, deadlines, etc.
Paris Haute Couture Week and Milan Fashion Week are considered by many as the PhD of Fashion and Couture. They are the graduation exam to a full-fledged global show where everything must be perfect and curated as per international standards. Not just perfect, but with a very specific language.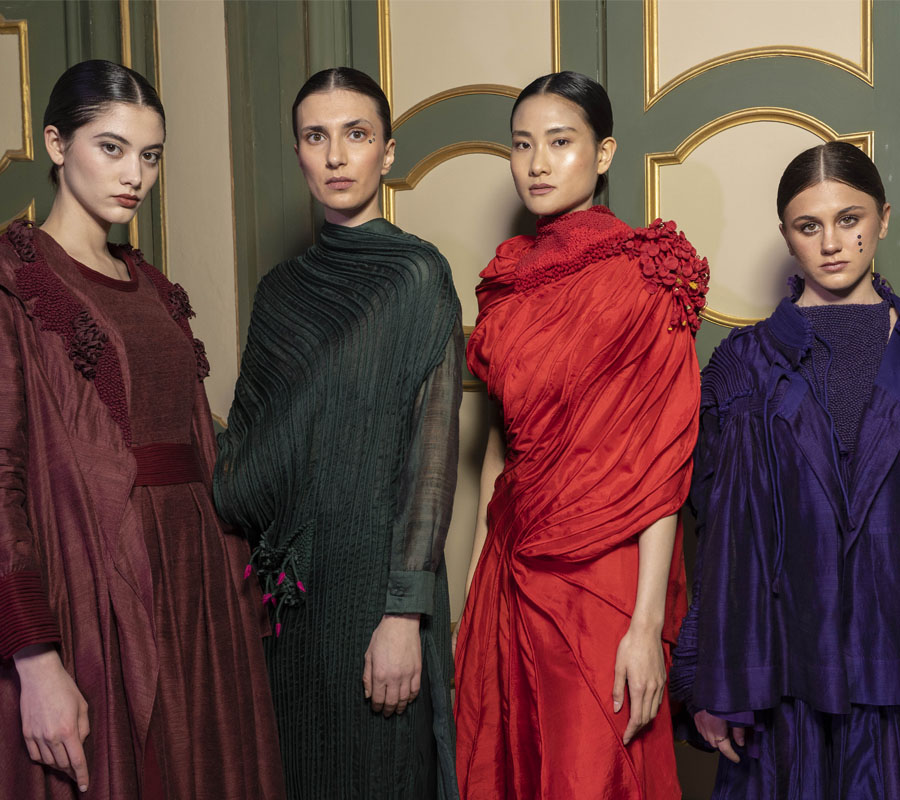 At this stage in my life, I have a different level of maturity—especially after these great achievements over the past couple of years. I finally have a fully global perspective and I can say I have in my hands all tools needed to become a global Indian brand. This is visible in my collections, in my stores, and my approach towards the fashion fraternity, who I feel are increasingly starting to understand my work and the content I am trying to bring forward and onto the global stage.  
Photo: Vaishali S Studio