If you've dealt with acne, you know that the pesky red, sometimes painful, bumps can ruin days and months on end. And June being Acne Awareness Month, there's no better time than now to raise awareness and discuss treatments for those annoying zits.
What causes seasonal acne? 
Bangalore-based expert Dr Chytra Anand, celebrity cosmetic dermatologist and founder of Kosmoderma Clinics & skincare line, SkinQ, says, "Acne typically has a few causes, one is a bacterial infection, the other is hormonal changes and a third is stress. Dietary factors can also exacerbate pre-existing acne. Certain seasons also see an increased outbreak of acne. This has to do with the oil secretion and the oil glands. In the summertime, there is an increased secretion in the oil glands, and this can lead to clogging which leads to acne."
Delhi-based expert Dr Anika Goel, MD - dermatology & founder, Soul Derma Clinic, reiterates and adds, "In the summer, due to heat, dust, and excessive sweating, there tends to be a blockage of sebaceous glands (oil glands), which leads to blackheads and pimples. Similarly, during monsoon, the heat along with humidity also leads to clogged pores and pimples."
How does one deal with acne?
So how do we take on those pesky bumps? "Contrary to popular belief, acne doesn't have a one-size-fits-all solution," says Dr Goel. "Acne is a disease and at times dermatological guidance is required. However, if you're acne prone, and tend to break out frequently or have blackheads and whiteheads, use a facewash and topical treatments containing salicylic acid, benzoyl peroxide and always avoid physical scrubs."
Dr Anand adds, "If you have less than five breakouts a month, you can typically control it with over-the-counter products, but if you're prone to more, you should see a dermatologist as this will need oral medication along with topical creams."  
Acne on the face vs on the body
The problem is it doesn't end with facial acne. Body acne can be extremely irritating and even painful, not to mention, embarrassing at times. So, we also asked the experts on how to deal with both kinds—facial as well as body acne—and whether they need different treatments.
Dr Anand shares, "The skin on the face is thinner than the skin on the body. So, when you use products, they should have different strengths and different penetration concentrations." She further advises, "On the face, you can use lighter preparations like 2 per cent to 5 per cent salicylic acid or mandelic acid or glycolic acid, whereas on the body you need a higher concentration, a highly acidic product which can penetrate deeper through the thicker skin on the body."
For the face, she suggests using cleansers containing niacinamide or salicylic acid, or serums with niacinamide, salicylic acid, azelaic acid, or retinol to combat acne. When it comes to the body acne, products with higher concentrations, say, in the form of a salicylic acid body wash or a benzoyl peroxide body wash tend to work better.
Dr Goel offers a valuable tip as she suggests, "The body being a larger surface area, it would be easier to opt for topical treatments in lotion form or spray form that will spread easily." Point noted.
Precautions for dealing with seasonal acne
Believe it or not, there are steps you can take to avoid future breakouts. Like what, you ask? "A gentle chemical exfoliation twice a week, don't skip your moisturiser, choose a gel moisturiser over cream, sunscreen (always!) and chemical peels once a month at your dermatologist's office," recommends Dr Goel.
Other tips for preventing body acne also include wearing loose-fitting cotton clothes or other breathable fabrics to avoid the accumulation of sweat on the skin, staying clean and dry, limiting the use of oil-based body products, avoiding excessive fried foods and proper hydration with lots of tall glasses of water!
Now that we've got all that cleared up (no pun intended!) and some great tips from expert dermatologists, let's crackdown on acne. Based on their recommendations, we've picked out a few acne-busting products that you can choose from… 
1. The Derma Co. 2% Salicylic Acid Face Serum For Active Acne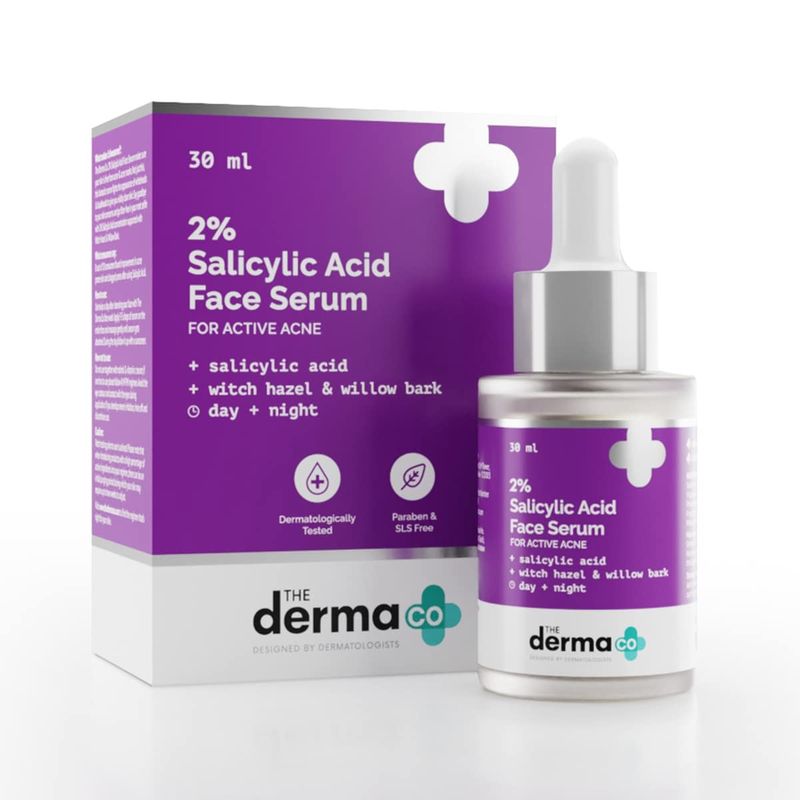 This oil-soluble serum with salicylic acid helps clear sebum clogged inside pores that lead to acne. Witch hazel and willow bark soothe and prevent moisture loss during exfoliation. Buy here for Rs 499 for 30ml. 
2. Minimalist 2% Salicylic Acid + LHA Cleanser 
A lipohydroxy (LHA) and salicylic acid-based facewash, it removes excess oil, dirt, sebum, and pollution without drying the skin out, thus leaving it comfortable post wash without that stretchy feeling. Buy here for Rs 295 for 100ml.
3. Kaya Acne Free Purifying Toner with Mandelic Acid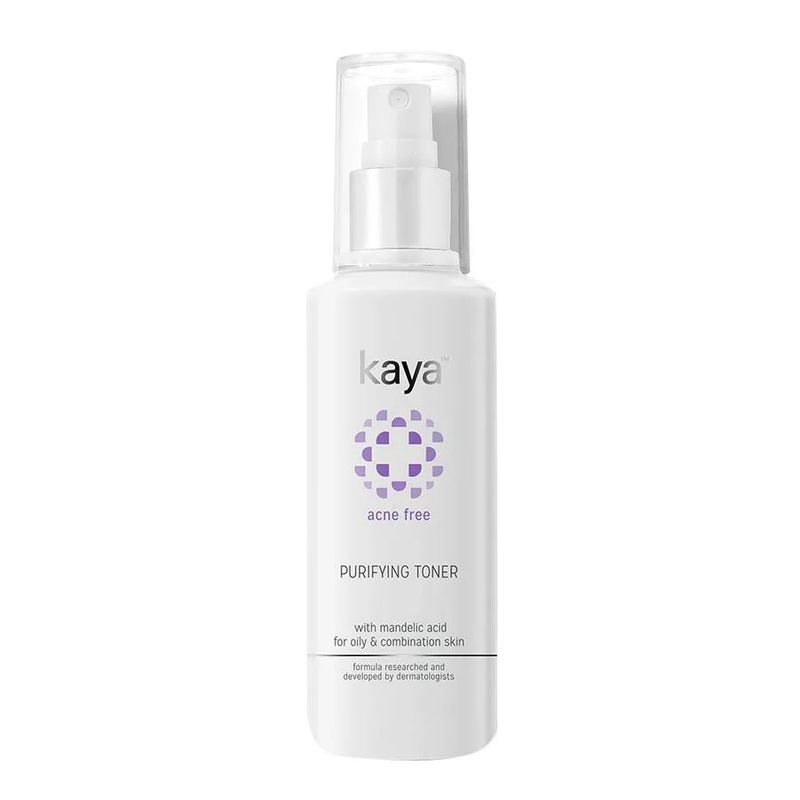 An alcohol-free toner formulated with niacinamide and mandelic acid, this helps control excess oil & sebum, gently exfoliates, and cleanses and shrinks pores, preventing dirt and impurities from accumulating in them. Buy here for Rs 350 for 100ml. 
4. Suganda Salicylic Acid 2% Acne Body Spray-Back & Body Acne Mist
Dealing with backne? Then try this salicylic acid treatment in a spray form that targets acne on the back, neck, shoulder, and parts of the body. The combination of plant bioactive reduces inflammation, swelling, and redness caused by acne. Buy here for Rs 595 for 100ml. 
5. Fixderma Salyzap Acne Body Wash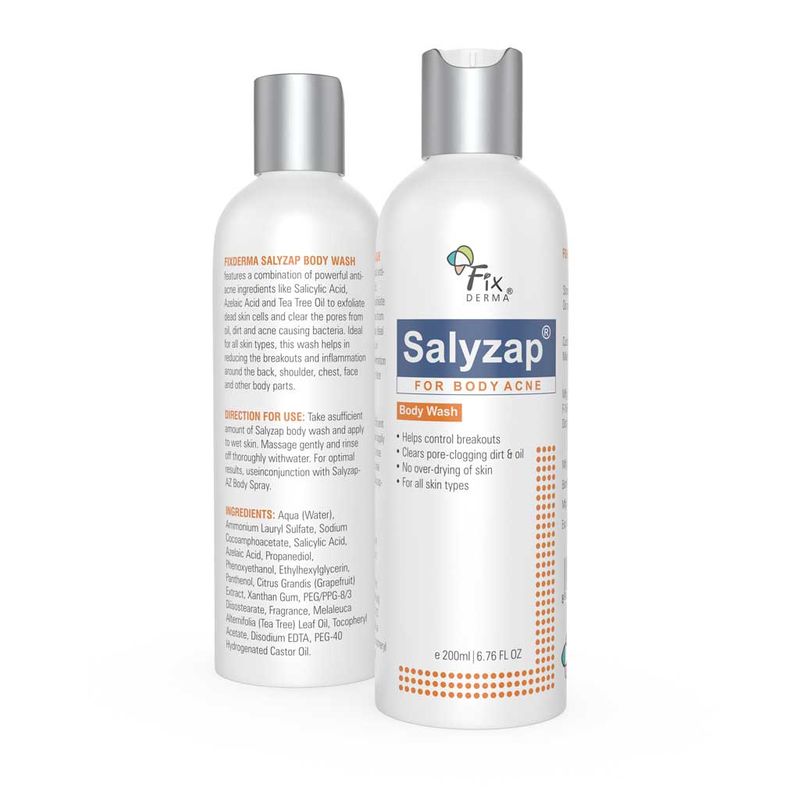 Another product that helps tackle body acne like those on your back, shoulders and chest, this body wash treats and helps prevent future breakouts with its combination of salicylic acid, azelaic acid, tea tree oil and grapefruit extract. Buy here for Rs 725 for 200ml. 
6. The Ordinary AHA 30% + BHA 2% Peeling Solution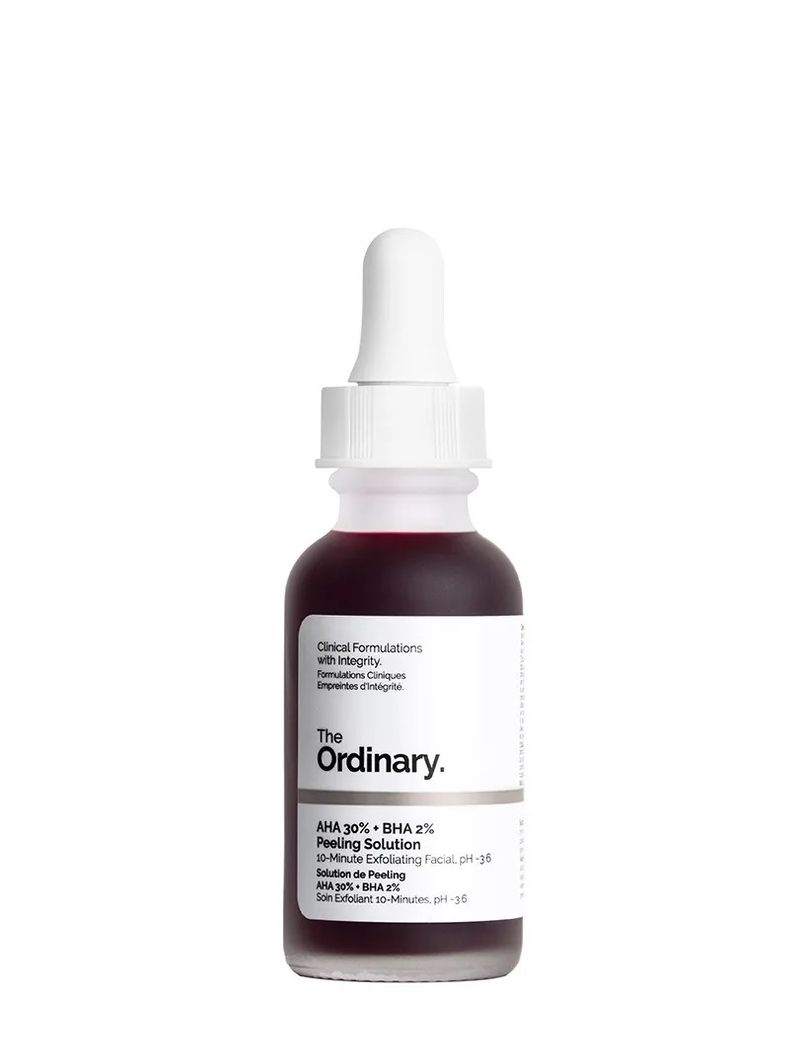 This solution offers deeper exfoliation to help fight visible blemishes, clear pore congestion and improve overall skin radiance and texture. Buy here for Rs 750 for 30ml. 
7. Neemli Naturals Glycolic & Salicylic Acid Serum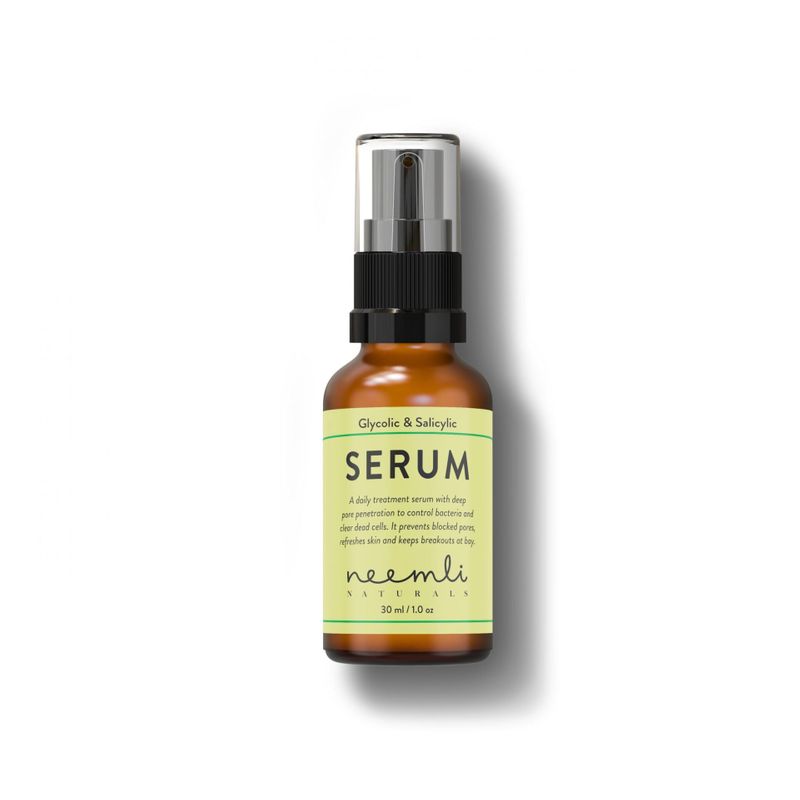 This serum with exfoliating glycolic acid and dirt-destroying salicylic acid helps alleviate clogged pores, clears dead skin cells and controls bacteria. It soothes with minimal irritation to sensitive skin with its gentle botanical formula. Buy here for Rs 1,950 for 30ml.
8. SkinQ Acne Control Wonder Mask
Formulated with salicylic acid, niacinamide, colloidal sulphur, and zinc PCA, this clay mask clears up clogged pores, reduces acne and breakouts and gives even-toned skin in 15 minutes. Buy here for Rs 650 for 60gm.
9. Chemist at Play Acne Control Face Serum - 10% Azelaic Acid + 10% Niacinamide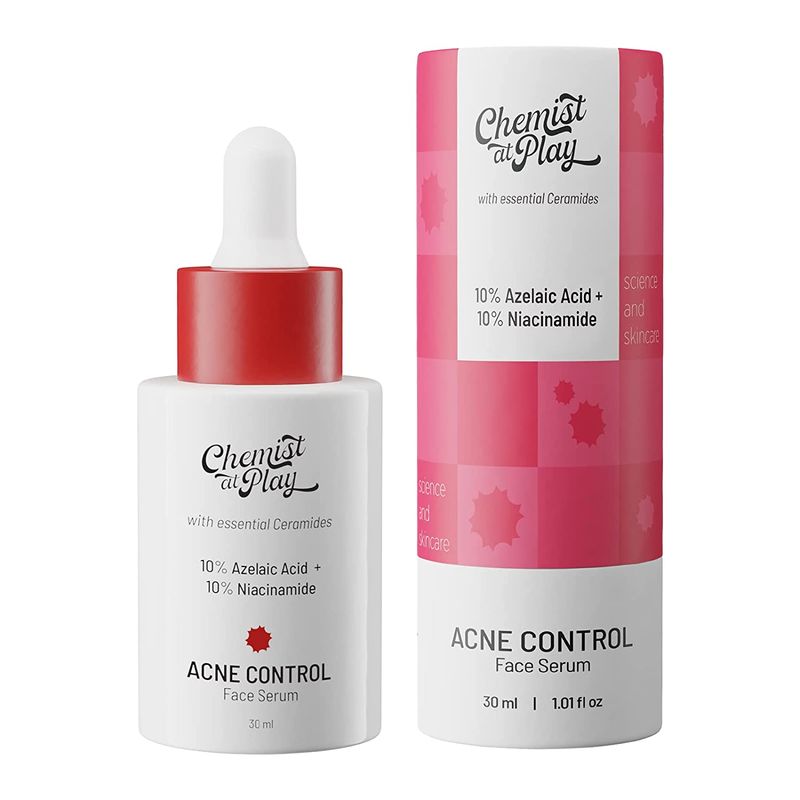 The acne-fighting duo of azelaic acid and niacinamide not only prevents pimples but also helps repair the skin barrier, protecting it from external damage. Buy here for Rs 599 for 30ml. 
---
Photo: Shutterstock; featured brands