The work of Abu Jani and Sandeep Khosla requires no introduction. The duo has blessed the Indian fashion industry with a vision to create the finest — clothes that hold the romance of a bygone era, seen through a modern lens. To be relevant even after 33 years, they know that timelessness and reinvention are the secret ingredients. Of course, impeccable craftsmanship is involved, but it's also the impactful campaigns that breathe life into their brand.
"Fashion expresses the zeitgeist of the times. It is a powerful form of storytelling and an agent for change and progress. Storytelling enables new voices to be heard, empowers change and ultimately leads to the creation of a better and kinder world," shares the duo.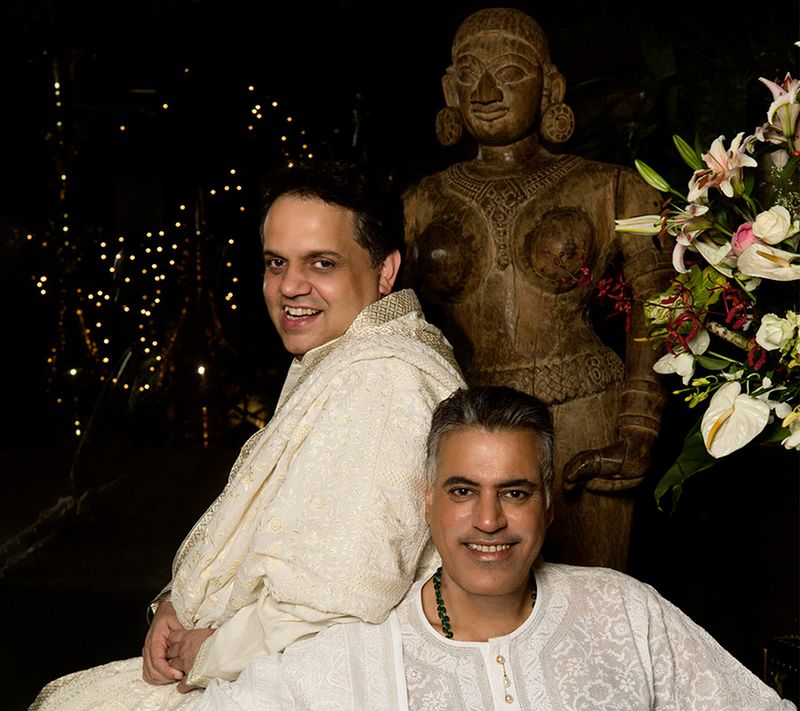 There is an exuberance to every Abu Jani Sandeep Khosla collection, as well as a connection to culture and cinema. They find a personal connection with the heritage they speak about, bringing a personal story and that's what appeals to their audience.
The artists' art
Earlier this month, Abu Jani and Sandeep Khosla unveiled their newest fashion film, Mera Noor Hai Mashhoor — an ode to self-acceptance that also represents influences from ancient Greek ruins and the Renaissance era. The film features a display of more than 150 garments curated from 18 collections handcrafted by the designer duo.
"The theme revolves around the tendency for pleasure in humans and the guilt that frequently results from it. It promotes acceptance of oneself and one's desires," explains the duo.  
With bright earthy tones and the classic marriage of beige and black, followed by heavenly whites, the collections feature intricate hand embroidery and adornments like crystals and pearls. Among the highlights are beaded bralettes, anarkali sarees, ghagras, kaftans, circular skirts and bondage-inspired Indian couture.
"The film is simply a labour of love. Our work comes from deep within. It is inspired by our inner voice and imagination which is never conventional but dreams ever bigger. We create with a reverence for craftsmanship and a devotion to the finest," they point out.
Now, the label has become a potpourri of reimagined memories. Inspired by Indian nostalgia, the collections weave the conversation into an old-world aesthetic which is timeless. In addition to being quintessential storytellers, they showcase fashion through films without compromising on materials, embellishment or finish, and provide a first-hand understanding of India's craftsmanship.
Dialogues that create impact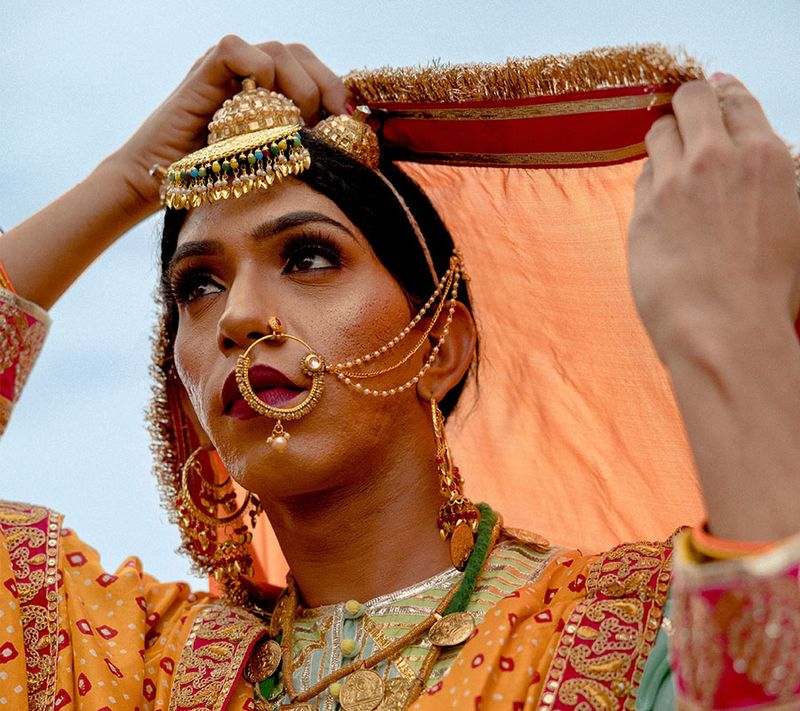 In January, the designers turned the spotlight to giddha, an iconic folk dance from Punjab. Showcased in a short film, this collection celebrated the fluidity of the giddha tradition and its ability to blur borders, break boundaries and create new and inclusive standards of excellence and beauty.
At weddings, inspired by the bride and groom, colourfully dressed giddha performers spontaneously brew rhymes. They dance without any musical instruments and compose a rhythm based on their breath to sing and move their feet. Pairing their songs with melodious clapping in their radiant garments and jhumkis, their presence infuses the room with the magical energy reminiscent of the north Indian state.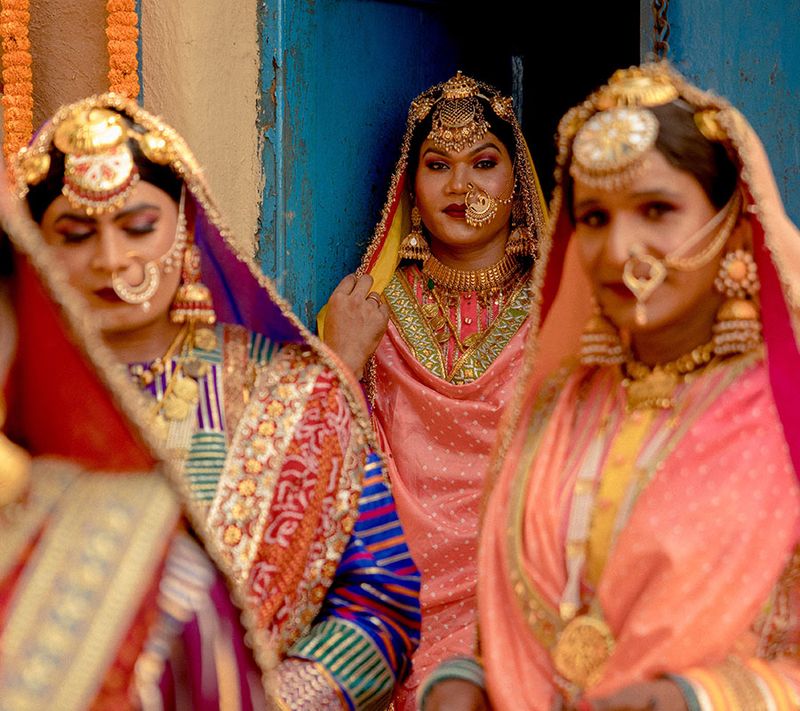 "The film and campaign speak for themselves. It is an extravaganza of beauty, mood and emotion, a spirited celebration of dance, song, fashion and the magic of community. Giddha epitomises the spirit and soul of Punjab and its people. The collection is distinctly and decidedly inspired by Punjab. The campaign seamlessly blends fashion and giddha in an effortless and profoundly emotional way," says the duo.
However, giddha has always been a dance form traditionally associated with feminine grace.  "If one is truly artistic, one is never a slave to the convention but creates in ever-increasing circles," they note. The collection captures the exuberance by focusing instead on the male giddha group, Lok Rang Noor Art, led by dancer Noor Zora.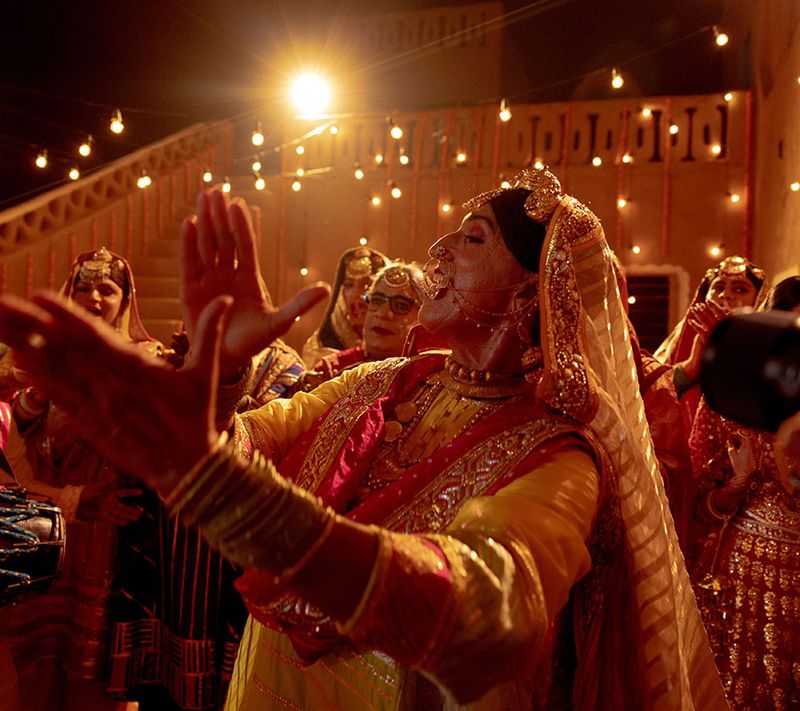 "Noor Zora is the first male giddha dancer, yet he is a trailblazing artist who executes the art form with distinct passion and flawless grace. We love original thinkers and devoted artists. It was an instinctive choice to collaborate with the group when we conceived this film. Innovation and evolution come naturally to us. They were a perfect fit," they explain. "We are thrilled that it has generated discussions about art and inclusion, and garnered such positive feedback."
For Sandeep, who has grown up in Punjab's Kapurthala, the glory of giddha is rooted in his life. A lot of their work seems to be inspired by personal experiences or family history. "Our hearts always rule our heads. Our heritage forms the core of our identity as humans and artists," he explains.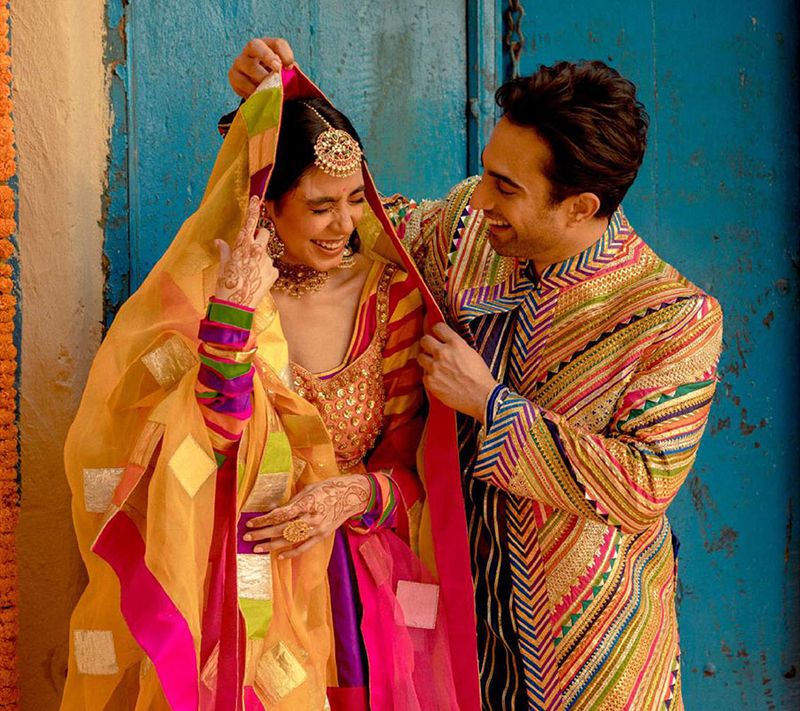 A different kind of vibrant and vivacious beauty could be felt in the clothes seen in 'Glory of Giddha'. A myriad range of colourful garments, intricately tailored multi-coloured silks sparkled with zardozi, and gota embroidery brings life to this collection. In the spirit of Punjab's traditional four-kali kurta, the designers have added multiple kalis to the silhouette, and have also reinvented the salwar in a bold colour palette.
Reimagining the art
Fashion films have been around for some time, but they mostly serve a complementary role to print campaigns and shows at fashion week. For years, fashion brands have struggled to produce compelling creative content and fulfil the potential of digital media.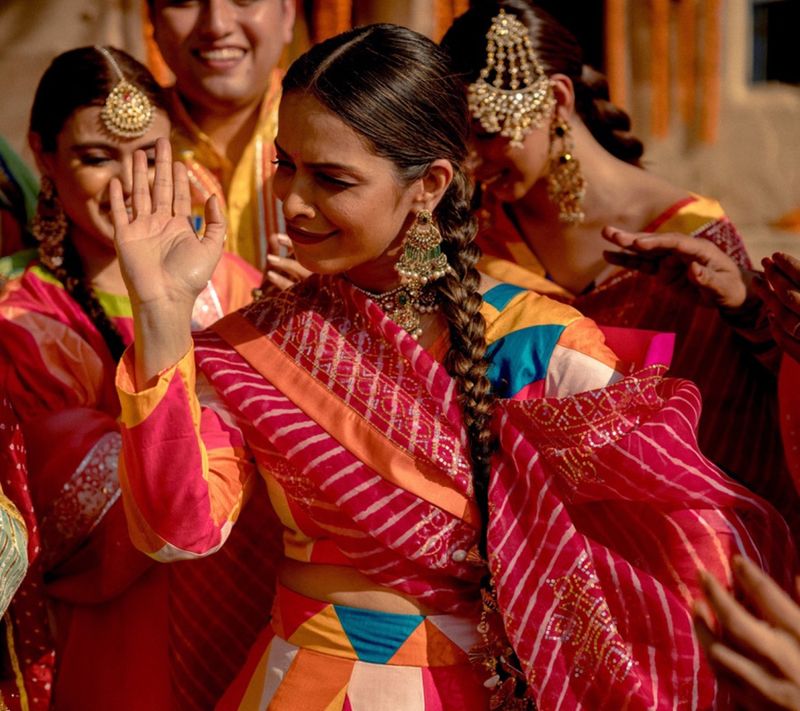 But designers like Jani and Khosla know how to breathe life into these short fashion films. Their campaigns avoid the traditional product-focused narrative and instead take a more cinematic approach woven into a wider story. "Creativity can and must lead to progress," they state.
Fashion and film are two artistic disciplines that intertwine in a symbiotic way. The designer duo are of the view that any art form must be practised with integrity and devotion and only then resistance can be met and defeated. And when you have the tool of clothing, how important is it for artists to let their collections become a medium of postmodern storytelling?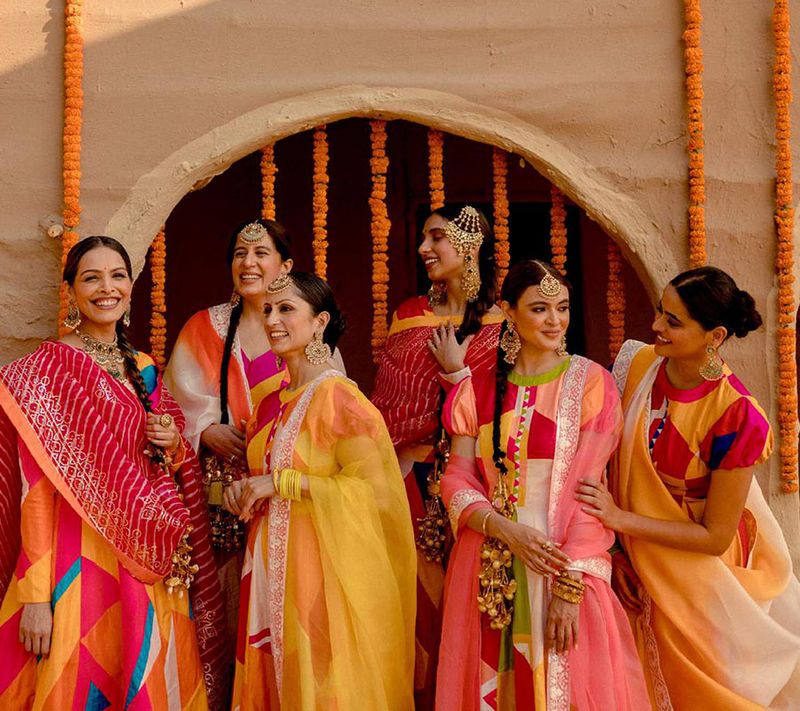 "When it's a classic, you know it is forever. However, it must be revisited and reinvented from time to time to ensure its evolution and relevance. It's about celebrating the old by seeing it with brand-new eyes and giving it new life and relevance. Culture becomes stagnant if it remains static. Cultures, communities and societies must evolve and progress to become more inclusive and free from discrimination," the veteran designers point out.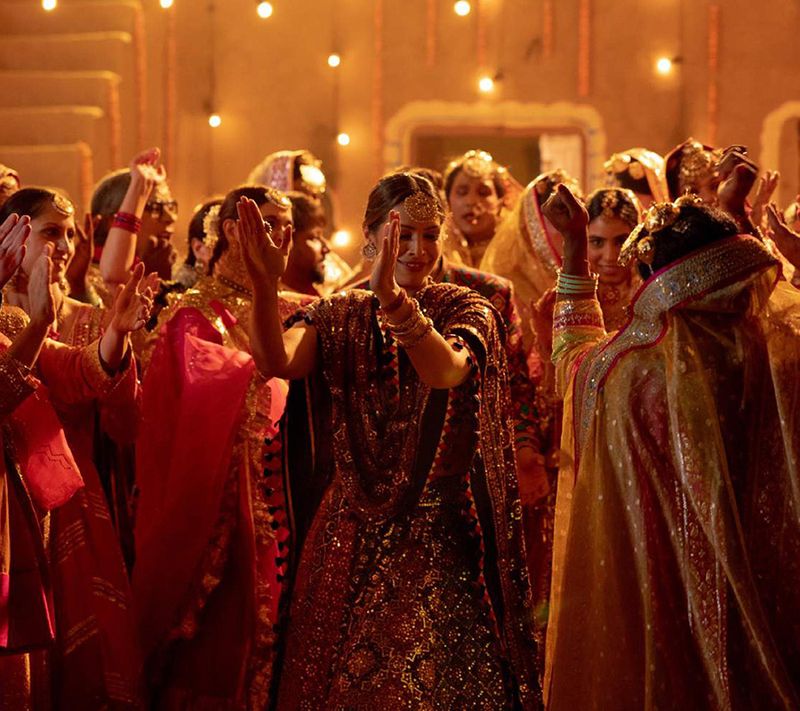 In today's time, fashion trends that don't even last a season are passé. "The truly beautiful has no sell-by date," the duo rightfully states. The idea of seasonal trends, and those fleeting, of-the-moment must-haves can never give in to the allure of timeless designs. "When we introduce a trend or collection, we make it with the intention of being a lasting standard of excellence and style yet new. Our classics are forever. We constantly reinvent our expression to raise the bar of our creativity."
As for being iconic designers in the fashion space, the designer duo signs off with a line that made us understand why they continue to remain classic. "There is no resting on laurels or taking shortcuts. It is an endless commitment to creating the finest."
---
Photo: Featured designer brand