From Cardi B to Megan Fox, Gaurav Gupta's eponymous label has been in every celebrity's wardrobe. And not long ago, Paris got a glimpse into his genius creative mind when he first appeared on the official Couture Week calendar. "It felt surreal when I first learned of the news. I was on a plane when I found out and was elated with gratitude and joy! I have harboured this dream since my Central Saint Martins days and realised this dream has been magical," he reminisces.
For obvious reasons, this year's momentum and buzz have been different for Gupta. For the 2023 Oscars, Jr NTR, the lead actor in the movie RRR, arrived wearing a Gaurav Gupta black bandhgala sherwani embroidered with a golden lion. On February 5, at the 65th Grammy Awards in Los Angeles, rapper Cardi B was dressed in another Gaurav Gupta creation in electric blue — straight from his Paris Haute Couture Week collection. Now, the designer has opened a new, larger flagship store in Mumbai's Kala Ghoda district. The space is both a museum and a concept store designed in all-white and sculptural.
As Gupta continues to refine his collections, strengthen his brand identity and amaze the world with his couture clientele, Zee Zest catches up with the talented designer to discuss more about the lessons he has learned from recent successes on the red carpet as well as his design influences.
The play of infinity
Gupta's new Mumbai store is inspired by the concept of 'zero infinity' — the same concept that encapsulates his Paris Couture Week collection. As a designer, he has always been fascinated by the stillness of zero and infinity's expanding possibilities in studies of space and time. That inspired him to come up with this concept for the collection — subliminal in thought and original in form. "I have tried to explore the movement possibilities between zero and infinity with tangents of mythology, fantasy and surrealism," he explains.
While Gupta's new landmark is a museum in an atelier avatar with expansive white space, intersectional apertures and complex geometry design elements, his collection in Paris brought out exaggerated sculptural draping in electric blue satins, chiffons and organzas. It included elemental dresses in black and nude, a snake-like dress slithering and intertwining all throughout the model's body, and some goth dresses — all of these bring a culmination of the theme 'Shunya', an interpretation of limitless and infinity.
"Shunya was the concept that drove the collection. We did not craft this collection keeping a particular client in mind. We are catering to a global audience on a global platform," he shares.
The Indian peek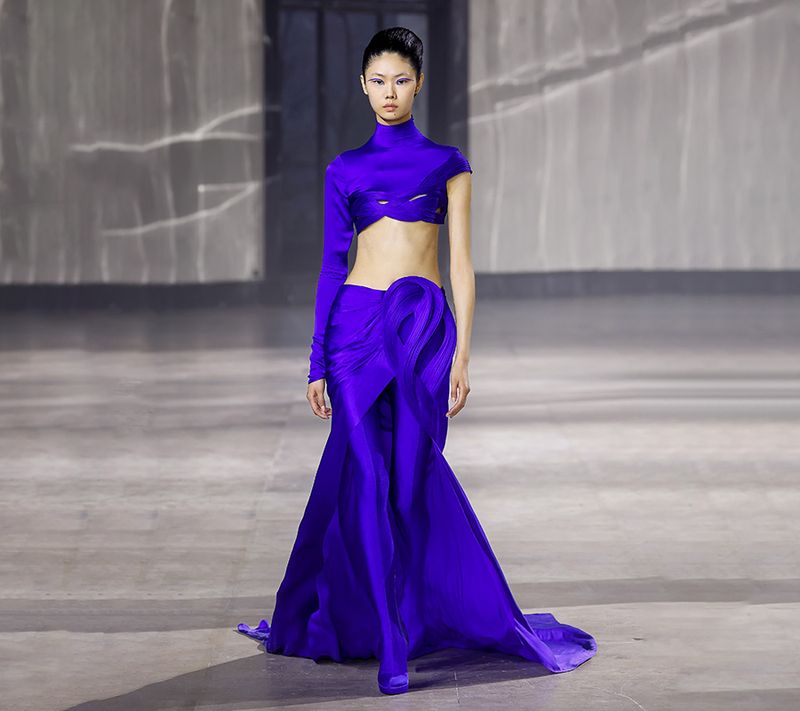 Indian designers are increasingly becoming the rage internationally. And a celebrated designer like Gupta knows how to bring out the Indian story in a 'not too much or too less' manner yet make his presence internationally. "Showing what you stand for is important. We are an Indian couture brand that has been working in the industry for over 18 years. We are proud of our history, heritage and traditions. Instead of making it a conscious effort, we naturally weave the elements forming part of the brand DNA to narrate our couture story which, as it turns out, is rooted in our Indian mindscape," he reasons.
As for the collection he presented at Paris Couture Week, he says it featured more of the hallmarks of Indian couture. For this collection, a lot of Indian handwoven tissues were woven in gold and silver along with handwoven Banarasi brocades to make the signature sculpture couture. "The elemental dresses are realised with traditional Indian embroidery techniques like zardozi and aariwork using materials like nakshi, baadla and zari," he notes.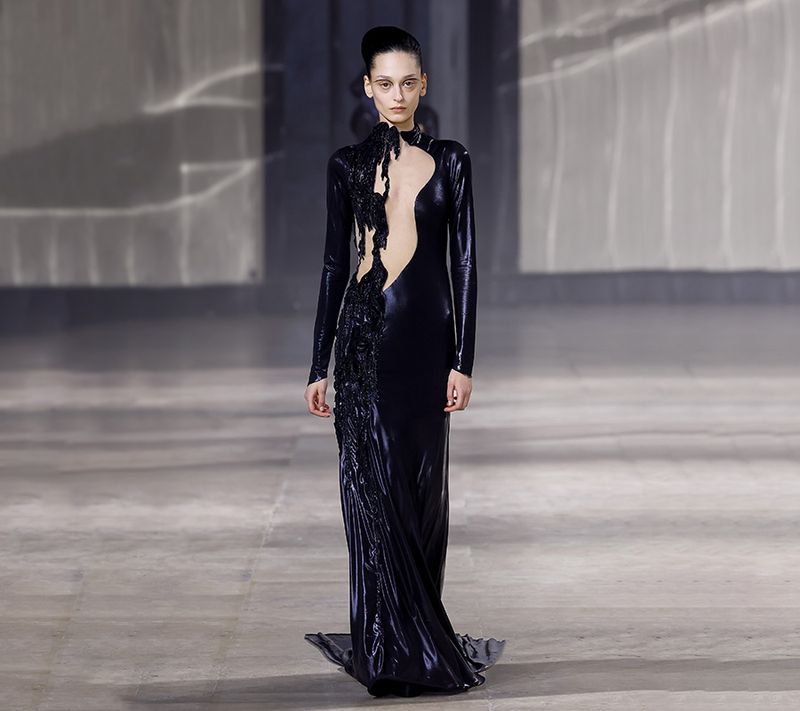 Although the wedding market dominates the Indian couture market, Gaurav's clientele includes experimental brides who don't want to wear a traditional lehenga but still want to retain certain elements, and the designer knows how to make it work best. "In comparison, the international market is more open to couture sensibilities. I think the market only varies with respect to garments in demand," he says about the burgeoning global couture buyer having a knack for Indian design elements. "Global couture buyers aren't rigid with their opinions. They are open to listening, seeing and understanding the perspectives of those around them and forming newer opinions. The demands are rooted in the careful attention to detail, bespoke customisation and high quality."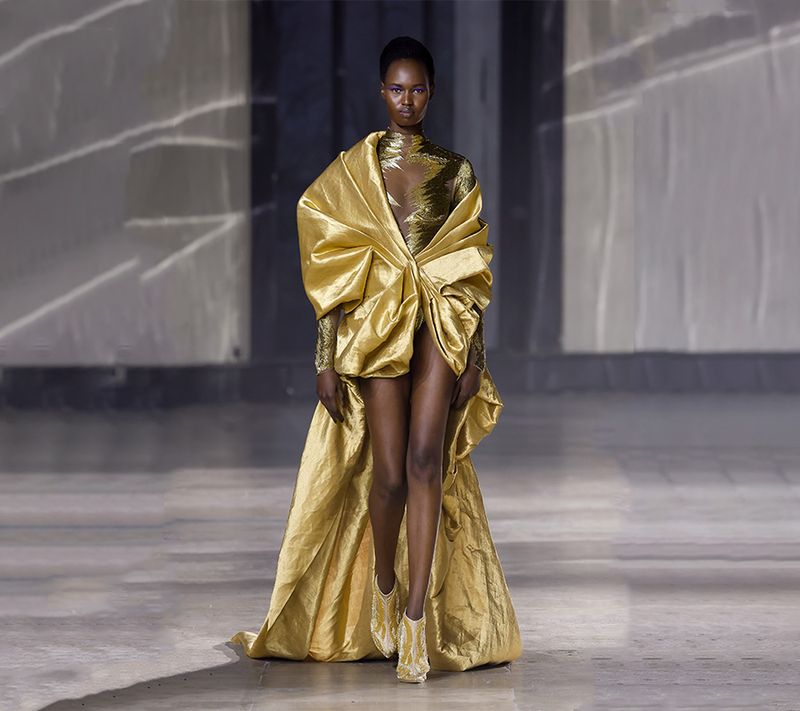 That's how Gupta's monumental structures based on contemporary silhouettes and Indian craft are making a name for themselves in the West. "When it comes to ideology and design, my main influences have been surrealism, fanaticism, and old Indian beliefs."
Hot off the tails, where the brand has had some successful collaborations with some of the globally renowned cultural catalysts for iconic red carpet moments, Gupta knows there's more to just celebrity dressing when it comes to strengthening the brand internationally.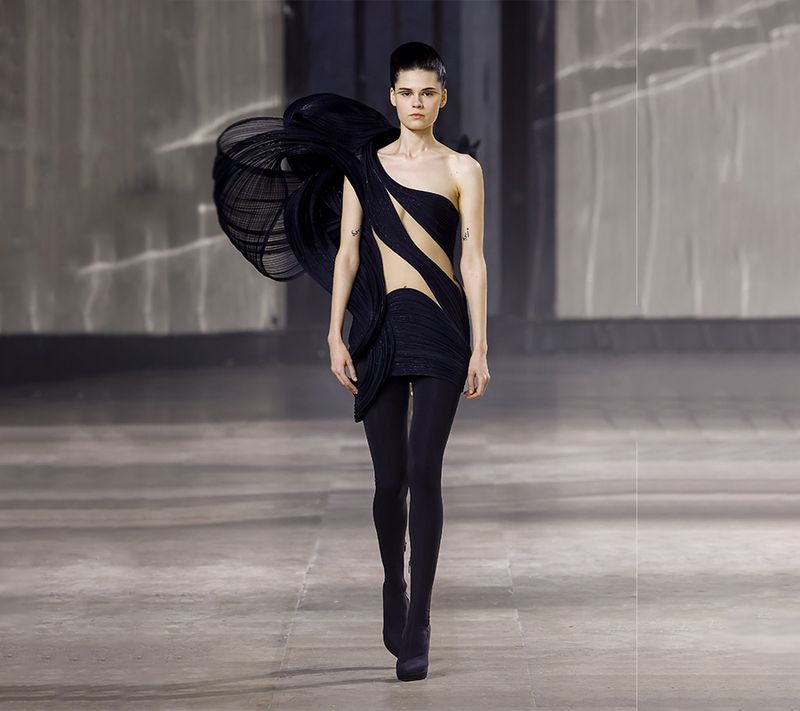 "Currently, global expansion is the direction that the brand is focusing on, through a robust distribution and retail plan," the couturier signs off, indicating that there's a lot more to look forward to from the house of Gaurav Gupta. 
---
Photo: Gaurav Gupta