It began in the mid-50s when legendary American singer Elvis Presley's pelvis thrusted its way into everyone's heart and sparked a penchant for thumping notes and well—blingy outfits. His rock and roll music and fashion legacy took an even flashier form in the 70s when loud disco beats and glaring attires gained massive popularity—more so with the release of the John Travolta-starrer Saturday Night Fever in 1977.
The retro-futurist fashion inspo that the iconic movie gave to the world 'stayed alive', even in the 80s, and made its presence felt in India too. From groovy Bappi Lahiri songs to 'item numbers' featuring popular actresses like Zeenat Aman and Parveen Babi dripping in sequins and sparkle from head to toe—the OTT nightclub aesthetic spread like wildfire in our country. Suddenly, it was all about shiny flared pants, umbrella sleeves, bold patterns and prints, vibrant colours, sheeny satin dresses, lustrous, chunky jewellery, and snazzy embellished maxis.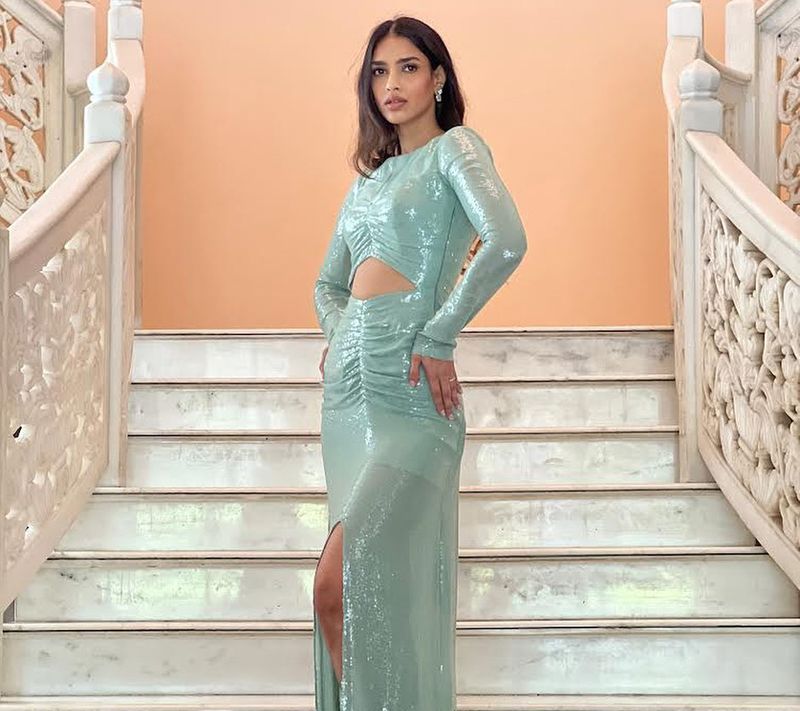 Soon after though, the bling toned down and a minimalistic wave hit the fashion scene. But as the famous saying goes, 'Everything old is new again'. So after a long hiatus, courtesy of the 'less is more' philosophy, the high-profile, high-octane, glamorous, and unforgettable trends from the 80s are back with a bang. It's time to let this party season be a 'bling empire' of all things bold, gold, and blindingly jazzy. However, if you're wondering how to rock pieces from the disco era in 2022, we've got you covered. 
Here are eight styling tips by Gabriellia Demetriades of the label Deme to help you nail the look:
1. Start with satin
"Surely, the 80s were all about glitz and glam. But if you find embellished attires a bit too overwhelming, you can opt for one in high-shine or textured satin instead," says Gabriella. "Satin slip dresses, maxis, and turtle neck tops can make your look reminiscent of the 80s without seeming too loud," she adds. This lavender co-ord set will defo strike the right chord.
2. Rock a jumpsuit
"The 80s were all about party-wear jumpsuits with bold, sensual silhouettes, and cut-outs," says Gabriella. This striped satin, flared-bottom piece from her collection has some major retro vibes and is perfect for a night out with your gal pals or a dinner date with your bae.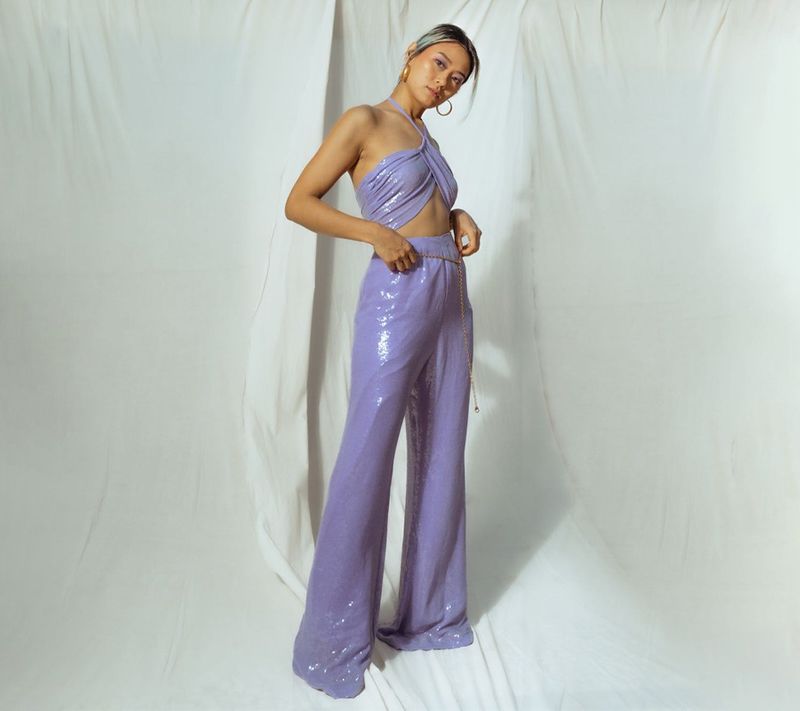 3. Opt for muted sequins
According to Gabriella, the key to rocking an 80s-inspired all-bling look today is to balance it out by selecting pieces with translucent sequins so that it's not a very in-your-face look. This wrap-dress, for instance, features light sequins and can make you look like a diva instead of a shiny disco ball.
4. Pastels are the way to go
"Another way to tone down the bling and still look like an 80s diva is to opt for sequin or embellished pieces in pastel colours like mint and blush," Gabriella suggests. The mint-green sequin co-ords from her collection are the perfect example of how to bring in an air of sophistication without toning down the glam factor.
5. Balance it out
"Maintaining the right proportion when choosing a blingy outfit is very important. So if you're doing a really heavy piece, you need to balance it with some skin show or a neutral top/bottom," says Gabriella, sharing another useful style tip. You can opt for a mini sequin dress or this well-balanced skirt set from her collection.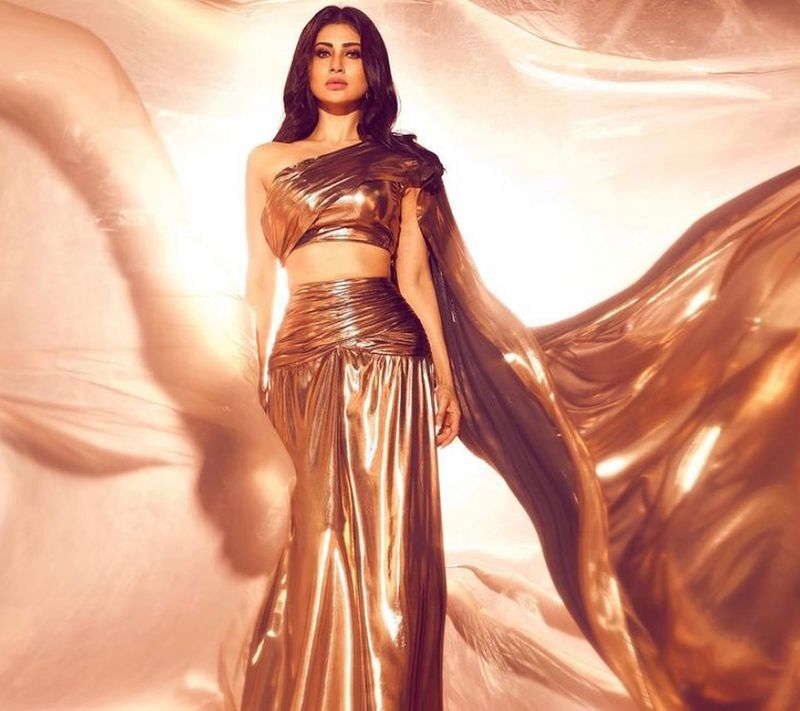 6. Bring in the metallics
Now the 80s may instantly remind you of sequins and embellishments, but another unmissable feature of the fashion era is metallic fabrics. Here's a Deme piece to help you nail the look.
7. Dare to go bold
If you've made up your mind to go retro, you can't shy away from making a bold, blingy statement this party season. "When wearing a sequinned attire, make sure to balance it out with minimal makeup, neat hair, and sleek accessories," says Gabriella.
8. Of sequins and tassels
Another key feature of 80s disco fashion was the extensive use of feathers and tassels to add some softness and sophistication to the look. "Sequins and tassels are a match made in heaven and can make you look like an elegant diva," says Gabriella. This gorgeous piece from her collection proves the point: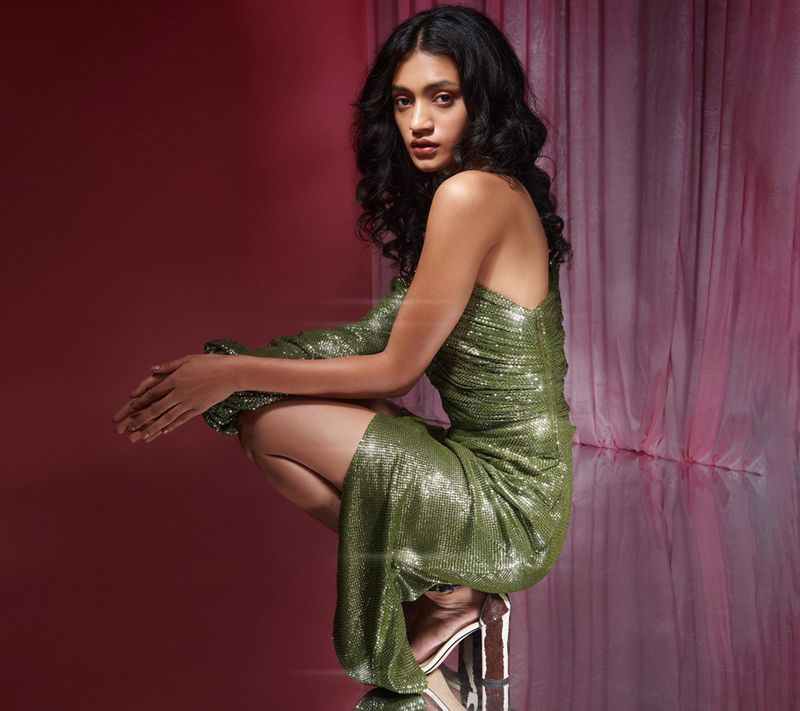 The final word
Girls, we're now crazy about all that bling our mothers used to rave about back in the 80s. With all these fashion tips by your side, you're sure to nail the look and make mommy proud and nostalgic. So without further ado, grab these pieces so you can grab all the eyeballs when you step out donning them.
---
Photo: Shutterstock; Instagram/Label Deme