The beauty of the traditional Parsi Gara is unparalleled and one of the few designers who have managed to keep the legacy of the century-old embroidery alive is Ashdeen Lilaowala. The Delhi-based textile designer has garnered a massive fan following among his Parsi and non-Parsi clientele through his modern motifs, colour palettes and wearable fabric that are inspired by centuries of oriental and Persian hand embroidery techniques. Over the past decade, Lilaowala has been working incessantly towards the revival of the craft that dates back to the 19th century. And after retailing saris, lehengas and accessories through its New Delhi flagship store, the designer finally brought his Parsi Gara aesthetics to Mumbai with his first store in Colaba.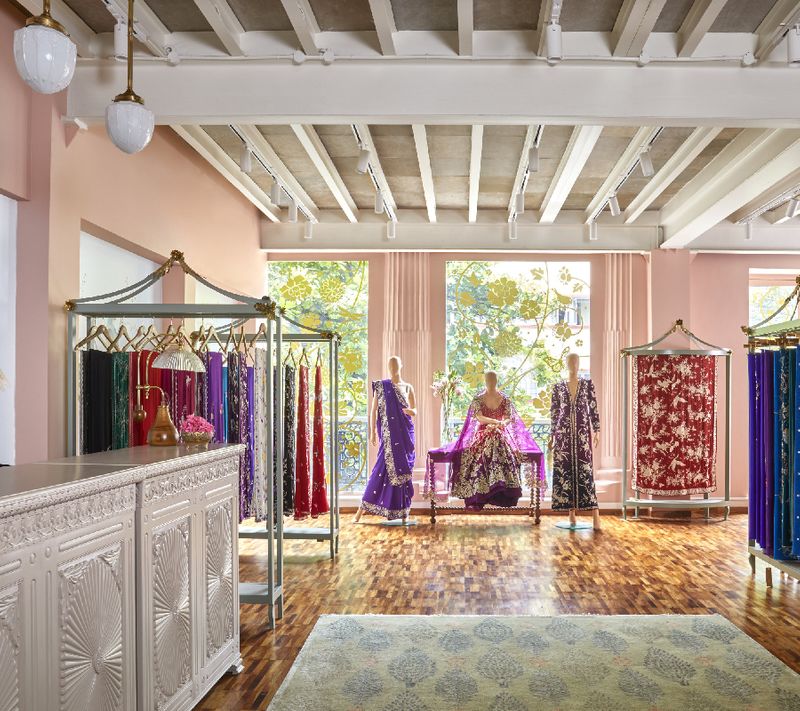 The store is designed in gold and pastel colours with hand-carved vintage counters, and cabinets that scream Lilaowala's passion for reviving traditions. Credit, interior designer Ali Baldiwala who's managed to give off a contemporary vibe, keeping the magic of Parsi aesthetics intact. The brass paneled windows, and the bridal lounge with a specially designed curved sofa need a special mention. 
From being the first and only Indian designer to be invited by China Museum of Silk to be part of the Global Qipao Exhibition in 2019, to being commissioned by the Asian Art Museum, San Francisco the same year to create a sari inspired by an artefact in the museum collection, and then being invited to showcase at the 12th World Zoroastrian Congress, Lilaowala has earned several international recognitions. He's also dressed legendary yesteryear actors like Waheeda Rehman and Asha Parekh. Zee Zest spoke to the designer about his craft, techniques, celebrity muse and how the brand gives back to the artisan community. Read on.
Excerpts from the interview:
1. What are the innovative techniques that go into the making of Parsi Gara?
From its inception, innovation has been one of the cornerstones of the Parsi Gara. For instance, in the beginning, it mainly incorporated Chinese imagery and motifs from the textiles brought back in ships from China. But as Parsi women began making trips to China and interacting with the textiles there was huge innovation and adaptation of embroidery techniques, colours, motifs to suit Indian needs and sensibilities. The popular Kanda Papeta or onion and potato motifs are a result of this. Later as the Parsi women travelled extensively to Europe, European flora and fauna and colour combinations became popular.
2. How has the gara technique evolved in the past decade?
The tradition is an amalgamation of various textile traditions including Chinese, Persian, European and Indian. It has been in a constant state of evolution and it's difficult to pinpoint the specific innovations that have taken place in recent years. But I'll say this, there has definitely been a resurgence in interest among the younger audience.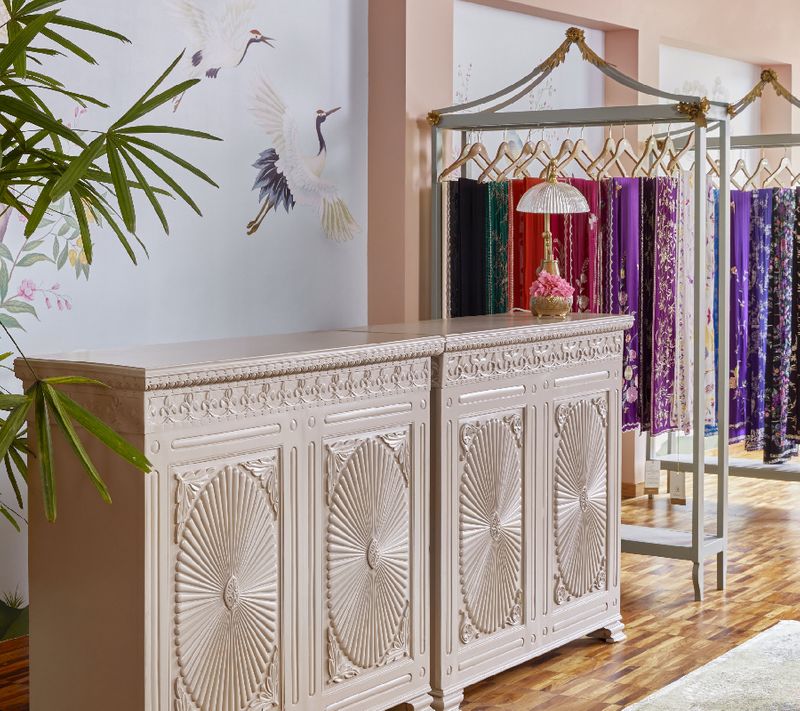 3. What has been your takeaway from your travel destinations in terms of embroidery?
After graduating, I travelled across India, China and Iran with the UNESCO Parzor foundation documenting the Gara. I got a chance to interact with people's personal collections in these geographies. The exercise has helped me understand the core essence of the Gara and as much as I innovate with the craft, I don't waver from its core essence.
4. What are the other designs you would like to revive?
I am passionate about embroidery, but I never do anything without thoroughly researching it first. So, if I manage to make the time to research another form of embroidery in future and develop it, work with it, innovate with it, why not?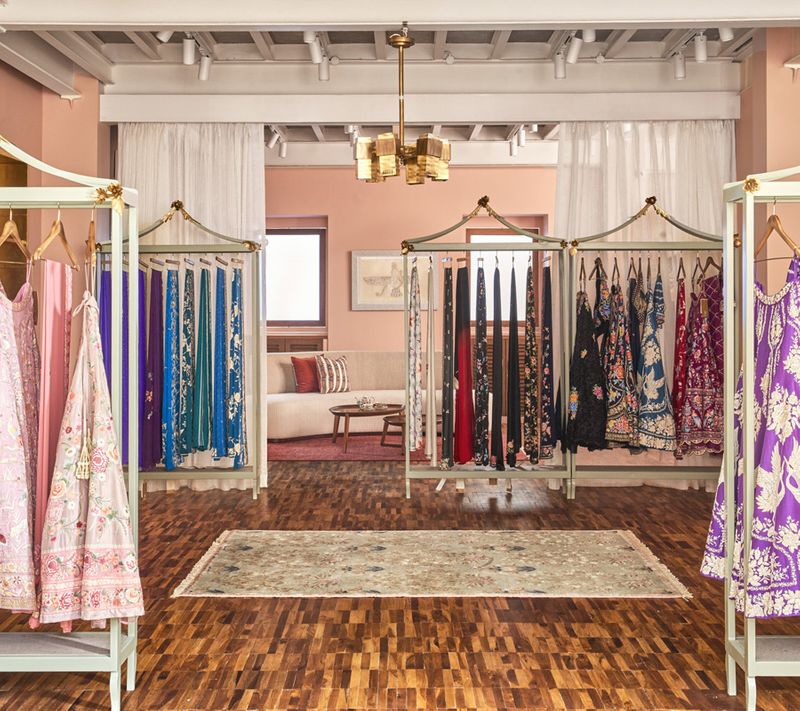 5. How has your perspective as a designer evolved over the years?
I enjoy the challenge of pushing the Parsi Gara tradition in new directions while making sure we stick to the basic framework. This has taken years of research into how the Gara has evolved over the years with the myriad geographical and cultural influences it has imbibed. I find it thrilling to be part of the next frontier of the Gara incorporating new nuances every season, telling new stories and sparking new conversations. 
6. A celeb you would love to see dressed in Parsi Gara?
The '90s fanboy in me can only think of Madhuri Dixit.
7. How has Gara as an artwork contributed to Indian textiles?
The embroidery has a unique aesthetic and sensibility, which is Indian yet international at the same time. We've had a growing number of non-Parsi patrons in India and across the globe who recognise and appreciate the magic of this craft.
8. How can you keep this tradition alive and make it sustainable?
To get younger generations of sari wearers and textile enthusiasts interested in the craft, our brand has been experimenting with newer colour palettes, lighter fabric and motifs adapted to suit contemporary tastes. In addition, we have also opened out the embroidery applications placing them on lehengas, blouses, jackets, scarves and accessories to enhance the wearability factor.
9. How are you giving back to the artisan community?
One of our brand's missions has been to help the talented skilled artisans of India. As of 2022, we employ about 250 craftswomen who work exclusively for the brand from across workshops in Delhi and Kolkata. The label has ensured that these craftspeople have been well compensated and not lost their livelihood through the pandemic.
10. If you were to reinterpret the Parsi Gara in a contemporary look, what would that be?
We've been doing this a lot already through our jackets, gowns, cocktail dresses, trousers, tops and tunics. Many of these have been showcased at our Lakmé Fashion Week Presentations Spring-Summer 2013, 2014, 2020 and Winter-Festive 2015 respectively. 
---
Photo: Featured brand