Travel for me as an individual is very important as new surroundings bring new perspectives to me. It's an inspiration for designers and artists around the world as it unleashes uncountable experiences that convert into designs and art like never seen before," ace-couturier Anju Modi shares, after choosing an innovative yet beautiful way to showcase her new collection— The Road Less Travelled—at the ongoing FDCI India Couture Week 2022 yesterday. 
For more than two decades, Modi's expertise with weaves and crafts has spread far and wide in the country. Textile, not just fashion, is her forte and she liaises with a huge network of artisans. Continuing to proudly put Indian craftsmanship at the forefront, she always churns out timeless, beautiful pieces adorned with embroidery and embellishments. So when it came to showcasing at the grand 15th anniversary of ICW, she decided to add a spark by taking a different route from conventional fashion shows and it was quite a breath of fresh air!
Looking divine in an antique turmeric-hued, vegetable-dyed silk lehenga with vintage embroidered patterns—actor Aditi Rao Hydari turned muse for the designer.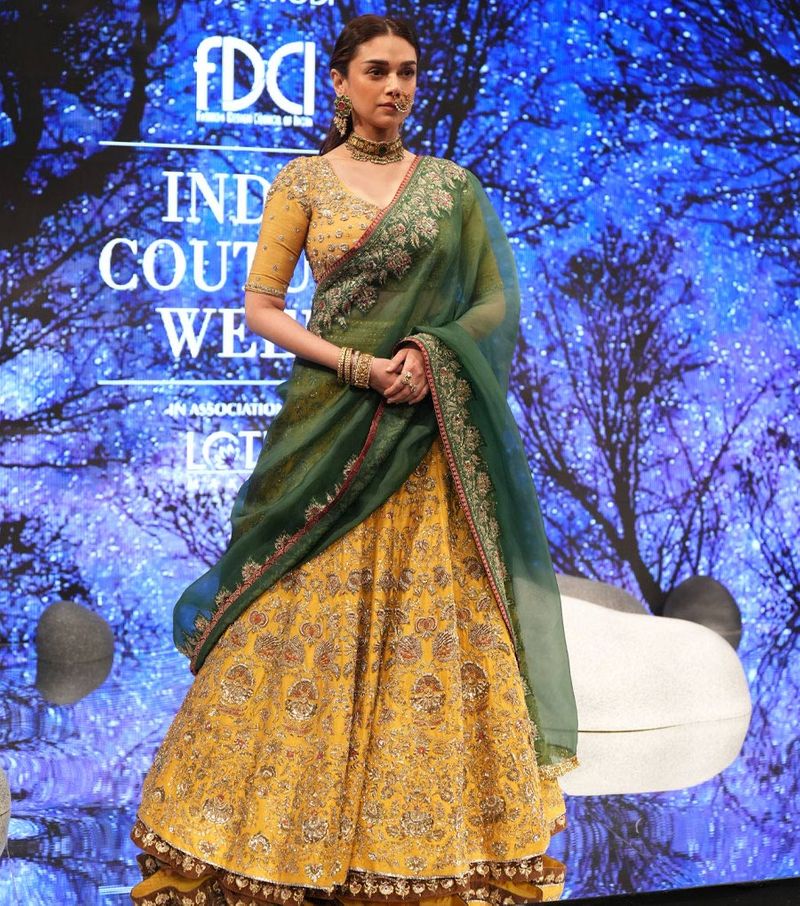 Taking 'the road less travelled'
In contrast to other couture shows that graced the runway, Anju Modi's show was as classic as it was unique—her designs are not outweighed by bling and florals. The veteran designer chose an innovative walk-in presentation to showcase the gorgeous ensembles. In one setting, patrons walked along a ramp covered with rocks, and in another, they saw pine trees laced around the ramp—all complete with ubiquitous screens of exotic travel destinations.
The show opened with videos of the beautiful Kashmir Valley and gigantic mountains on a screen while the models manoeuvred their way through the rocks in pristine ivory ensembles, some with golden accents. The second facet of the collection was marked with physical pine trees and a screen showcasing a dense forest in the upper regions of the Indian subcontinent. Ensembles quickly changed to a darker colour palette with more precise, rich embroidery in lush velvets and crepes. From all hues of ivory, red, gold, and black to rich silk brocades, tulle, chanderi, and pashmina—her deep knowledge of craft and textiles brought her whimsical artistry to life.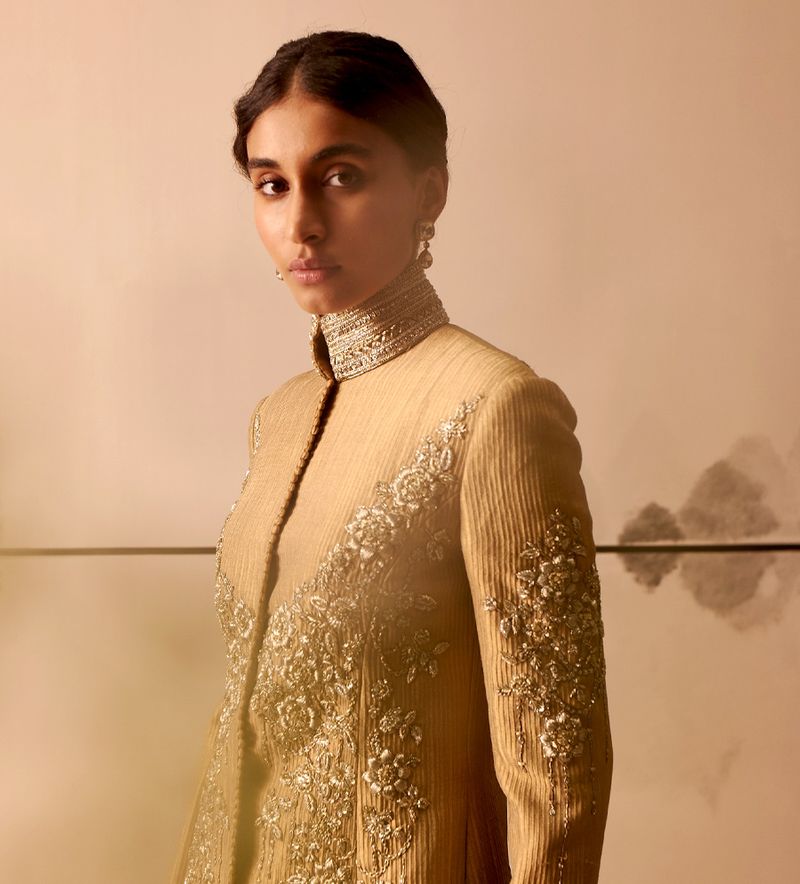 At this outing, the designer integrated her learnings and experiences gained during her various escapades around the world, i.e. travels that have allowed her to absorb the beauty of many lands. "Apart from being inspired by my personal expeditions, this collection showcases the silhouettes we've never played with before. It's a fine blend of age-old artistry, heritage, techniques, and new-age silhouettes, with an intention to cater to individuals, regardless of their age. As for the reason, I believe it's the inspiration that finds you. I was simply browsing through the experiences I've had through travelling all around the world when I decided to take inspiration," she explains further.
The collection includes motifs, silhouettes, and textiles from different parts of India and the world. Modi also told us how she worked with fabrics from Kerala, Bhuj, Rajasthan, and Benares, covering almost 25 villages to create this collection. Through this collection, she revived many traditional techniques—like weaving, vegetable dyeing, block printing, and traditional embroidery. "The inspiration behind it has been my journey and experiences, which led me to be the designer that I am today. Witnessing weavers from remote villages weave beautiful fabrics and artisans experimenting with various surface ornamentation techniques really attracted me. The alpines and florals in my design are inspired by my visit to the North. You have witnessed how the colour scheme moved from lighter to deeper shades, which represents the growth and deeper consciousness that comes after introspection while being amidst nature," adds Modi.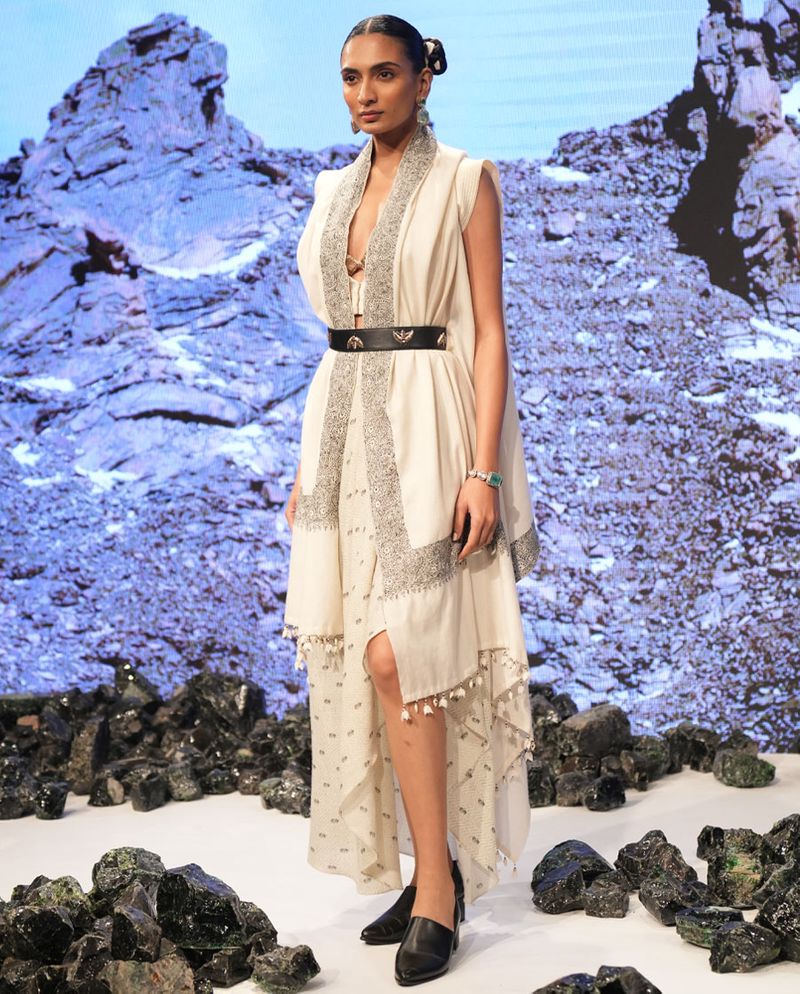 The collection includes ensembles like lehenga, flowy gowns, sarees, and co-ord sets for womenswear and bandhgalas and sherwanis for menswear laden in intricate embroideries and rich fabrics. And yet, she made it a point to make the ensembles appealing for a newer crowd."The key has always been constant—understanding the needs and demands of the consumer and catering to the same. The young generation we cater to is minimalistic, yet very fashionable. Hence, we try to craft pieces with lightweight textiles, without compromising on the quality, and contemporary silhouettes. I have tried to blend silks with cotton so that it is subtle and not too shiny. Even the embroidery is done in such a way that the ensembles are not heavy to carry around," the ace designer explains. 
Having travelled by road for this collection to experience the romance of places, we caught up with Anju Modi to learn how travel impacts fashion in a post-pandemic world and how she designs with the soul of an old-school traveller.
Edited excerpts:
1. How important is travel for you? Would you say your travelogues make a huge impact on your design language?
I believe travel exposes you to the unknown in the world in form of new people, new cultures and customs, as well as new places! Then be it solo travel for leisure to have moments of peace away from the hustle, it always adds something to my core as every experience I go through broadens my horizon. Roads I travel and the places it takes me to have, and will continue to, inspire and impact my language of design, Also, it reflects as I incorporate various textiles and age-old techniques in all my collections.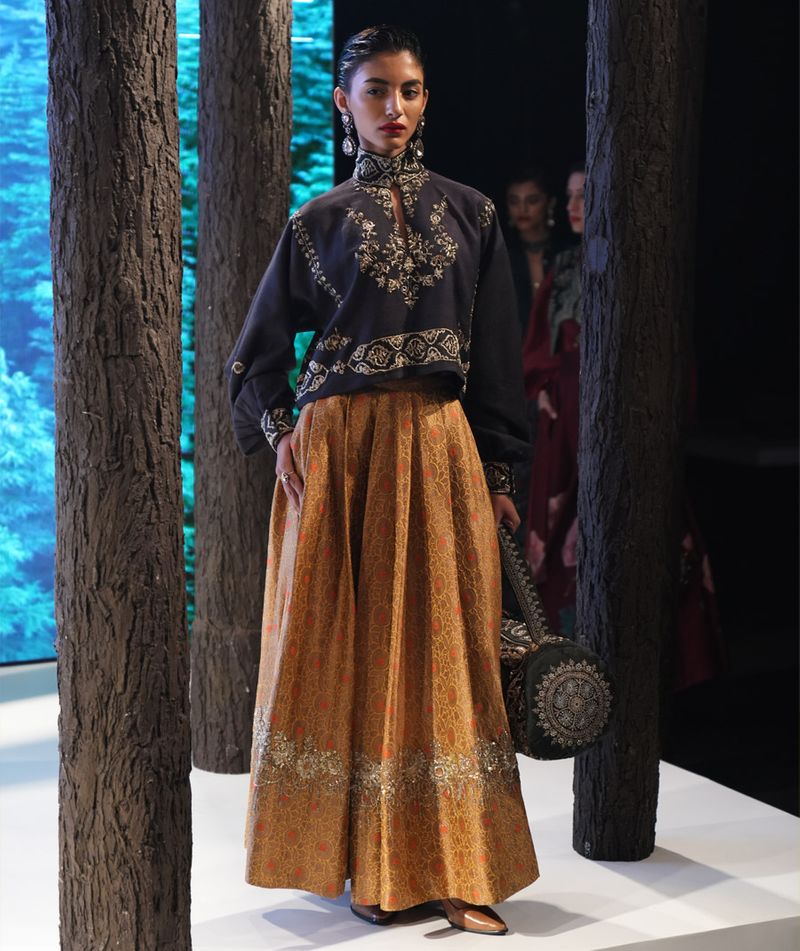 2. As a designer, are you fixated with clothing, textures and fabrics from the destinations you visit? 
The fact that I am a designer based out of India, makes me more appreciative of our traditional textiles, craftsmanship, and the pieces that they create. Not only do I appreciate them, but they also inspire me and have taught me a lot. I have tried to implement my learnings in my personal collections as well. As we speak about favourites, It's almost impossible for me to have one; to mention a few, I love to work with Rajasthan's leheriya and kota doria, and Gujarati bandhani.
3. In a post-pandemic world, how important are these travel-inspired collections? How do fashion and travel influence each other?
Travelling has the ability to evoke emotions like freedom and creativity within an individual. It brings a sense of escapism with it and revives you mentally and physically. One can get inspired by the architecture of a certain place—its textiles, handicrafts, silhouettes, places or seasons; there's something for everyone to absorb. Each artist will view the same subject from a different perspective, therefore presenting a very new result each time.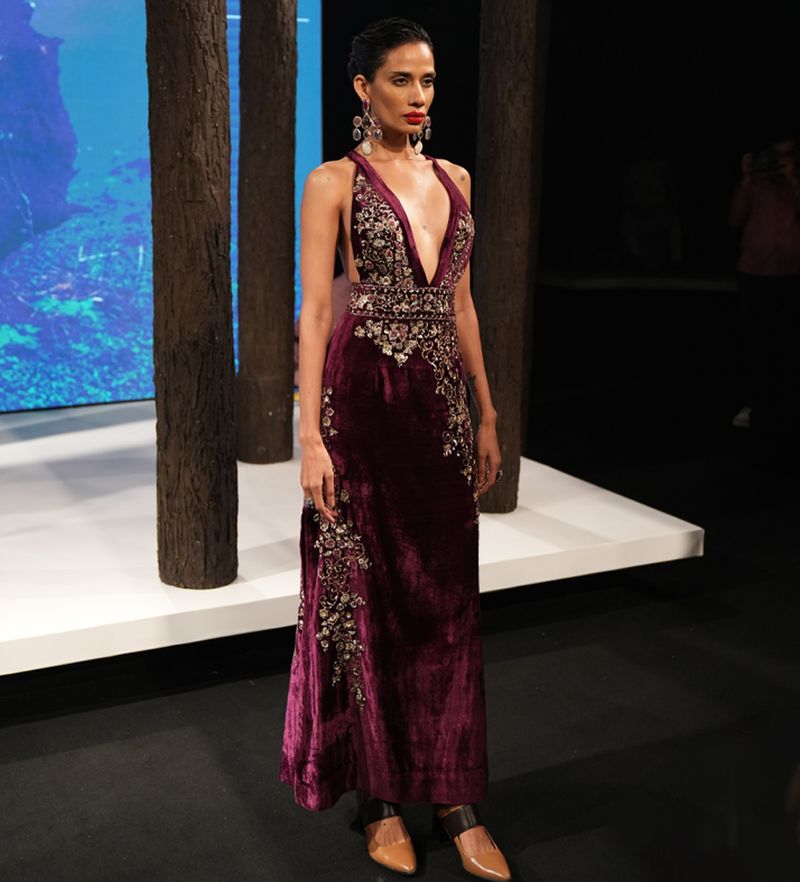 4. Do you think using nostalgic references of travel or 'nostalgia' as a whole is becoming the future of design?
I believe designing a collection is a process—a subjective one, I must add. The inspiration behind the designs is infinite and so is the future of fashion. I can't predict whether nostalgia will become the future of fashion or not, but on a personal level, I do believe that a walk down memory lane and a bag of personal experiences have the potential to give birth to collections with deeper meanings.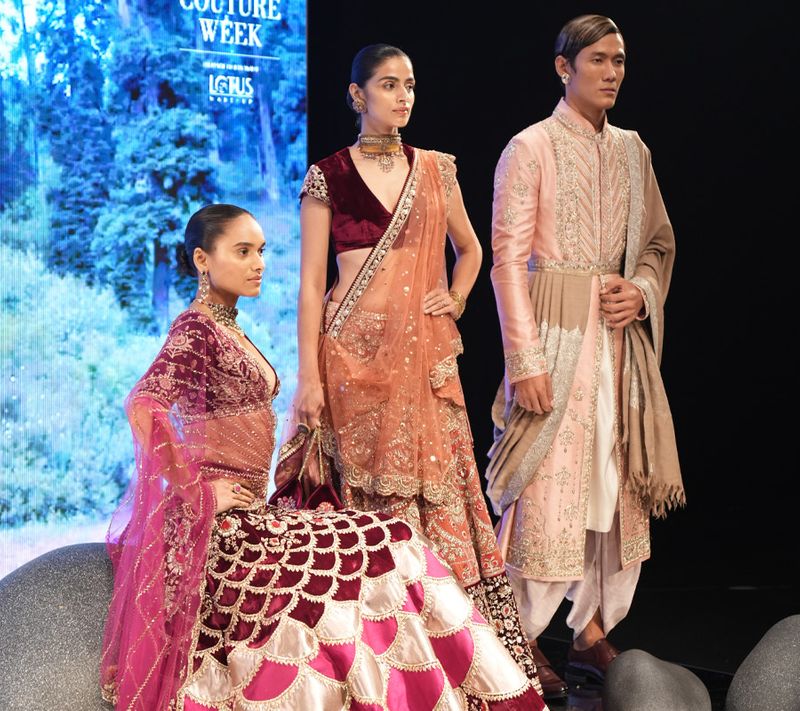 5. What are your thoughts on the relationship between the craftsman and designer in today's age? How important are artisans and their empowerment when we talk about sustainability in fashion?
It's a true honour that I've worked with artisans across India and there's so much one can learn from them. I've learnt more from my on-field experiences and collaborative work with experts in their domain than from any book—and that's what makes my collections more special and beautiful.
It's important to understand and acknowledge what our traditional handcrafts contribute to not just the textiles and fashion industry, but to our country as a whole. Sustainability is about having a mindful approach to what we'll be leaving for our future generations. I think, passing on our traditions, culture, and crafts to them is a wonderful way to keep artistry alive and also provide employment opportunities. It's a win-win situation.
---
Photo: Anju Modi