Finding yourself at the cusp of December can only mean one thing—the festivities are here! There are weddings to be part of and parties to attend. With the better half of the last two years being marred by the pandemic, you want to look your festive best this season—albeit with caution. So we decided to speak to some of the leading dermatologists— Dr. Ruby Tandon, Aesthetic Dermatologist & Medical Director at REVIV India, Dr. Geetika Mittal Gupta, founder ISAAC Luxe and Dr. Trupti Agarwal, consulting dermatologist, Kokilaben Dhirubhai Ambani Hospital—who gave us the lowdown on what's new in skin treatments.
1. Collagen facials 
If you're a skincare junkie, you know that collagen forms the building blocks of your skin. A collagen facial involves exfoliating the skin to do away with the uneven outer layer. This also helps in reducing uneven skin texture, age spots, and scars. Next, collagen is induced into the skin via laser beams that further stimulate the skin's natural collagen production. Dr. Mittal Gupta who offers this service to her clients explains that the final step involves delivering concentrated hyaluronic acid into the skin which boosts hydration, remodels sagging tissue, and restores firmness. Some other concerns this treatment addresses are pigmentation, sun damage, acne scars, visible signs of ageing such as wrinkles and fine lines, and damaged skin, to name a few.  
2. Platelet-rich plasma or PRP therapy
Popularly referred to as the vampire facial, PRP involves creating a natural 'serum', so to speak out of the patient's own blood. As terrifying as this may sound to some, this treatment—a favourite amidst celebrities like Kim Kardashian and Bar Refaeli—is highly effective for acne scars as the blood stimulates collagen production in the underlying layers of the skin. This causes scars and depressions associated with acne to heal. "It can also work to prevent fresh breakouts as the therapy can induce the flow of blood, nutrients, and oxygen that work to remove accumulated toxins in the skin," explains Dr. Mittal Gupta.  Depending on the concerns, a doctor may advise either injecting or 'applying' this serum using a derma pen. 
3. Growth factor concentrate therapy 
A procedure similar to PRP therapy, Growth Factor Concentrate or GFC therapy could best be described in layman's terms as a more concentrated version of the former. PRP involves the use of platelet-rich plasma that releases growth factors and nutrients into the skin that help with rejuvenation. In GFC therapy, on the other hand, growth factors formulated from the patient's own blood are injected into the skin for facial rejuvenation. "This treatment is highly concentrated and safe. It delivers the person's own growth factors right into the layers of the skin that results in its stimulation and subsequently its repair and regeneration," shares Dr. Agarwal. She describes it literally as a 'lunch time procedure' that can result in improved skin texture, tightness and give you youthful skin by activating the skin's natural healing properties.  The same technology is now also being used for regenerative hair therapies.
4. Drip therapy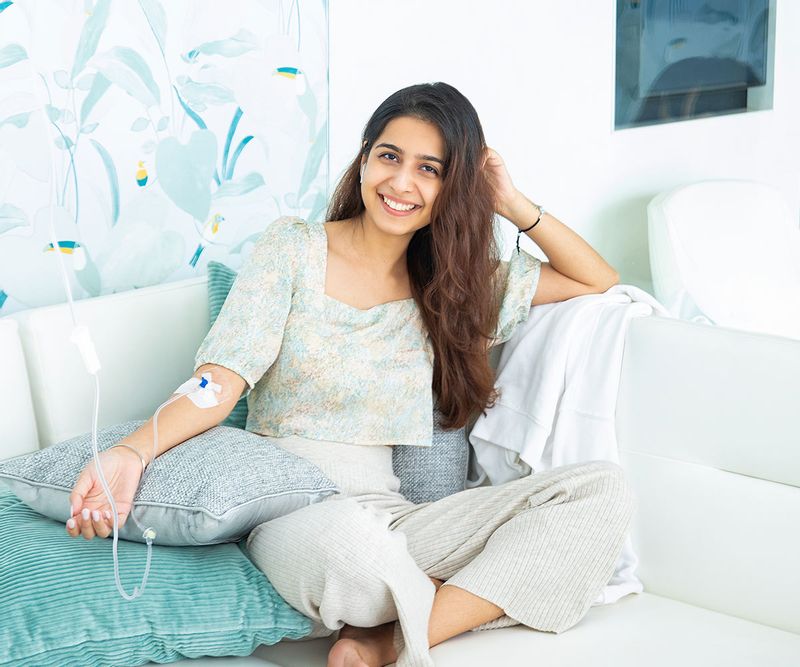 The idea of an intravenous injection may conjure up images of a dreary hospital but at the brand new REVIV clinic in Mumbai, you can get a shot of healthy vitamins and minerals while watching your favourite Netflix show in order to meet your skin, hair, fitness and wellness goals. Dr. Ruby Tandon, Aesthetic Dermatologist & Medical Director at REVIV India sees this as a holistic way of meeting your goals as your body gets the necessary vitamins, nutrients, fluids, electrolytes, and antioxidants to achieve its potential. While giving you healthier skin is a given, these concoctions also help balance your overall health. At Reviv, clients can opt for either a 45-minute drip therapy or a quick booster shot. Some of the IV therapies you can choose from include Vita glow, Royal Flush, and Megaboost—each tailored for different skin and wellness needs.
5. DNA testing 
Another one of the services that the REVIV clinic offers is DNA testing. What does this have to do with your skincare needs? Well, a lot, according to Dr. Tandon. She points out that while 30% of environmental factors such as sun exposure, temperature, and pollutants affect the appearance of the skin, 70% is decided by a person's genetic make-up. By genetic testing, doctors can understand the body's ability to regenerate itself. For instance, these tests can help you analyse how your body breaks down collagen which is a powerful determiner of how healthy your skin is. Based on the findings, a detailed plan is recommended to the client that covers everything from the products you should use to the foods you consume. 
---
Photo: Shutterstock