While you were sleeping, the world of cosmetics has been changing. In fact, the evolution has been so rapid that one is often left holding a makeup brush in hand, wondering what to buy, how to use and if it is good for us. Having said that, India is taking serious strides in the world of makeup, with brands that are homegrown, reliable and products that are designed for Indian skin. The latest entry into the scene is Color Chemistry, a sister brand of Juicy Chemistry (makers of all sorts of nature-based skin, body and hair products). With the current buzzwords in beauty being clean, vegan, sustainable and organic, and that Juicy Chemistry's philosophy has been just that, the makeup brand's launch is right on cue.
Color Chemistry launched in India with the most curious collaboration with the super secretive digital content creator @dietsabya.
Zee Zest chats up with its founder Megha Asher (also the co-founder of Juicy Chemistry along with Pritesh Asher) to know more about this spanking-new certified organic brand of makeup:
1. When you say 'organic', what exactly do you mean?
The word organic at Juicy Chemistry simply means pure and unadulterated ingredients, grown without using synthetic fertilisers, additives, etc., and using sustainable practices such as biodynamic farming.
Over 75 per cent of Color Chemistry's product range is certified organic by Ecocert France, and some products are currently undergoing the certification process. With Color Chemistry, since the line is different from our core line, we have used Ecocert approved derivatives in the range.
The products are natural, high-performance, and skin-loving, enriched with rosehip and green tea. The brand is one of India's first cosmetics brands to focus solely on natural and organic ingredients to create ethical, skin-loving, and high-performance cosmetics.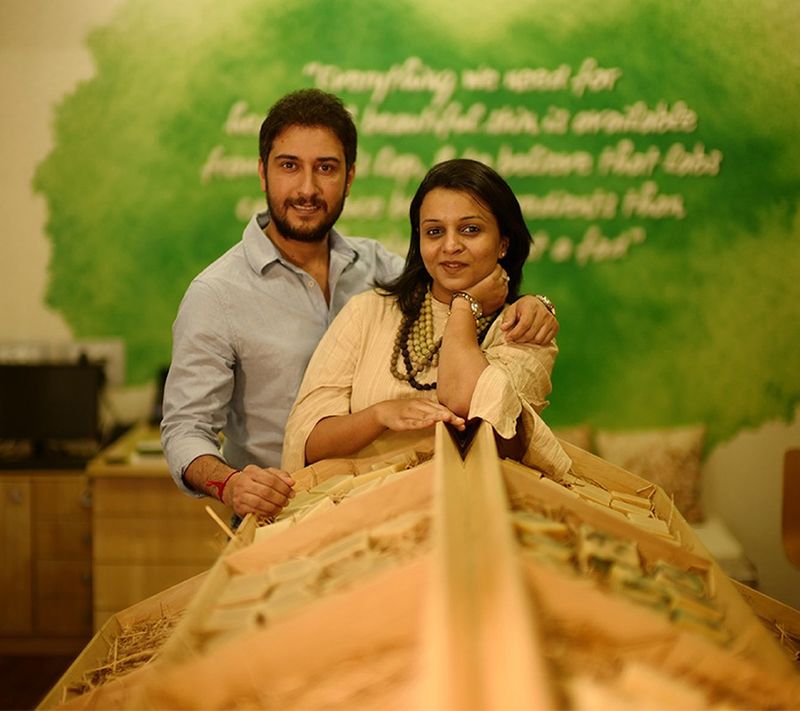 2. What kind of a products can we expect from Color Chemistry?
Pritesh and I have always wanted to create products that make a difference. With makeup too, we didn't want to create yet another beauty brand but build something that solves a real problem. The entire range of Color Chemistry offers intense pigments, and long-lasting and buildable formulations that sit comfortably on the skin and are perfect for everyday use. Color Chemistry offers everything you expect from your regular makeup products, despite being natural and organic. The brand cuts through the clutter and offers a versatile and easy-to-use range of products that work for everyone.
3. There is this belief that natural makeup or organic makeup does not last. Please share your thoughts.
To tell the truth, this belief is no different from what we have managed to do with JC, to show just how potent and high-performance organic ingredients can be. At JC, we're no strangers to questioning the norm; in the past eight years, we've redefined what organic beauty looks like to the Indian customer. Through our organic soil-to-self formulations that celebrate the power of nature, we've created an impact in the beauty industry, emerging as industry leaders in the organic beauty segment.
4. What does beauty mean to you?
Beauty isn't just limited to skin or haircare. It's about your lifestyle, diet and makeup. We see makeup as an extension of one's skincare routine, but we've come across a strange dilemma present in the makeup industry—you can either have high-performance makeup, that may not necessarily be skin-loving, or natural formulations that lack the efficacy of high-performance makeup. We'd seen the same problem in personal care products before where organic wasn't considered effective. Therefore, taking on this challenge was the natural choice.
5. The world, in general, across various segments, is suddenly talking about sustainability. What more can skin/beauty products do?
With CC, we want to simplify makeup by creating effortless products that are easy to use and skin-loving. We're firm believers in the concept of the 3Ps - people, planet, and profit. As a result, safe, organic and ethical formulations are at the heart of our brand. We want to minimise our impact on the environment as well, and our packaging reflects that. All our products are manufactured in Europe, in compliance with strict regulations. Our mica, for one, is ethical and regulation compliant.
We're aware of all the potential ethical and environmental issues in the cosmetics industry and have been thorough with our research and checks. Over 75 per cent of our range is certified organic by EcoCert France. Some of the formulations are not certified organic due to the nature of the pigments. As a vegan and cruelty-free brand, we don't use the pigment, carmine, in any of our red-hued products since it is derived from beetles. Instead, we use safe synthetic pigments. Sustainability for us has always been a continuous journey. As both brands grow, we hope to and strive to continue to learn, evolve, and do better. 
6, If you were to pick five of your favourite products from Color Chemistry, what would they be?
The foundation, concealer, baked compact, kajal, and lipstick are my favourites. I simply can't do without them!
7. Any international brands that inspire you or you believe are doing great work in the same segment?
Jones Road Beauty and Ilia Beauty are brands that I have immense respect for. I love their products.
---
Photo: Featured brand