There is no time like the present to indulge in self-care sessions and build for yourself a beauty routine that you can follow regularly throughout the year in 2022. If your resolution for the New Year was to be better kinder to your skin, then we are here to help you with beauty launches that are focused on repairing the skin's barrier system, offering moisturisation and hydration, and overall making space to let your skin breathe and mind relax.
From soothing oils to superfood-based products, here are the latest launches that have us cheering for healthy skin.
1. In My Defence, d'you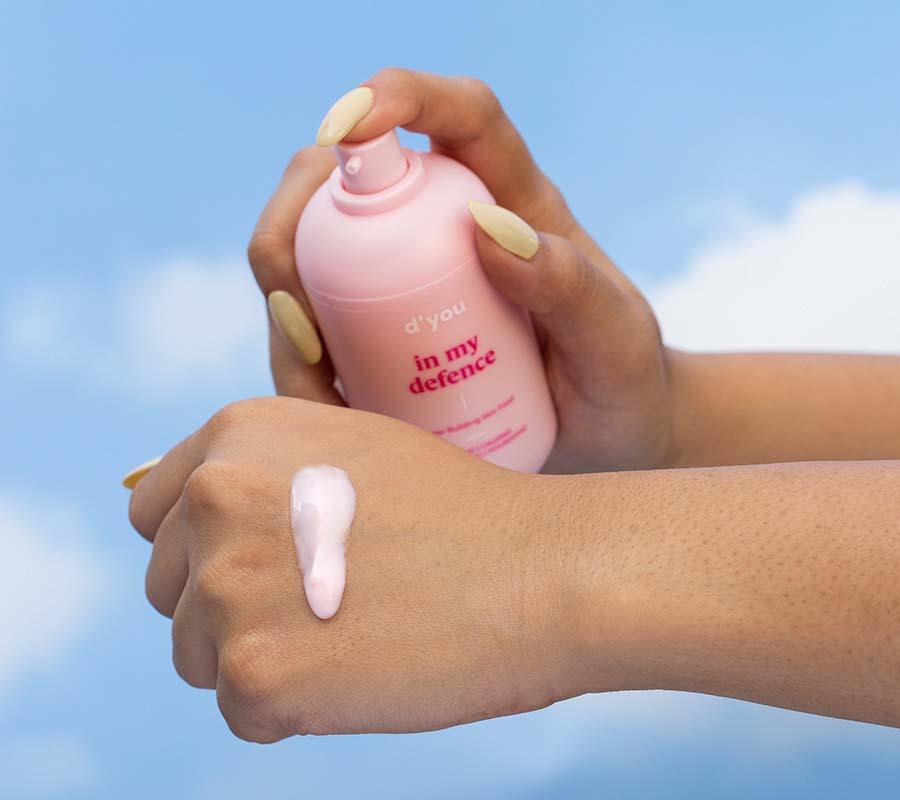 The hoarding culture of beauty products hasn't done much good—neither to your skin nor the environment. That's why the beauty brand d'you came into being—to address a cluttered skincare routine. Their first product, Hustle, is a serum that contains over 11 different active ingredients and aims for a 360-degree treatment, ranging from protection to nourishment. Founder of d'you, Shamika Haldipurkar, is back again with a new launch called 'In My Defence'(IMD) which is a soothing and moisturising ceramide complex. You can think of ceramides as the mortar between your skin cells. They make up over 50% of your skin's composition and play a vital role in determining how your skin looks and feels. 
Ceramide is a common skincare ingredient, however, most products feature them in very small quantities. This new unique formula comes with a patented "5 Ceramide Blend" in 1% pure concentration along with all the essential lipids your skin requires, thus mimicking the skin's natural barrier system. In My Defence comes in a 50ml-sized bottle that dispenses through a pump. It has a pastel-pink coloured, cottony-soft, and non-sticky texture with a mild-soothing scent. It ticks off the necessary requirements of any topical product i.e. it has a lightweight yet moisturising formula, fast-absorbing yet nourishing longevity and soft and supple residue that feels like a second skin. IMD is a moisture-retaining, skin barrier strengthening complex that you can use both for your face and body all year round.
2. 2% Kojic Acid Face Cream, The Derma Co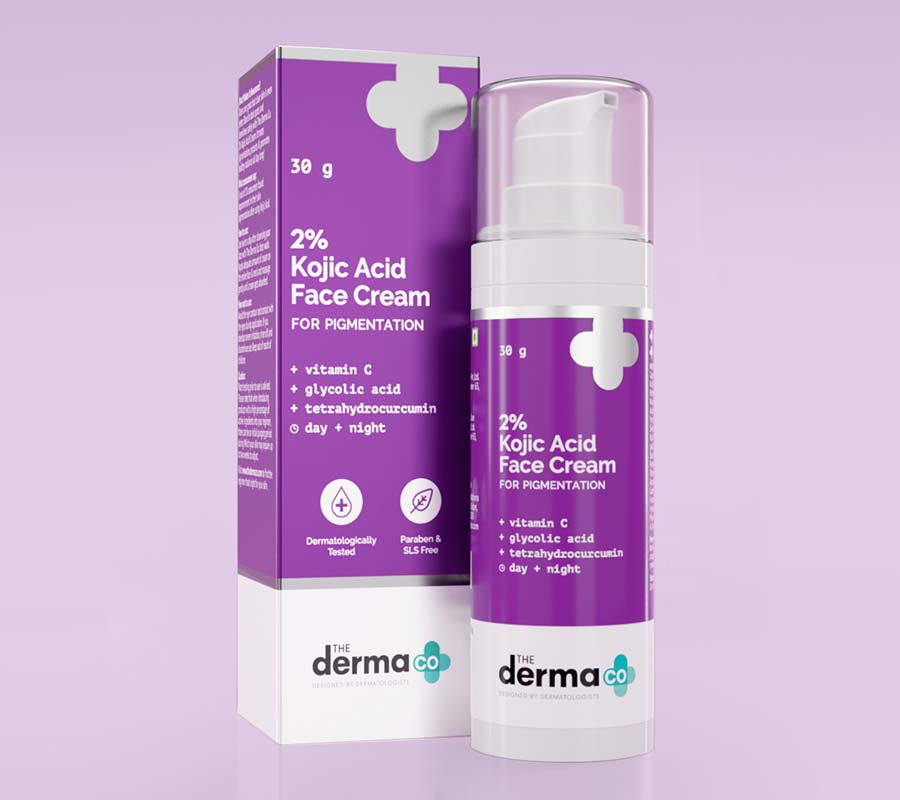 You've probably stocked enough of glycolic acid, niacinamide, and salicylic acid on your beauty shelves in the search for clear skin. But there's another ingredient you need if your goal is a brighter and even complexion. We're talking about kojic acid that has potent skin brightening prowess. The Derma Co's 2% Kojic Acid Face Cream is formulated with alpha arbutin and niacinamide. The product has a typical cream-like constituency but absorbs quickly and lets your skin breathe. Although the cream has a faint 'medicinal' smell, it is both gentle and effective on the skin and works well to lighten pigmentation, acne marks, and other blemishes. Moreover, it also has vitamin C which helps in imparting a glow and promoting healthy radiance. Another reason to get your hands on this product is its travel-friendly and easy to use packaging.
3. Curative oils, Blossom Kochhar Aroma Magic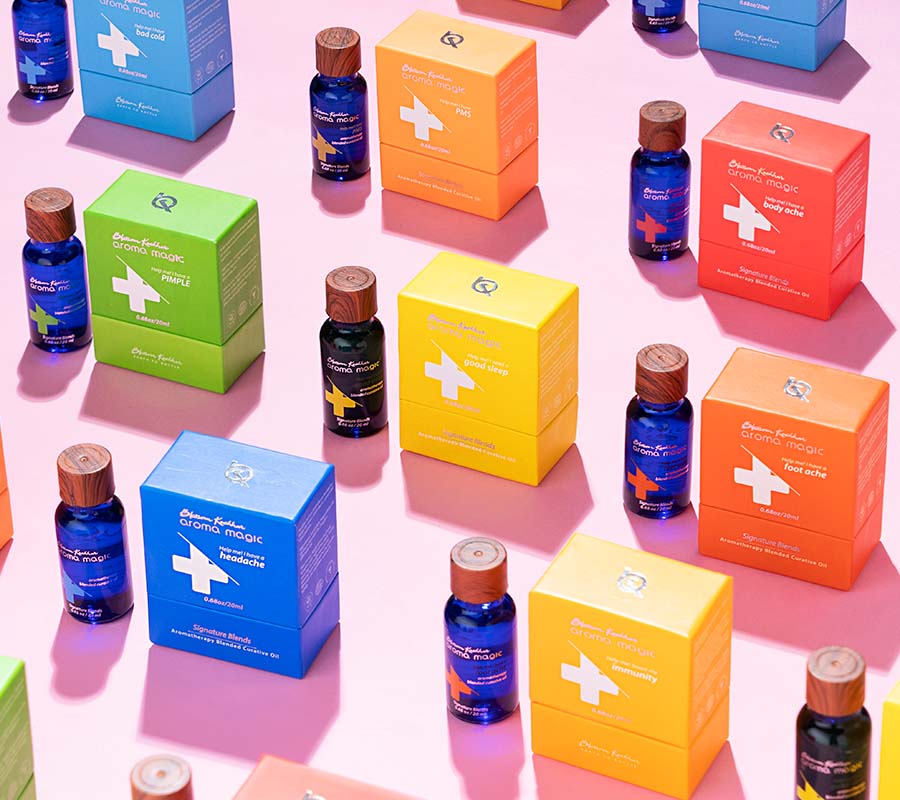 Just a mere mention of the word 'aromatherapy' evokes images of tranquillity and pampering, and this curative oil range doesn't disappoint. A pioneer in holistic wellness, Dr Blossom Kochhar's wellness and beauty brand, Aroma Magic, recently launched a special Aromatherapy kit featuring a collection of specially blended and curated oils. Called 'Help Me!', this range includes eight different curative oils that address various everyday concerns from boosting immunity and controlling hormonal fluctuations to dealing with stress, insomnia, body ache, and acne amongst other things. These oils have a strong, calming scent and are formulated with the goodness of natural essential oils. They are also fuss-free, non-sticky, and skin-friendly. Just apply as directed on the packaging! 
4. Lisén Skincare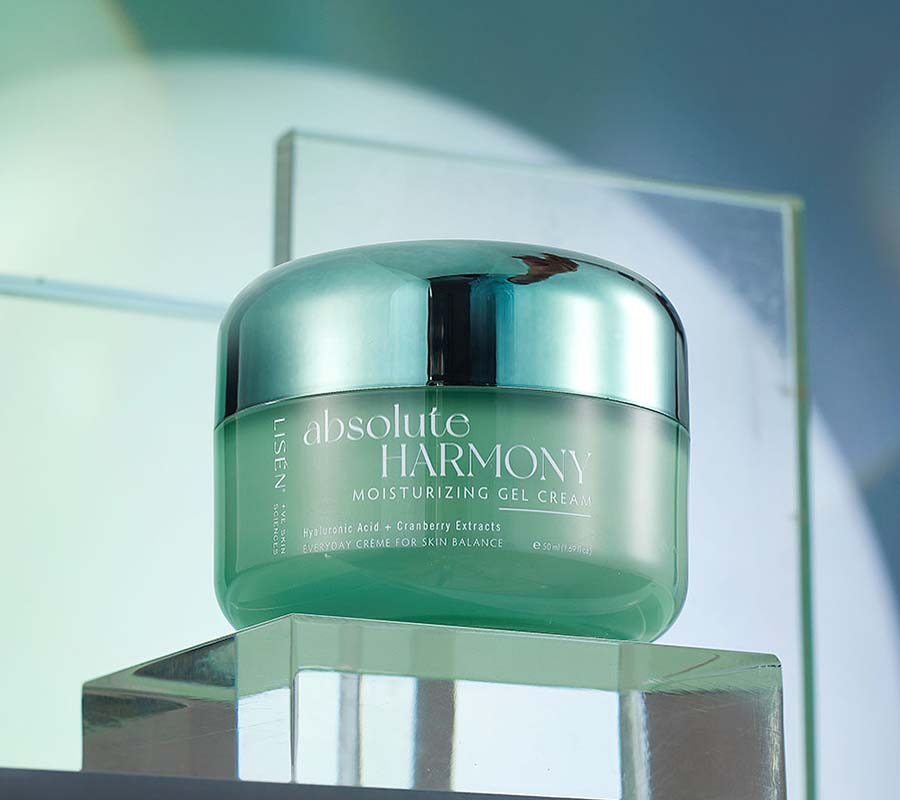 This brand-new skincare label comes from the family that founded the legacy beauty brand Blue Heaven Cosmetics. And just like the cult homegrown brand, this skincare brand has high-efficacy products. Although the range has a variety of products from cleansers and serums to sunscreens and masks, their key products include a pore-clearing foam cleanser, gel creme, and a multi-solution ampoule.
The foaming cleanser has salicylic acid, which is known for its unclogging and exfoliating properties, in a gentle formula that doesn't strip off the necessary oils from the skin and prevents any build-up. The hyaluronic acid charged ampoule with Centella Asiatica offers intense, multi-level hydration for a long time. The texture is transparent and this lightweight formula spreads and absorbs easily—resulting in refreshed, plump skin. 
Absolute Harmony is the brand's everyday gel moisturiser with hyaluronic acid, cranberry extracts, and squalane. It is lightweight because of its water-based gel formula that balances sebum, calms irritation, and keeps your skin refreshed without clogging the pores or leaving any sticky residue behind.  
5. Superfoods Thai range, Myglamm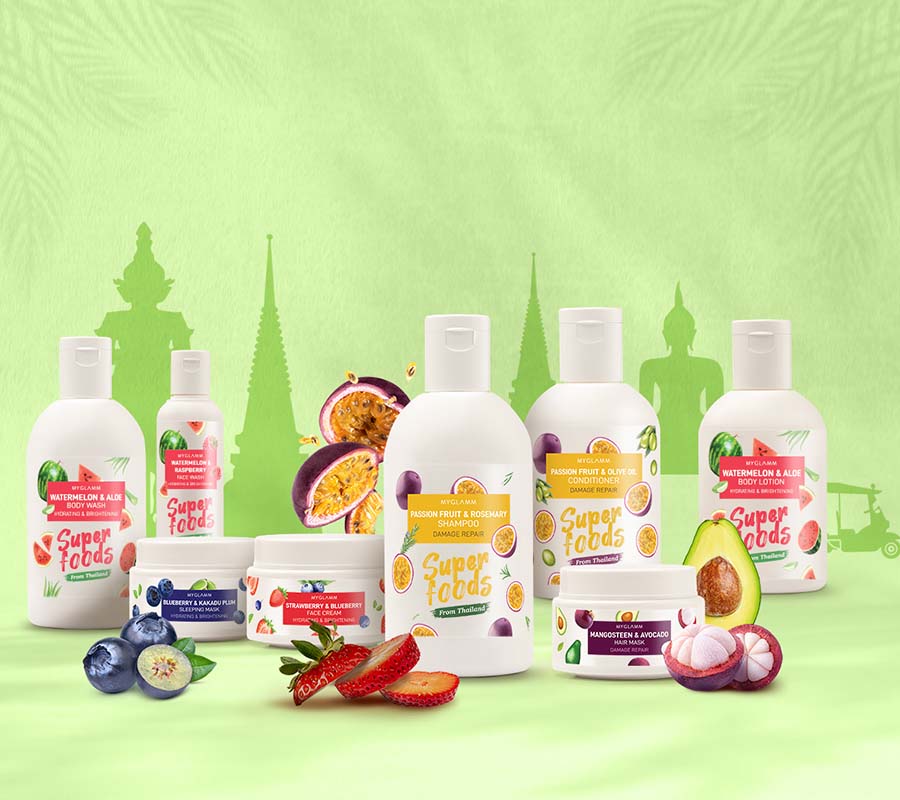 Beauty giant Myglamm has launched a superfood-focussed skincare and haircare range that is formulated with natural ingredients. Enriched with nourishing natural extracts from superfoods like passionfruit, rosemary, watermelon, aloe, and berries—the range is blessed with a sweet aroma that instantly uplifts you and promises nourishment. The skincare range has everything from face creams to sunscreen, while the haircare range comes with shampoo, conditioner, and hair mask. 
The notable ones include: the Watermelon and Raspberry face wash that comes with a gentle foaming formula. While it deep-cleanses, it keeps the skin's natural moisture intact. The Blueberry and Kakadu Plum sleeping mask has a soothing and calming texture. Its gel-like formula is lightweight and non-greasy and seeps into the skin easily. The revitalizing overnight formula gives your skin a well-rested and radiant appearance while delivering a visible smoothing and plumping effect. The Watermelon and Aloe Body Wash is a refreshing addition, enriched with an antioxidant-rich formula. It helps maintain the skin's moisture balance, leaving it feeling soft and supple.
6. Complete Acne Control Solution, Nua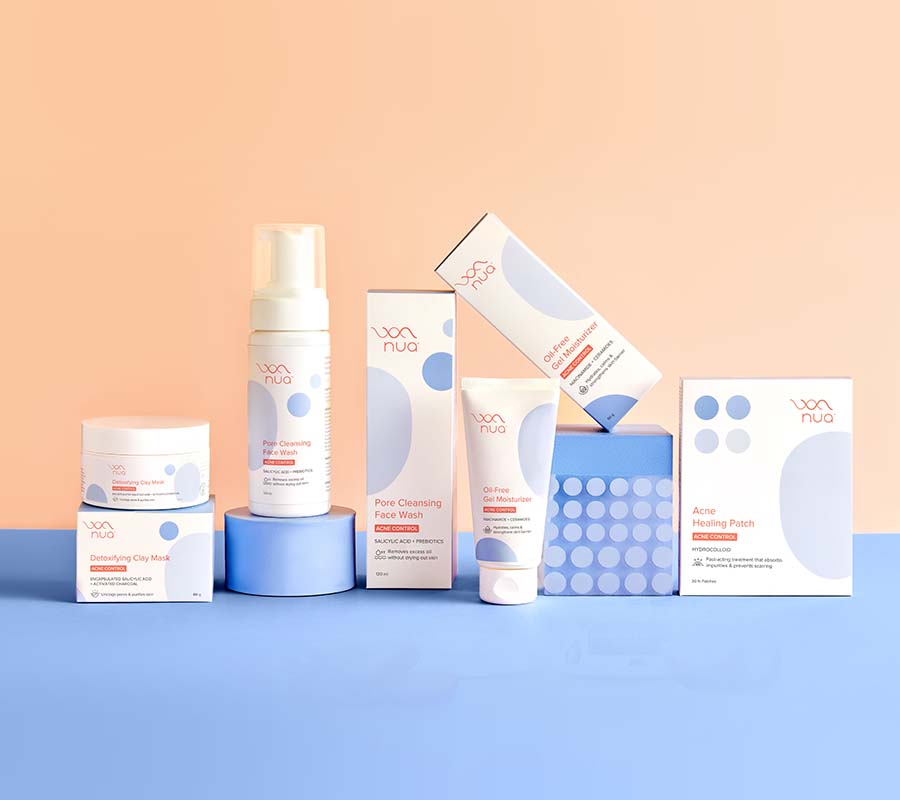 Women's wellness brand Nua has stepped into the skincare sector with its brand new acne control range. The range is specially formulated to address the continuous acne and skin issues that especially happen around menstruation. It also focuses on skin hydration, elasticity, and sensitivity keeping in mind the changing hormone levels every month. A set of four well-balanced skincare products—pore cleansing face wash, oil-free gel moisturiser, detoxifying clay mask, and acne healing patch—completes the range.
Nua's Acne Healing Patch is made of a fluid absorbing gel that flattens acne by quickly absorbing pus and impurities. However, it is more effective on individual pimples rather than overall greasiness. For keeping your sebum production in check, choose the foaming face wash that comes packed with salicylic acid, prebiotics, and hyaluronic acid and gently removes excess oil. The moisturiser is lightweight and fast-absorbing, but it also manages to control oil production. A noteworthy factor about the clay mask is that although it is packed with salicylic acid, kaolin clay, and activated charcoal yet—it has a non-drying formula that gently exfoliates the skin, and is suitable for all skin types.
7. SeeLove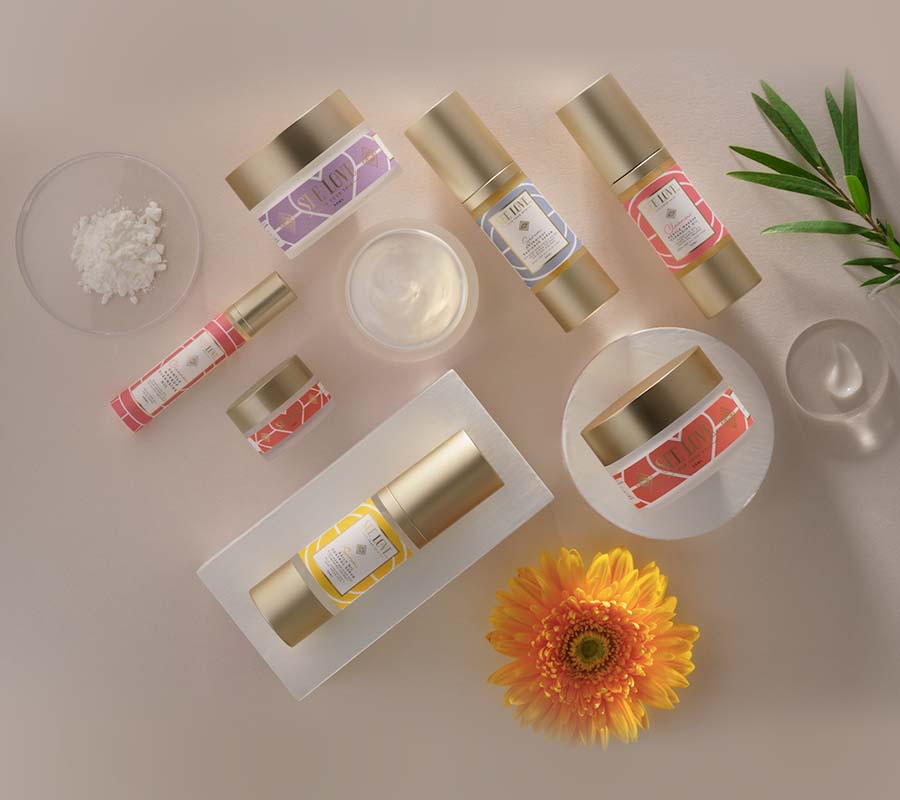 As we rebrand beauty standards, homegrown beauty brands are bringing the best of nature and science together. Modern and mindful, skincare brand SeeLove comes with environmentally friendly and minimal packaging. The products include superfoods like Japanese honeysuckle, prickly pear, marigold, and liquorice extracts to benefit skin health and maintain the delicate PH balance. In their first collection, you can find cleansers, serums, and moisturisers. Their standout products include a gentle makeup cleansing oil that is also hydrating. The consistency is thick, doesn't require vigorous scrubbing and dissolves the makeup with ease. Their other products include the Overnight Radiance Serum specially formulated with a 14% AHA+ BHAfruit acid blend and hyaluronic acid, making it power-packed yet nourishing. They also have a Daily OilControl Serum featuring zinc and niacinamide that helps to decongest pores. 
8. Ayurvedic hemp range, Soultree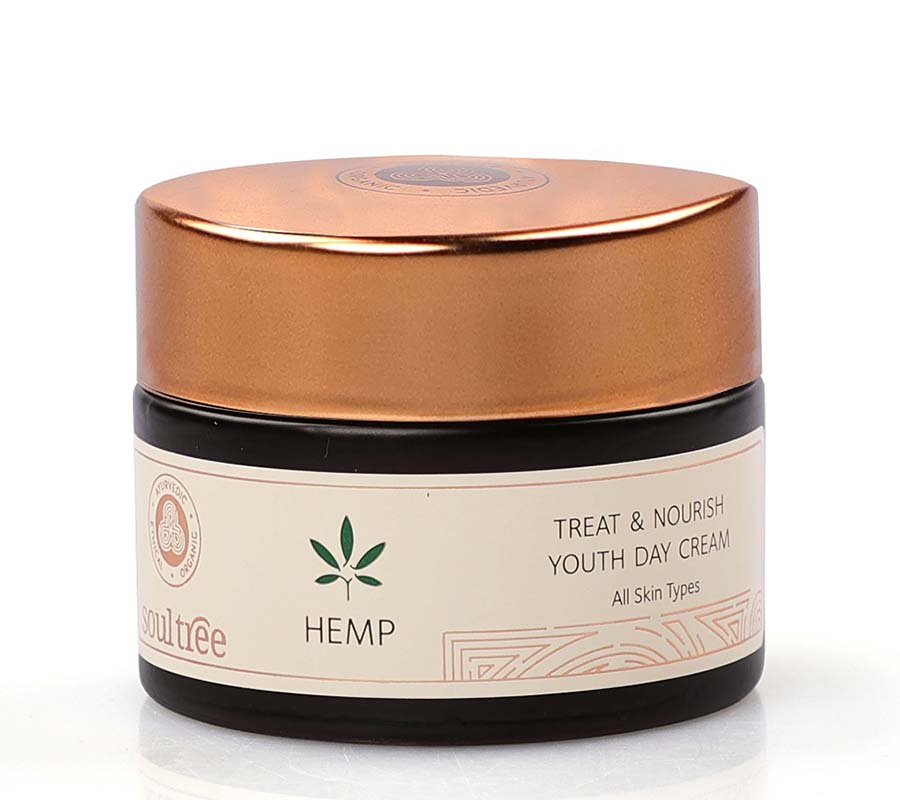 This mix of Ayurvedic goodness enriched with pure organic hemp seed oil is a treat for the skin. Luxury Ayurvedic beauty and wellness brand SoulTree's new hemp care range has a set of 10 products designed to help deal with acne, wrinkles, and scarring. There are facial oils, soothing serums, regenerating youth night cream, under-eye treatment, oil-to-foam cleansers and many other products—something for everyone. Given the endless winters that are still leaving us with parched skin, the Hemp Treat and Nourish Youth Day Cream deeply hydrates dry skin and even uplifts it. The repair and calm under-eye treatment is another must-have that has a potent lightweight formula and oozes a sense of soothing when applied. 
9. Lip care range, mCaffeine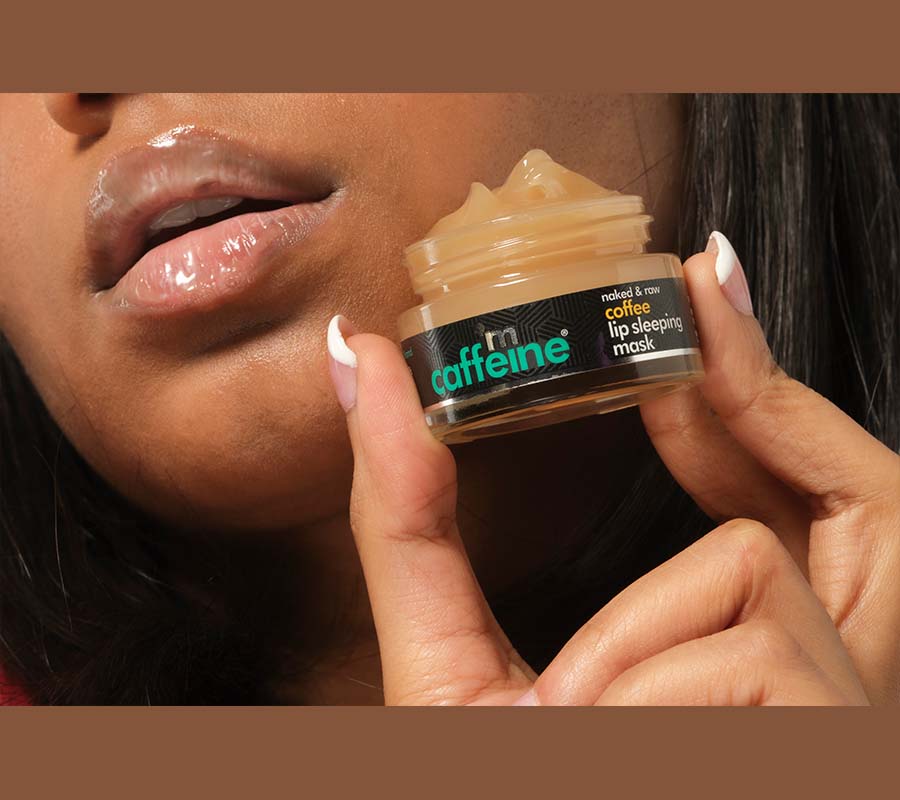 Lips tend to be the most-parched part of the body, which means they require extra attention and care. Understanding this necessity,  personal care brand, mCaffeine now has a vegan lip care range with the goodness of coffee and cocoa. Infused with an irresistible aroma of coffee, the range has lip scrub and lip balm in two different flavours, polishing oil, lip sleeping mask and sleeping butter.
The CoffeeLip Polishing Oil lets you ride the moisture wave high, thanks to its lightweight and non-sticky formula that leaves you with a glossy sheen. The CoffeeLip Sleeping Mask has a cushiony texture that hydrates and repairs chapped lips while the Coffee Lip Sleeping Butter provides intense moisturization overnight. The scrub gently exfoliates while the creamy-rich balms heal dry and chapped lips to give you luscious lips. If you want to indulge in the ultimate lip care ritual, add this to your shopping cart.
10. Bakuchiol range and Kansa gua sha, Just Herbs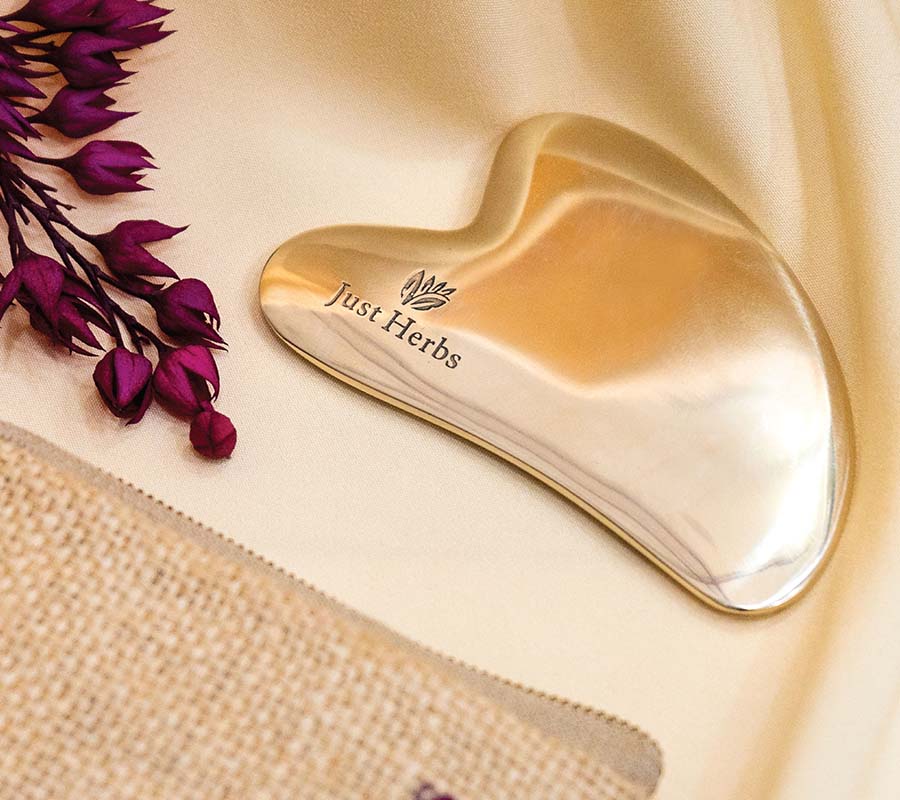 The natural alternative to the anti-ageing skin agent retinol, bakuchiol is a gift for people with sensitive skin. Enriched with a blend of botanical ingredients including liquorice root, Ayurvedic beauty brand Just Herbs' Bakuchiol range has an innovative face wash, age defence serum, and gel creme. Although the face wash is a mildly foaming one, just a dollop is enough for removing excess oil, dirt, and make-up. The serum, however, has a lightweight cream-like constituency that is meant to repair the skin, target wrinkles, and encourage natural collagen production—and is also, perfect for people who hate greasy feeling. Expect plumper and a more radiant-looking complexion with the gel-based night creme to ward off visible signs of premature ageing.
Another latest release from Just Herbs includes a Kansa gua sha—a facial massage tool made with a metal alloy of copper and tin, for uplifted and toned skin. Use it with a facial oil or serum, to avoid tugging on the skin and for a smooth glide.
Where to buy: Bakuchiol range and Kansa gua sha
11. Night Nectar Cream, Mellow Herbals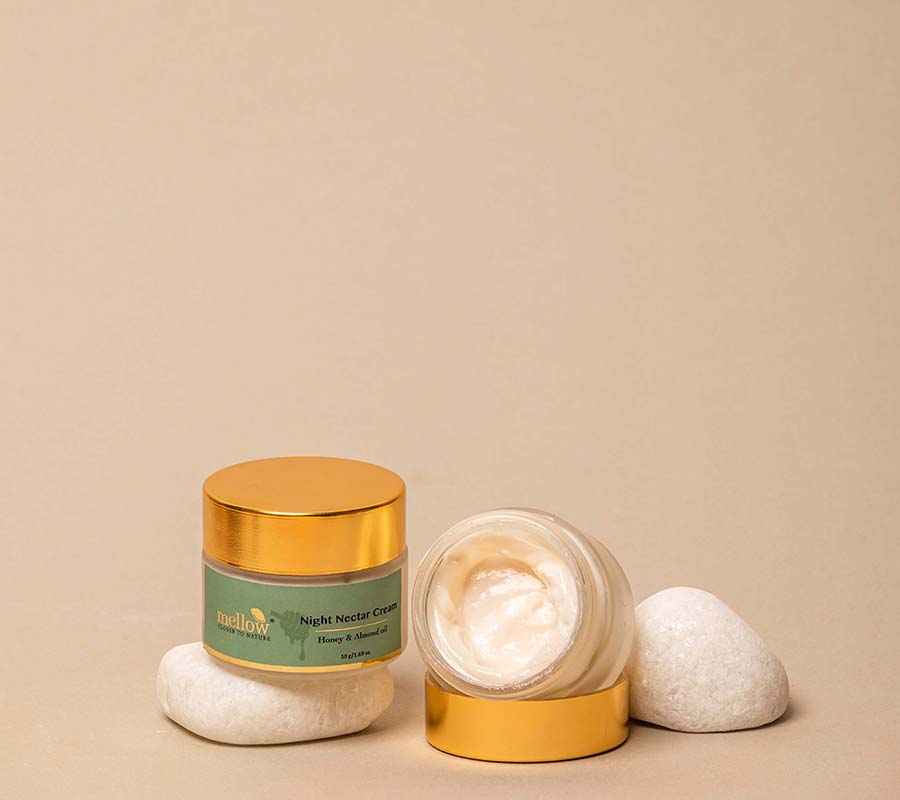 Even if you regard yourself as a skincare minimalist, having a separate day and night cream is definitely a 'holy grail' step. Made from a  holistic blend of active herbs, pure oil extracts and essential vitamins, this beloved new night cream from Mellow Herbals is what you need to quench your skin's need for nourishment. It has honey and almond oil as the key ingredients to help you reap all of the benefits of natural ingredients. However, this cream has a thick constituency and is better suited for dry skin.
12. AHA-BHA face serums, Kaya Skin Clinics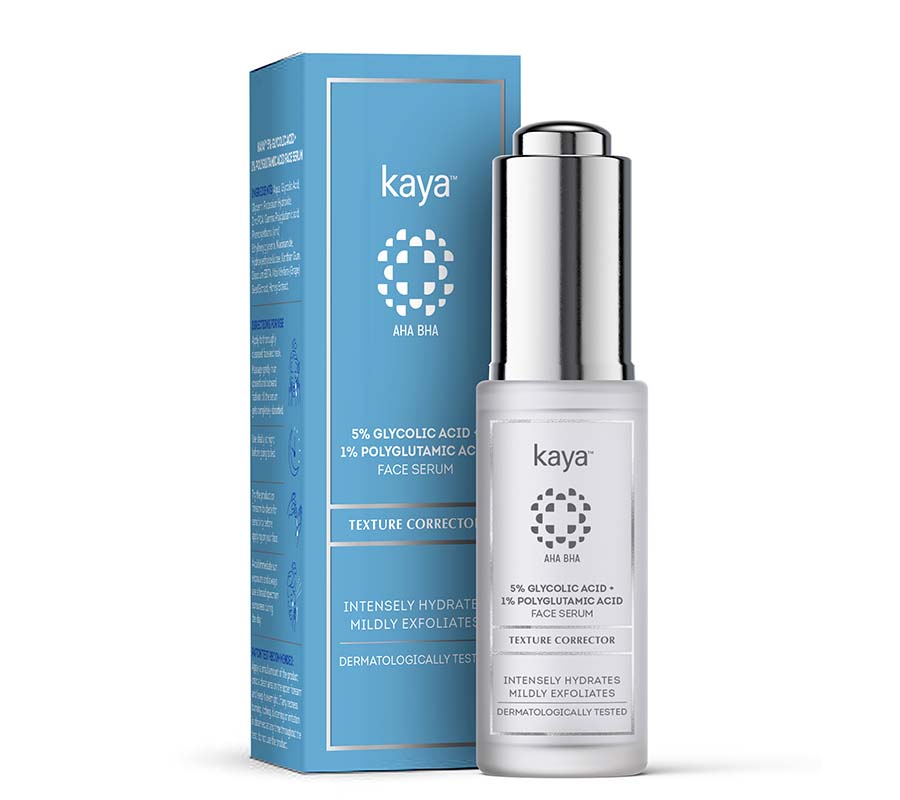 Beauty products with AHA (alpha hydroxy acid) and BHA (beta hydroxy acid), responsible for improving skin texture and deep exfoliation, are lately everywhere because of their high performance. Kaya's new skin crew, AHA-BHA serums, is a power-packed trio that can help tackle dark spots, uneven texture, and acne.  
Salicylic acid is one of the most common forms of BHA known for decongesting pores and revealing brighter skin underneath. Kaya's special serum with 2% salicylic acid and 1% zinc PCA is specially developed to correct your acne. Although the serum works by exfoliating the skin, it also aids in hydration. Best for oily skin, it can be used once daily. For texture correction, their 5% glycolic acid with 1% polyglutamic acid variant is a non-comedogenic, easily absorbing serum. Specially suitably for dry and acne-prone skin, this one mildly exfoliates and regulates sebum production. Their special serum concoction of  10% niacinamide and 1% azeloglycina, known for sebum control and addressing uneven skin tone, is meant for those having concerns of dull skin, dark spots, and hyperpigmentation. The serum is an anti-inflammatory solution that absorbs soon and doesn't dry your skin further.  Use once daily and top it with a moisturiser.
13. Onion haircare range, Vedix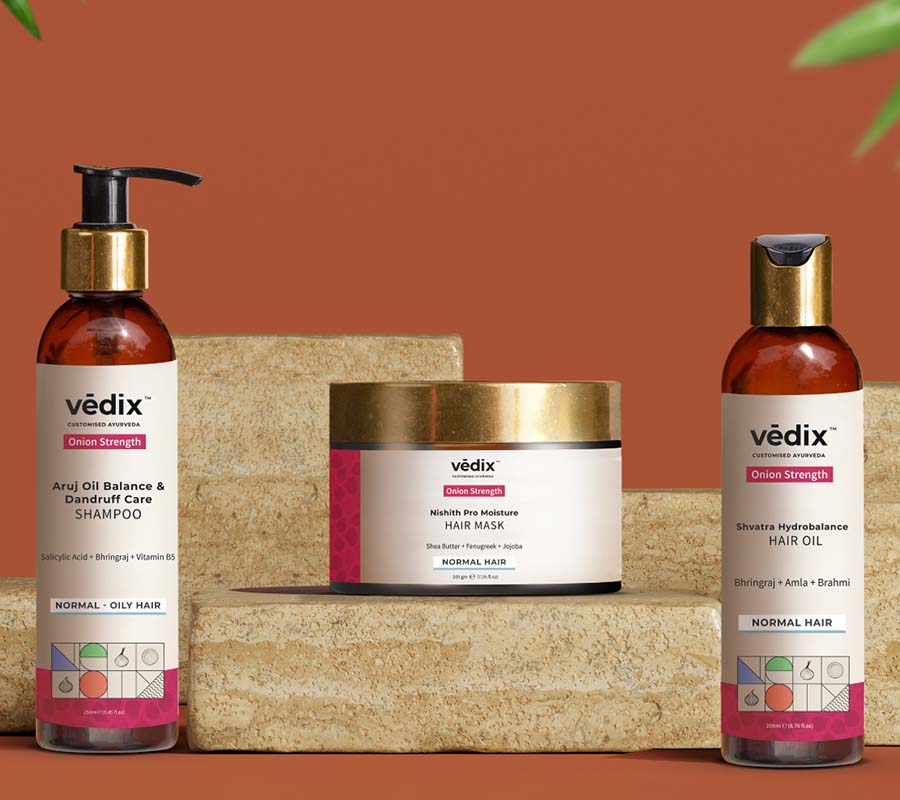 Who doesn't enjoy beauty products specially tailored for your needs? Ayurveda beauty brand Vedix, which specialises in customising products according to the consumer's issues, has now rolled out an onion haircare range with 10 products mainly constituting hair oils, shampoos, and hair masks. These Ayurvedic-herbal products carefully balance the strong smell of onion in the products.  Although the standard range is especially suited for those having an oily scalp, their customised versions make it a must-have. The whole range is specially designed for those looking for solutions to address concerns like hair loss and regrowth.
14. Fragrance oils, Savour And Aura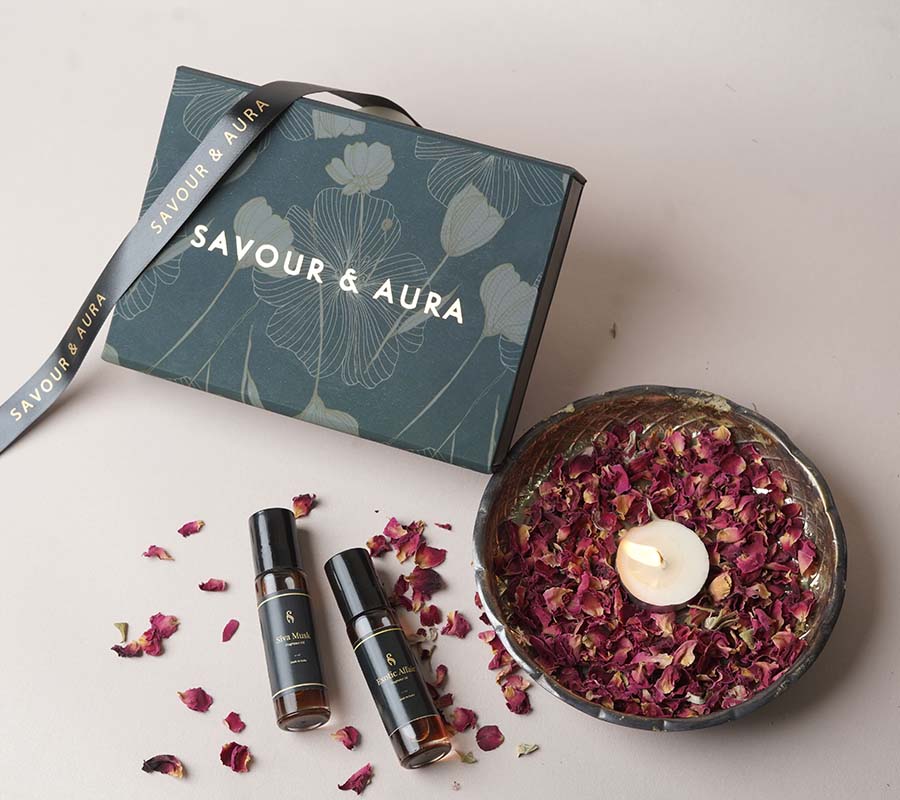 Fragrance oils are a hit nowadays because of the intimate sensory experience they offer and their long-lasting factor capabilities, unlike their spray counterparts. Homegrown brand Savour and Aura has an array of fragrance oils with inherent strong 'Indian' whiffs. There are woody aromatic tones coupled with spicy and sweet aroma scents, pretty floral fragrances for destressing, and warm cosy ones to choose from.
Their latest additions include Musk 19, and just like the name suggests it's your not-so-basic floral scent but comes with an invitingly warm, woody aroma that really awakens all your senses. Another launch from them is Samavisa, which has a mix of strong musk and sweet vanilla, with a base of patchouli and vetiver for something a little bit more sensual and warm. All you need to do is put a few drops on your pulse points to engulf yourself in a whirlwind of relaxing fragrances.
Photo: Blossom Kochhar Aroma Magic; Featured Brands