Ever looked at influencers and models sporting pop-coloured eye makeup and pined for the confidence to rock the look? Well, bright hues (think, blue, pink, orange) that go beyond the staple black and brown can be daunting. But they can also look fabulous—giving you an IG-worthy look to stand out this festive season.
And who better to convince you about the power of pop colour makeup than beauty blogger Debasree Banerjee, who is known for her quirky style, and also owns a beauty brand that exclusively sells the boldest eye pigments we've seen in a while. We picked Debasree's brain about beginner-friendly looks that can still make heads turn, the tones best suited for Indian skin, and what makes her D/Fine liners special.
1. How can one start experimenting with pop-coloured eyeliners?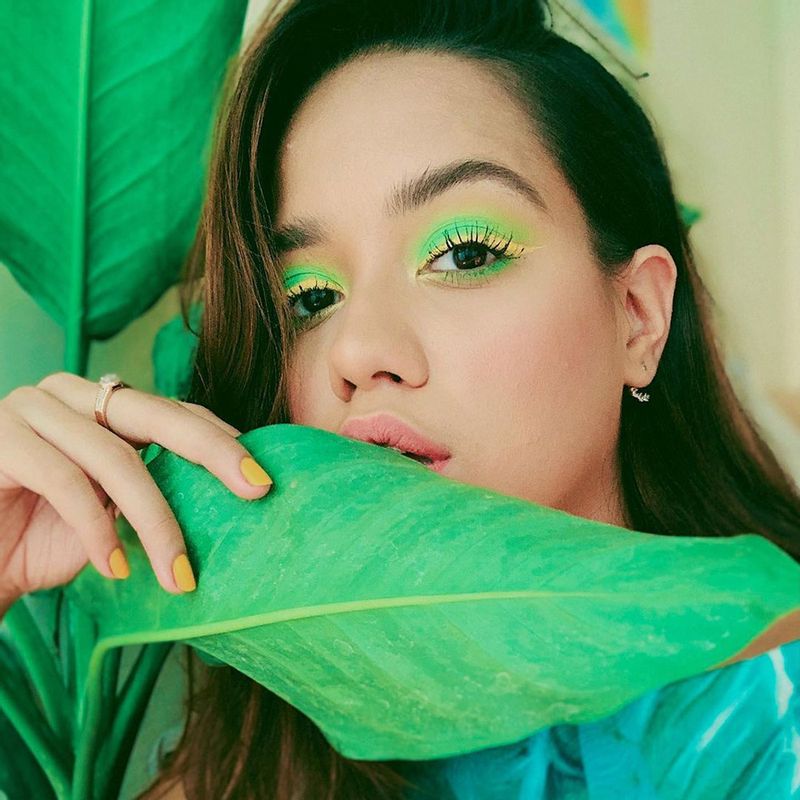 When you're starting out, choose a subtle shade like brown and then slowly move on to purple. Green also works well for Indian skin tones as it enhances the natural colour of our brown or black eyes. For a subtle pop, you can try blue and pastel shades. At the end of the day, it all depends on your confidence and how you want to carry it off.
2. What are your hacks for maximum colour pay-off?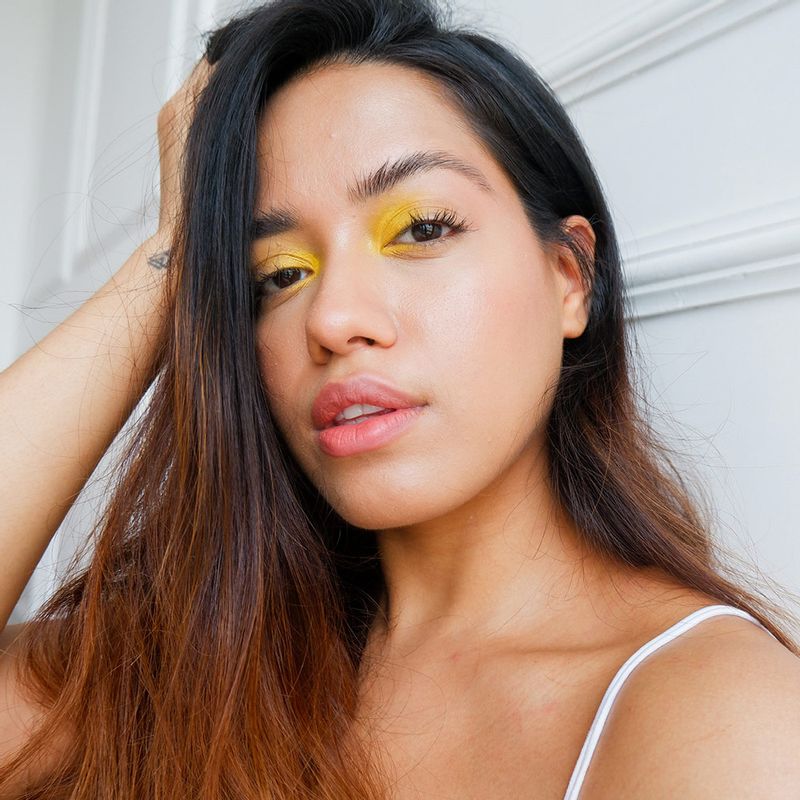 For eyeshadow, I would recommend using an eyeshadow primer or a concealer underneath. Sometimes eyeshadows that are light like yellow don't show up on our Indian skin tone, so you can use a nice white base and then tap on the product to make the colour stand out instantly. This was one of the reasons why I started my brand to create colours that wouldn't need any base—colours that just pop with pigments and give the maximum colour pay-off.
3. What's the simplest way to add a pop of colour to our everyday makeup?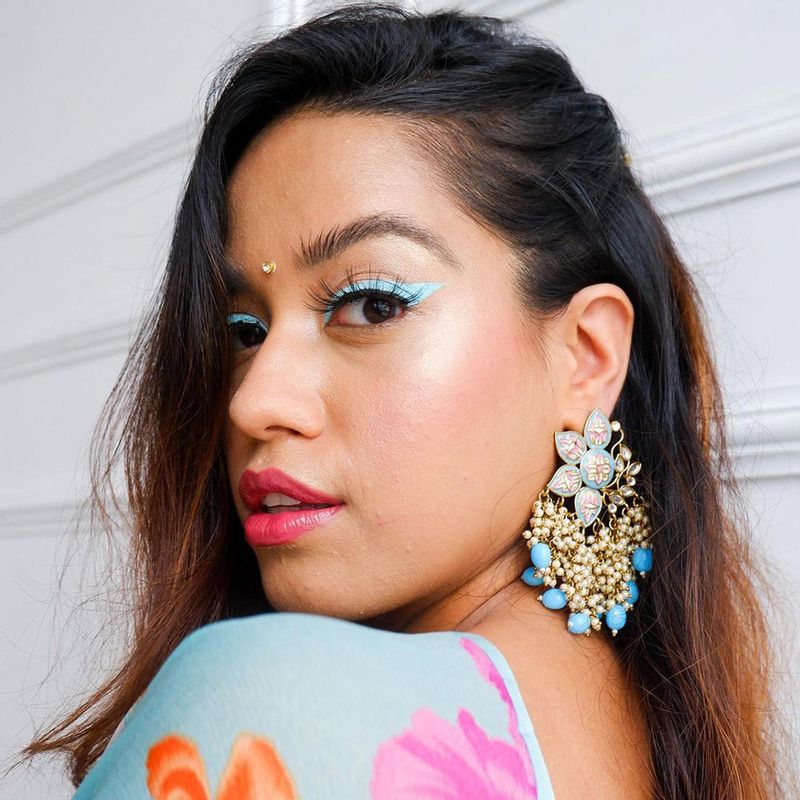 You can start by creating a simple black winged eyeliner and then trace the underside of the outer corner with a bright pigment. This lends a nice pop and is a great way to start experimenting. For a more edgy look, you can balance it out by applying the same colour to the waterline of your inner eye corner as well. Don't worry about it being even—just go for it.
4. How can people with hooded eyes create bold and colourful looks?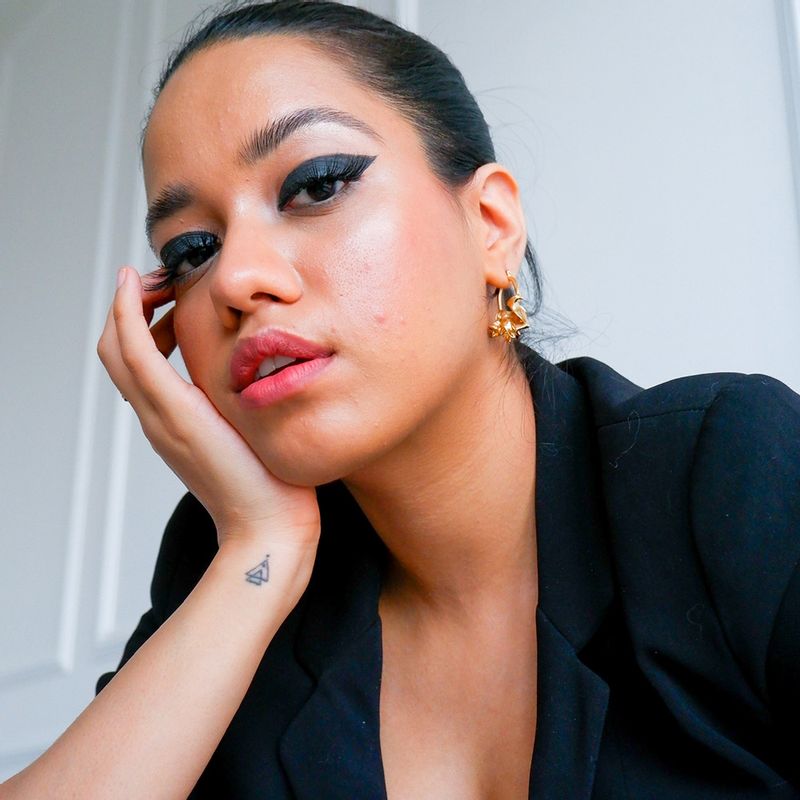 For those with hooded eyes, go slightly higher than your natural crease line, so that the colour is visible. And when you are applying the pigment on your lash line, make sure it's as close to your lashes as possible to ensure that the colour pops out.
5. Should we pair bright eye makeup with muted lips?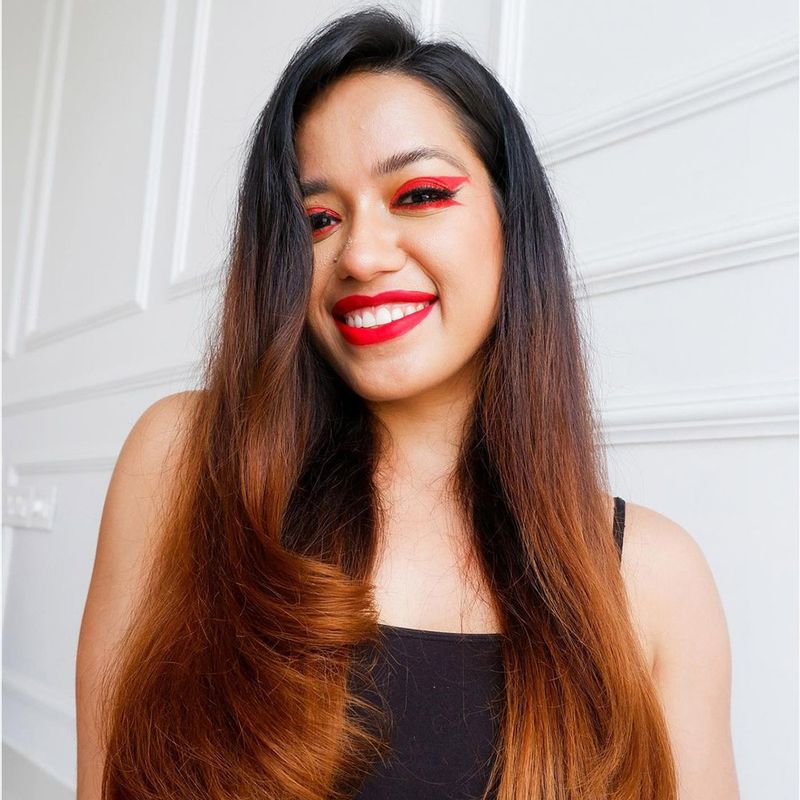 Ideally, to balance out a bold lip, you should do a lighter eye look. And to balance out a bold eye look, you should do lighter lips. But it all depends on the kind of look you're going for—and what you want the focus on. If you are doing vibrant eye makeup, I would recommend sticking to a lip shade that is close to your lips. Glossy lips also look very classy and elegant.
6. What are your product recommendations for creating the perfect makeup look?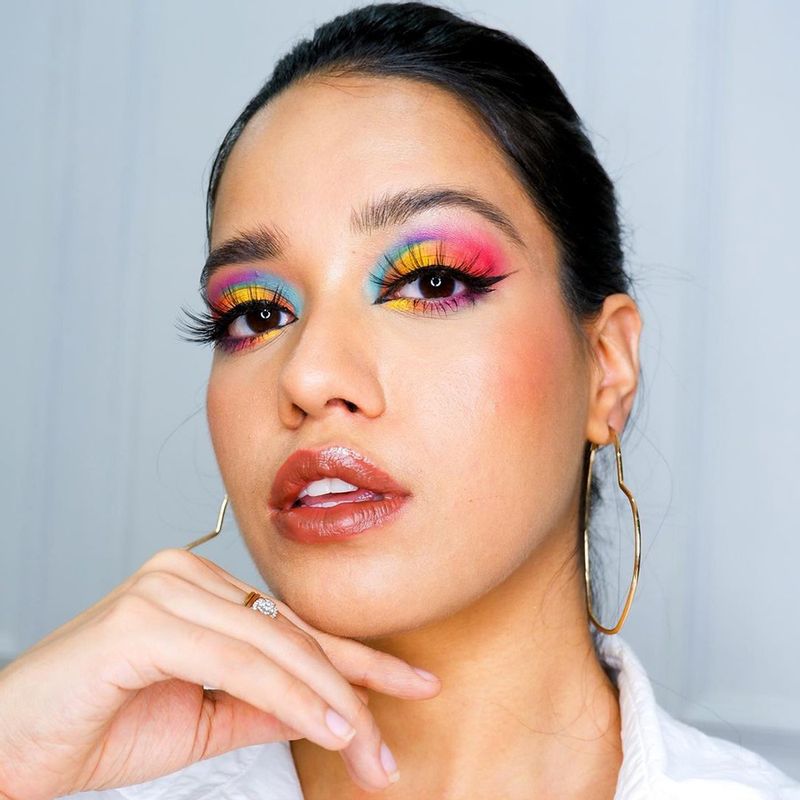 Personally, before putting on my base makeup, I like prepping and priming my skin really well. I ensure that my skin is well moisturised. I would suggest, if you have oily skin, use a water-based moisturiser and primer. For dry skin, use something which is oil-based and has a slightly heavier formulation. If you have combination skin, you can use a product that is mattifying for your T-zone and one which is hydrating for the rest of your face.
My personal preference for foundation is to choose a hydrating one like the Kay Beauty Hydrating Foundation. I like to buff out my foundation so that it doesn't look like I have something caked up on my face and this helps to the overall look light and free and keep the focus on bold eyes. For a natural glowy skin, use cream blush on the cheeks like the Bobbi Brown Pot Rouge. A new personal favourite are liquid highlighters—they really stand out and make your skin look like it's glowing from within. I am not really into dry, matte lipsticks anymore—so if I want to sport bright red lips, I use a lip liner and then use matte lipstick. One of the best tips I've learned is to gently kiss your lips on a tissue to get rid of any excess lipstick residue. It also makes your lipstick long-lasting.
7. What's your take on clean beauty brands? 
For me, a clean beauty brand is one where the ingredients are sustainably sourced and are not synthetic. They are all vegan and not tested on animals and this is what we have strived to achieve in our formula for D/fine liners.