Ikat is an old dyeing technique that originated in Indonesia 200 years ago. The word ikat is derived from the Malay word mengikat which means to tie. Apart from Indonesia, the technique is also popularly practiced across Southeast and Central Asia, West Africa, and South America. Unlike other dyeing techniques where the fabric is first woven and then dyed, with ikat it's the other way round. Here the ikat patterns are first dyed and then tied in threads. Later, the dyed yarns are dyed repeatedly, to create multicoloured patterns. Once done the threads are opened and woven into a piece of cloth.
Types of Ikat
Ikat can be done in different ways, including, warp, weft, and double ikat. While in warp ikat the yarns are dyed in solid colours and warps are ikat dyed; in weft the threads are ikat dyed and the pattern formed depends upon the weaving. Lastly, in double ikat, both warp as well as weft threads are dyed before being weaved. This is the most difficult and complicated technique among all three, and is Gujarat's historic city of Patan in India; other countries being Japan and Indonesia.
The blurry effect that the final design gives to the clothing is what makes the technique stand out. So much so, that it manages to grab attention of high-end designers who time and again try to use it in modern day clothing.  
Reviving the old textile
Textile conservationist and craft revivalist, Madhu Jain from Delhi, also known as the first lady of ikat, has been working towards reviving lost Indian textiles for decades now. She launched bamboo silk ikat in one of her shows back in 2003. Her 2016 collection of Uzbekistan, Odisha, and Andhra Pradesh ikat for Amazon India Fashion Week's autumn/winter launch in 2017 was the talk of the town. And, later in 2018, she showcased the Indonesian bamboo silk and Thai ikat.  She was awarded the Nari Shakti Puraskar for her work in textiles by President, Ram Nath Kovind in 2018.
Renowned Indian designers, David Abraham and Rakesh Thakore, of Abraham & Thakore, showcased the double ikat silk houndstooth sari and shirt in their 2011-12 autumn/winter collection. And now, it holds a permanent place in the archives of London's Victoria & Albert Museum.  
Campaigns promoting the technique
Even today, programmes such as, Amazon Karigar and Antaran by Tata Trusts, work towards helping artisans specialising in ikat weaving, by offering them a platform to sell their products.
One such example is that of Chandana Ikkat Weaves, a brand showcasing the work of the artisans of Telangana, on the Amazon Karigar platform. 
Similarly, the Antaran initiative by Tata Trusts aims at educating and upskilling artisans, and urges people to purchase handwoven products at wholesale prices directly from the artisans they work with, at antaranartisanconnect.in . Artisans from Odisha's Maniabandha village, known for their weft ikat technique get a chance to present their work here.
Brands acing their ikat game in India
1. Alamelu
This brand by KH Radharaman offers Ikat blazers and coats that can make you the centre of attention at any formal meeting. In shades of grey and copper, its ikat line of clothing among other revived textiles, gives your outfit a formal look with a hint of Indian tradition. Wear it over a trouser shirt or a dress, and you are good to go.
2. Stoles & Scarves
If you are looking to give your casual jeans and shirt a hint of indie fusion, ikat stoles by Stoles and Scarves are what you need to buy on Itokri.com, a platform bringing together traditional textile clothing by artisans from villages and small towns in India. The cotton patchwork on the stoles in multiple shades ensures it works with many outfits. 
3. Okhai 
From dresses to jackets to even beach and loungewear, Okhai by Kriti Poonia, has a range of handwoven ikat catering to all your fashion needs. Its electric, noodle strap dress with a high slit, is a work of Odisha ikat, that can easily fit your vacation wardrobe. 
4. The Ikat Story 
This brand by Chandani Sareen specialises in ikat apparel. From tops, to jackets to co-ord sets, dresses and even footwear, the collection is worth checking out. It's ikat Bandhani long jacket is just the fun element you need to add to your monochrome jumpsuit paired with sneakers. 
5. Jaypore 
Puneet Chawla and Shilpa Sharma's Jaypore started in 2012, is another brand worth checking out specially for its menswear ikat collection called Aamir. From full sleeves shirts to kurtas to even blazers, it is your one stop solution for all your ikat needs. Ladies don't worry, as it's got your bags, stoles and footwear also sorted.  
6. Saaksha & Kinni 
A designer brand that is popular choice with both Bollywood and Hollywood celebs, for its ikat collection among others, is by Saaksha Bhat and Kinnari Kamat. Its ikat printed kaftans, maxi dresses, shirts, and trousers fit the bill for premiers, brunch dates, and vacations. An ikat shirt paired with muted trousers, and heels or flats, with some jewellery to complete the look, is enough to give you an Instagram-worthy click. 
7. Go Native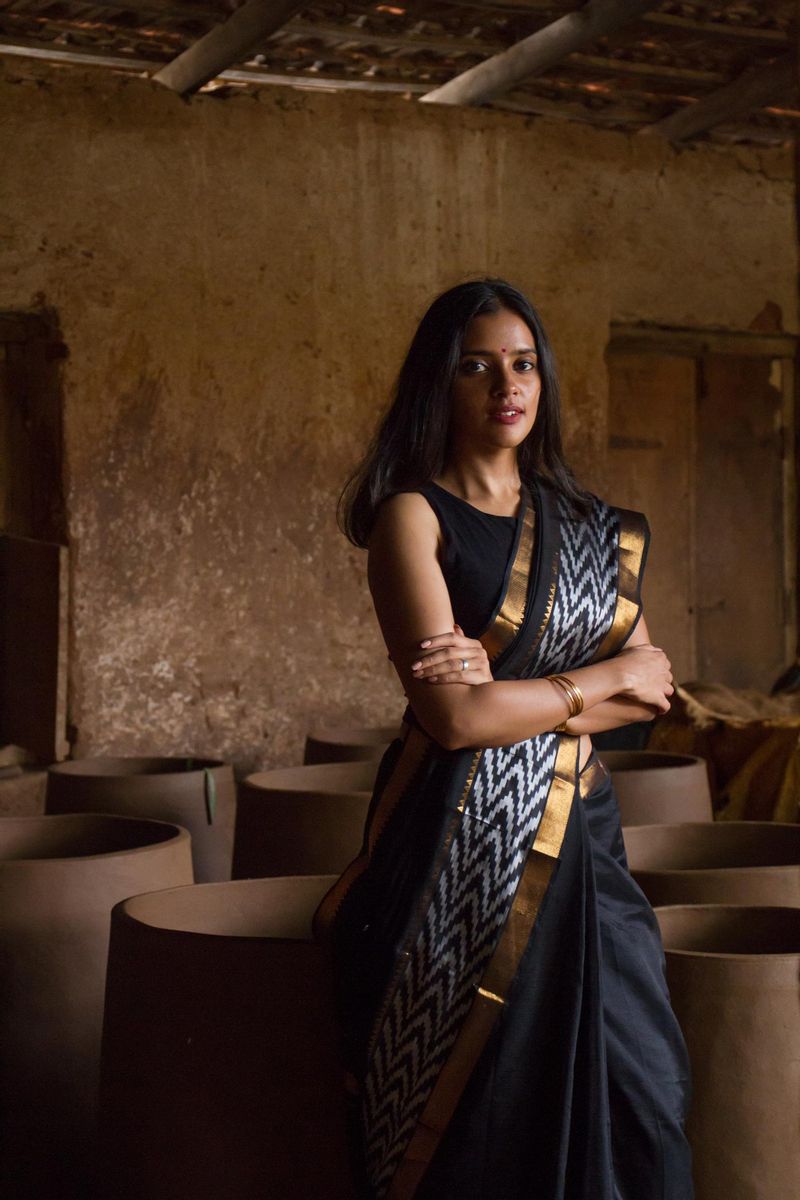 Bangalore-based Go Native's brand Ende has recently launched its latest Garden of Lilies collection, comprising handwoven Chanderi, Bengali, Maheshwari, Kota and Mangalgiri sarees. Apt for a casual outing or work meeting, the sarees are adorned with jamdani, shibori, and ikat. Another collection worth checking out is its range of ikat kurtas and kaftans. 
8. Translate Handwoven Ikat  
Launched in 2012, this brand  focuses on reviving ikat. Its collection of ikat anti-fits pieces comprise  kaftans, robes, dresses, and tunics. Its Cinnabar knee-length kaftan brings out your feminine side both on a beach day or a night out in the city. 
9. Vriksh Designs 
This brand by Gunjan Jain has a collection of handwoven Odisha ikat mulberry silk sarees and handspun, handwoven tusser silk ikat sarees, that you can't afford to miss. The detailed work allows you to keep the blouse and footwear simple, as the design on the drape is enough to make you stand out on the crowd.  
10. WhySoBlue 
This brand by mother-daughter duo, Jaya and Shweta Shivkumar, offers a range of ikat skirts and tops, ideal for your next date, or even on an upcoming wedding. Pair the Maya ikat cotton skirt, top and jacket, covered in hand embroidered mirror work, with simple stilettoes and you are ready to go.
---
Photo: Instagram/Saaksha & Kinni