The news of Delhi's temperatures in 2023 dropping below Manali's is something unheard of! What would have been easily managed with a hoodie or a sweater now demands layers, which is not an easy feat to pull off. If you want to look good and stay warm this winter, you need to amp up your game. And this means, stocking your wardrobe with the best winter clothes for men. Whether it's for that important office soiree or that casual, lazy Sunday outing, good winter clothing is a must. From coats to pants, here are some trending men's winter outfits and winter clothing that can sort out your winter clothing for you.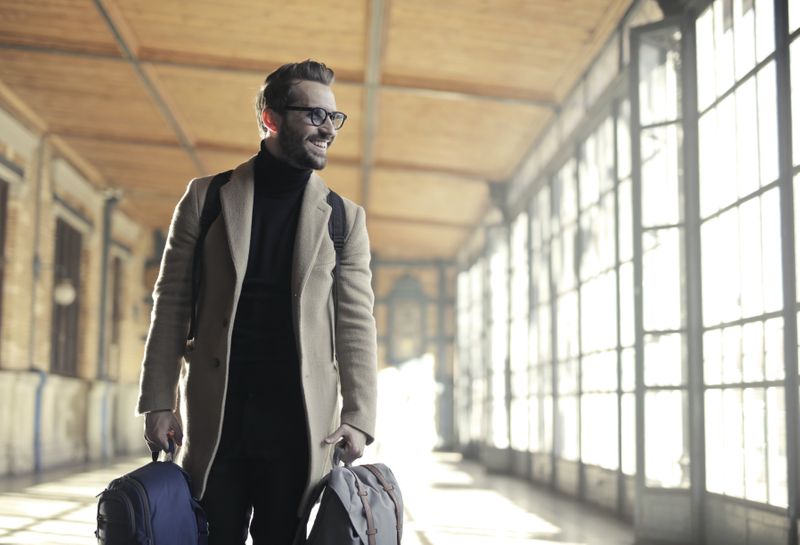 The coats
Coats are your friends - especially on those days when your outfit isn't really making sense. No matter what you wear, a coat makes it better. It's also one of the most trending men's winter outfits. What's more, you can wear your favourite t-shirt and let the coat add a layer of warmth. That said, there are so many different types of coats. If you are unsure of what to pick, here are the best ones under men's clothing styles.
Peacoat
Peacoats are gorgeous and heavy. Made in fine-quality wool, they used to be worn by American and European crewmen. While they are shorter in length, they do the job of keeping you warm. Moreover, the large buttons and broad lapels give you a chic look. Pick a peacoat in black so it pairs easily with all your outfits.
Trenchcoat
Trenchcoats are total winners when it comes to shopping for winter wear for men. They are light and waterproof, great at keeping you warm and designed with plenty of buttons and a belt around the waist. Not only does it help keep your clothes sealed and dry, but it also looks good while doing it. Pick trenchcoats in beige or darker shades for a more contemporary look.
Puffer jackets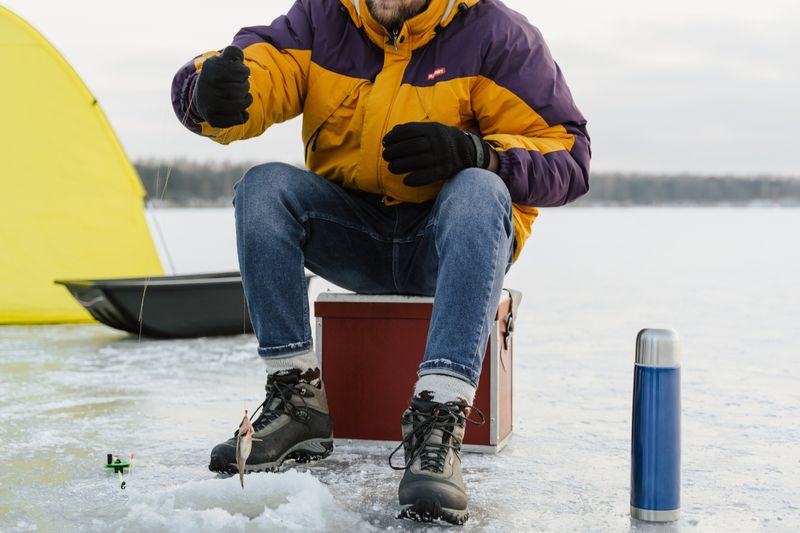 If the winters are harsh where you live, a trench coat will fail you. Puffer jackets were designed keeping in mind mountaineers and people who live in places with snowfall. They are filled with synthetic loft and work great at keeping you warm. Several brands today are promoting puffer jackets in quirky designs for those who like to keep them stylish. You can even look up bomber jackets for a little tweaked style statement.
Denim jackets
If you don't already have a denim jacket, what are you doing? This is a must-have in every man's closet, come rain or snow. It can seamlessly enhance a casual outfit and works well in semi-formal situations too. What's more, it works well when it's not too cold outside but chilly enough for you to add a second layer. Get one denim jacket that works well with all your outfits. You can also look up how to style a blazer for men for more tips.
Topwear
Some days are about pulling off chic, effortless looks with grace. Think - pastel-knitted sweaters and beige chinos. So if you want to nail that Monday office winter look, here are some trending men's winter outfits you need to have in your closet.
Turtlenecks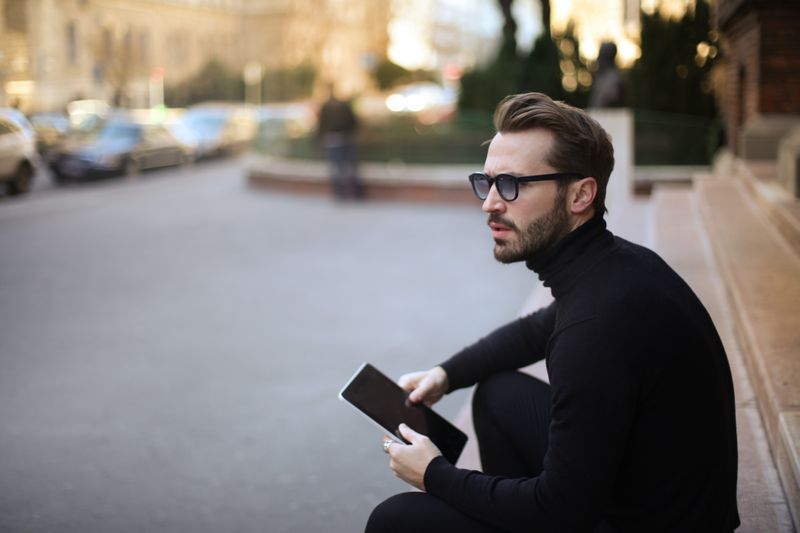 Nailing a turtleneck is the most satisfying feeling. With the right pairing, you can style them to match both casual and formal situations. They are thick, soft and comfortable, and don't feel too heavy when you wear them. Turtlenecks with jeans or more formal pants and coats are a must-have addition to your wardrobe of winter clothes for men.
Knitted sweaters 
Sweaters are one of the most sophisticated pieces of clothing a man could ever own. Knit sweaters are rich in texture and add a personality of their own to your presence. Pair light shades with dark pants or vice versa or keep it casual with some fun, printed pieces. You can even top it with a denim jacket or a peacoat for some added charm.
Sweatshirts
Sweatshirts are for those Saturdays out with friends. Don't underestimate them - a good sweatshirt can nail that streetwear look. You can also pick lighter, pastel shades to take it a notch above casual or printed sweatshirts to keep it laid back.
The pants
No trending men's winter outfit is complete without stylish pants. If you want to nail men's winter clothing styles, consider adding these styles and fabrics to your wardrobe.
Chinos 
Chinos are generally made in lighter fabrics. However, certain brands have introduced winter chinos that are a blend of wool and cotton, helping your legs stay warm. If you want some really classy winter clothes for men, chinos are a great option. Lighter shades of chinos are amongst the top trending clothes for men.
Flannel Pants
Flannel is a wonderful fabric under winter wear for men. If you want to upgrade your winter clothes for men, add quirky tones with flannel pants. These can be seamlessly topped with jackets in similar tones. It is thick and gives you a professional-but-quirky style statement. It's never a bad idea to jazz up a gloomy winter day with some funky men's winter fashion, right?
Fleece pants
Fleece pants give you the casual streetwear look you've been looking for. While they are the perfect, comfortable winter wear for when you are home, they can be styled to be worn outdoors too. You can pair them with your sweatshirts or turtlenecks depending on how casual and classy you want to keep them. Add in chunky sneakers to ace that winter look.
The sets
Another way to pick the most trending men's winter outfits is with effortless sets. Of all the trending clothes for men, these are the easiest to ace.
Winter suits
Yes, winter suits exist. Just because it's cold doesn't mean you have to sacrifice that sharp suit-and-tie office look. Get a suit made in blends of wool, cashmere, cotton or a combination of any two. These not only keep your style in check, but also help you stay warm. Pair these suits with elegant cotton shirts and sleek leather shoes for that 'I mean business' look.
Warm co-ords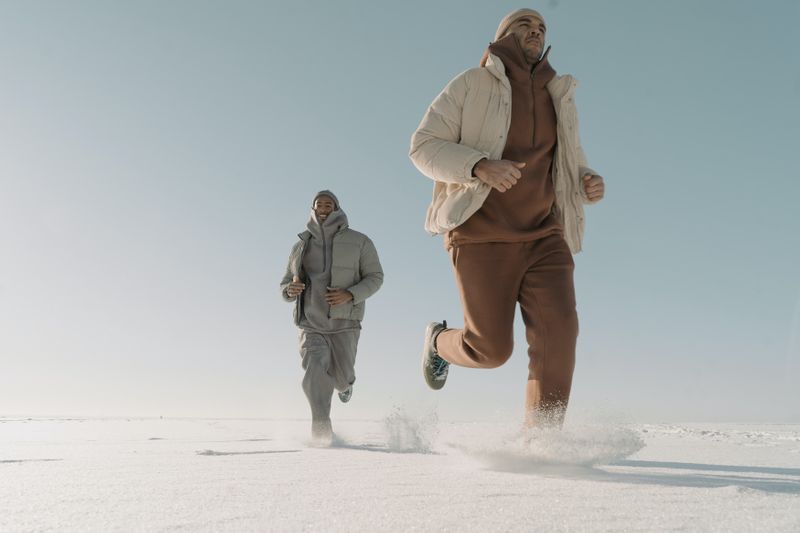 Men's co-ords are a blessing in disguise. They make styling winter wear for men so much easier. You can either have a sweatshirt and pant co-ord set, or one with a zipped hoodie and pants. While it's much more effortless with the former, you can pair a zipped hoodie with a classy turtleneck. It shows that you have style and don't shy away from experimenting with your men's winter fashion.
The hats
Hats definitely make it to the list of trending clothes for men. You can use them to accentuate your minimal winter outfits.
Beanies
If it's cold, you need a beanie. But your beanie does not need to be a stain on your jazzy winter clothing. Pick delicately knitted beanies in dark colours so they don't disrupt your outfits by standing out too much. Make sure they are warm but cute too. A good beanie can add that mysterious look to your casual men's winter fashion.
Berets
Want to pull off a quirky Sunday outfit? A beret has made it to the list of trending men's winter outfits. Add it to the mix of men's clothing styles and you are good to go. This Parisian accessory may not protect your ears, but it does look good. So leave it for the less chilly days and pair it with elegant turtlenecks or semi-casual suits.
Accessories
Mufflers
Mufflers add that vintage touch to any outfit and are currently one of the few trending clothes for men. They're chic and warm, and add texture to your outfit. It's best to pair your monochrome outfits with a tacky muffler that adds a pop of colour. On the other hand, you can just add some personality by adding a darker shade of the colours you already have in your outfits.
Gloves
Along with keeping you warm, gloves can make you look mysterious. A pair of sleek leather gloves complete that classy winter look. What's more, it also means that you don't have to keep your hands in your pockets all the time.
Men's fashion doesn't have to be difficult. The latest fashion trends for men make it easier to seek inspiration. The latest men's winter clothing styles include minimal coats, turtlenecks and chic sweaters. If you want more inspiration, check out designer Rocky's fall/winter fashion and the latest wedding fashion trends.
---
Photo: Shutterstock