The winter season is a great time for men to pull out all the stops on fashion. You can mix and match layers, find great sweaters or just keep it casual with sweatshirts. As compared to a hot summer day, the winter season gives you a lot more choices to amp up your wardrobe. So, why shouldn't you? You can go crazy with overcoats, pull out all your rugged sweaters, sport suave boots and show the world that turtlenecks are definitely your thing. It's time to bring out your best looks in 2023 with these celebrity-inspired looks for men's winter outfits. Keep reading to get an insight into classy winter outfits, winter clothes for men and dressing styles for men.
Celebrity winter outfits for the perfect inspiration
Wondering how to pull off those classy winter outfits? We've sieved through some men's winter fashion trends to pull up these winter-inspired outfits. Nothing better than celebrity winter outfits to win the game, right?
1. That Friday office look
The most difficult winter clothes to ace for men is the office look. A sweater is cool, but there is so much more you can do with a coat. Check out this outfit by Ranveer Singh. He pulls off a graceful monotone look with his brown winter jacket. He keeps it classy by pairing it with a white t-shirt and brown denim jeans. If you really want to make an impression, accessorise it with a pair of shades and brown leather shoes (consider getting plain-toe boots). On the other hand, if you want to add a casual touch, swap the shoes with white sneakers. They can never go wrong! Don't forget to amp up this with a sleek leather watch too.
2. Keeping it simple with sweaters
Some days you may not feel like putting effort into winter clothing. The easiest way to keep clothing for men classy on those lazy days is by wearing a sweater. You can pick an intricate sweater in pastel shades or greys like Aditya Roy Kapur. He's elegantly paired it with dark jeans and olive Chelsea boots. The colour combination shows excellent taste in classy fashion. You can jazz up this fit with a traditional leather-belt watch and shades. Talk about winning hearts with an outfit, right?
3. The all-black look
You can never go wrong with black when it comes to dressing style for men. It just is sophisticated fashion. Want winter clothes, outfits and inspirations for a winter soiree? Sidharth Malhotra is giving you outfit goals on how to look classy. He styles a long coat with black chinos and loafers. You can add a chain around your neck to give it a pop of colour or pair the coat with a different-coloured kurta. Even if you don't this look will have heads turning for sure.
4. Keep it casual with co-ords
How do you pull off a fun Sunday afternoon outfit? Your answer is co-ords. This winter clothing for men knows how to keep it casual. While they are available in light fabrics as well, winter co-ords are available in exquisite woollen knits, velvet cuts and thicker cotton materials. Like the one Ayushman Khurrana is flaunting. He has paired a minimal co-ord set with a black t-shirt. You can opt for sweatshirts instead of jackets if you don't want to bother with pairing colours. If it is colder, consider wearing a chic turtleneck and some gold bijoux for a seamless winter outfit. Want to know how to look classy? You can complement it with Chelseas or sneakers depending on how casual you want to keep it.
5. Bringing back the turtle neck
Winter is the best time to stack up on those turtlenecks and neck muffler styles. This seamless dressing style for men can never go out of fashion. The possibilities of pairing these up for new looks are limitless, making them a must-have part of your winter dresses outfits. We love Hrithik Roshan's look in this classy yellow turtleneck. You can choose to wrap it around your neck or leave it to fall over your chest. Either way, it is perfect to accentuate a monochrome outfit. 
You can either recreate Hrithik's look or go fully monochrome and pair it with a contrasting neck muffler style. Either way, it makes for a very classy winter look for men. The best footwear for this outfit would be chukka boots, work boots or classic hiking lace-down boots like the ones Hrithik is sporting.
6. Vests are back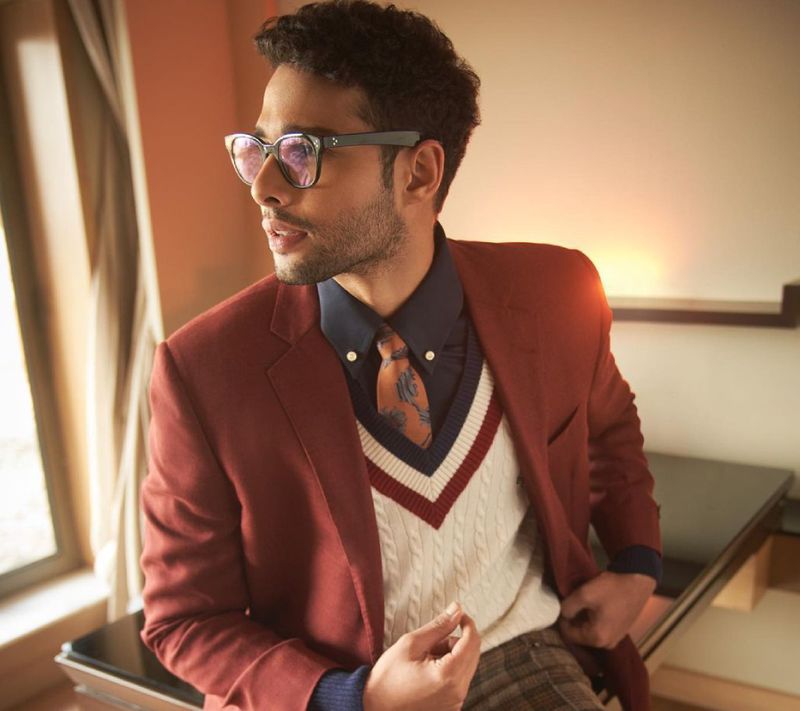 Looks like vests are back in fashion. What started as an 'only uncles wear vests' with Shah Rukh Khan's character in Main Hoon Na is now taking a trendy turn. Vests are perfect to add a layer of warmth and texture to your winter outfits. Siddhant Chaturvedi has gone all in with pairing contrasts and yet managed to pull off a classy winter look. The navy blue shirt, orange tie, and maroon coat come together with the striking white colour of the vest. It's not an easy combo to nail, especially with the chequered brown pants. But Siddhant Chaturvedi makes a graceful style statement with this outfit. Pull off a look like this for your business soirees to be the life of the party.
7. Get more coats
How many coats are too many coats? To keep it short, you can never have enough coats, especially when it comes to men's winter outfits. Peacoats, trench coats and overcoats add effortless class to any winter fit. If you don't feel like picking out your shirts and pants, layer up your winter outfit with a nice long coat. No matter what colours you pick, they will add personality and style to it. Rajkumar Rao is raising the bar in dressing style for men with this seamless dichromatic combination. Black inner layers with a light brown overcoat perfectly execute a chic outfit that can be worn for both formal and casual events. Pair it up with boots for a more wintery touch.
It's not difficult to nail men's winter outfits. If you are looking for inspiration for classy winter outfits, this is your sign. Amp it up this year with celebrity winter outfits and these celebrity-inspired looks. Whether you like sweaters, sweatshirts, jackets or just want to layer it up, you have inspiration for it all. If you want more inspiration, check out this guide to winter wedding trends.
---
Photo: Instagram/featured celebrities