Winter is just around the corner, and the cool breeze, longer nights, and overall pleasant weather put a smile on the faces of winter enthusiasts. In recent years, many people have embraced seasonal home decor to welcome the winter season. Winter home decor is all about rich colours, cosy touches, and other elements that create a warm and comfortable atmosphere in your home. It's a way to make your home a cosy haven during the chilly winter months. Today, there are plenty of tips and tricks you can use for winter home decor. Adding your unique twist to popular winter home decor ideas can make your decor stand out. Mixing different elements, textures, colour palettes, and more while decorating your home is a fun and creative process. Your home décor for winter reflects your tastes and personality, so feel free to make your winter home decor ideas as unique and eccentric as you'd like, turning your home into your winter sanctuary.
Here are some tips for home décor for winter  
1. Texture and layer play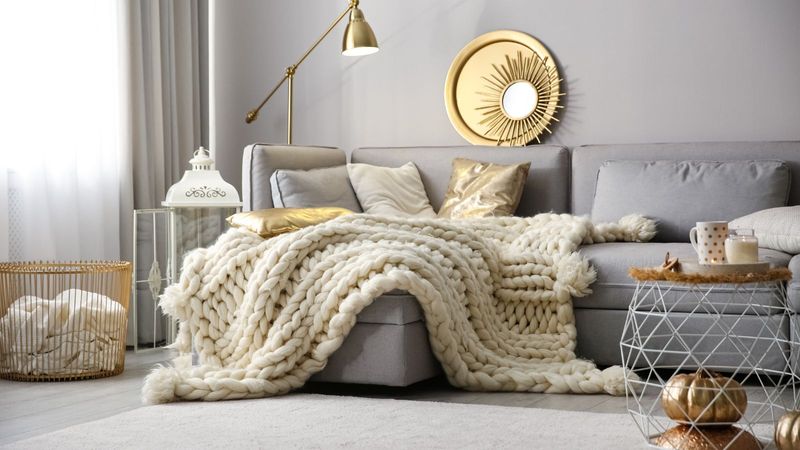 Here's an excellent example of a living room winter décor. You can transform your living room by incorporating different textures, layers, and statement pieces. In this look, the cosy blanket adds warmth to the room, which complements the statement glamour of the golden lamp and wall art. These elements stand out against the backdrop of a neutral-coloured couch. What makes this specific living room winter décor even more appealing is the addition of elements like a side basket and decor items on the centre table. These items can also serve as fantastic winter table centrepieces, adding a controlled sense of luxury to the room.
2. Centre table makeover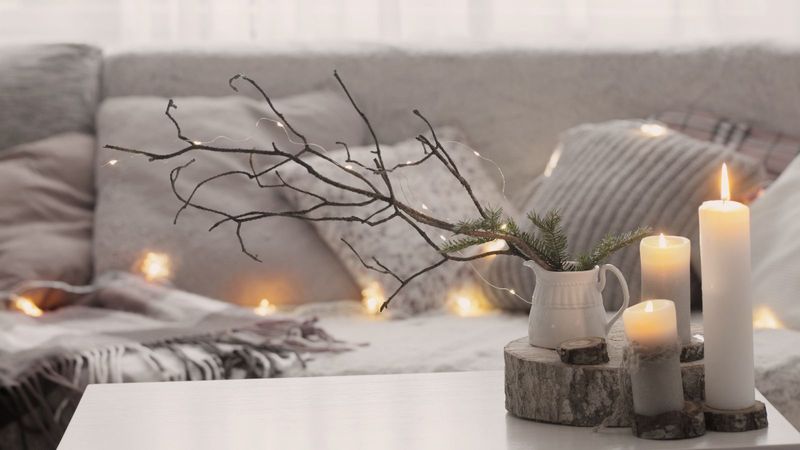 When it comes to centre tables, this tabletop example with matching winter table centrepieces can instantly create a warm and cheerful atmosphere in your living room winter décor. The candles, wooden elements on a tray, and the white vase with minimal greenery somehow evoke a fairy-tale-like ambience. This is a great option if you're looking for DIY winter decorations to add a whimsical and charming touch to your living room.
3. Fireplace mantel focus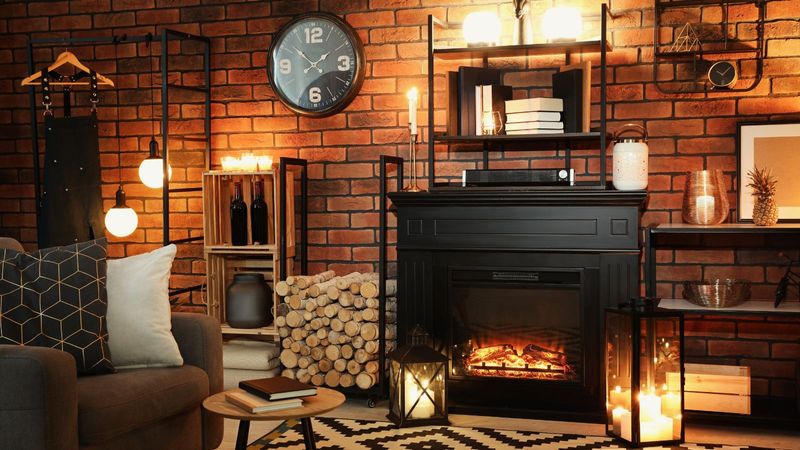 One of the most striking winter fireplace ideas, this impressive fireplace is a dream come true for decor enthusiasts. The bold choice of black as the colour is not very common for fireplaces, but that's precisely what enhances the charm of this fireplace. Another aspect that adds to the allure of this fireplace and makes it one of the most beautiful winter fireplace ideas is the combination of a clean-lined, minimalist mantel decor and the warmth provided by the lanterns.
4. White winter 
An all-white winter decor is one of the most timeless and classic looks for the season. In this example, the white walls, trees, and even the white furniture create a regal ambience in the room. The soft glow of lights, candles, and the subtle hints of green complete the look in a charming manner. The centre table, adorned with winter table centrepieces, adds a lovely touch. The winter table centrepieces and the green wreaths around the candle holders are excellent DIY winter decoration ideas as well.
5. Festive cheer 
If you prefer a more understated approach to your winter decor, especially when decorating for the magical Christmas season, you've come to the right place. With a variety of minimal decor ideas, DIY winter decorations, and hints of green, your home will exude subtle festive decor. The Christmas tree, adorned with classic lights, adds an elegant and lively touch to the overall look.
6. Of darker hues and candles 
Candles have the power to instantly create a warm and intimate atmosphere in a room. In this particular setting, candles placed throughout the space, along with other cosy elements like the leather armchair, the dark velvety couch, and wooden accents, make for a wonderful example of winter decor.
7. Natural touch 
This look exudes comfort and is both visually pleasing and easy to achieve. It epitomizes the winter warmth that turns your home into a haven during the cold months. Keeping things extremely simple, the couch and the walls create a lovely contrast, and the centre table with candles adds a nice touch. What truly elevates this look is the statement decor around the fireplace. It's an excellent example of winter fireplace ideas, where the mirror imparts a charming rustic vibe, and the greenery from ornamental plants brings a cheerful and homely atmosphere to the room.
8. Front door contrasts
When it comes to winter decor, every part of the home is included in the overall aesthetic, including the front door. In fact, with Christmas decorations and the desire to make one's home cheery during the cold months, winter door decorations have become quite popular. Many people are now exploring ways to adorn their front doors not just for Christmas but throughout the winter season. A simple yet elegant look, like the one shown here, is a fantastic example of winter door decorations. It beautifully contrasts the coldness of winter and the black door and surroundings with the richness of the green wreath and plants. The lanterns provide a touch of decor genius, making this a wonderful source of inspiration for your own winter door decorations.
---
Photo: Shutterstock