Arguably the best time of the year, December is synonymous with cheer, celebration, holidays, and of course Christmas.  Christmas as a festival is all about joy, good tidings, carols, choirs, gifts, and a whole lot of fun.  Apart from all of this, setting up the Christmas tree and decorating it bit by bit as a run up to the D-Day is a ritual intrinsically associated with the festival. A tradition that has been followed since time immemorial, the Christmas tree is the quintessential symbol of birth and hope.
Decorating it with ornaments of various kinds again is symbolic of new beginnings and the promise of spring to come. History has it that this practice first originated in Germany around the 16th century when the tree was adorned with pine cones, fruits and even eatables like gingerbread.  From baubles, candy canes, and snowflakes to wooden houses, stars, and angels—Christmas tree ornaments represent various virtues like light, security, and even divinity. Today Christmas tree ornaments are available in a wide variety of forms and patterns, and are also about individual family traditions, travel memories, and even personal milestones.  
So, if you are looking to shop for some novel and unusual Christmas ornaments, here are some places you could check out.
1. Okhai
If handcrafted and artisanal is your style, then check out Okhai which is an outlet that offers lifestyle products created by rural artisans.  Exquisite designs which reflect local culture and tradition is a speciality of Okhai products. They have a whole range of Christmas ornaments including hand-painted stars and baubles made from papier-mâché, winter wonderland hand-embroidered ornament sets as well as hand-painted cones made from parchment leather. Do not miss the hand-painted Christmas tree ornaments depicting the flora and fauna of Odisha crafted on Acacia wood by a traditional Pattachitra artist from the state.
2. The Maeva Store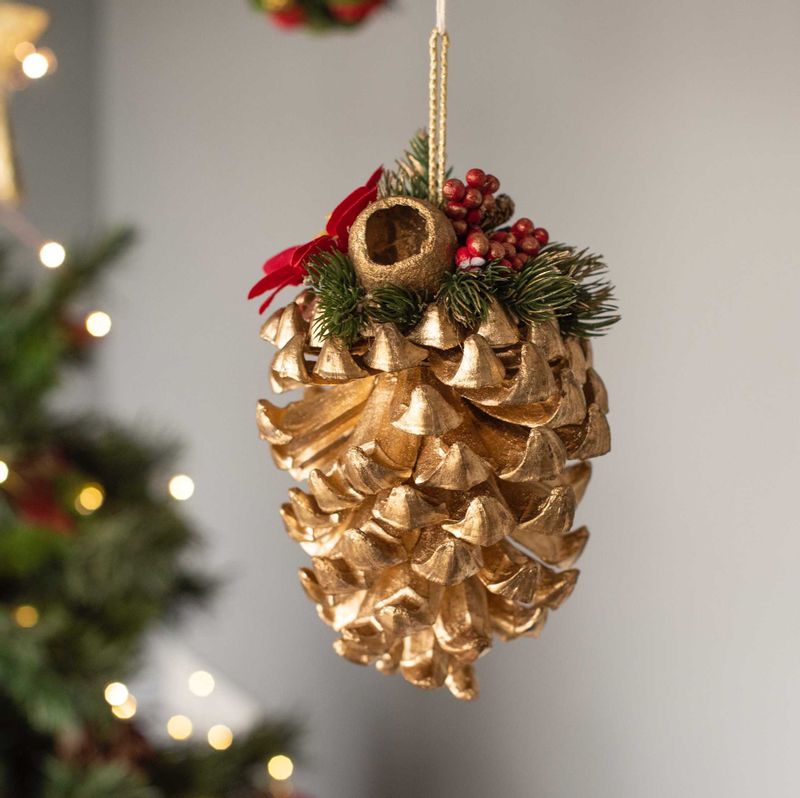 Are you a lover of understated luxury, elegance; and appreciate attention to detail? If yes, then The Maeva store must be on your list. Their Christmas décor range includes festive wreaths, Christmas-tree shaped candles and pine cones. Check out their Christmas ornaments that are made not only in the signature red and green but also in varied hues like rose gold, aqua blue and matte green. If you are looking for something unusual, go in for their jewel tones baubles, the golden-hued jingle ornament as well as the Christmas-themed metal cage potpourri.  These are sure to add some rustic and warm vibes that are so perfect for the winter!
3. Trinity Christmas
Cheerful and bright, the ornaments at Trinity Christmas are sure to enhance the festive vibes on your tree. From gold spiral drops to intricately-crafted snowflakes—this store has it all. Some unique products include reindeers, angels, mini gift boxes, and Christmas trees finished in metallic gold.  With a timeless appeal, these ornaments have an ethereal quality and are perfectly reusable.  And if you want to add a pop of colour, pick up their luxurious artificial wreaths trimmed with natural pine cones and bright red berries or even their vibrant red jingle bells.
4. Varnam Craft Collective
Varnam has a range of lightweight and utterly pretty Christmas ornaments made using Channapatna toy craft. Channapatna, a small town about 60 kilometres from Bangalore is known for its wooden toys made from the native aale mara or ivory wood.  These lacquerware wooden toys date back to the times of Tipu Sultan and have been accorded the Geographical Indication (GI) tag.  Check out some truly quirky ornaments like their fruit and veggie sets, Santa as well as Rudolf jars—all made from the best quality lac and painted using eco-friendly colours. One thing not to be missed are their adorable bells which include angel, owl, Kuruvi (roundhead), oinkston piggy, and curvy X-mas bells. 
5. Mason Home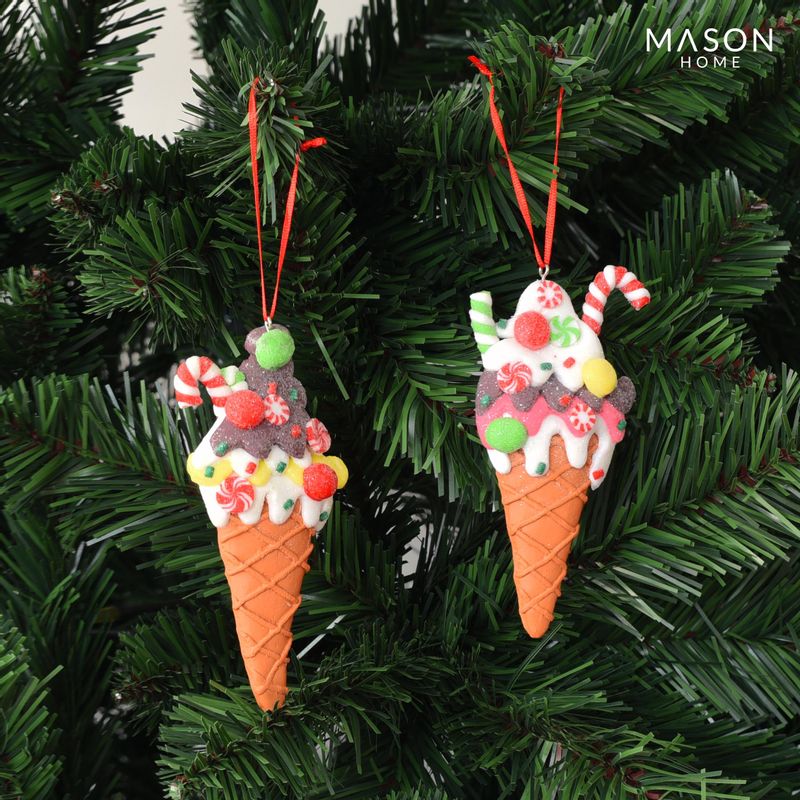 Browse through Mason Homes' collection of Christmas ornaments for all things merry and bright. Whimsical ice cream cones decked with candy canes, miniature Santa and snowmen crafted in PVC, and glittering red stockings are just some of the artefacts available to deck your tree.  If you are looking for some subdued elegance, go in for the glittering swans, butterflies or even the Eiffel tower set to add sheen to your Christmas tree.
6. The Mum Shop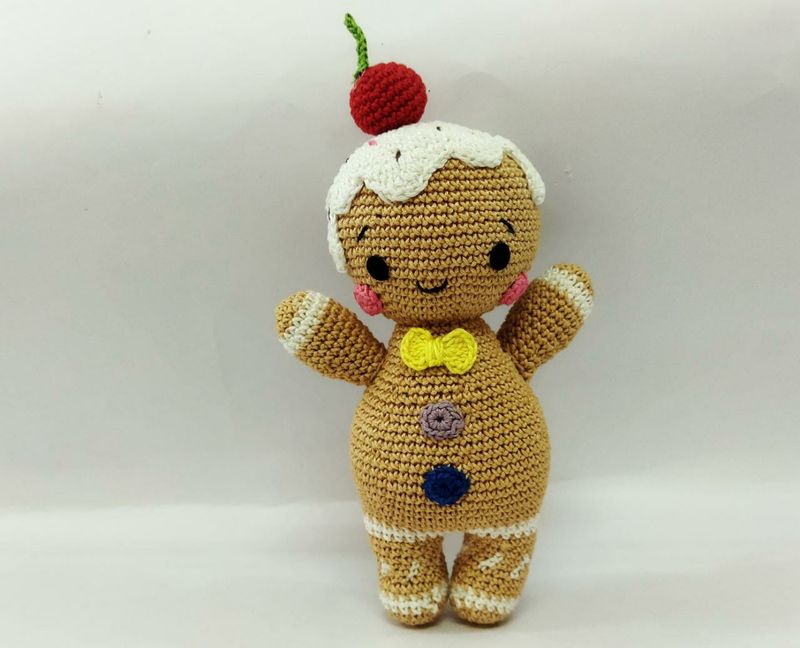 People whose priority is being eco-friendly and being 'child safe' should check out beautifully-crafted crochet Christmas ornaments from The Mum Shop.  Made with the best quality yarn and finished with a loop on top, they have some unusual creations like endearing 3D elves, reindeer-shaped chocolate mugs as well as reindeer tree ornaments.  Do not miss the adorable gingerbread house that is classy and has some delicate embroidery.  Another speciality is their range of personalized stars, baubles, and reindeer which you can personalise by adding your or your children's names or initials.  
7. Fai Kraft Creations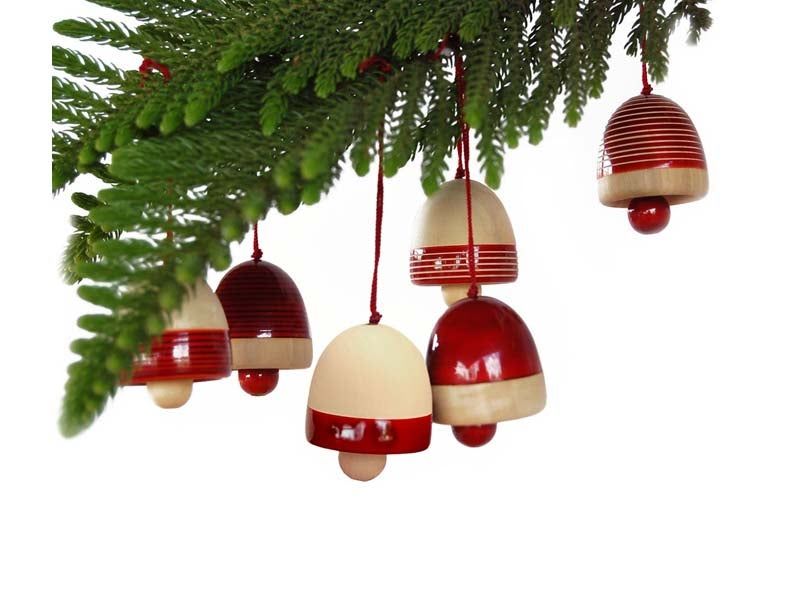 Looking for sustainably-made ornaments that are crafted using natural dyes and non-toxic materials? Then check the thoughtfully-curated range from FairKraft Creations.  Choose from a collection of yulets which is a set of four tree ornaments and includes an intricately crafted fairy, Santa, Snowman, and a tree-shaped bell.  If Santa is your favourite, they also have a set of six wooden Santas as well as bells of different shapes.  
8. Pop Goes The Art
Personalisation is one of the key features of the products from Pop Goes The Art. And if you are someone who prefers adding your own touch to your Christmas ornaments, their range of tassel ornaments which can be customized by colour, is an ideal fit.  You can also add your name or any text you prefer on them.  From angels and reindeers to cats, bells, and stars—each ornament is impeccably finished.  To add a bit of texture and additional colour, you can opt for their tassel ornaments that are particularly attractive for children with designs like rockets, robots, dinosaurs, and even a crown!
9. Ravee's
From elaborate Christmas trees to nativity sets and decorations—Ravee's will leave you spoilt for choice.  An extensive outlet that is almost a one-stop-shop for all your festive shenanigans, Ravee's has some ornate ornaments in metallic hues.  These include deer heads, maple leaves, candle wreaths, and stars crafted in gold.  A perfect way to add sheen and give your home a celebratory look, do not miss their glittery hollow balls shaped like spirals.
10. Amazon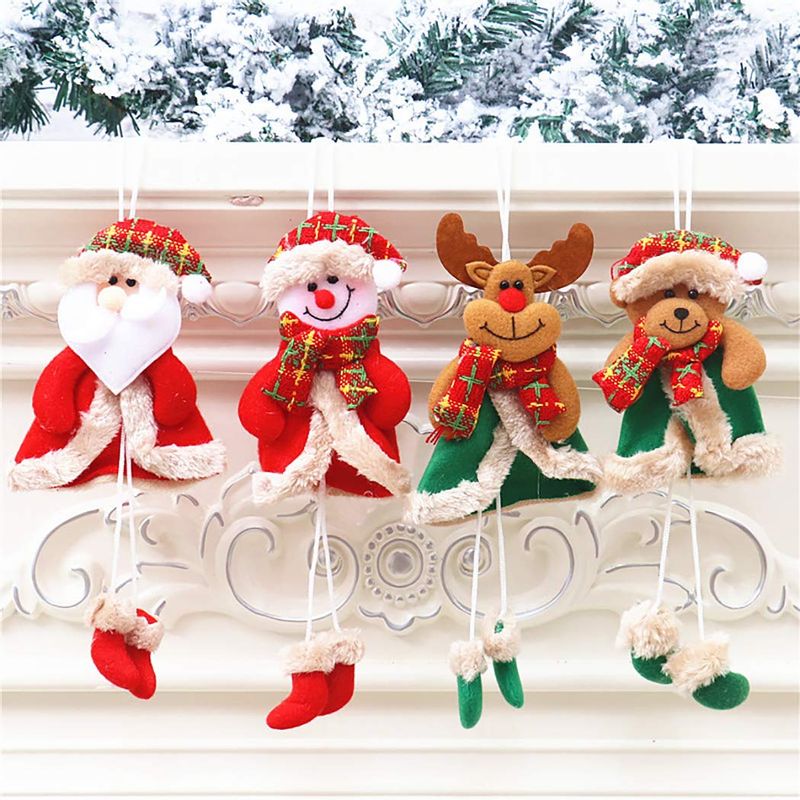 An all-time favourite, Amazon is truly an incredible platform to pick up Christmas ornaments and tree decorations. Ideal if it is your first time decorating, Amazon has combination sets that ensure you are sorted with the essentials. You can choose from a wide variety of materials and also filter by seller. If you are looking for something unusual, go in for the red and gold holi berries or a set of two glimmery reindeers.  You can choose to mix and match and create your own set of unique ornaments too.  Do not miss their set of a little snowman, deer dolls, Christmas bear and Santa Claus.
---
Photo: Shutterstock and Featured Brands