If you've been singing Miley Cyrus' song, 'Flowers' on repeat like all of us, then this article is for you. Not only can you buy yourself some flowers, but you can also arrange them.
Spring is around and that can only mean that our flower markets are going to have abundant blooms. Take a look at these spring flower arrangement ideas that you can make with the colourful flowers available through spring. Besides, your home will light up and look brighter with the spring season's flowers. 
Types of spring season flowers you can get:
1. Daffodils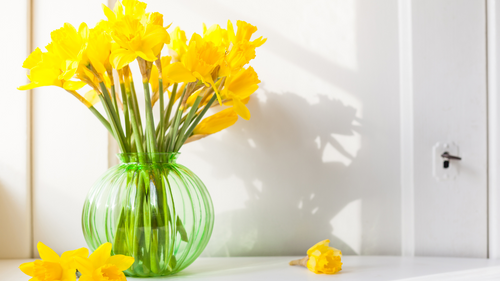 The daffodil is one of the most recognisable springtime flowers. Better known as nargis in India, their cheery yellow or white petals and trumpet-shaped centres are great blooms to have for a spring flower arrangement. These blooms are a strong indicator that winter is done and that warmer days are on the horizon. Daffodils are a common option for spring weddings and other special occasions since they are a symbol of new beginnings and rebirth.
2. Tulips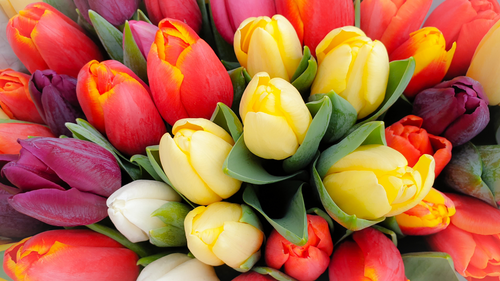 Asia's largest tulip meadows are found in Srinagar. So, naturally, they are a great flower to have when you're looking for spring flower decoration ideas. Tulips come in a wide range of hues and can be found in many gardens and parks around the world. They are well-known spring flowers. And, a simple bouquet of colourful tulips is a great spring flower arrangement idea if you prefer simplicity.
3. Sakura
It's common to see cherry blossoms on your Instagram. Anytime they bloom in any part of the world, images and videos of cherry blossom trees go viral. In Japan, they are called sakura, and they have become a common sight in zen gardens across many cities around the globe. You can now easily buy these flowers online and add them to your spring flower arrangement. 
4. Lily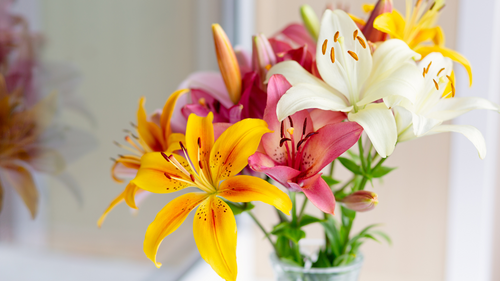 Another well-liked spring flower is the lily, which has fragrant flowers in purple, pink, and white hues. These flowers are popular because of their pleasant scent, but they are also worth adding to your spring flower decoration. Lilies are a common choice for bridal bouquets, varmalas, and wedding decor as well.
Spring flowers: Hyacinths, irises, and daisies 
Each flower has its own special hues and traits. Regardless of your preference, these colourful flowers are a wonderful sight after a long winter and serve as a reminder of the wonder and tenacity of nature.
Spring flower decoration ideas
Spring flowers are symbolic and beautiful, but they also have a significant ecological function. These flowers, which range from daffodils and tulips to cherry blossoms and lilies, have long caught our hearts and motivated poets, artists, and gardeners.
Adding some colour and freshness to your home's interior design with spring flower arrangements is a terrific idea. These are some quick and easy ways to decorate your home with the freshness of flowers. Floral arrangements are an instant mood lifter and we hope you try them. Here are seven quick suggestions for at-home spring flower arrangements for your home:
Single stem arrangements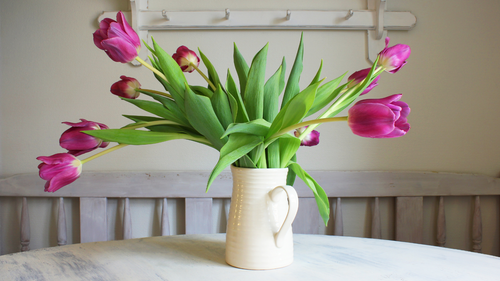 Put single stems of your preferred spring flowers, such tulips, daffodils, or hyacinths, in a few vases. To add a splash of colour and scent, scatter them throughout your house.
Wildflower bouquet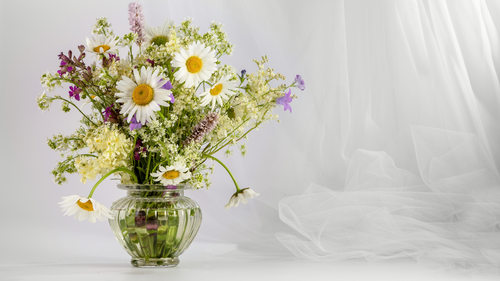 Gather a variety of wildflowers, like daisies, buttercups, and clover, then arrange them in a mason jar or vase to make wildflower bouquets. This relaxed, rustic flower decoration idea is ideal for a kitchen or dining table. This is a simple spring flowers arrangement idea for the spring.
Floral wreaths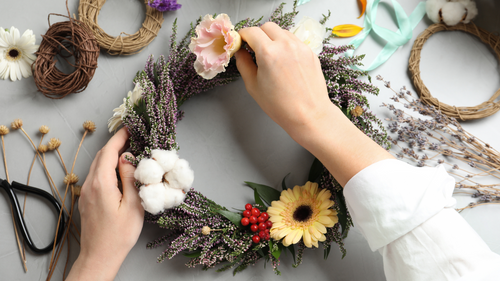 To make a wreath to display on your front door or above your mantel, use real or artificial flowers. Use floral wire or hot glue to secure the flowers to a grapevine or wire wreath form. This is a beautiful floral arrangement ideas for spring flowers decoration.
Terrariums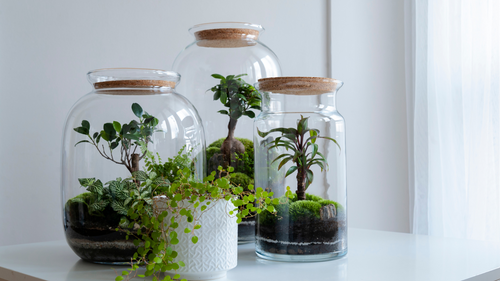 Use moss, succulents, and tiny flowers like pansies or primroses to make a miniature garden in a glass terrarium. This low-maintenance setup is ideal for a coffee table or windowsill. This is a perfect set-up if you're looking for an indoor plant but can't commit to it yet. 
Colour-coordinated arrangements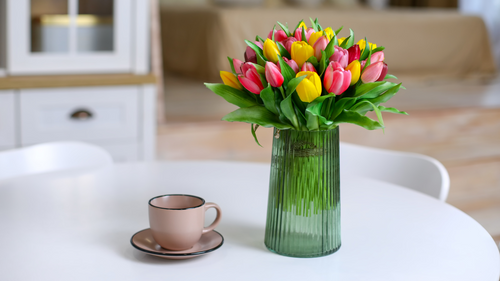 Pick flowers that contrast each other in hue, such as pink and green or yellow and blue, and place them in a vase. This lovely yet straightforward arrangement is ideal for a living room or bedroom. This lovely spring flower arrangement idea is quick and you're sure to have fun too!
Just vase it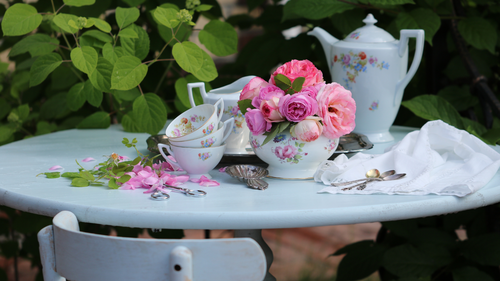 Vintage teacups or small bowls can be reused by being filled with a few stems of your preferred spring flowers. This delicate spring flower arrangement idea would look lovely in a guest room or bathroom. This is a quirky way to use your crockery and spring flowers for decoration.
Summer sway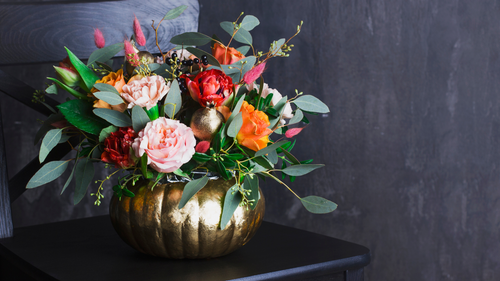 Fill a hanging flower basket with trailing ivy and a variety of vibrant spring flowers, such petunias or pansies. For a lovely and aromatic welcome to your home, hang it on your balcony or front porch. This is a wonderful spring flower arrangement decoration idea for your home.
These are just a few suggestions for quick, at-home spring flower arrangements. Use your imagination while selecting the hues and flowers for a one-of-a-kind arrangement that will add some seasonal cheer to your house. 
---
Photo: Shutterstock