There is something alluring about old-world kitchens replete with open shelves crafted in stone and wood. Packed with storage boxes, vessels and knick knacks, they exude an unmissable old-world charm. Open shelving in the kitchen is definitely not a new trend. The look, feel and style has evolved over the years, but it has always been around. Open shelves help in making the kitchen look airier and more spacious as they visually open up the kitchen unlike closed wall units that tend to appear more claustrophobic. Needless to mention, they give a functional advantage with ease of access to items that are used frequently every day without the need to rummage through the cabinets and drawers. Shelving is arguably one of the most essential features in a kitchen owing to its storage and decorative function. Open shelf fittings in kitchens take up less space but give the semblance of it being a more prominent space simultaneously. One sought-after characteristic of open shelves is their tendency to fill up the white space in the kitchen and put odd areas to use without making it look cluttered," says Anil Badan, Founder, Studio B Architects.  
Universal Appeal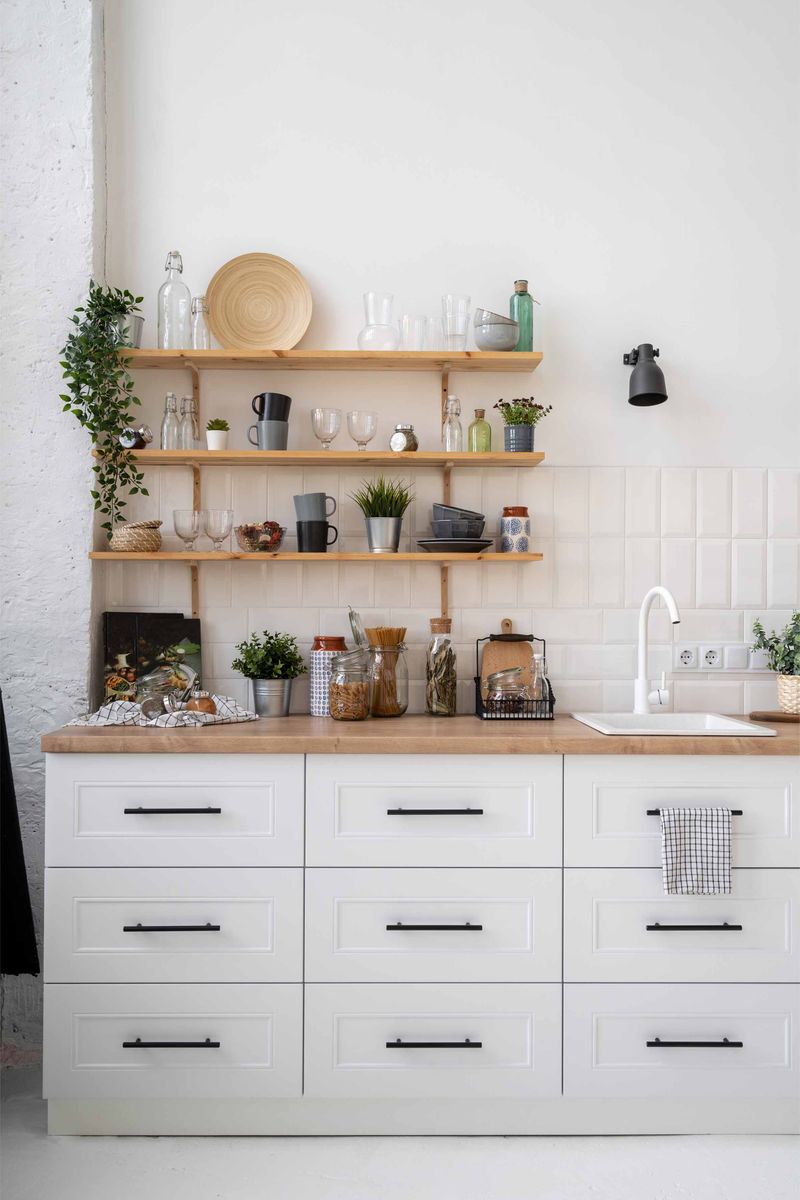 Open shelves are a versatile element of kitchen décor and are suited for a plethora of décor sensibilities. "The open shelving concept enhances the charm of the kitchen which the cabinetry lacks.  It provides more space to showcase dishware, serveware, plants and other decorative items. Be it a modern kitchen or a traditional theme, open shelving blends effortlessly with a wide variety of décor styles," says Giulia Baima Bollone, Director, Embassy Interiors. Creating a combination of cabinets and open shelves breaks the monotony and keeps the design interesting.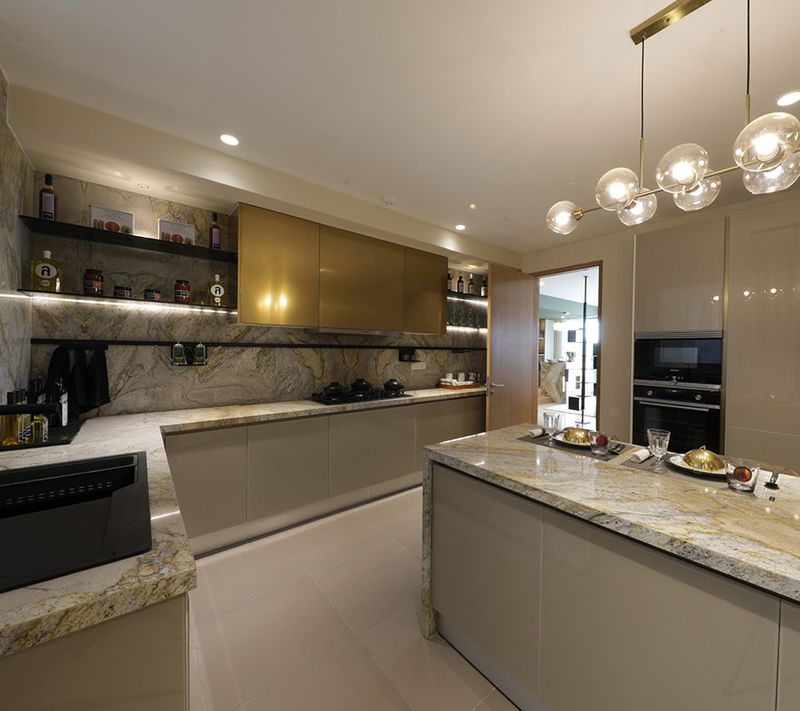 Further, open shelves can be positioned flexibly according to one's needs. For instance, fixing open shelves around the window allows natural light in without the hassle of bulky cabinets filtering it. Placing them around the range hood or above the sink helps you balance both functionality and aesthetics. "Open shelves in close proximity to the hob or the stove for storing spice bottles and mixes for daily use can be very handy. Identical or mix and matched bottles and jars can add a unique character to the space. For storage pantries, it is very convenient to have open shelves of different heights and depths. This offers not only an unencumbered view but also adds to the aesthetic quotient if arranged and maintained well. As per the users' convenience, the open units could also be designed along the entire back-splash," says Anika Mittal Dhawan, Founder and Director, Mold Design Studio.  
Another key aspect of open shelves is the fact that they can be used to fill odd spaces in the kitchen and make them more usable. They can be a great way to add decorative pieces like artwork, collector's pieces, planters or to show-off stylish dinnerware! "A kitchen Island with open shelves creates an incredible space to showcase a collection of cookbooks, antiques and artisan ceramics. Further, kitchen corners are mostly dead spaces, and corner cabinets are awkward, hence we tend to keep the less used items there. Open shelves in the corner give more accessibility and also provide extra visual aesthetics to the kitchen," adds Giulia Baima Bollone.
Colour schemes and Materials galore
Depending on the colour and material scheme of the overall kitchen, different materials options could be explored for the shelves to compliment the scheme."Shelves can be crafted in laminate or veneer in different colours to match the overall colour scheme. Open shelves in wood can add a bit of warmth and a rustic, farmhouse chic vibe to the kitchen. They could be designed and detailed in marble or the counter stone material to tie up the whole kitchen together," adds Anika Mittal Dhawan. Metal or steel shelves can add in an element of luxury and shine to the entire kitchen. If you are fan of the earthy look, concrete and lime finish shelves are an ideal option. Granite, Kalinga stone or Caesarstone are yet other options for crafting open shelves.  
Tips and Tricks
There are plenty of ways you can style your open shelves. Add a touch of greenery by accessorising them with some small planters or fresh flowers. You can also incorporate small pots of herbs like coriander, basil, thyme etc if you get good sunlight. You can add a whimsical touch by adding a strip of light or even fairy lights to make it an eye-catching design element.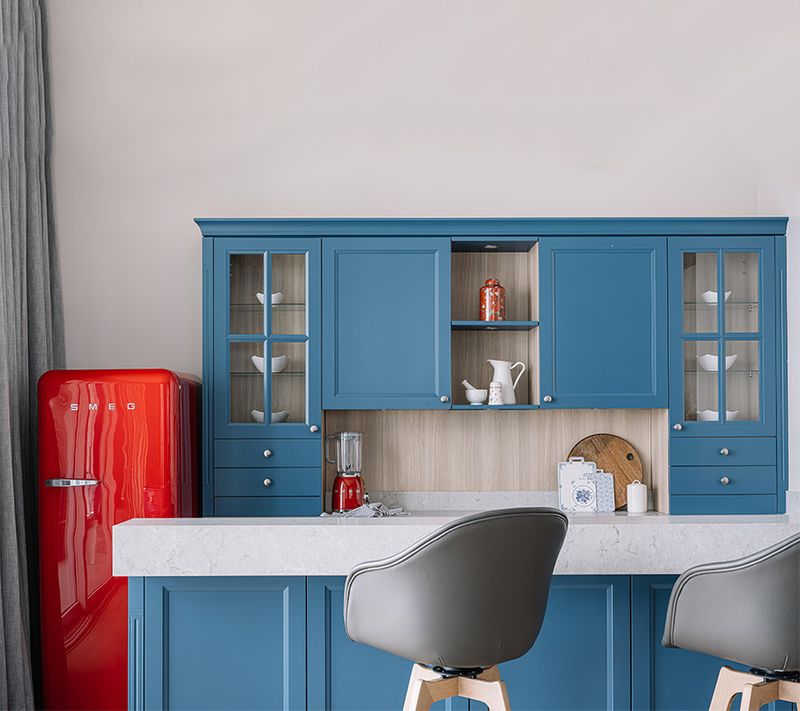 Always remember to choose a material which is easy to clean and maintain."If the shelf is being used instead of overhead cabinets, then position them 24 to 27 inches above the kitchen counter. If they are being used under a cabinet (for cups, glasses or condiments) then 7 inches below the cabinet is ideal," says Rakeshh Jeswaani, Founder and Principal Designer, Rakeshh Jeswaani Interior Architects (RJIA). Also ensure that the shelves are not too deep and all the items fit in a single row. Avoid overloading the shelves with too many items as it will appear cluttered. Moreover, storing heavy items as well as things like kitchen appliances is a big no. The trick is to be keep it simple, clean and cohesive!
---
Photo: Shutterstock; Featured brands