Delhi, our dear capital, is known for a lot of things. Its food, the thrift shops, the old forts and buildings and the people with their big hearts. But did you know that you also get the most amazing furniture in Delhi? Yes, you read that right! You can go for clothes to Sarojini Nagar, for food to Sector 16 and so many places, but for the best furniture, you go to Panchkuian Furniture Road Market. 
It is one of the most famous and oldest markets in Delhi, established post-independence. After the partition, most Sikhs from the neighbouring country settled in the areas around the market. The market has been selling furniture and decor items for a long time but now they specialise in manufacturing a wide variety of decor items and small artefacts. 
To simplify things for you, so that you have a clear idea of what you should get from this market, we have created a list of all the kinds of decor items you will find in Panchkuian Market.  
1.  Green garden haven accessories
If you have a tiny garden or a big mighty green haven, Panchkuian Market is your one-stop destination. They have installations of all kinds like different planters and garden furniture. They have fake plants that you will not be able to differentiate from a real plant, if you want to create a fake garden in your abode.
2. To relax balcony sets
The Panchkuian Road Market also has the cutest collection of balcony or patio sets of your liking. If you want wooden work and have a craze for vintage styling, or you are looking for something trendy and latest in fashion furniture, you will find it all here in this crowded furniture market. You can also look for balcony jhulas that are unique and will make your balcony look aesthetically pleasing.
3. Vintage woodwork furniture
If you are old-school at heart and cherish your vintage furniture more than anything else, stop what you're doing and rush to the Panchkuian Furniture Market today. They have beautiful wood-finished furniture with impressive handiwork designs that give the furniture a character of its own. These furniture pieces have a story to tell and can be passed down through generations. Furniture like a wooden carved coffee table, an ancient design study table or those room dividers that were used for privacy in old homes. These types of furniture pieces don't only look aesthetically pleasing to the eyes, they also give the room some depth and personality.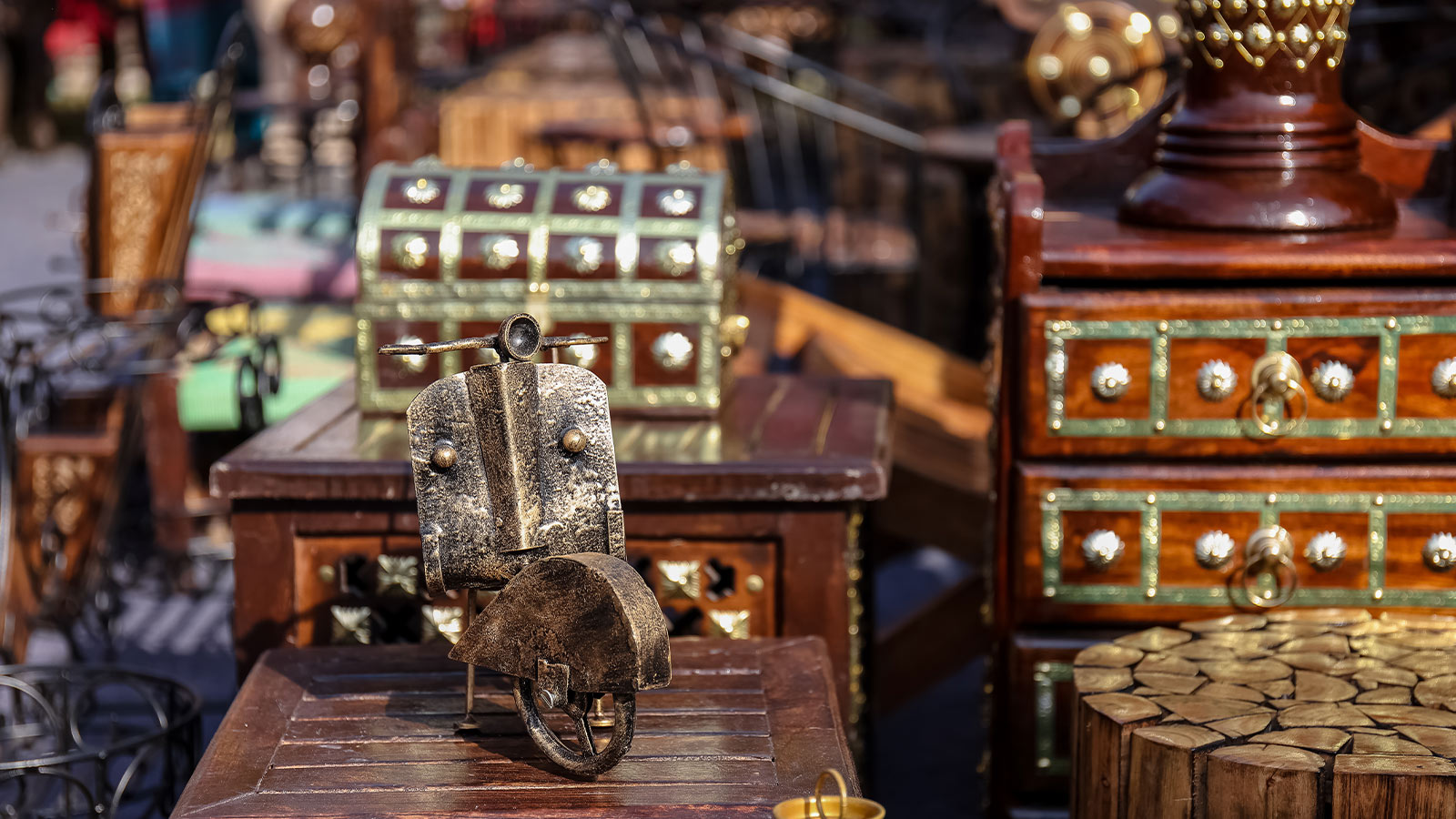 4. Rocking rocker chairs
You will also find some very beautifully hand-carved rocking chairs in this market. They are comfortable and will go well in your home and make it a sweet spot. You can enjoy a nice relaxing day with a book and your favourite beverage and rock away to glory. These teak wood rocking chairs will stay as good as new for a long time because of their insane quality.
5. Wardrobe to store
If you are looking for a nice wardrobe with good storage space that looks pretty and is also affordable, this is where you will find it. They have a cluster of shops that only sell big wardrobes of all sizes, designs and materials.
6. Office furniture for work
Yes, you also get office furniture in this market! If you think that you will only find things to get for your home, we are here to disagree and point you towards the shops that sell really cool office furniture. They have glass table units of various designs, revolving chairs and sofas. If you are looking to open a new office or want to redecorate, you can head to the Panchkuian Road Market and buy everything at wholesale price.
7. Kitchen accessories to decorate
Is your kitchen looking dull and boring, and you don't feel like going in the kitchen, let alone cooking? Then you should think about sprucing it up a little. This market has the most cute-looking kitchen accessories that you will ever find. They have fake fruits and vegetables that you can hang from the ceiling of your kitchen. This will brighten up your kitchen and give it more life!
8. Everything else
Whatever you need, whatever you can think of, any kind of furniture, you will find in this market. They have cane couches for your living room, sofa cum beds for your guest room, jhula for your balcony, patio sets for your garden space, closets and kitchen accessories. Besides these, you can also find little home accessories like photo frames, pots and planters, bean bags and much more!
From the most basic to the necessities in furniture, we have found everything that you can think of in Panchkuian Market. There is a cluster of shops that you need to go through if you are looking for something in particular, but we can assure you that you will find it. Here are a few shops that you can check out once you visit the market:
Omega Furniture House (Shop no. 188)

Alliance Decorators (Shop no. 91)

National Craft (Shop no. LG/5/7)
How to reach the market: The Paharganj Market and Gole Market, both are within walking distance from here. So, if you go there, visiting the Panchkuian Market is a must! Several of the vendors also operate in those markets as well. The best way to reach the market is to alight at the RK Ashram Metro Station on the Blue Line.
Timings: 10 AM to 8:30 PM
The Panchkuian Road Market has downsized quite a bit compared to what it was before. That's because of the metro station being constructed near it. But the essence, the quality and variety in options of their products remain the same. So, stop whatever you are doing and head to the market today! Don't forget to wear comfy shoes and carry a snack because you are sure to spend many hours here.
Photo: Shutterstock - Images used for representational purposes only