Fitness enthusiasts invest in home gyms, bookworms build cosy libraries and reading nooks, and craft lovers design personal studios—but who said gamers can't build an entertainment room for themselves? And if you think, you'd need extra space to create a beautiful gaming room at home with all the gaming setup, you're wrong! Although it'd be great to have that bonus space, with some creative thinking and planning you can make do with the space you already have. Whether you're looking for a spot to unwind with the remote in your hand or a place where your friends and family can game together—here are some ideas to help you build a game room! 
1. Avoid a theme
We know many enthusiasts take gaming room design as an opportunity to showcase their love for popular games, movies, and television. But it's always better to not stick to one theme. Try going for something universal. This way, you will not be tied to one specific narrative and be able to expand the area in the future. If you have a spare room in your home that you'd like to transform, this hack will be ideal for you! 
2. Pepper in some nostalgia
Your gaming room interior design should depict your interests. You can choose to add your favourite decor items without committing to a theme. Keep your space simple and let those game room decor items stand out. For example, you can showcase your love for everything game-related by displaying your collection of old games and other collectables as wall decor. Remember the item should complement the colour scheme of the room so that your space doesn't look chaotic. 
3. A rustic touch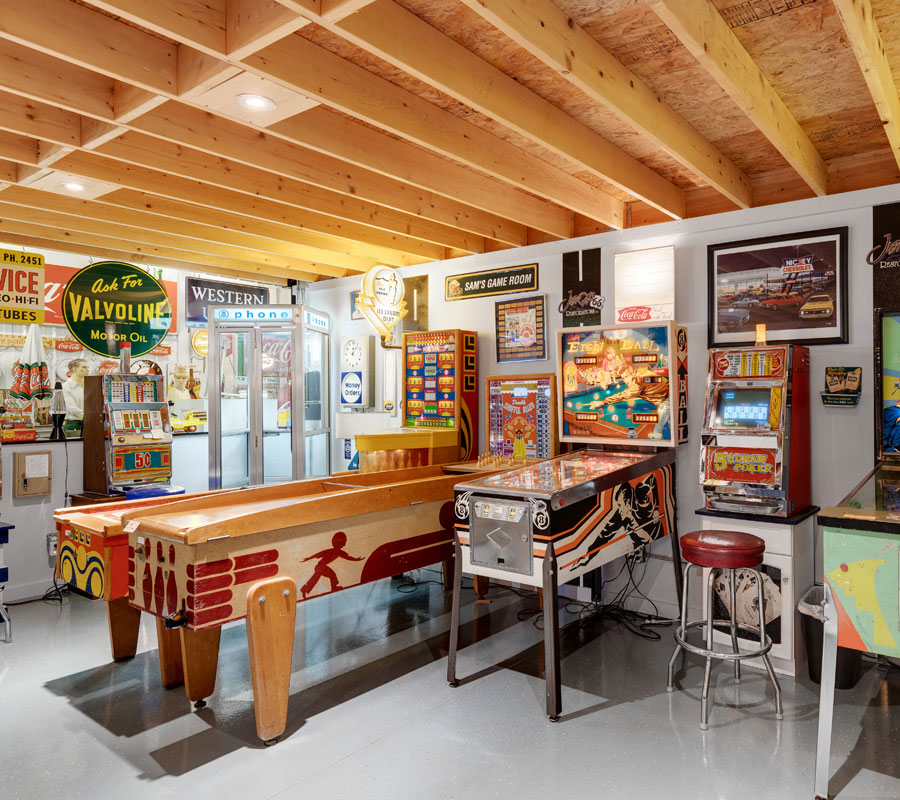 Give your game room that old school vibe by adding foosball tables and board games to the mix. If you have the budget, invest in some retro game room furniture and decor to bring your space to the next level. 
4. Consider a seating area
It's boring to have all the fun alone! Things are always more fun when you have your friends over. Who doesn't like to have some cheering and support as you beat your own best score? So, when designing your modern gaming room, consider incorporating a seating area to accommodate your friends and family! A couch would be the best pick here as it can double as a bed for when you feel too tired to reach your bedroom! 
5. Minimalist approach
If you are someone who embraces a minimalistic approach, let's tell you that not all game rooms have to be dark and edgy. You can create an airy space with natural light pouring in through the windows, and minimal decor pieces and furniture. 
6. Tabletop options
Feel like you are short on space for a gaming room? Don't you worry! Like we said before, any room can give you that gaming experience with the right space-saving finds. Make space for a foosball table-top or your favourite board games in your living room. As for the rest, make sure your entertainment console has enough space to store gaming accessories.  
7. DIY gamer bedroom 
Still need another room to dedicate to your hobby? Your bedroom is a good option! No matter how small your space is, with a little creativity, you can make the best use of the space. Try crafting a DIY table that can accommodate your monitor, gaming accessories, and collectables. And for the times when you're not gaming, it can be put to use as your study table. 
8. Office-cum-gaming area
Homes
Want to add a pop of fun to your office room? Make some space for your entertainment room ideas in there! A screen divider is a clever way to incorporate a gaming area into your office space. That way, each zone will have its own individuality while catering to your office and gaming needs. Now go, relax playing your favourite games when you get stressed out from work. 
Let's admit it, gaming is super fun! These entertainment room ideas can be incorporated into your home space to give you the best gaming experience. 
Photo: Shutterstock