Over time, almost every household collects ample waste such as bottles, wires, ropes, tires, and several other miscellaneous things. Things that we think we will use in some way or another but in reality, continue collecting dust in some corner or occupying precious space in our already cramped-up storage. The concept of upcycling is the perfect solution to this chronic problem. Channel your inner artist and bring out your tools to convert these waste items into items of one-of-a-kind pieces of home décor. Put into use all those art and craft classes from childhood and get on the floor. Read on to explore some amazing best-from-waste ideas.
Eight best out-of-waste ideas for your DIY sessions
1. Liven up that old wooden box
As far as easy best-from-waste ideas go, this idea is one of the easiest ones. There is no requirement for multiple tools or even exerting a great amount of time and effort in bringing this vision to life. If easy, quick-to-do DIY decor is what you want, here is the best suggestion. Just take a discarded wooden box, layer it up in a fresh coat of paint or use spray paint of your choice to add even and quick colour to it. Your minimal yet vibrant décor item is ready to use. Use this box now as a storage box. It can also serve as the perfect on-the-move bookshelf.
2. Repurposing those bundles of rope
If you have some unimportant ropes getting tangled in a shelf, it's time to make something out of them before they just lay forgotten any further. Fret not, simply gather all those ropes, an old bottle or a vase with an interesting shape and get winding around the bottle/vase to experience the magic of this therapeutic art. Voila, a rustic-looking vase is now ready. Use your new décor item as a vase for flowers to place around your home.
Pro tip: You can also throw in some reed sticks dipped in your favourite essential oil to make your bathroom smell like a serene spa.
3. Love and light in jars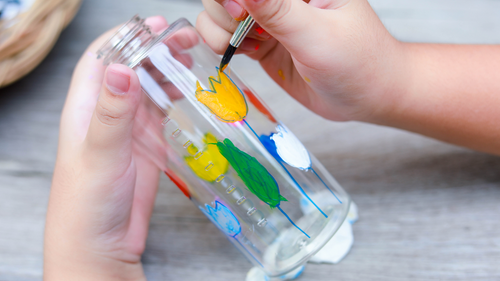 We're sure you must have noticed that over time, our homes seem to randomly be flooded with a collection of jars of many types like glass jars, coloured bottles, transparent bottles and so on. To turn these space-eating bottles into creative pieces of art, simply grab the bottle you wish to use, paint it with a nice fun colour, and throw in some floral motifs while you are at it. If you wish to transform a plain transparent bottle, simply throw some battery-operated fairy lights to add a dash of twinkle in a boring corner of your house. Turn them on as the sun sets and now you have beautiful lights casting a soft glow against the previously useless bottles, adding a whole new charm to the aesthetic of your home.
4. Mirror mirror
Do you have some mirrors that have cracked from the side? Or do they just not seem reflective enough and give off a dull sheen, making them unusable? You can always upcycle such mirrors into decorative trays. Polish and shine these mirrors, use a pretty frame to cover the edges and your new trays are ready. Mirror trays are very popular these days as beautiful home décor items. You can use them to place some candles on to give them a soft reflective glow.
5. Trays make their way from the kitchen to the walls
If you are guilty of hoarding up a giant collection of serving trays that may not be used anymore, we'd like to tell you, you are not alone. Things like serving trays, especially the artsy ones are the toughest to part ways with. But let's face it, decluttering is a must. Good news: you don't need to toss them in the bin and break your heart, they are the perfect piece for our next best-from-waste idea. You do not need to transform or reshape these trays in any way, simply clean themselves up, give them a good polish if so needed and there you go. Your new wall décor is all set and ready to be put up. This easy breezy way is the best out-of-waste idea and retaining the original character of the trays makes them an even more rustic addition to your walls.
6. Breathing life in grocery tins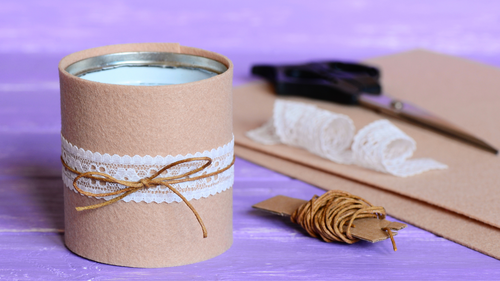 Many times, we stumble upon old tin cans on some corner shelf in our pantry that must have stored edibles in them once upon a time. The best part about these tins is that they take the least possible time and effort to upcycle them into elegant home décor items, making them the perfect candidates for best-out-of-waste easy ideas. Take a lovely fabric, some lace and other bits and bits. Wrap the fabric around the can to cover its entire length and secure it. Take your lace and then wrap it in the very centre of the can, adding a delicate detail to it. You can then further beautify it with additions like little bits of dried flowers and grass, a glittery shimmery ribbon, etc. These act like perfect DIY candle holders, pen stands, toothbrush holders or cutlery stands.
7. Tyring out new furniture 
If your garage happens to have some old tires, they will come in handy for our next suggestion in the most fun best-from-waste ideas. Take those old tires and transform them into quirky new furniture with us. Simply take some paint to paint the entire tire and then take a soft cushion to attach to one side of it. Your new DIY ottoman is all ready to be used as part of the furniture. Put it in your living room, in your reading corner or on the balcony to add more sitting to the area while adding some character to the space.
8. Old frames for organisation
Do you have some old photo frames that are not in the condition to be used but you still have not discarded them? Instead of throwing them into the trash, use them for this best-from-waste idea. Take the old frame and remove the cardboard and the glass panel from it. After you are done removing those panels, replace the hollow gap with a matching mirror in the appropriate size. And your new jewellery tray is ready. Deck it up with pearls and cool craft materials to add some dainty details to your new piece.
---
Photo: Shutterstock