Monsoon is here, bringing with it some much needed respite from one of the hottest summers we've experienced. While the rains bring lush greenery to the outdoors, the indoors can get pretty dark, gloomy and colourless. If you're a homemaker or are working from home, it can get pretty boring to stay at home without letting the gloominess affect your mood.
Now, there are two good reasons for you to consider revamping your home design during monsoon. One, is to put an end to the gloomy spell and brighten up your surroundings. Two, is to ensure that your furniture is looked after when the moisture can put a dampener on the environment at home.
We have some simple room décor ideas that can help you beat, both the gloominess and damp furniture. Here are seven amazing home decor ideas that can turn around your home design this monsoon!
7 Trendy Home Decor Ideas For Monsoons
1. Give your home a beautiful colour palette
Avoid the blues by adding more colours to your home design. This home décor idea works well even when you mix and match your existing furniture. You can try going for new furnishings like bright and popping cushion covers, or just go for simple room decor ideas like a new patterned wall hanging for monotonous walls. Monsoon can set in the blues and suck the life out of a monotonous colour scheme, so having a myriad of colours in your home design works like a dream.
2. Add some vibrance to your home with lively decor
If you're looking for room design ideas that are easy to get right, you can liven up a corner in your home with some wall or table decor. We love how this beautiful corner in this home is designed using a curation of wall decor. Find some pretty artwork that can be framed and put up on your wall or boho-chic decor like dream catchers and macramé wall hanging. You can finish off with a lovely rug to match the lively wall decor of your home design.
3. Time to take the coat stand out in the open
Your home can become a mess when you don't have a proper place to hang your umbrellas or raincoats dripping with rainwater. Speaking of simple living room interior design ideas, you can hit two birds with one stone by getting a chic coat stand. The coat stand can also work as patio furniture, even bedroom furniture whenever you feel like changing up things.
4. Go green with indoor plants
Getting plants for your home is one of those easy fixes that can turn an ordinary room into the most cheerful space where you can live. Opt for low-maintenance indoor plants like ferns, monstera, money plant, fiddle leaf and so on. Plants breathe life into any space, and you'll find that a dull monsoon day can seem pretty cheerful with your plant babies for company.
5. Get fresh flowers for drawing room decor
Few things can uplift your mood in an instant, and flowers as a drawing room decoration are one of them. Fresh, in-season flowers with their colours and aroma can give your home quick spruce up on dull monsoon days.
6. A treat to the senses with aromas and scented candles
If you're looking for home décor ideas that are ambient in nature, you must get some aromatic candles for your home. The monsoon weather tends to cause dampness, inviting unpleasant smells and unwarranted fungal growth at times. Candles can help soothe your senses and fill the air with a pleasant fragrance to uplift the ambience at home.
7. Add some ambient lights to balcony decor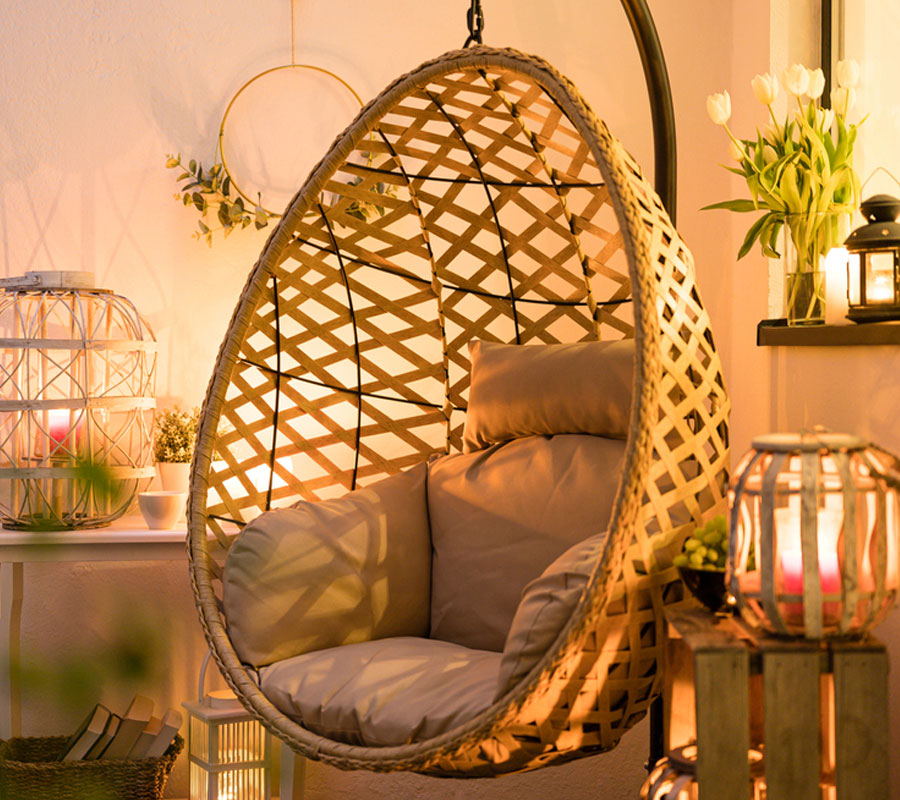 Decorate your covered balcony with some yellow lights, lampshades, and some typical cane furniture for having a nice evening all by yourself or a hot cocoa party on your rooftop/balcony. Make sure that your balcony home decor items are well protected from the rains.
Have more home decor ideas for the monsoons? Let us know in the comments!
Photo: Shutterstock