It is next to impossible to imagine Indian food without its vast varieties of hearty curries. But, unlike the curries from other nations, most Indian ones have got a bad rep as far as health and nutrition is concerned due to the excessive use of spices, oil, and more, especially at restaurants.
"A single serving of a curry weighs approximately 60 gms or an average ¾th bowl. While the calorie count varies drastically based on the ingredients, I can say that a plain vegetable curry could be approximately 120-150 calories per serving. Similarly, a simple chicken curry can boast of 150-200 calories per serving (approximately)," says Gauri Shingote, CEO & Head of Nutrition, Juvenate Wellbeing. "To burn off these 150-200 calories, you'd need to put in some serious hard work. An hour or an hour and a half of medium pace run or 30-45 minutes of intense HIIT training should help. In case you're a water baby, you can go for 30-45 minutes of medium-paced swim," she adds.
In case you're not in the mood to burn it off by exercising, you'll be glad to know that Shingote and Chef Liton Bhakta, Head Chef of The Daily Bar & Kitchen, have an easy solution for you. According to the experts, making minor changes in the way you choose the ingredients for your curry and how you prepare it can the curry be healthier and low in calories. And no, there they are not asking you to compromise on the taste.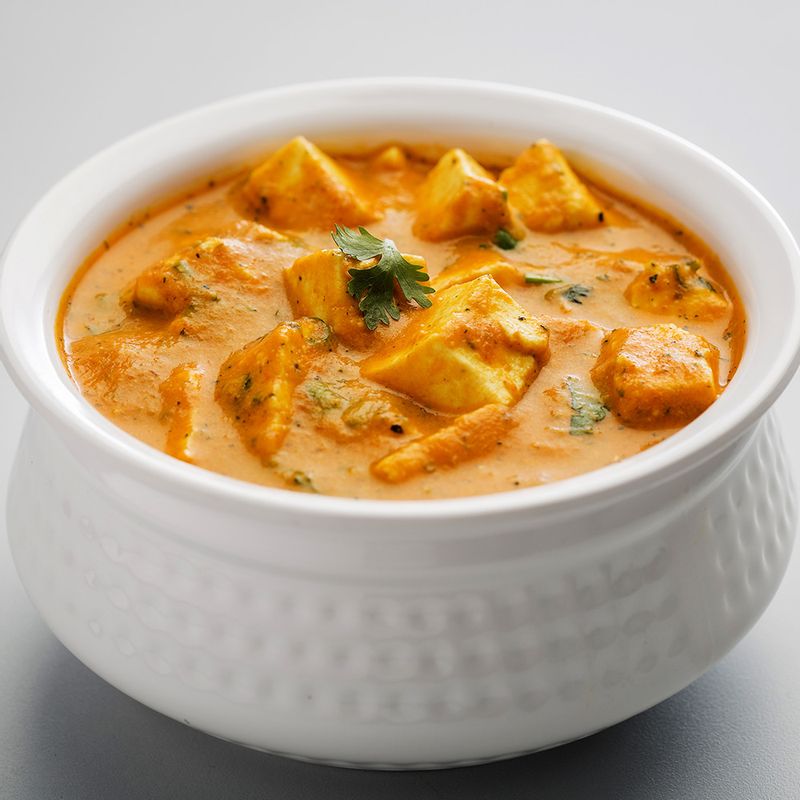 Intrigued? Read on to know how you can do the magic.
1. Use Less Oil
Chef Bhakta asserts, "There is a common misconception that you can't add taste to your food unless you add a generous amount of oil in your curry. But, the truth is completely the opposite. You can add flavour and texture to curry by using little to no oil and, trust me, it works wonders. A good curry has its oil well integrated with the rest of the ingredients and not floating on top." He even suggests that you swap your usual oil with mustard or olive oil since they contain monounsaturated fats, which can help lower the risk of disease and aid weight loss. 
2. Replace the Cream
People usually use cream to improve the texture and add richness to curries. But it also considerably increases the calories in the dish. Shingote recommends substituting this ingredient with fresh yoghurt. On the other hand, Chef Bhakta says coconut milk too can do. Chef Bhakta goes a step further and prefers adding vegetable puree instead of cream, "You steam or pressure cook vegetables such as broccoli or spinach, and blend them into a smooth paste. Once done, add it to the curry and voila! You've got a flavourful curry, but with lesser calories." Brilliant, isn't it? Do try it out at home and let us know your experience in the comments section below. 
3. Substitute the Proteins
Ask Shingote what the best low-cal ingredients are one can use in the curry and the expert promptly says, "To be very honest, there is no such ingredient. Our curries are made based on the availability of ingredients, seasonal produce, region, taste preferences, etc. The best way to reduce calories coming from any curry is to eat smaller portions. However, if we had to pick ingredients–I'd suggest you use low-fat paneer over meats or any other low-fat protein foods such as soy granules and nuggets. Using these is also a good way of loading the curry with protein and cutting fats and calories."
---
Photo: Shutterstock