"I missed my rajma-chawal sometimes," said a good friend, after he returned to India from a three-month backpacking trip through Europe. I scrunched up my nose in mock disgust. Rajma-chawal is disgusting. It has no character. It's boiled beans in an unappetizing-looking red-black sauce.
Cut to today: Hand me a steaming bowl of rajma-chawal with a generous blob of butter on top - right now - and I will love you unconditionally forever.
Smells like home
That's my homesickness talking, pleased to meet you. I moved to Berlin two and a half years ago, and much as I enjoy eating my way through this culinarily-diverse city, I constantly yearn for a simple dish of parboiled rice, kootu curry, a side of fish fry and puliyinji, a ginger-tamarind chutney (that is a simple lunch back home in Kerala). No amount of ramen or bratwurst or burritos or even pizza has managed to replace it. It's a brand of homesickness that every ex-pat identifies with – food, from back home, is hard to give up.
Sure, the world is globalized and fusion cuisines are the norm, but food is nevertheless a powerful means of expressing our identity. Out here, I am and will always be 'an Indian girl'. Even though I might body-slam the next person who asks me that most banal question – "You're Indian, (ergo) you must love spicy food?" – the smells and flavours of India, especially the Malabar region, do act as an anchor for where I come from and does tell a story about who I am.
I eat therefore I am...
In her TED Talk journalist Jennifer 8. Lee looks for General Tso: "What you want to cook and eat is an accumulation, a function of your experiences – the people you've dated, what you've learnt, where you've gone […] you'll always eat things that mean something to you." Aside from being a calling card of sorts, the food we eat is also tied into deeply-held memories. I don't just crave my mother's exquisite mutton biryani, I seek the comfort of sitting around our family table, partaking it, every Friday afternoon after Jum'ah prayers. Comfort through familiarity.
It could even be that our taste preferences are formed well before we're born. In a 2004 study published in Pediatrics, researchers showed how babies who had been exposed to carrot juice through their mothers seemed to prefer carrot-flavoured cereal. They argued that these early exposures likely had long-term consequences, even reinforcing differences between regional cuisines. "It's often said that one of the last things to change when you join a new culture is your food, your flavour preference and experience," it adds.
Travelling tastebuds
Soon after I moved here, I was thrilled to find out that if you threw a chilli from where you were standing, the chances of it landing on creatively-named Indian restaurants such as Shiva, Krishna, Agni and even New Delhi – were almost guaranteed. That excitement was swiftly extinguished when, after trying out a few, I realised that a chicken tikka masala and a paneer butter masala inexplicably tasted exactly the same – bland, creamy, from hell. Don't even get me started on how 'tandoori chicken' is interpreted here.
I had nearly given up my search for the flavours of home when a friend from the Western African nation of Benin – another ex-pat here - brought me fried plantain one day. After spending a sufficient amount of time stuffing my face, I asked her where on earth she got plantain from (supermarkets here only stock perfectly yellow, uniformly-sized, spot-free bananas). That's when I was pointed toward the amazing world of the ex-pat store! There's one for everyone – British and craving Heinz baked beans? You're covered. Korean and need your fermented soybean paste? No problem. Indian and hankering for a hit of mango pickle? You're spoilt for choices.
I walked into one with almost jingoistic swag. The cramped store had its shelves stacked with staples such as dals, dosa flour, dried red chillis, murukku, and even a few Parle-G packets thrown in for good measure. The Tamilian couple who started the shop 13 years ago seemed to be used to my shaking, glazed-eyes reaction. These stores are enduringly popular – some even have large-scale online operations – even in a country where supermarket chains often stock country-specific ingredients (sambal paste, ghee and tamarind paste, for example). But that intangible sense of community and familiarity is missing in the latter. Or particular oddities such as the buy one, get one free offer on the coriander leaves – was I back in India?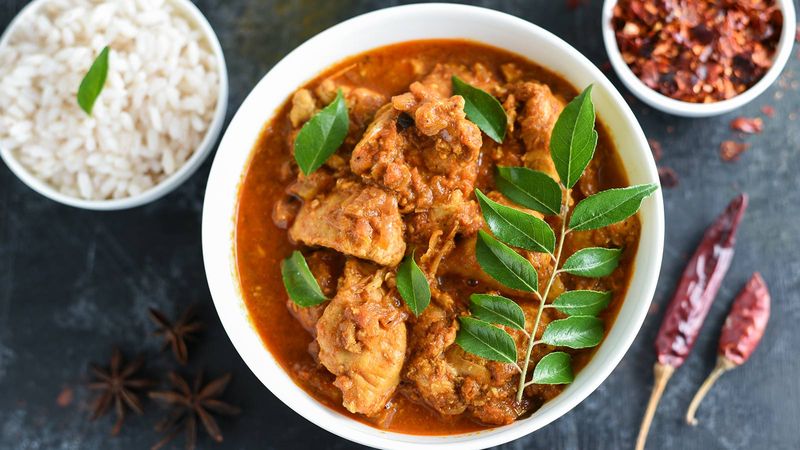 Dinner that night? No, not rajma chawal. Chicken Chettinad, cooked in a divinely-perfumed base of coconut oil and curry leaves, accompanied by a formidable mound of Priya's mango pickle. My house smells like home.
---
Photo: Shutterstock