"Nothing makes me feel happier in cooking than making a meal out of repurposed scraps. So, I feel quite delighted now that I have found a use for the banana skins that would otherwise end up in the bin after I've made yet another banana bread," mentions the British cookbook author and popular TV host Nigella Lawson, in her latest book Cook, Eat, Repeat, while introducing readers to her banana skin and cauliflower curry. Watch her whip up this curry here or scroll to the end of the article for the written recipe and full ingredients list. 
Mixed reactions 
Nigella's sustainable cooking approach of using the banana peel didn't make the cut among her fans and followers. While many had their doubts about its flavour and texture, a few others couldn't imagine the casing beyond its use in slapstick comedy.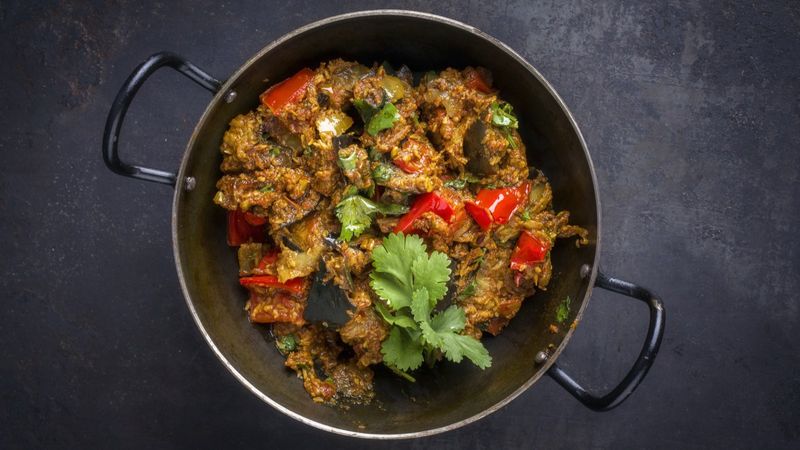 However, what's noteworthy is that banana peels have been a popular ingredient among vegans since 2019 (or maybe a little earlier), and ever since, there have been a bunch of recipes circulating online – remember banana peels being a vegan substitute for bacon? And yet, the first reaction to this Indian-inspired fragrant curry with fruit peels by Nigella, was shock and confusion. "A lot of things have made me go WTF in 2020 but nothing's come close to Nigella pouring kettle water over two brown banana skins #Nigella," a Twitter user named @HertsSid wrote.  
For those of us who are unconvinced with banana peels, here are a few words of encouragement by the domestic goddess from the show, "I assure you that you would never guess my banana skin curry had banana skins in it. You wouldn't even think bananas." She describes the banana peel texture as 'velvety' that soak up the spices and seasoning of the curry beautifully.  
Tips from Nigella Lawson to reduce food waste 
In her cookbook, Cook, Eat, Repeat, Nigella admits that though she is extravagant when it comes to food, she's never wasteful. "For me, food waste would always be a legitimate cause for guilt." Nigella further reveals that the aversion to waste is something she picked up from her mother: "Perhaps because I was brought up by a mother who was a child during the war, who herself grew up with rationing, and had a quaking horror of throwing anything away, I cannot throw food away myself."  
Follow these tips and tricks to cut down on food waste, and make the most of your produce the Nigella way. 
1. Use blackened bananas to make banana bread instead of throwing them away. 
2. Do not throw away potato and pasta cooking water, and use it to make bread. It gives a wonderful rise to the bread and helps the bake stay fresh for longer. 
3. Use potato peelings to make potato crisps, while other veggie peels and scraps can be used to make vegetable stock. 
4. You can even use potato water as the base of soups and gravy. 
5. Save meat bones and chicken carcasses in the fridge and use it to make stock later.  
6. Use spoilt milk as a substitute for sour cream for baking an old-fashion sandwich loaf.  
How to cook banana peels 
Nigella isn't the first person to use banana peels in cooking though. Who better than Malayalees from the God's Own Country who toss it into a rustic thoran or the folks from Bengal who use the peels to make a delicious chutney. Here are a few creative ideas to use this ingredient.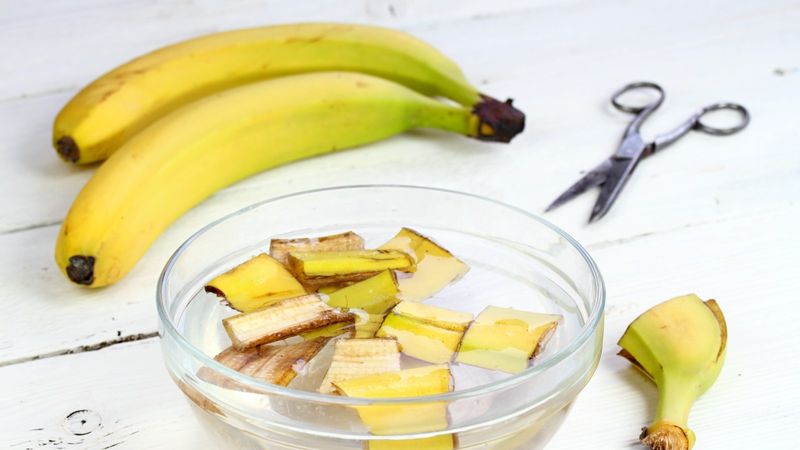 1. Banana peel bacon 
In line with the international trend of vegan bacon, celebrity nutritionist Pooja Makhija shared a short video clip featuring a snack made with a banana peel. Her post read, "Here's how you can bring crispy bacon for your breakfast meals too and is healthy, good for your heart, and super high in fibre. 
2. Banana peel thoran 
For lunch, you can whip up a traditional South Indian thoran aka stir fry. To make this banana peel recipe, the skin is usually soaked in a mixture of four parts water and a part of apple cider or white wine vinegar for about 20 minutes. Here, soaked banana peels are sautéed in the tempering of mustard seeds, cumin seeds, asafetida, red and green chilli, ginger and garlic. It is finished off with freshly grated coconut.  
3. Bengali raw banana peel chutney (Kanchakalar khosha bata) 
The Bengali kitchen is all about zero-waste, sustainability, and foraging in its DNA, experts have told us in the past, and here we are repeating the fact with yet another example. Bengal uses banana peels to make a lip-smacking chutney to relish with steamed rice and ghee. Garlic, green chilli, red chilli and salt are combined with the peels to make this chutney, and it is finished off with a tempering of mustard oil, dry red chilli and kalonji.  
4. Cauliflower and banana peel curry recipe by Nigella Lawson (transcribed from the episode)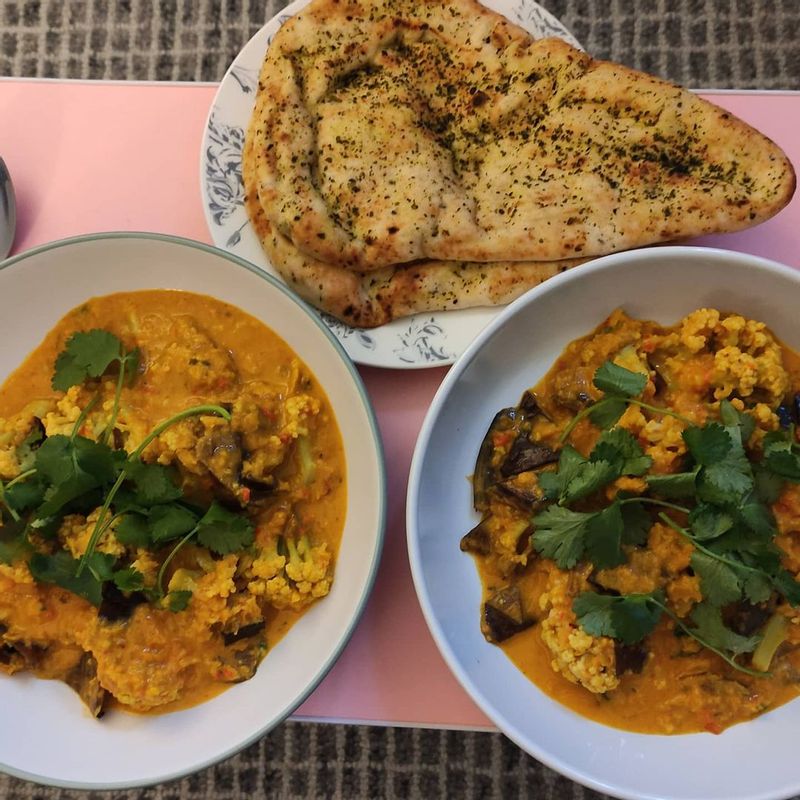 Ingredients:  
3 banana peels 
Cauliflower florets and leaves, bite-sized 
1 tsp turmeric powder 
Salt, as per taste 
4 banana shallots (echalion), peeled and chopped 
4 garlic cloves 
1-1 ½ inch ginger, peeled and sliced 
1 bunch coriander leaves with stalks 
1 fresh red chilli, chopped 
1 tsp cinnamon powder
2 tbsp tomato paste 
400 ml full-fat coconut milk 
2 ½ tsp lemon juice 
1 1/2 tsp sugar 
2 tsp sea salt 
Vegetable oil for cooking   
Method:  
• In a large bowl, put the banana peels and pour in enough water to cover the peels. Add a little turmeric powder and salt, cover the bowl with a lid and let the peels soak until the water comes to room temperature.  
• In another bowl, add roughly chopped garlic, banana shallots, ginger, coriander stalks, fresh red chilli, cinnamon powder and turmeric powder. Blend this into a smooth paste. 
• In a wok, add a teaspoon of oil and fry the paste for seven minutes. 
• Stir in the tomato paste, combine it with the curry paste and let it cook for three minutes. 
• Add full-fat coconut milk and mix it well with the paste.  
• Squeeze half a lemon and season the curry with sea salt and sugar.  
• Cook, uncovered, letting it bubble, reduce and thicken a little for five minutes.  
• Drain the banana skins, squeezing out excess liquid, and either chop them into slightly smaller than bite-sized pieces or take a fork and, with the interior of the banana skins facing you, press the tines into the top and push all the way down so that you have long thin strips.  
• Add the skins to the pan/wok, and simmer for a further 10 minutes, or until the sauce has thickened and the banana skins are soft. 
• Tip in the cauliflower florets and leaves and continue to cook until they're hot all the way through.  
• Taste to check salt and then garnish with chopped coriander leaves. 
Check out this recipe's video and more on Nigella Lawson's Cook Eat Repeat only on Zee Zest
---
Photo: Shutterstock, Facebook/Nigella Lawson and Instagram/A Fab Kitchen