Gudi Padwa is a traditional Hindu festival that is observed in certain other Indian states as well as in Maharashtra. On the first day of the month of Chaitra, which falls in late March this year, this festival is celebrated. People of all ages participate enthusiastically in the celebration of Gudi Padwa, which is a time of excitement and fresh starts.
The background to Gudi Padwa
Gudi Padwa has a long history. Since Lord Brahma is said to have created the cosmos on this day, Hindus consider it to be lucky. Another well-known legend surrounding Gudi Padwa is that it honours the return of Lord Rama to Ayodhya following his victory over the demonic ruler Ravana in Lanka, as told in the epic Ramayana.
A flag is customarily flown in front of residences on Gudi Padwa. The word gudi signifies a flag or banner. The flag is formed by attaching a brightly coloured piece of cloth—either red or yellow—to a tall bamboo stalk, and then decorating it with a garland of flowers, neem leaves, and mango leaves. The gudi is then positioned towards the street on a balcony or window.
Gudi Padwa is celebrated with a number of other age-old traditions in addition to the gudi. Rangoli patterns, which are vibrant patterns formed with coloured powder, rice, or flowers, are used by people to beautify their homes.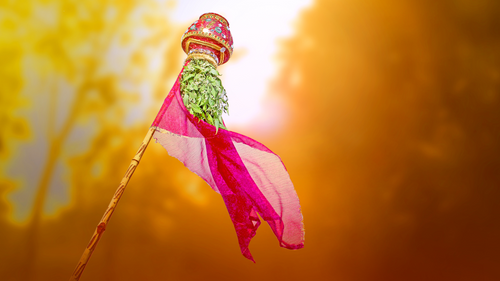 On this day, people visit their friends and relatives, dress in new attire, and exchange greetings and presents. Also, they go to temples and pray to Lord Brahma. It is customary in some areas of Maharashtra to take a bath with "ubtan," a concoction of turmeric, sandalwood powder, and other substances, which is thought to cleanse the body and the soul.
The celebration of Gudi Padwa honours the spirit of rebirth and hope. It's time to let go of the past and welcome the future, to make plans for the future, to believe in the power of optimism, and to embrace faith. The celebration unites people by spreading joy and has deep cultural and historical significance. Let's endeavour to uphold the principles Gudi Padwa represents as we observe it and remember them as we do so. Food is a very important part of Gudi Padwa.
Each of these food items has a significant place in Maharashtrian cuisine and is a staple of the holiday's celebratory fare. In the upcoming year, each dish is said to bring luck, wealth, and pleasure. Here are some recipes you can enjoy this year!
It is a spicy, fried snack made with sago pearls. It is crispy and flavourful. It's a well-known meal that's customarily served and eaten during Gudi Padwa. In the sweltering summer months, sabudana papad is thought to offer cooling effects that reduce the heat.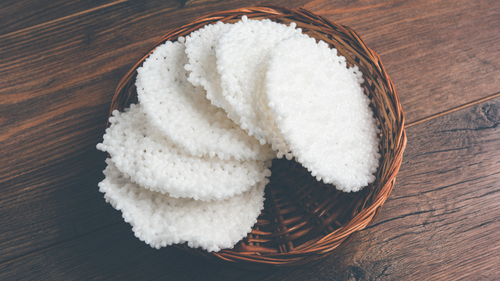 2. Batata Wada
A chickpea flour batter is used to coat spicy mashed potatoes, which are then deep-fried until golden brown to make this snack a Gudi Padwa favourite because of its popularity. In Maharashtra, it is a common street meal that is frequently served with sweet tamarind chutney and green chutney. Here's a new take on the batata wada with a pita pocket!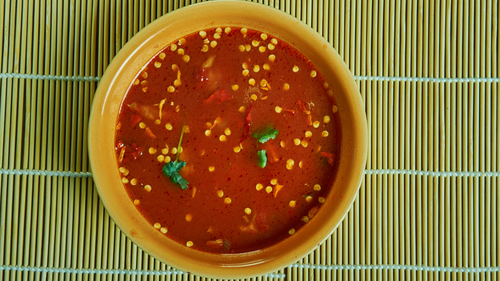 Puran poli is a delicious flatbread stuffed with a filling prepared from jaggery and split chickpeas. Katachi amti is a traditional Maharashtrian dal created from the leftover water used to make chana dal. During Gudi Padwa, coconut, cumin, coriander, and other spices are used to season the dal. It is frequently served with the puran poli.
4. Shrikhand
Shrikhand is a delicious dish made from yoghurt that has been drained and is flavoured with saffron, cardamom, and sugar. Shrikhand is the perfect food to make to ensure that your Gudi Padwa is special. Although perfect just by itself, here's a modern take on the traditional shrikhand.
A rice flour-based sweet dumpling called a modak is filled with a coconut-and-jaggery filling. A perfect and auspicious dessert that is made during festivals and Gudi Padwa is no exception!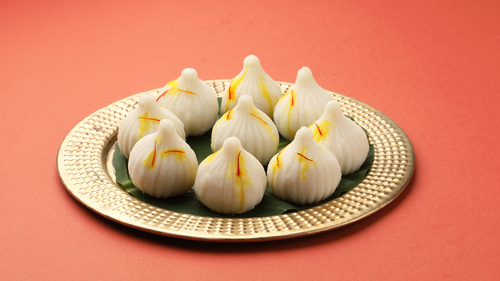 ---
Photo: Shutterstock