Indian cuisine is known for its vibrant and diverse spectrum of flavours. While sweet and spice are often celebrated in Indian dishes, bitter is an intriguing flavour profile that adds a unique dimension to the culinary experience.
When you're a child, you are most attracted to the sweeter food options. Even basic foods like white sauce pasta or deep-fried goodies are extremely popular amongst children. But as you grow older, complex tastes seem a lot more appealing.  Bitter foods are not only delicious, but also offer numerous health benefits. Bitter foods are an acquired taste but once you open up your palate to them, there's no going back. Packed with nutrients, here are a few recipes of bitter foods that are actually quite tasty to eat:
Bitter Gourd or Karela sabzi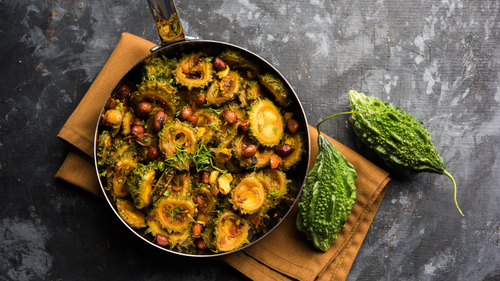 Karela, or bitter gourd, is one of the most popular bitter vegetables commonly eaten across India. Traditionally, it is sauteed with a tomato-onion base curry with Indian spices like turmeric, coriander and chilli powder; and served with chapati or Indian flatbread. In this recipe, the bitterness of karela is balanced with spices like cumin and amchur (dried mango powder). The gourd is sliced and sautéed until crisp and golden, resulting in a delightful and nutritious dish.
Shukto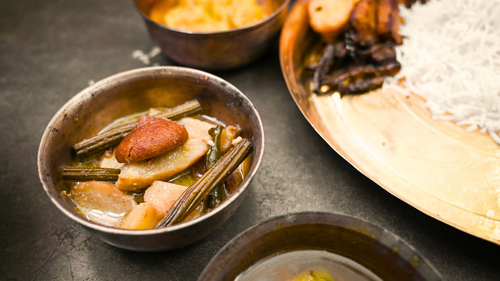 A Bengali meal essentially comprises different courses that range from different flavour profiles, and one of the courses is called Shukto. It is usually served at the beginning of the meal with rice. Shukto is a mixed vegetable stew which plays around with sweet, savoury and bitter tastes. People who do not like spicy food can try this as it has no chillies whatsoever and it's super healthy for weight watchers. The bitterness comes from bitter gourd and it is coupled with the sweet taste of onions and carrots and the tangy taste of tomatoes. Shukto is similar to the South Indian dish 'avial' and can be made with cow's milk or coconut milk. 
Methi Thepla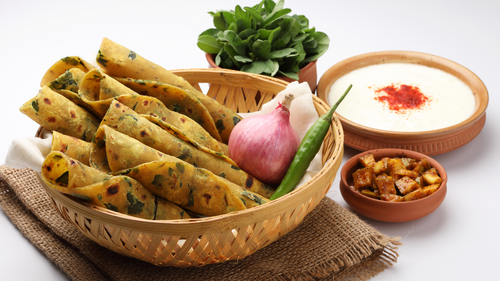 Fenugreek leaves are known for their distinct bitter taste. Methi thepla is a Gujarati dish that combines fenugreek leaves with wheat flour, spices, and yoghurt to create a flavorful and nutritious flatbread. It is often enjoyed with pickles or yoghurt or even with lentil curry. This is a very versatile flatbread, to which many vegetables and spices can be added but the only constant is the bitter taste of fenugreek without which this flatbread is incomplete.
Palak Methi Dal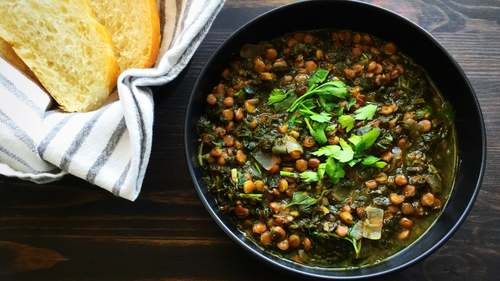 This dal combines the bitterness of fenugreek leaves with the earthiness of spinach. The lentils are cooked with a tempering of onions, tomatoes, garlic, and spices, resulting in a hearty and nutritious soup. Serve it with rice or roti for a complete meal. The combination of spinach and methi adds a distinct bitter flavour as well, balancing the tart tomatoes and sweet onions, giving this dish a holistic taste that will tingle your taste buds.
Kathal Biryani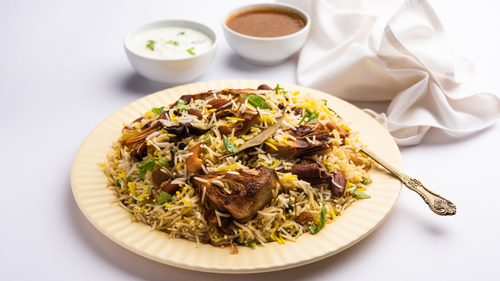 Jackfruit, when unripe, has a slightly bitter taste that works wonderfully in savoury dishes, almost giving it a pork-like consistency and taste. In this biryani, marinated jackfruit is layered with fragrant basmati rice and cooked with a blend of aromatic spices. The result is a flavorful and unique vegetarian biryani.
Nimki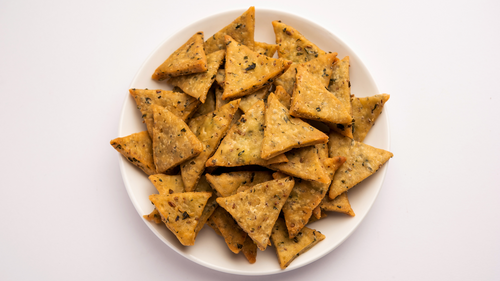 Nimki is a popular snack in many parts of India. These crispy and flaky crackers are made from a dough of wheat flour, nigella seeds, and a hint of bitterness from ajwain (carom) seeds. They are deep-fried until golden brown and can be enjoyed on their own or with chutney.
Kothavarangai Paruppu Usili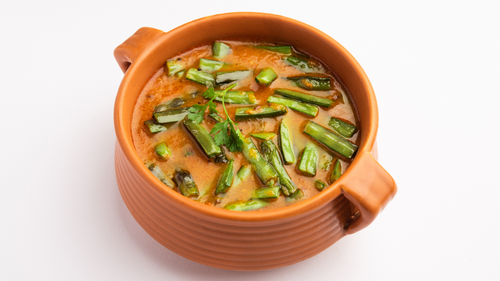 Kothavarangai, or bitter beans, are combined with lentils to create this delicious and protein-rich stir fry. The beans and lentils are steamed and then sautéed with spices like mustard seeds, urad dal, and curry leaves. This dish pairs well with rice and sambar.
Bitter Gourd Raita
Raita is a yoghurt-based side dish commonly served with Indian meals. In this recipe, bitter gourd is thinly sliced, deep-fried until crispy, and mixed with yoghurt, spices, and a hint of sweetness. The bitterness of the gourd adds a unique twist to the refreshing raita.
Karuveppilai Podi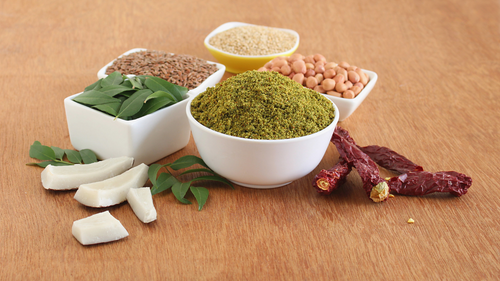 Karuveppilai, or curry leaves, are known for their distinct bitter flavour and aroma. In this recipe, curry leaves are roasted along with lentils, spices, and dry chillies, and ground into a coarse powder. This podi can be sprinkled on rice or used as a condiment with dosas and idlis.
Methi Matar Malai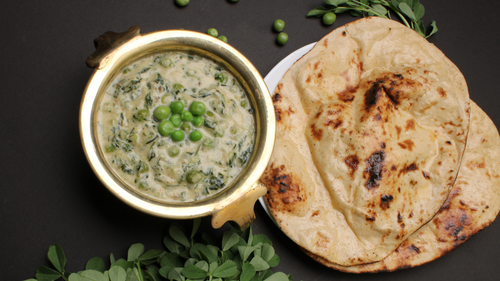 This creamy and aromatic curry combines the bitterness of fenugreek leaves with the sweetness of green peas. The fenugreek leaves are blanched and cooked in a rich and creamy gravy made with onions, cashews, and spices. It is a popular dish in North Indian cuisine and is best enjoyed with naan or rice.
---
Photo: Shutterstock