If you're in Mumbai, your case won't be any different, considering the scorching heat that's driving us all crazy. Lucky for us, a handful of homegrown brands are whipping up batches of delectable ice cream. Classic vanilla, seasonal fruit, or something desi– no matter what you crave, they've got you covered. 
1. K Rustom's 
One of Mumbai's iconic and must-visit ice cream shops is K Rustom's. The tiny shop has been around  for over 60 years, serving the delicious ice cream sandwiches—thick slabs of signature ice cream flavours ensconced between crispy wafer biscuits have a special place in the hearts of Mumbaikars. Try their seasonal offerings like mango and chikoo and if you're not in the mood for fruits, go for the year-round favourites like choco mint crunch or rum and raisin.  
2. Pabrai's Fresh and Naturelle 
Pabrai's Fresh and Naturelle is synonymous with unique and experimental flavours inspired by a variety of cuisines and regions across India. Wasabi, five spice, sandalwood, matcha tea, fennel seed, lemongrass and nolen gur (date palm jaggery) are a few of the offerings on Pabrai's menu. According to the brand, their patrons include the likes of Sachin Tendulkar, Virat Kohli and even Hillary Clinton (when she visited India in 2012).  
3. Apsara Ice Cream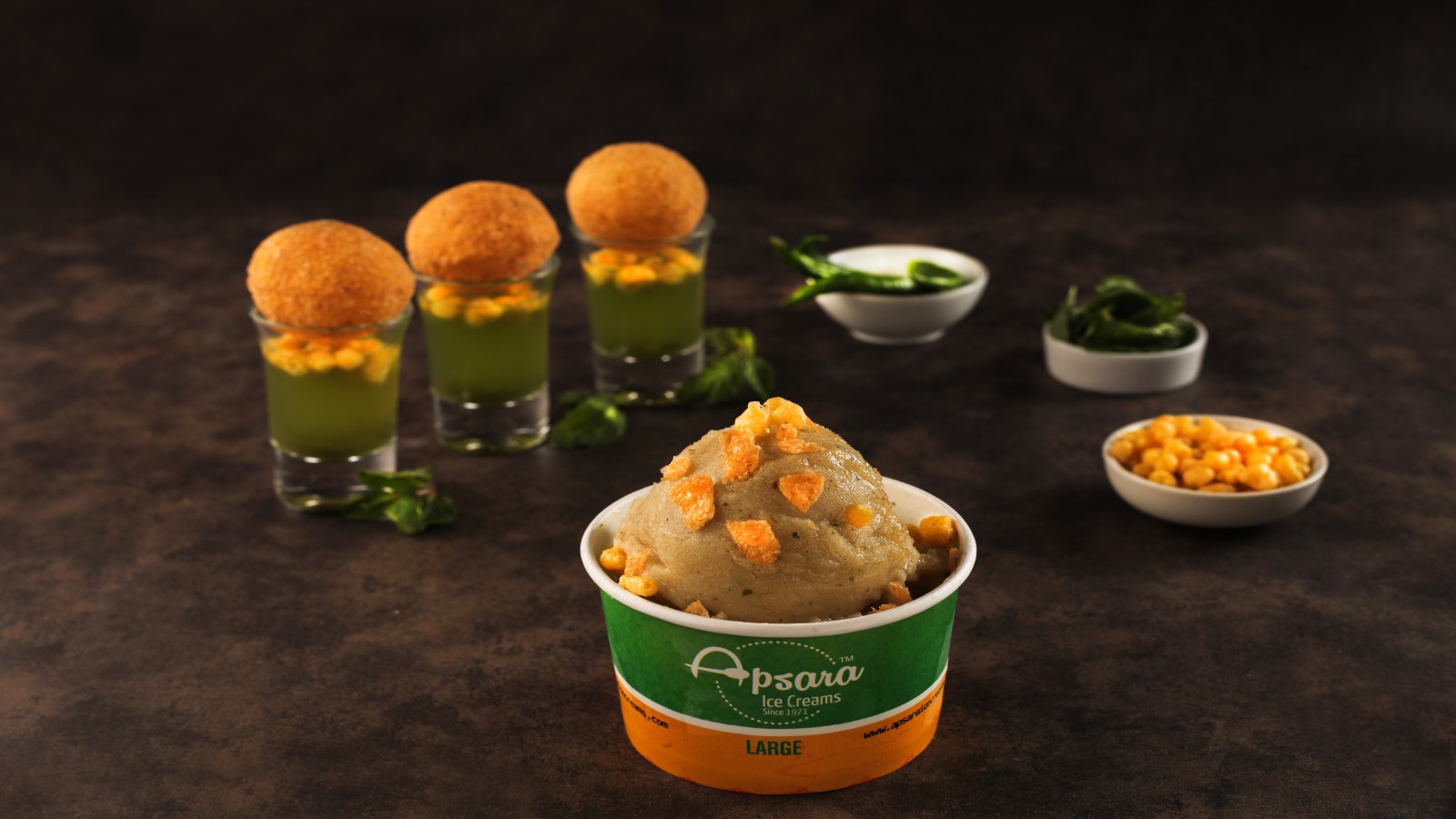 Premium ice cream and sorbets with a desi quirk, that's what best describes the sinful treats at Apsara Ice Cream. Serving Mumbaikars since 1971, this ice cream shop has spread its footprint across four cities . You must try their guava glory and pani puri sorbet (which by the way can be eaten with a crispy puri) that are tempered with savoury and salty notes. Orange apricot, trippy tadgola and blueberry cheese are other delicious flavours you can't miss. 
4. Smiley Pops 
Popsicles get a gourmet treatment at Smiley Pops. Fresh fruits and a variety of chocolate, from ruby to dark, and are set in fun molds such as cupcake, chocolate bar and teddy bear head, which are then placed on a stick. Their fun flavours include desi flavours such as their pani puri gelato – Smiley Pops take on the popular Indian chaat – which is served in shot glasses with a topping of some boondi and crushed crispy puri.  
5. Naturals Ice Cream 
Natural's Ice Cream is another go-to ice cream brand that never fails to impress. The brand's USP is that it makes ice creams with dry fruits and local, seasonal fruits without any artificial flavours and preservatives. Mango, jamun, papaya-pineapple and custard apple are a few of the summer specials that can't be missed. What elevates the experience of these sinful indulgences are the chunks of fruit and dry fruit present in each of their ice creams.  
6. Taj Ice Cream 
Situated in the bylanes of the city's famous Mohammed Ali Road, this century-old ice cream shop boasts of 16 varieties of hand-churned ice creams including custard apple, mango, strawberry, litchi and guava. Their plus point is that, just like Apsara and Naturals, they rely on the basic ingredients of a good ice cream and do not use any softeners, colours, preservatives or additives. 
7. Noto Healthy Ice Cream 
Want an ice cream that you can binge on but not feel too guilty? Here's a delivery-only brand that creates low-calorie ice cream without compromising on taste or texture. Their menu boasts of six flavours – dark chocolate, coffee, vanilla, salted caramel, mango and spicy pink guava. According to the brand, their ice creams contain 75-95 calories per cup. 
8. Bina's Homemade Ice Cream 
A brand that relies purely on word of mouth publicity, Bina's Homemade Ice Cream is a well-known among ice cream lovers in south Mumbai. Started by homemaker Bina Doshi, the ice creams are made using 100% milk and not cream and come in offbeat flavours such as chai biskoot, popcorn, Thai red rubies and lemongrass. There are also the classics like nuts, chocolate and fruits.  
9. Bachelorr's  
The fast food stall cum ice cream parlour, Bachelorr's is a go-to for old school sundaes, milkshakes, juices and experimental ice creams, served with a fabulous view of Chowpatty. Thandai, orange-ginger, jamun-litchi are a few of their innovative offerings but we swear by their green chilli ice cream. Warning: you may not see the green chilli in your cup but its piquancy hits you the minute you eat a teaspoon of the ice cream. 
10. Sucres des Terres 
Sucres des Terres, a Worli-based artisanal brand, creates bespoke ice cream flavours with the choicest locally sourced, organic ingredients. Look out for their rotating menu that includes innovate picks like rosemary and lime, espresso croquant, strawberry and banoffee. Their version of the classic chocolate and vanilla ice creams are made using beans from Tamil Nadu and Kerala, respectively. 
Photo: Shutterstock