Very few chefs in the world can talk as eloquently and passionately about art as Daniel Humm. While many chefs are inspired by cookbooks and ingredients, Humm is obsessed with Picasso's Bulls, the calming, meditative grids of Agnes Martin, and Lucio Fontana's blank canvases slashed with a knife. "When I was 10 years old, my parents took me to a museum. I was so moved by the paintings that I started crying. I didn't know if I was happy or sad. From that moment on I knew that art was something that really touched me," says the 46-year old, who is the head chef and owner of Eleven Madison Park (EMP) a fine dining restaurant with four stars from New York Times and three stars from Michelin Guide. But that's Daniel Humm for you– unconventional and daring. Recently, he was in India for a collaboration with another pathbreaking restaurant, Masque.   
The man behind the apron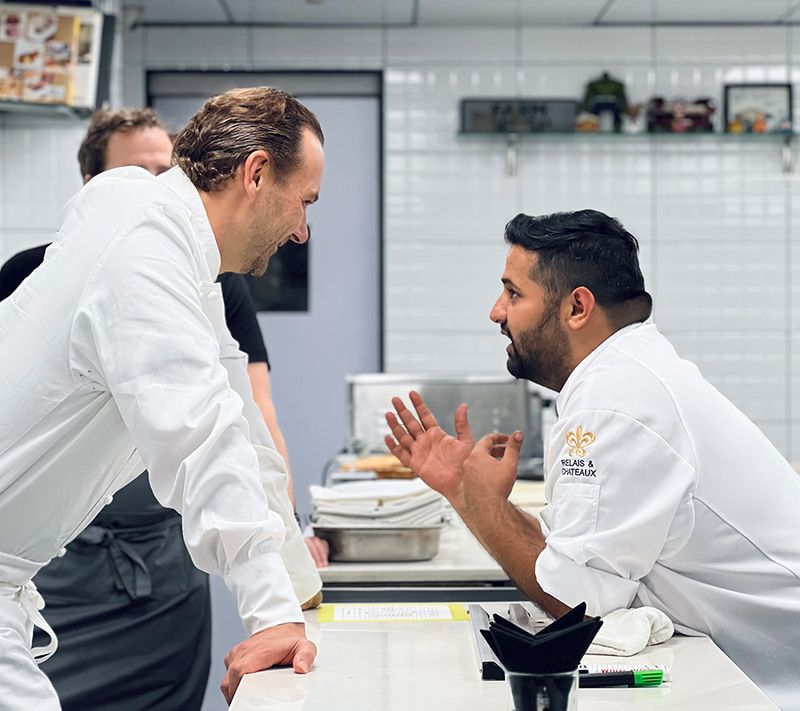 A Swiss national, Humm dropped out of school when he was 14 and trained for years to be a competitive cyclist in Switzerland. But an accident that broke his ribs and arms, and punctured his lungs made him give up on his dream. Since cooking was always a passion, Humm dived headlong into it and made food his new 'sport.' He first went to San Francisco's Taj Campton Place, where he was nominated twice by the James Beard Foundation as Rising Star Chef of the Year. Critical acclaim followed Humm to EMP in New York where he bagged three Michelin stars.
When the pandemic hit, Humm turned his restaurant into a soup kitchen and dished out hundreds of free meals. In the process he lost money and came perilously close to bankruptcy. But when the pandemic eased, Humm did something even more incredible (and daring!). He turned EMP into a plant-based restaurant. Humm's exquisite honey glazed duck, poached lobster, and iconic roast chicken were replaced with king oyster mushrooms, plant-based bread, cauliflower couscous, and artichoke with fried green garlic, amongst other unique dishes. Not only did Humm continue to wow his diners, but he also went on to retain the three stars. He's the only three-star Michelin chef ever to go plant based. "The ocean and the fishes are full of plastic. It is making us sick. The meat industry contributes the most to global warming. Every week there is a new natural disaster that we are not even prepared to deal with. What's on your plate is the single most powerful thing you can do towards climate change," says Humm, who is also the author of Eleven Madison Park: The Next Chapter.
Food with a side of art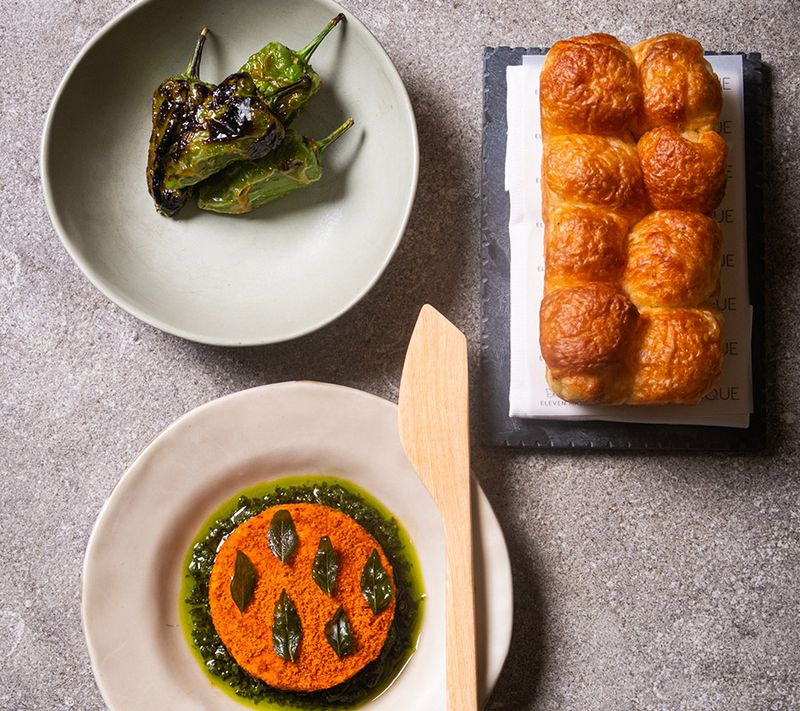 A professional cyclist and avid marathoner, Humm is known for his relentlessly delicious cooking rooted in simplicity and minimalism. Humm uses advanced technique and imagination, but never by sacrificing flavour or soul. Take the tonburi course he served at Masque. It featured a creamy avocado filled with a fava bean puree and salad, which was then topped with tonburi—the seed of the summer Japanese cypress tree—and finished with an aromatic mint sauce. Yet another dish that showcases this minimalist aesthetic is celery root en vessie. It featured celery root cooked inside a pig's bladder and served with a black truffle glaze. This seemingly simple dish is the most important for Humm. "It was my dream to cook food with two ingredients, but for the longest time I was never able to do it. It took me 25 years to cook this simple dish," says the chef whose comfort food is a bowl of pasta with a simple tomato sauce.
Humm has a checklist for all his dishes that go on the menu. "Number one: the dish has to be delicious. Delicious is instant; if you have to think about it, then it's not delicious. The second rule is aesthetics. It has to be beautiful. We are looking for effortless beauty. It shouldn't look like it took 20 chefs with tweezers to create that dish. The third point is creativity. There has to be an element of surprise, a new technique, a new flavour combination or something. The last one is intention. There has to be a reason for the dish to exist. It needs to make sense."
Art is not restricted to his dishes but also transcends to his restaurant EMP, which displays Michael Langlois's space mural on the ceiling, Rashid Johnson's 'Bruise Paintings' in the bar and Joe Bradley's 'Untiled' in the dining room. One of Jeppe Hein's interactive sculptures is also parked at the premises. "Like being a musician, cooking too is an art form. Most of my friends are artists, and we are doing the same thing—just using a different medium," he says. Humm was also the first chef in the fine dining space to invite guests into his kitchen and serve them a course there. "Our restaurant can be quite intimidating as it's in an unbelievingly grand space. So it's our way to make people feel welcome and comfortable. It's like inviting people to your home," says Humm.
Taking India to the world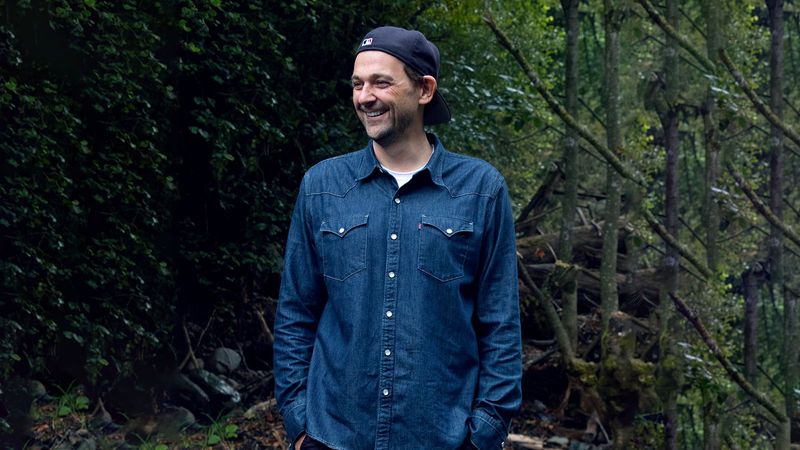 Humm first came to India in 2018 and made it a point to eat Indian food for all the 15 days that he was in the country. So inspired was he that he went on to put dosa, tomato rasam, and kulfi on the menu at EMP. On this recent trip he explored the markets and kandurs of Srinagar, sipping on copious amounts of noon chai. "India has always had a massive influence on my cooking. And it's even bigger now since the plant-based cooking here is hundreds of years old."
Edited excerpts:
1. What's it like to be the number one chef in the world?
I get to create memories. Every single night people in the restaurant will have an experience that they will never forget. That's really cool. It's such a noble thing.  
2. What's the best part about cooking? 
In architecture it could take you 10 years to build something. Sometimes it never gets built. In cooking we can go the market in the morning and a few hours later have something that we can share and bring people together. How beautiful and magical that is!
3. Is cooking with vegetables more challenging?
Anyone can buy expensive ingredients and cook with it. But the magic of cooking is transforming an ordinary ingredient to its highest form. That's why for me cooking with vegetables has been much more exciting. It's all about the magic of cooking.
4. You are also a cyclist and a marathoner. What does that bring to your craft? 
Both are endurance sports. We all need our sources for recharging. Some people read a lot. Running has been my way of recharging.
5. What's the most important ingredient in cooking?
Time. The effort, the research, the creation, the experience of it and taking the time to relish it. To me time is the most luxurious ingredient we have.
6. What's the one thing you have zero tolerance for?
Guests who are rude to our staff. We don't care who it is. Not too long ago we kicked out one of the biggest agents in Hollywood who was rude to the team.
7. Lastly, what is the role of fine dining in society today?
Fine dining is the celebration of the craft of cooking, service, and creativity. Maybe some of the fine dining restaurants got too pretentious or stuffy. But to say that fine dining is dying is silly. It's like saying creating beautiful magical moments is dead. Performances, ballets, and theatre are dead. That will never happen. Like in fashion, the things you see on the runway end up being at H&M and Zara—fine dining restaurants also fill that role. Some of the most innovative techniques that Ferran Adrià created years ago are now spotted at a corner place. The art of food also trickles down.
---
Photo: Masque