With Ma Durga's arrival, comes a festivity like no other in West Bengal and adjoining regions where celebrations are full of pomp and fervour. Food, taking precedence in homes and streets, is invariably one of the best ways to experience this annual festival. With UNESCO awarding it's Intangible Cultural Heritage' tag to the Durga Puja, know what to eat and where, as recommended by culinary experts from Kolkata.
Celebrated Chef Shaun Kenworthy has an unmatched adoration for Kolkata. "Food and particularly 'Nostalgia' is one of those very personal words that I'm sure food wars have been fought over through time and millennia", says Kenworthy. The Yorkshire bred, who has helped develop menus at hotels such as The Park, The Kenilworth and Hyatt Regency, believes a trip to Kolkata is incomplete without a visit to Kidderpore for cheap electronics and the finest kakori kebab from India restaurant.
Chef Shaun Kenworthy's favourite street foods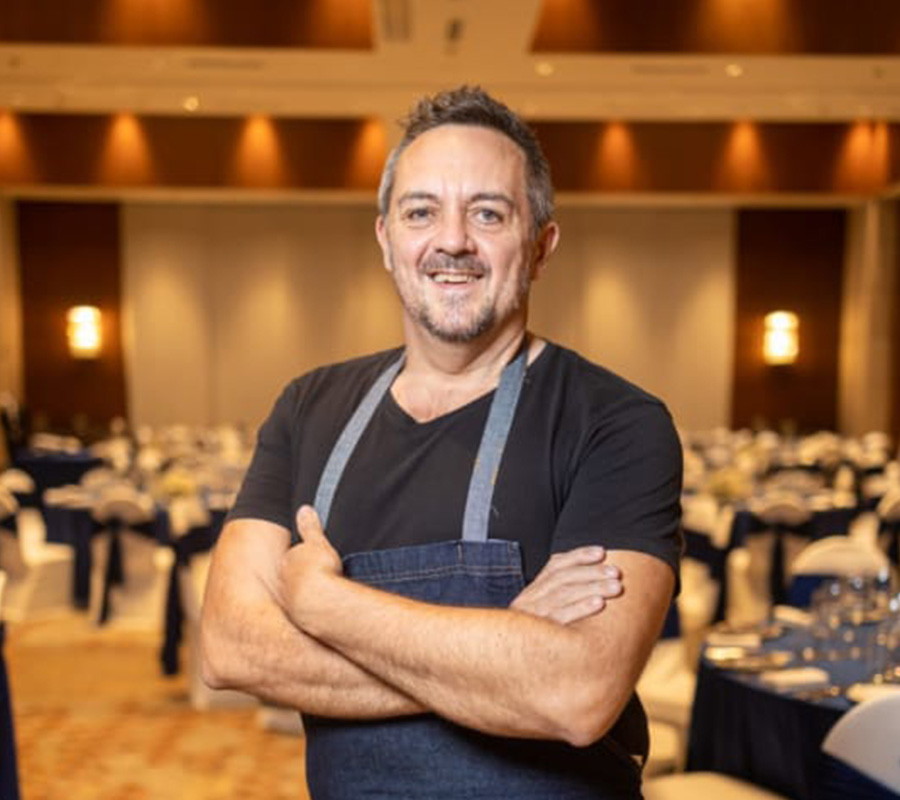 Kolkata is filled with nostalgia, from the anda aloo roll of Nizam's behind New Market to a plate of aloo tikki and chilla outside of Vardaan market on Park Street.
Over and above the curated Durga Puja special menus across the city's noteworthy eateries, this time is also made special with an array of items casually sold on street side stalls around each famous pandal. The variety of items could be easily confusing to a non-Bengali.
"Food has no religious or social boundary in Kolkata as it enjoys its phuchka as much as it enjoys its Mughlai paratha and its fish kobiraji", elaborates city-based Chef Subhadeep Roy of Warehouse Cafe. Kolkata is a melting pot of cultures, food items evolved right here from the colonial influence, other Indian regions and certain elements introduced by people who came from faraway lands. "Kolkata welcomed them all. Durga Pujo captures the spirit of the city as here you can always link between food, memories and nostalgia", added Roy.
Chef Subhadeep Roy Durga Puja Picks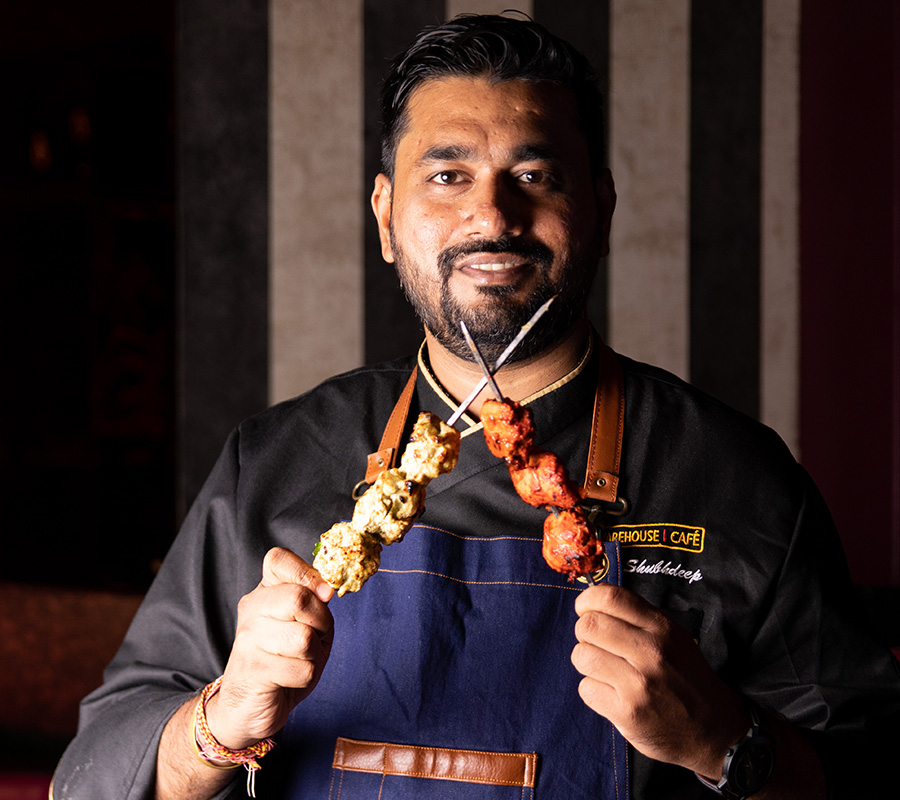 While people will definitely eat from their 'para' (neighborhood) phuchkawala, crowds still pour in at traditional and historic eateries like Radhu-babu's dokan (shop) or Anadi Cabin and Mitra Cafe. "My personal favourite is a full fish kobiraji at Mitra Cafe", concluded Roy.
One can find an equally appetising fish kobiraji cutlet at Tafttoon in Mumbai, where the fluffy layering of egg around the cutlet is so fine, you may not want to break it after all.
Not everything is non-vegetarian. Apart from the fish cutlets and chicken rolls, there is a plethora of fried croquettes in Bengali style called 'chops' that will delight a vegetarian, alongside the famous ghugni. Varieties include a traditional beetroot-carrot-potato mishmash and other vegetables such as banana florets, raw banana and simple potato only, not to forget the quintessential beguni (batter fried brinjal strips) that are served at community lunches at every pandal. One may notice the word 'Sarbojonin' written on the pandals, which signifies the sense of commonality, that a pujo is for everyone!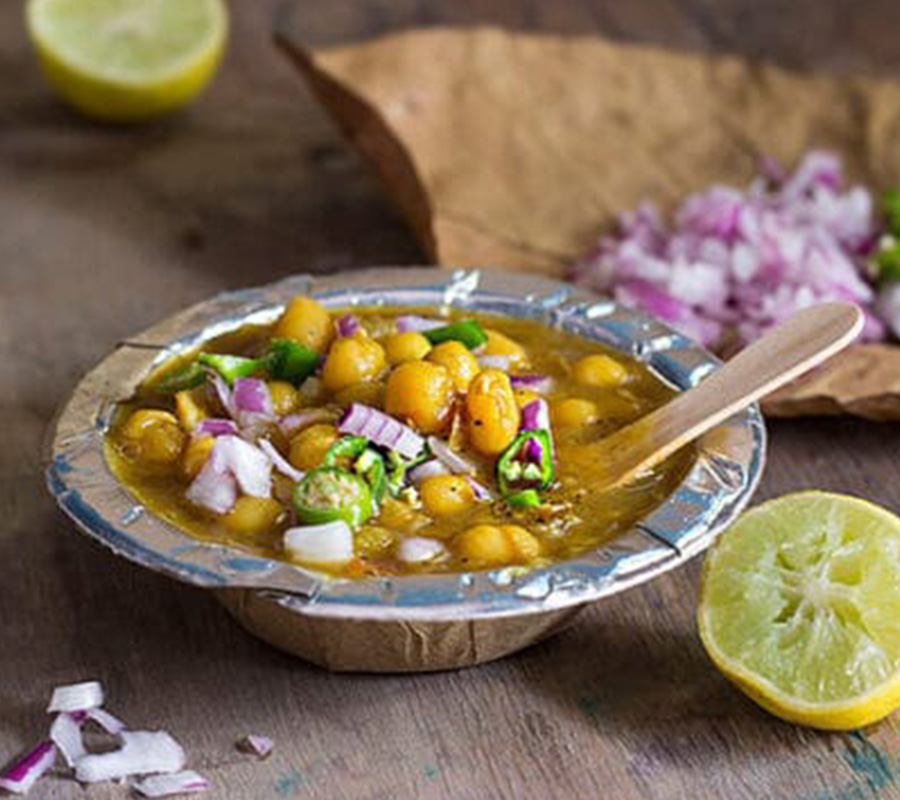 Uttam Dey, chef de cuisine at Hyatt Centric MG Road Bangalore has duties to perform at this busy time. Niramish mangsho (vegetarian meat) and Radhaballavi with Narkeli cholar dal are two dishes that his Durga pujo is incomplete without.
You may be wondering how meat can be vegetarian? Well, Bengalis are well known for their love of meat and in context, the goat sacrificed to Goddess Durga on the ninth day is cooked for her 'bhog', without any onion or garlic. So here is a goat meat curry, considered 'niramish' by the Bengalis.
Chef Uttam Dey Picks
The best meals during puja in Kolkata are at Aheli at The Peerless Inn, Sonar Tori in Salt Lake and 6 Ballygunge Place. In Bengaluru, my preference would be Bhojohori Manna in Koramangala or Oh Calcutta on Church Street.
For food writer and photographer Anindya Sundar Basu, Mughlai parota tops the list for a wholesome outing meal during the festival. "Simple reason for it being the favourite is because the making is so artful, where a heavy meat filling is rolled into the parota and then fried and served with a simple potato curry makes it a delicious meal", says Basu.
Anindya Sundar Basu's Picks
Anadi Cabin used to be the 'holy joint' for an authentic Mughlai parota but lately they have been on and off operationally. Mitra Cafe is another great place to try in South Kolkata. Other than that even roadside stalls serve good quality Mughlai parota in most places so one could try that.
Subhankar Dhar, owner and chef of Esplanade, a renowned Bengali restaurant in Bengaluru recommends a Chinatown visit as a must-do during Durga Puja in Kolkata. Give the streetside chowmein a try if you are willing to taste the grease, but otherwise, seek authentic Chinese eateries strewn across the city.
Subhankar Dhar's Picks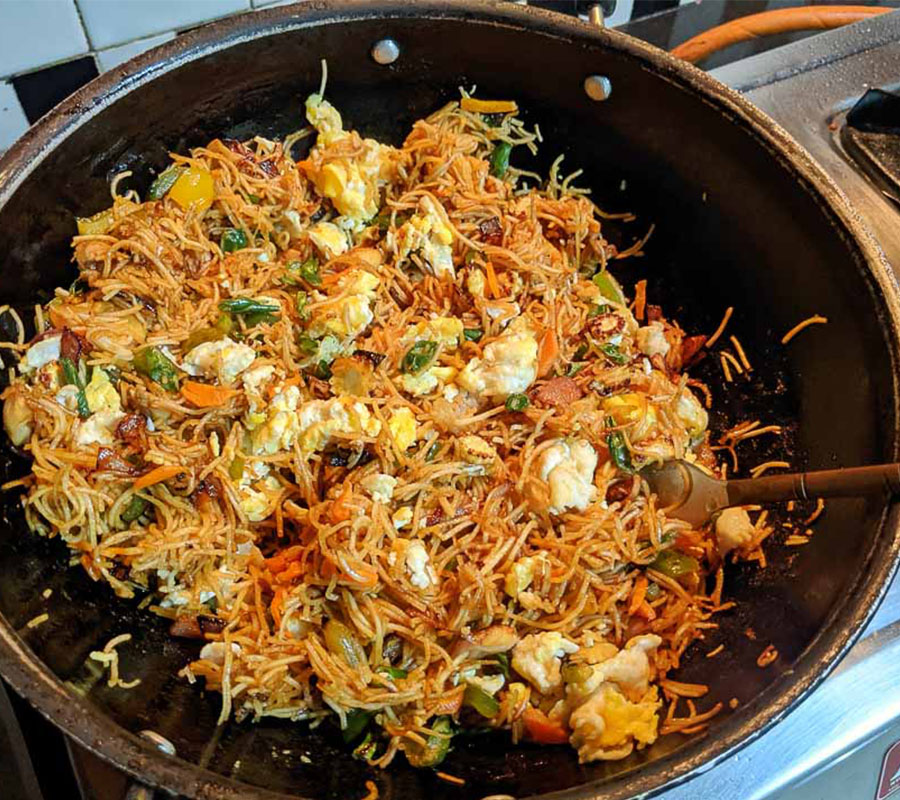 The quintessential chilli chicken, mixed fried rice and Cantonese gravy chowmein from any of the many eateries in Chinatown.
Durga Puja is incomplete without biryani, and in biryani, mutton always scores high according to food writer Poorna Banerjee. "Biryani enthusiasts flock all over the city for the aromatic goodness, loaded with big pieces of potatoes and meat at Aminia to Kareem's, Dada Boudi to Arsalan", Banerjee informs. Apart from the usual suspects, a good biryani can be had at House of Royals or even Hatari.
Those who have witnessed the frolic in Delhi's CR Park would be upset if we missed mentioning the ever-present ghugni. Made with dried white peas and cooked with either mutton keema or lightly fried pieces of coconut, the ghugni is a quick bite, served in little bowls made of palm leaves. It works like a chaat, except, the originality of the taste is not compromised with toppings. The only thing you should add to a bowl of steaming hot ghugni is chopped onions and chillies and perhaps a dash of tamarind paste. Personally, I feel that if there was food heaven, ghugni would surely find a place there.
Lastly, a word about the many sweets that unmistakably accompany a hearty meal. From the delectable jalbhora at Balaram Mullick & Radhadraman Mullick to the delicious lobongo lotika from Bhim Chandra Nag, Kolkata's sweet shops gear up with an array of traditional and innovative items for the season. If you are new to Bengali sweets, try the classics like rosogulla, pantua or chhanar jilipi. For the more adventurous sweet lovers, there are baked varieties of sondesh, rosogulla and even mishti doi (sweet curd) as well as flavoured sweets in strawberry, rose, chocolate and many others.
Photo: Hatari