The desire for butter chicken is as unpredictable as life itself. It can strike at any moment, whether you're feeling full or not. There's no rational explanation for this craving other than that the rich and creamy gravy, paired with perfectly seasoned and tender chicken, creates a symphony of flavours that fills your mouth and leaves you wanting more.
For those lucky enough to find themselves in Mumbai, a food lover's paradise, we've curated a list of places to indulge in the best butter chicken in Mumbai without breaking the bank. But beware, don't read this article on an empty stomach, or you might start drooling halfway through! Fear not, as we've covered you with the top five spots offering the best butter chicken in Mumbai.
Get ready to embark on a mouthwatering journey as we unveil the hidden gems of Mumbai's butter chicken scene. From humble to upscale restaurants, we've scoured the city to find the most famous butter chicken in Mumbai, which is also affordable for your ultimate butter chicken fix. So, grab your napkins and let's dig in!
Top five places to get the best butter chicken in Mumbai
1. Copper Chimney
Are you searching for the best butter chicken in Mumbai that perfectly balances creamy and sweet? Look no further than Copper Chimney. This iconic establishment is renowned for its tandoori chicken drenched in a delectable blend of tomato and butter gravy, delicately spiced to perfection. The mere thought of indulging in this heavenly butter chicken is enough to set your taste buds alight. The tender and succulent chicken, perfectly marinated and cooked in the traditional tandoor, is elevated when smothered in Copper Chimney's signature sauce. Why settle for a mediocre dinner when you can satisfy your cravings with a dish that has stood the test of time? Head to Copper Chimney and experience the ultimate murg makhani feast that will leave you satisfied and content. Trust us, indulging in one of the best chicken in Mumbai will surely gratify your taste buds.
Location: Multiple outlets across Mumbai
Timing: 12:00 PM - 3:00 PM, 07:00 PM - 11:00 PM
Approximate cost of Murg Makhani (Butter Chicken): INR 445 and INR 645
2. Shalimar Restaurant
For non-vegetarian foodies, Mohammad Ali Road is a mecca of mouthwatering delicacies. If you're from Delhi and craving the famous Dilliwala butter chicken, then Shalimar Restaurant on Mohammad Ali Road is a must-visit destination. The gravy is crafted carefully and boasts complex flavours that will tantalise your taste buds. The chicken is incredibly tender and juicy, a testament to its freshness. The area's traditional ambience only adds to this iconic restaurant's allure.
What makes Shalimar's butter chicken one of the best butter chicken in Mumbai is its unique flavour profile, which is not overly sweet. Instead, it's all about the fresh cream's richness and the chicken's juiciness. Pair it with some butter garlic naan, and you're in for a treat that will leave you feeling satisfied and content. Don't miss out on the chance to experience this culinary gem in the heart of Mumbai.
Location: Shalimar Restaurant is located in Shalimar Corner, Mohammed Ali Rd, Bhendi Bazaar, Umerkhadi, Mumbai 
Timing: 8:00 AM - 03:00 PM
Approximate cost of Butter Chicken: INR 380
3. Goila Butter Chicken
Saransh Goila, a renowned chef and TV personality, has opened five restaurants across the city, each offering a delectable culinary experience. Indulge in their signature Butter Chicken Thali with a generous helping of Goila's famous butter chicken, dal, rice, rumali roti, and salad.
For those who have already savoured one of their best butter chicken in Mumbai, why not try something different this time? Go for the butter chicken khichdi, and you'll be pleasantly surprised by the explosion of flavours in every bite. Trust us; it's a culinary adventure you won't want to miss. With such mouthwatering options available, you'll keep coming back for more.
Location: Andheri, Bandra, Powai, Lower Parel and Chembur 
Timings: 11:00 AM - 11:00 PM
Approximate cost of Goila Butter Chicken: INR 370
4. Zaffran
Zaffran has a reputation for serving mouth-watering biryani, but their butter chicken is a hidden gem that shouldn't be missed. Step inside any of their outlets, and you'll feel like royalty with dome-like booths, chandeliers, and regal chairs. The butter chicken is a must-try; although it's not spicy, its flavours are outstanding. If you're a spice lover, request extra spices to take it up a notch. After savouring one of the best chicken in Mumbai, don't forget to indulge in their tempting desserts like phirni or tukda-e-shahi, depending on your sweet tooth. Zaffran is a fantastic place to visit with family or friends and enjoy an unforgettable dining experience.
Location: Lower Parel, Malad, Andheri, Kandivali
Timings: 11:00 AM - 03:30 PM, 07:00 PM - 11:00 PM
Approximate cost of Butter Chicken: INR 579
5. Pali Bhavan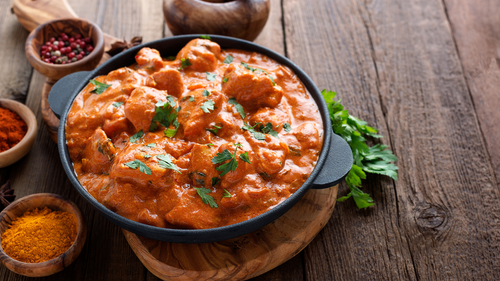 Pali Bhavan may catch your eye with its stunning interiors, but the real magic lies in its butter chicken. Every bite is a heavenly experience, with the most succulent and tender pieces of chicken smothered in a rich and creamy gravy that will leave your taste buds singing. Whether you pair it with their delectable garlic cheese naan or simple steamed rice, the result is equally satisfying. The famous butter chicken in Mumbai is simply irresistible, and you will find yourself coming back for more. Don't miss out on indulging in this delicacy at Pali Bhavan.
Location: 10- Pali Mala Road, Adarsh Nagar, Bandra (W)
Timings: 11:00 AM - 03:30 PM, 06:00 PM - 01:30 AM
Approximate cost of Butter Chicken: INR 675
So, if you're a butter chicken lover in Mumbai, these five restaurants are the places that offer the best butter chicken in Mumbai. Each restaurant offers a varied taste of butter chicken ranging from spicy to mild to the sweeter side. So, take your time and explore them all to decide which makes you return for more. From Copper Chimney's sweet and creamy ratio to Shalimar's tender and fresh chicken, Goila's flavourful Butter Chicken Thali, Zaffran's mild and regal affair, to Pali Bhavan's mouthwatering butter chicken, these top butter chicken places in Mumbai offer an exceptional culinary experience.
And while we are at it, the best biryani In Mumbai is where you can discover all the essential details regarding the places that serve delicious biryani in Mumbai. To complement your lovely evenings in Mumbai, you can find out about the best evening snacks in Mumbai and know where to get the best thali In Mumbai. If you prefer staying at home and cooking restaurant-style non-veg cuisine, you can explore the best non-vegetarian dinner recipes here.
---
Photo: Shutterstock