All my life, I have resolutely cultivated, what one could easily label, my personal brand of 'culinary anarchy'. Being callously nonconformist when it comes to my food choices, is the only way I'd have it. Mutton biryani for breakfast? No problem! Gelato in negative degree Celsius weather. Absolutely! 
No big surprise then, that one of my greatest food affectations is having my favourite meal aka. breakfast at any odd time of the day. Luckily for me, my home city of Mumbai, indulges me—and scores of others like me out there—with my all-day breakfast predilection via some superb renditions.
This, with severalcafés and restaurants going all out with their often elaborate, all-day breakfast menus. Places where spicy akuri-pav and fluffy pancakes jostle for space alongside hipster matcha smoothie bowls and exotic Turkish eggs. 
Here is the top 10 restaurants serving all-day breakfast in Mumbai:
1. The Bagel Shop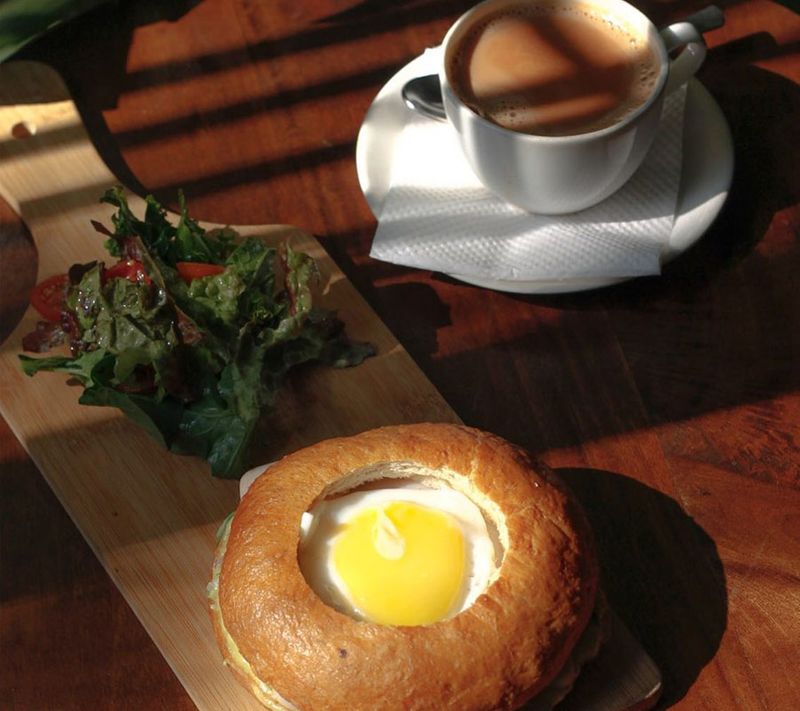 Finding itself at the top of this list is Pali Hill, Bandra's legendary The Bagel Shop. An eatery that has many noteworthy 'firsts' to its credit: The first place to introduce New York style, boiled-then-baked, sesame seeds-topped bagel with myriad fillings such as cream cheese and smoked salmon. It was also one of the first places to declare itself pet-friendly. And yes, one of the earliest places to offer all-day breakfast. This, with a range of offerings that pivot around the axis of the café's flagship product—the bagel! Here, the bagel replaces an English muffin in an eggs Benedict. But if bread isn't your thing, The Bagel Shop also offers breakfast specials like the oatmeal banana pancakes and the matcha smoothie bowl. The latter is available in both regular and vegan iterations, along with a full beverage menu populated with plenty of tea, coffee and fresh juice options.
Address: 30, Pali Mala Rd, Pali Hill, Mumbai - 400050
Contact: 8433676947
2. SOCIAL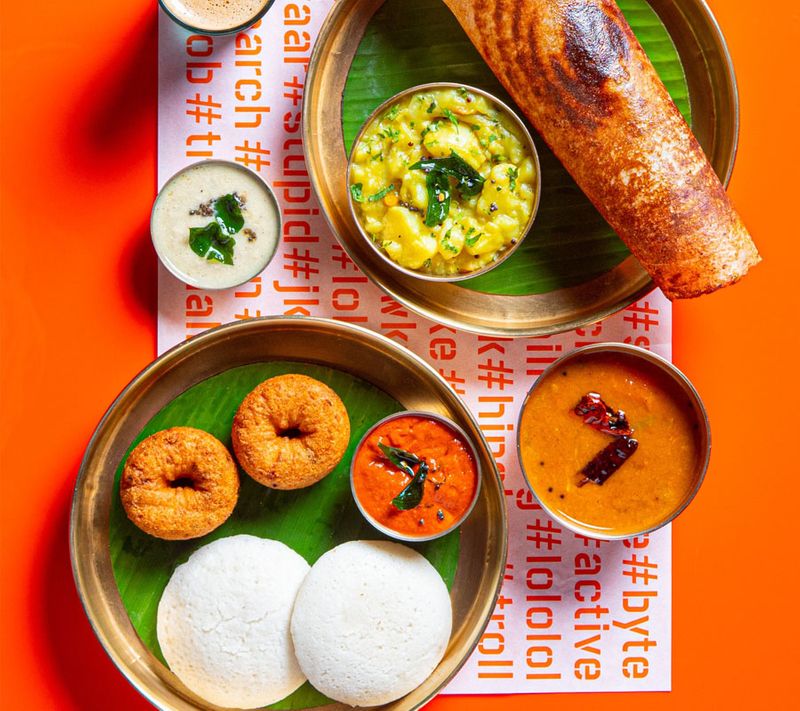 Another one of the earliest places in the city to champion this trend, the SOCIAL chain of all-day cafés scattered across the city has a plethora of all-day breakfast options to indulge in. WhileRiyaaz's breakfast of champions features haleem, poori, halwa and boiled eggs, Kiran's Big Apple breakfast comprises two eggs to order, blueberry pancakes, bacon, home fries, toast with butter, and preserves, Oreo cookies and a choice of tea or coffee. But if a typical South Indian breakfast is what feeds your soul, then the Thalaviabreakfast with dosa, aloo bhaji, medu wada, idli, sambhar, and assorted chutneys is sure to hit the spot.
Address: Multiple outlets in Mumbai
3. Indigo Deli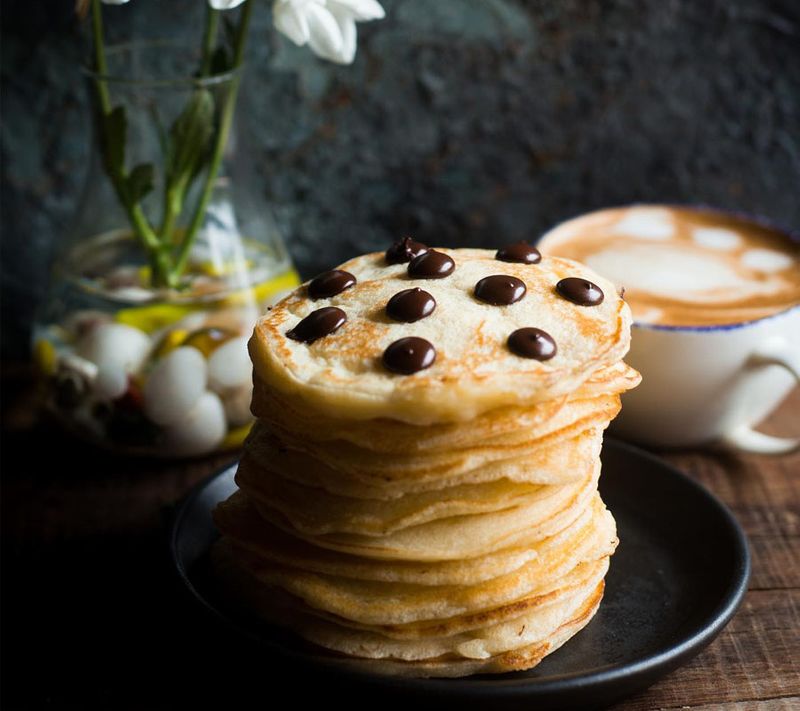 As a brand, Indigo has had its fair share of ups and downs, mergers and acquisitions. But its legendary all-day breakfasts at its six city locations—from Colaba to Kurla—have always stayed delicious, wholesome and consistent. Dishes such as their famous Arabic baked shakshuka and eggs Benedict have made a firm place for themselves on the menu. The latter being there since 2005, they claim! While new entrants on the menus such as the vegan duo of finger millet waffles and the chia seed-almond milk muesli bring in the hipster-chic crowd.
Address: Multiple outlets in Mumbai
4. Monèr Bistro & Dessert Bar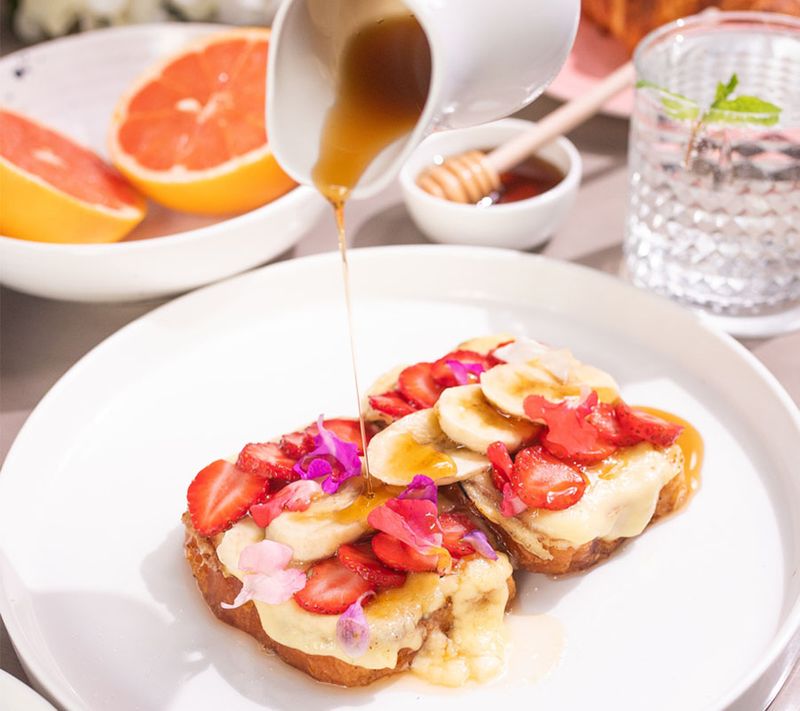 Though undoubtedly more famous for its delectable dessert confections, Bandra's Monèr puts on an equally spectacular all-day breakfast feast as well. This takes the form of indulgences like a crème brûlée French toast, the ham-cheese-egg grilled croque madame sandwich and the fragrant truffle scrambled eggs on toast. These besides the regular breakfast suspects like waffles, pancakes and avocado/mushroom/figs/ricotta on toast. There also is an entire range of artisanal teas on offer, particularly the special Himalayan blend that goes down smoothly.
Address: Darvesh Royale, Perry Cross Rd, Bandra West, Mumbai - 400050
Contact: 7770014123
5. The Nutcracker, Kala Ghoda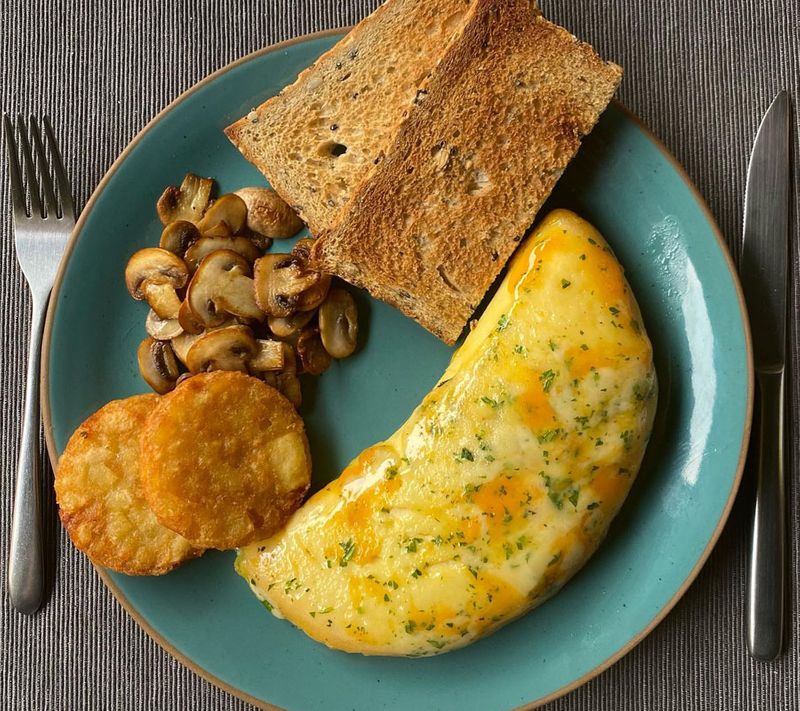 Though one may find oneself jostling for elbow room at this tiny Kala Ghodaovo-vegetarian café, we still prefer the original flagship branch of The Nutcracker, despite it having larger outposts at Lower Parel and Bandra. This charming, self-confessed breakfast eatery has a distinct boho vibe along with a vast all-day breakfast menu with plenty of tea, coffee and smoothie options thrown into the fray. The food menu spans everything from akuri with pao and eggs Kejriwal to Lebanese green eggs and eggs Florentine. For something sweet, dig into their breakfast parfait or the fluffy, eggless apricot pancakes. And don't forget to pack some of their sinfully good, seven-layered cookies to take back home later!
Address: Dr, VB Gandhi Marg, Kala Ghoda, Fort, Mumbai - 400023
Contact: 9321759393
6. Deli By The Blue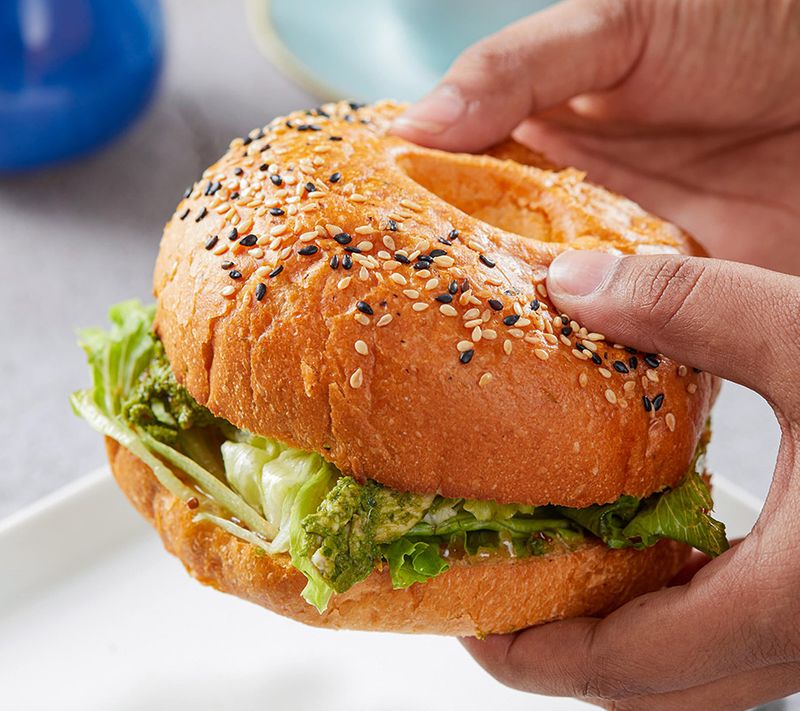 This offshoot of the popular Khar restaurant Out Of The Blue—and housed in the same location—is a deli that focuses primarily on featuring organic, local and sustainable products. The all-day breakfast menu here is peppered with typical breakfast pastries like Danishes, bagels, cinnamon rolls, brioches and of course, a range of sweet and savoury croissants, all washed down with hot or cold, organic and regular teas and coffees. Deli By The Blue also has on its menu breakfast quiches and the rare-to-find in Mumbai croissant-muffin hybrid of the cruffin. Of which, we're in pure lust with the passion fruit and lime iteration.
Address: Le Sutra Hotel, 14 Union Park, Off Carter Road, Khar West, Mumbai-400052 
Contact: 9619099355
7. Woodside Inn, Andheri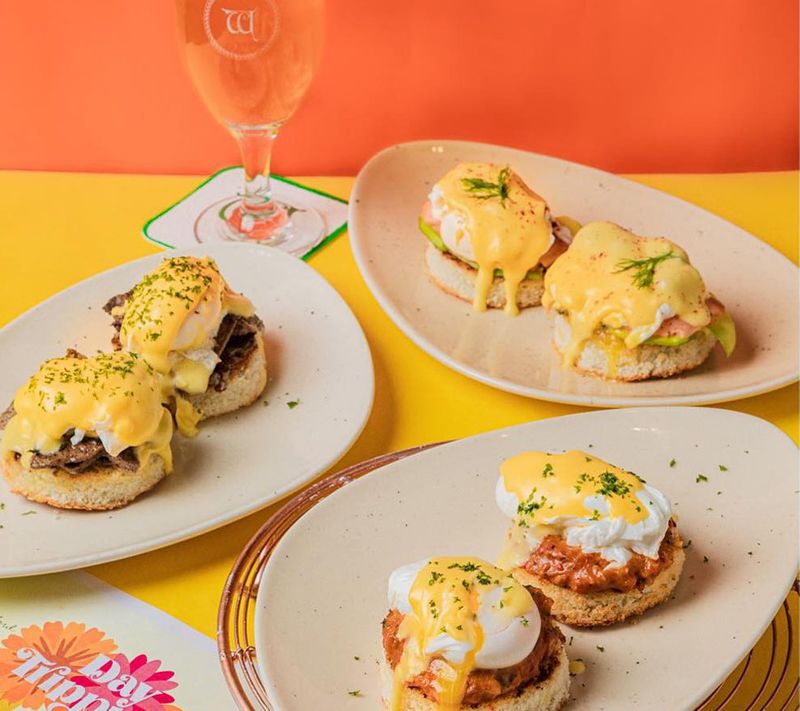 Billing itself as a fuss-free, neighbourhood gastropub, Woodside Inn with its three Mumbai outposts at Colaba, Bandra and Andheri is a spot that has somehow always been a regular haunt for the after-office hours crowd. We prefer the Andheri outpost for its al-fresco area. Famous for its reasonably priced drinks and comfort food, it's all-day breakfast menu too is a big hit. Besides the usual suspects like pancakes, waffles, and Spanish omelettes, there are also a few deliciously exotic all-day brekkie offering like a boozy Irish cream liqueur-laced tres leches French toast and the spicy Colombian scrambled eggs called huevos pericos on the menu. 
Address: Shop No.11 & 12, Link Plaza Commercial Complex, BhauTatobaToraskar Marg, Mhada Colony, Andheri West, Mumbai - 400102
Contact: 9619422492 (Andheri)
8. Plush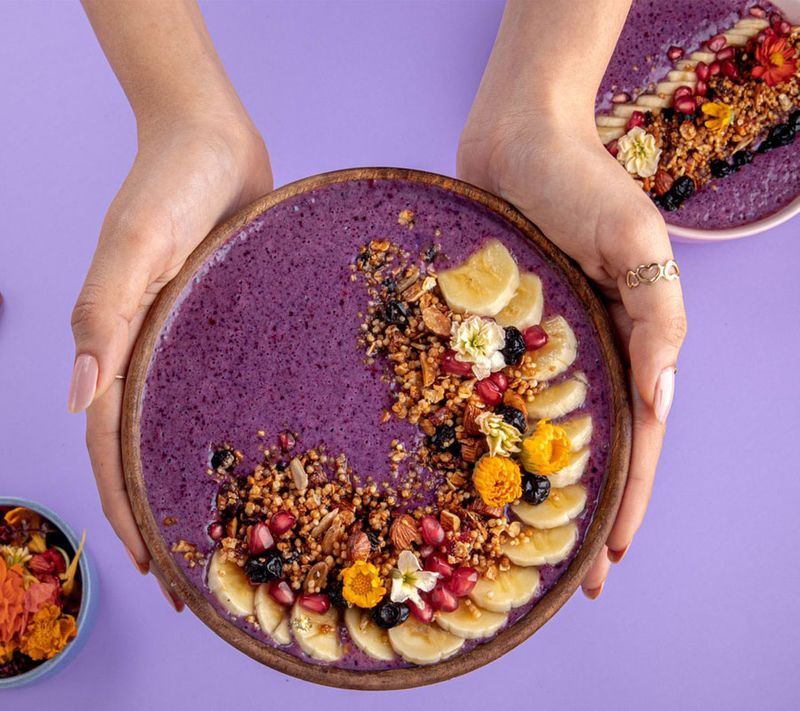 Nestled alongside a leafy Bandra lane, this 24-seater café that bears a distinct floral motif may be diminutive in size, but its all-day breakfast menu packs quite a punch. Besides the now ubiquitous eggs Benedict and pancakes, Plush is one of the few places where we've got to indulge in the egg benny's Middle Eastern cousin called Turkish Eggs. Enrobed in garlicky yoghurt two poached eggs are served with multigrain toast and drizzled with spiced butter. But that's not all. For those who can't visit the café, Plush does an interesting 'breakfast in bed' home delivery hamper with exotic offerings like smoked salmon among more usual breakfast fare like soft boiled eggs and in-house baked goodies like sesame bagels.
Address: Shop no 1, Simple Premises, 16th road, Opposite Canara Bank, near Mini Punjab, Bandra, Mumbai- 400050
Contact: 9167864398
9. Smoke House Deli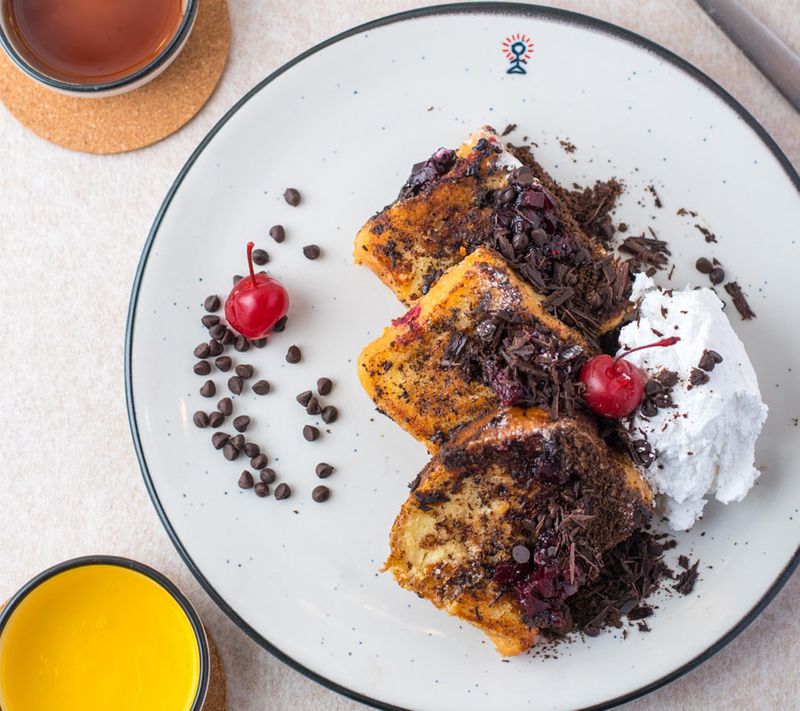 With its four-city branches at Colaba, Lower Parel, Pali Hill and BKC, Smoke House Deli claims to have got you covered with its legendary all-day breakfast menu that will satisfy all your cravings. Made from freshly sourced ingredients, one can choose from the Coorgi avocado and feta on toasted sourdough, mushroom and bora saul rice congee with soft boiled egg, soy scallions, salted nuts and spicy togarashi, their famous Smoke House French toasts, pancakes and waffles or a wide variety of egg preparations and porridge options. Do try the set full meal dishes like the keto power breakfast of single-origin coffees, healthy smoothies, shakes and loose-leaf teas and thank us later!
Address: Multiple outlets in Mumbai 
9. The Bandstand Pantry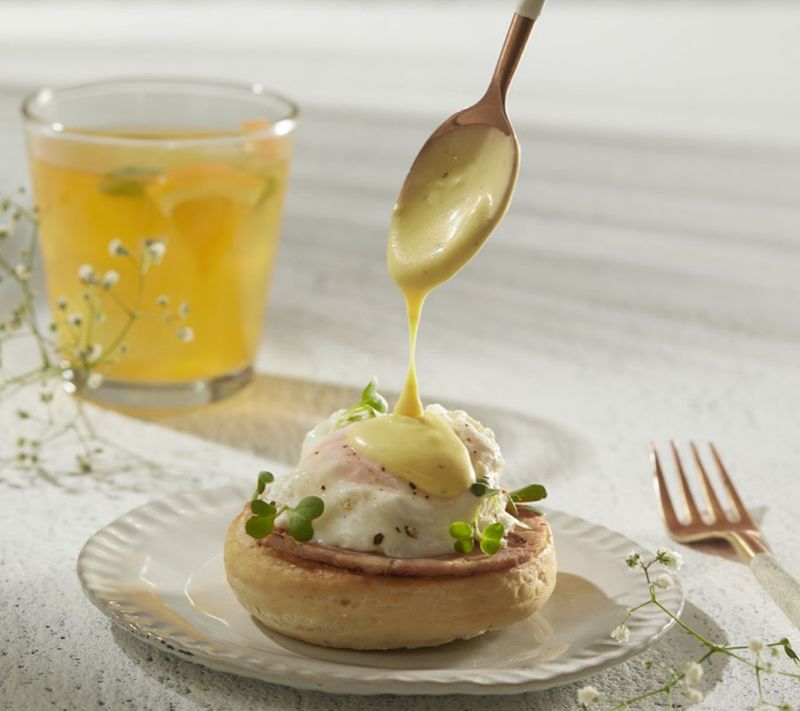 Offering an eclectic selection of amped-up, all-day breakfast classics, this new, partly al fresco, pet-friendly seaside caféat Bandra's iconic Bandstand is the perfect summer spot to sit down at with an iced latte or homemade lemon-mint iced tea in hand! As for the food, one can go down the desi route and go for a spicy tofu masala scramble or an avocado mash atop in-house crusty country sourdough toast. Prefer a smoothie bowl? The menu has plenty of options like the matcha bowl, or the forest berry bowl. If eggs are your thing, then The Bandstand Pantry has everything from an unusual veal benedict to shakshuka baked eggs on offer.
Address: Bandstand Apartments, Shop 1, BJ Road, next to Barista Cafe, Bandra West, Mumbai, Maharashtra 400050
Contact: 9920100084
---
Photo: Monèr Bistro and Dessert Bar; respective restaurants