When it pours outside, a piping hot bowl of soup is all you need to comfort your body and taste buds. But these are no ordinary soups. Fortified with immunity boosting ingredients and laced with seasonal vegetables these healthy and delicious soups will satisfy all your comfort food cravings.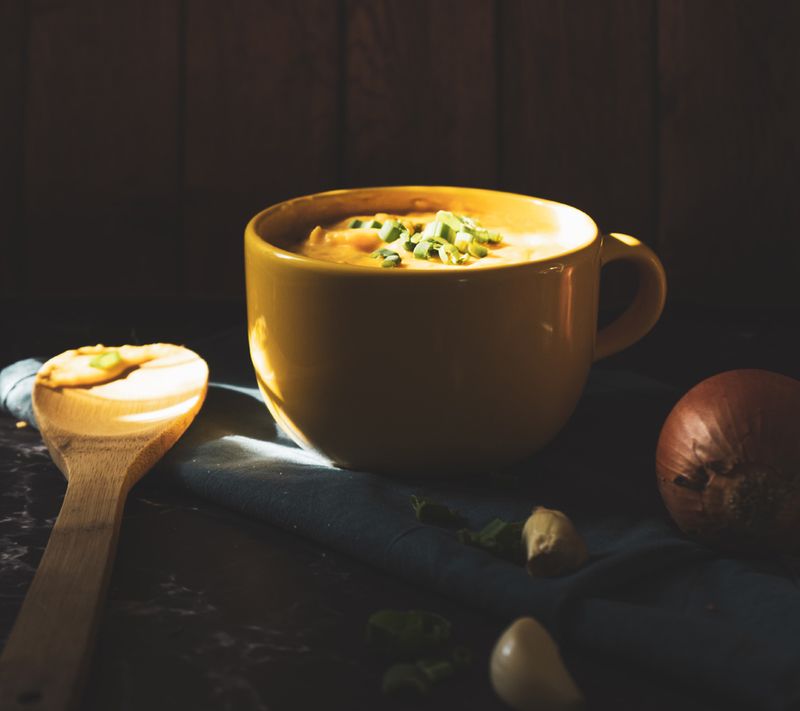 Warm up and kick back with these incredible veggie soups recommended by chefs and nutritionists.
1. Carrot peanut soup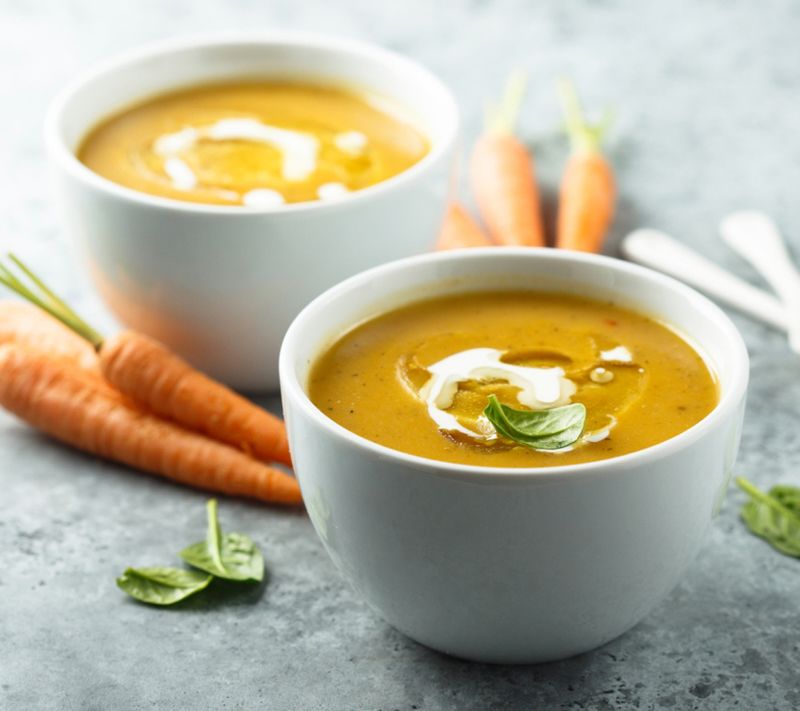 This wholesome, delicious and warming soup is nutrient rich, hearty and often makes the perfect recipe for a light dinner. "Carrots are synonymous with good health. The alpha and beta-carotenes present in carrots boost heart health and also keep your skin glowing. Peanuts are rich in protein, fat and various healthy nutrients. Together they make this soup a power packed treat," says Shriya Naheta Wadhwa.
Ingredients
1. 2-3 medium sized carrots
2. ¼ cup roasted peanuts 
3. 1 onion finely chopped
4. 1½ tomatoes
5. 5 garlic cloves chopped
6. 1 inch ginger
7. 1¼ tsp pepper powder
8. 2 tsp extra virgin olive oil
9. Salt to taste.
Instructions
Wash, peel and chop the carrots and set them aside.

Heat olive oil in a pan, add ginger and garlic and saute them.

Add onions and peanuts - pan-fry until onions turn translucent. Now add carrots and tomatoes and saute for a few minutes. 

Add 1 cup of water and stir. Cover the pan until carrots become tender. 

Switch off the flame and allow to cool for 10 minutes. 

Puree in a blender.

Add the puree to the same pan, and add salt, pepper powder and water. 

Adjust the consistency and reheat on a medium-low flame for 5 minutes.

Serve hot!
Recipe courtesy: Shriya Naheta Wadhwa, Health Coach and Founder, Zama Organics
2. Vegetable oats soup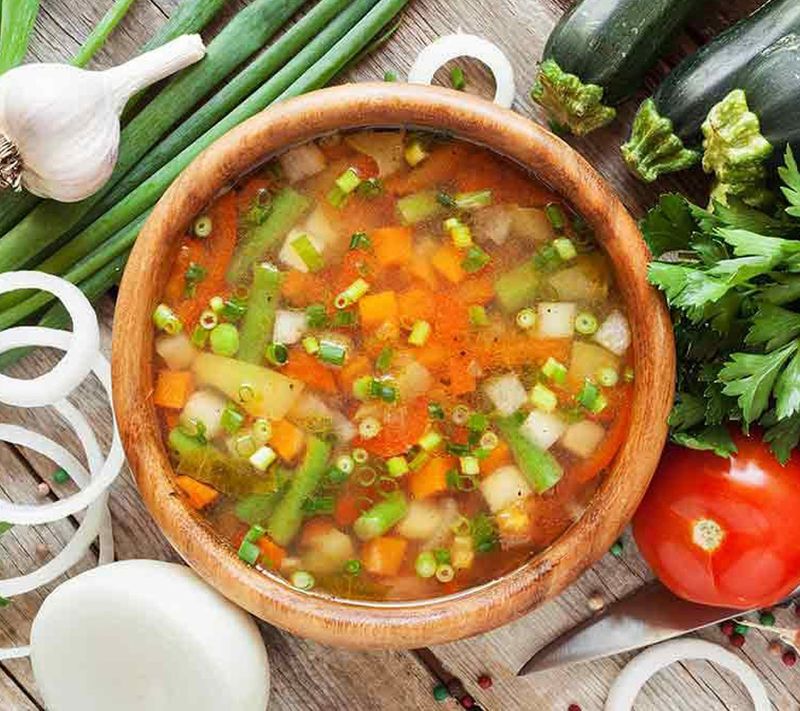 Looking for a soup that is warm and hearty? This vegetable and oats soup is just the one. Apart from being uber delicious it is packed with all the fibre, vitamins, minerals and antioxidants from oats. The vegetables add a rich, savoury flavour. You're going to want to eat this one straight out of the pot.
Ingredients:
1. ½ cup oats
2. ½ cup onion chopped fine
3. 3 stalks of celery chopped fine
4. 1 cup fresh peas
5. 1 cup fresh beans chopped fine
6. ½ teaspoon fired cumin powdered
7. Salt to taste
Method:
Wash the onions and celery thoroughly. Finely chop all the vegetables in the same size. Peel the fresh peas and add to these vegetables.

Take a very large saucepan and put all the vegetables into it with six to seven cups of water and cook for about 30 minutes.

Now add the oats and cook for about 10 minutes. Add salt and when serving; dress it with freshly roasted and powdered cumin.
Recipe courtesy: Gita Ramesh, plant-based nutritionist and joint managing director at Kairali Ayurvedic Group
3. Pumpkin and lemongrass soup 
This velvety soup is comfort food at its finest. It's perfect for a special occasion, and equally easy to make. "Besides being packed with vitamins and minerals, pumpkin is also relatively low in calories. Lemongrass is a natural antiseptic and is very refreshing and balances the earthy warm flavours of pumpkin along with spicy ginger beautifully," says Kamini Patel. The roasted pumpkin seeds on top takes this soup to the next level.
Ingredients
1. 10 ml vegetable oil
2. 5 gm ginger, roughly chopped
3. 10 gm garlic, roughly chopped
4. 4-5 stalks coriander stalks (no leaf) 
5. 5-7 stalks Indian lemongrass stalks
6. 150 ml stock
7. 300 ml water
8. 250 gm pumpkin, cubed bite sized
9. 1 tsp salt
10. 4-5 leaves fresh basil
11. 1 tsp red chili flakes
Pumpkin seed garnish:
1. 1 tbsp pumpkin seeds
2. 1 tsp sesame seeds
3. ½ tsp coconut oil
4. pinch of sugar
5. pinch of sea salt
6. pinch of red chili flakes
Instructions
Tie the lemongrass on a food-safe string and set aside.

Tie the coriander stalks in another string and set aside.

Heat the vegetable oil on low flame with ginger and garlic, until fragrant and golden.

Add the pumpkin, red chili flakes and stir to coat the pieces.

Add the vegetable stock and water, along with the tied stalks, leaving the end of the strings hanging out.

Cover the pot and simmer for 25-35 minutes, stirring occasionally. At 15 minutes, add the basil and continue cooking. 

Once pumpkin cubes are cooked through switch off heat, remove the infusion strings and basil.

Allow to cool before blending.

Serve warm with garnish as below.
Garnish:
Coat the pumpkin seeds with the ingredients, lay out on baking sheet tray. Bake for 10-12 minutes.

Remove and let cool. Sprinkle on top of the soup, just before serving with some extra virgin olive oil drizzle
Recipe courtesy: Kamini Patel, Recipe Curator and Brand Director, Aramness
4. Red bell pepper soup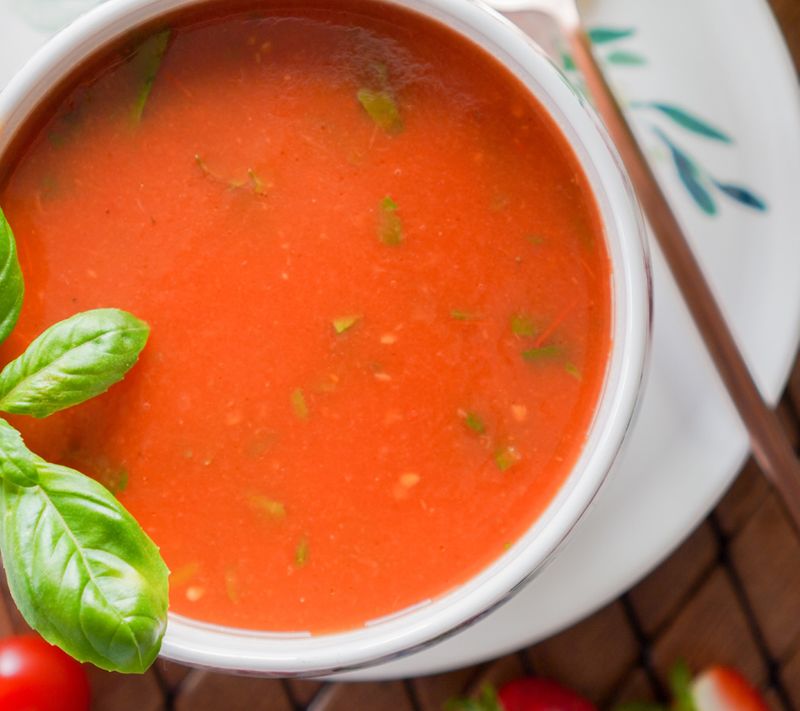 This soup packs in a huge amount of flavour from the bell peppers. Along with that, the subtle sweetness of the tomatoes is perfect for a rainy day. "Red bell pepper is an excellent source of Vitamin A and C. And the soup gets healthier when we add tomatoes, which are also packed with antioxidants, vitamin C and beta-carotene. All this reduces oxidative stress that can take a toll on our immunity. A sprinkling of black pepper adds warmth," explains Shah.
Ingredients:
1. 1 red bell pepper large 
2. 2 tomatoes 
3. 1 onion
4. 2 garlic flakes
5. 2 teaspoon ghee
6. 2 teaspoon almond flour
7. Some curry leaves
8. ½ teaspoon black pepper powder
9. Pink salt as needed
Instructions:
To start with, cut tomato into four and deseed. Cube onion and red bell pepper (deseed) roughly.

Heat a small cooker with ghee. Add garlic, onion, tomato, red bell pepper, curry leaves and a pinch of pink salt.

Saute for a minute and add 1 to 1 & ½ cups of water.

Pressure cook for two whistles. Open the cooker once steam vents naturally and take out the tomato skin and discard.

Cool the ingredients and puree in a mixer. Adjust water consistency. 

Continue heating and add almond flour dissolved in a tablespoon of water, pink salt and mix well.

Once the soup starts to boil and desired consistency is reached, switch off the stove and season with black pepper.

Soup is ready. Serve hot.
Recipe courtesy: Shweta Shah, Nutritionist and Founder of EatFit24/7
5. Creamy potato soup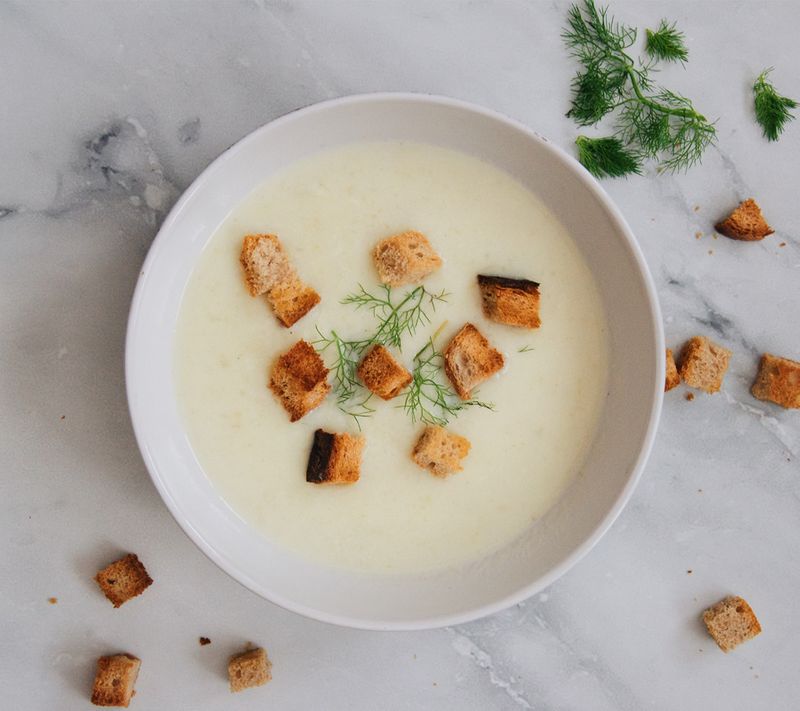 A luscious potato soup can be a source of great comfort on a bleak rainy day. What's more reassuring is that it is filled with good-for-you ingredients. Potatoes are rich in potassium and vitamin C while the white beans in the soup add a boost of plant-based protein.
Ingredients
1. 6-7 potatoes
2. 1½ cups cooked white beans, drained and rinsed
3. 1 large white onion, chopped
4. 3 tablespoons extra-virgin olive oil
5. ½ teaspoon sea salt
6. 4 garlic cloves, chopped
7. 4 cups vegetable broth
8. 1 tablespoon fresh lemon juice
9. ¼ teaspoon smoked paprika
10. Some freshly ground black pepper
Instructions
Stir fry garlic cloves and onion in a pan.
Blend boiled potatoes and white beans along with the stir fried garlic cloves and onion.
Add the blend to the pan along with olive oil and let it cool.
Eventually add the vegetable broth along with black pepper, paprika and sea salt.
Lastly add the fresh lemon juice and serve hot.
Recipe courtesy: Pooja Rajpal, Certified Dietitian
 
---
Photo: Shutterstock