Anyone who has experienced Christmas in Kolkata can give you a million reasons why it's special.  The perfect weather, dazzling illuminations, fetes and picnics, concerts and carnivals and the collective spirit of festivity turns this tropical metro into a winter wonderland. Of course, most of the Christmas celebrations in the city (as celebrations are meant to be) is around food. Thick slabs of spicy plum cake from one of the city's legendary bakeries, homemade ginger wine off the streets of Bow Barracks or opulent Christmas brunches at the city's colonial-era clubs – food is central to Christmas in Kolkata. Of course, now-a-days restaurants across the city serve up plush brunches on Christmas day, jazzing things up with free-flowing alcohol, live music and surprise games.  
Here are a few places in the city of joy serving up exciting and extravagant brunches on Christmas day this year.  
1. The Salt House  
Hearty soups, warm tarts, seafood and meats, lots of cheese and decadent sweet treats – the winter menu at The Salt House Kolkata is laden with holiday cheers. Drop in for a leisurely Christmas brunch, ideally on their alfresco courtyard, a few cocktails and live music by Alpha State. Start off with a pot of classic fondue served with a sprightly assortment of accompaniments – herb-laced baby potatoes, toasted focaccia, garlicky sweet potatoes and more or a warming bowl of edamame and cream cheese stuffed tortellini in a flavourful miso broth, three cheese.  
For mains there's ravioli stuffed with mascarpone, cream cheese and Emmental or spiced crab, crab cakes, savoury tarts filled with a creamy mouse of avocado, feta cheese and a hint of spices, and a deep-fried chicken and ham roll-up with a crisp crust served on a bed of mash in a pool of celery jus.  
For desserts, opt for strawberry and almond tart and crusty cannoli with exciting fillings that combine flavours – a muddle of ricotta and coconut jazzed with fragrant nolen gur, sweet and tart strawberry cream studded with chunks of fresh strawberries and luxurious bits of dark chocolate. Wash it all down with mulled wine, or perhaps a (or numerous) nolen gur Old Fashioned.  
Address:  Shakespeare Point, 6th floor, 40, Shakespeare Sarani Road, Kolkata 700017 
2. Refinery 091 
The brewery cum gastropub in Sector V Salt Lake has rolled out a massive menu for their buffet Christmas Brunch. The globe-trotting menu features everything from hand-rolled sushi and canapes to Asian broths and stuffed baguettes, the quintessential Christmas Roast – turkey or chicken—with herby dried fruits and nuts stuffing. Christmas Salad comes dressed in citrus champagne vinaigrette and seasonal fruits-laden cornflakes bowl topped with Champagne. At the dessert counter, look for the mini mince pies drizzled with brandy sauce. Besides, there's a special liquor menu to accompany the spread.  
Address: Street Number 17, EP Block, Sector V, Kolkata 700091 
3. The Astor Hotel 
The Christmas brunch menu at The Astor is a quirky mix of the familiar and funky. Astor has always served up some of the best kebabs in the city. The Christmas brunch menu has a few exciting delicacies such as the Sulemani duet seekh kebab, and mutton kaleji kebabs,  nuts-enriched tikkas made with mushrooms and capsicum, and the seasonal corn and green pea seekh kababs. 
The live Momo station on the other hand has a funky number like Nepali butter chicken momo, or one stuffed with a cheese-laden mix of paneer and khoya or a mix of mushrooms and kimchi, Kerala-style grilled fish gets a drizzle of ranch and the caramel custard gets a Bengali accent with their Bhapa Custard. Besides, there's traditional roast turkey served with roast jus and cranberry sauce, Astor's signature plum cake, sinful chocolate mousse and Yule log.   
Address: 15, Shakespeare Sarani Road, Kolkata 700071  
4. Kava, Fairfield by Marriott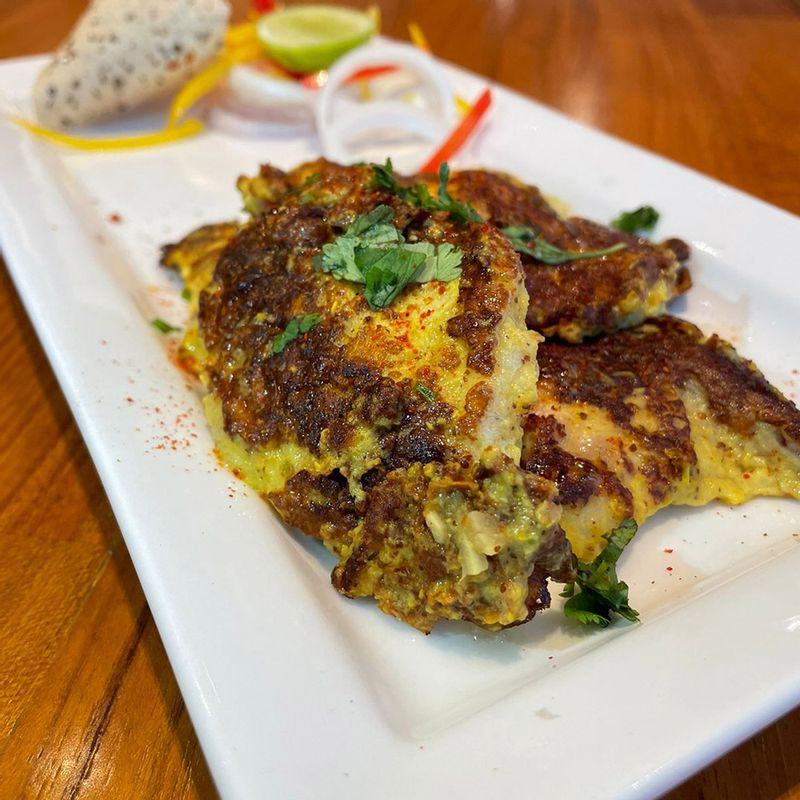 Kava, the swanky all-day diner at Fairfield by Marriott, Kolkata is serving up a crisp menu featuring a mix of global and Indian classics for Christmas brunch, this year. There's everything from comforting cheese rissoles and fish gravlax, a Nordic dish of cured fish, to Chicken Tehri and Shikampuri kababs, besides the quintessential roast chicken with the works. The dessert selection is particularly Christmas with everything from Christmas classics like Stollen and Dundee cake and plum cake to delicate Orange chiffon and a boozy rum and raisin cake.  
Address: Hotel Fairfield by Marriott Rajajinagar, 59th C Cross 4th M Block, Dr Rajkumar Rd, Rajaji Nagar, Bengaluru, Karnataka 560010
5. Nori, Westin  
Nori – the modern Asian restaurant at Westin in Rajarhat – is cranking up the luxury quotient with a Champagne Brunch for Christmas. From dedicated maki roll and bao bars to live robata grill station, and an eclectic Pan Asian menu. The menu, a departure from the usual Christmas fair, features dishes from across Asia—Vietnamese rainbow egg salad and Malaysian lamb broth to Singapore style prawns and quintessential Thai curries. Opt for the pears poached in mirin and topped with feta crumble and spicy or som tam salad made with bamboo shoots and artichoke hearts. Add live music, some bubbly or a few cups of sake to the mix, and your Christmas celebration is sorted. 
Address: Westin Kolkata, Plot No. Cbd/2 Action Area - Ii, New Town, Rajarhat, Kolkata 700156 
6. Capella – Altair 
The highlight of the X-mas Turkey Brunch at Capella, the sky bar at AltAir Boutique Hotel in Sector V Salt Lake is perhaps the roast station. In addition to the traditional roast turkey served with giblet and cranberry glaze, there is quite an assortment of roasts and grills to pick from – mini chicken steaks paired with chimichurri, honey-glazed pork sausages, kingfish steaks with garlic butter, etc. Other options include Israeli shakshouka, Croque Monsieur and Litchi cream cheese tikka. For desserts, the bread and butter pudding with charred peach segments or the five-spice rum balls look particularly exciting. Besides, there's a range of premium liquor and cocktails to add a little 'tipsy' to the 'turkey'.  
Address: AltAir Boutique Hotel, 19 EcoCentre Ambuja Neotia 4, EM Block, Sector V, Kolkata, 700091 
7. Paprika Gourmet
For those who want to spend Christmas in the comfort of their homes and yet indulge in a luxurious gourmet brunch, this gourmet catering outfit has on offer specially-curated Christmas platters by Paprika Gourmet, delivered to your doorstep. 
Their Fondue Platter comes with a luxe array of assortments—Hasselback potatoes, podi laced mushrooms, charcoal baguette, potato and cheese stuffed buns and zaatar labneh pie. Or you could go for The Raclette Platter (a Swiss delicacy of melted cheese scraps) which comes with a Raclette machine and a host of vegetables. For kids, the Gingerbread house, complete with edible Christmas tree, parts of Gingerbread House, different flavours of icing, marshmallows, cookies and more is the perfect Christmas treat.  
For Delivery: Call on + 91 9007022678/79/80 or order via Swiggy or Zomato
---
Photo: Banner: picjumbo.com from Pexels | Inside: Featured Restaurants