It was the British who bequeathed Calcutta the love for Christmas. They also set the tone for how the city celebrates the season. Walking under the dazzling Christmas lights on Park Street, meeting friends at the St Paul's Cathedral just in time for the midnight mass, colourful fetes and carnivals, roaring Christmas parties and old-school picnics on Maidan grounds—Kolkata has its own special Yuletide rituals and traditions.
And some of the city's fondest Christmas traditions are around food—for what can bring out the Christmas spirit more than Christmas treats such as a slice of dense, dark plum cake fragrant with spices and rum.
Yuletide galas of Chowringhee
Back in the day, it was Chowringhee that was at the heart of the Christmas celebrations, even culinarily—Christmas cakes from the legendary Firpos Restaurant where British Calcutta's crème de la crème dined, festive treats at Federico Peliti's swish confectionery, and the grand Christmas celebrations at The Great Eastern Hotel.
On Christmas 1882, The Statesman, Kolkata's preferred English daily newspaper of the time, described Christmas Eve celebrations at The Great Eastern Hotel: "In the inner portion of the large centre hall were arrayed buffets, with cakes and confectionery equally good in flavour and attractiveness, while the monster cake, which weighed about two hundred weights-and-a-half, stood out in bold relief."
Christmas treats at New Market
For the Anglo-Indian community in Calcutta, as also many of those who lived outside the city, Christmas shopping was synonymous with New Market. In her essay Life in Allahabad: The Anglo-Indian Port Trust, author Esther Lyons writes how the Anglo-Indians in the Railways in Allahabad, would visit Calcutta to shop at New Market before Christmas. The author's Uncle D'Cunha "used to bring home Calcutta-style barley sugar and Hunter's Beef spiced beef cured and pickled in saltpetre" from his Christmas trips to Calcutta.
Cured meat is still a Christmas essential. Until last Christmas, people in the city headed to Free School Street (now Mirza Ghalib Street) to queue up at the decades-old Kalman Cold Storage to buy salted beef, honey-glazed ham and meatloaf for their Christmas table. Kalman's Christmas specials also included whole roasted turkey or duck. But the place which was opened in the 1940s by Hungarian trapeze artists, shut shop a few days after Christmas last year, leaving its loyal patrons in an emotional lurch.
New Market, however, continues to be a Christmas shopping hotspot, and not just among Anglo Indians. People come from all over. On offer is everything from Christmas tree decorations and fairy lights, clothes and shoes to candles and baubles, baking supplies and candy bars, Santa suits and even pretty Christmas themed paper napkins.
For many though New Market's chief attraction is Nahoum's. The spicy mince pies laden with rum-soaked raisins and apples and Christmas pudding from the 117-year-old Jewish bakery are Christmas essentials for many a Calcuttawallah, be it a Christian Anglo Indian or a Bengali Hindu. One could say these were tokens of the city's syncretic and cosmopolitan ethos. The Goan-owned Saldanha bakery too has its staunch bloc of loyalists; their old-fashioned fruit cakes or walnut cakes (a personal favourite) are must picks.
Tea and plum cake at Park Street
The plum cakes from Park Street's illustrious tea room, are equally popular. The dense, spicy plum cakes, chockful with dried fruits and nuts, soaked in a concoction of rum, brandy, whisky and orange juice for over six months, is one of the highlights of Calcutta Christmas. Nowadays, five-star hotels and swish confectioneries like Flurys host cake-mixing ceremonies a few weeks before Christmas, usher in the yuletide spirit.
But sometimes all you need are homely, no-frills fruit cakes and tea cakes studded with chunks of petha (candied ash gourd) and glazed Karamcha (Calcutta cherries) made by small local bakeries in the city. In fact, these unassuming bakeries, most of them Muslim-owned, work overtime during the week leading up to Christmas.
Many Christian families (but not only) in the city bring the ingredients for their Christmas cake—flour, sugar, butter, and candied fruits and nuts, and sometimes bottles of rum too—to get their Christmas cakes baked. Some even prepare the batter at home while others spend hours at the Bakery supervising their cakes. "This has been the practice among us Anglo Indians for a long time," says Tanya Robinson. "Baking a Christmas cake is a tradition, but not everyone has an oven at home," she adds, who gets her own cakes baked at a local bakery. "I hand my baker an extra bottle of rum so that my cakes are extra boozy," she adds.
Desi delights at Bow Barracks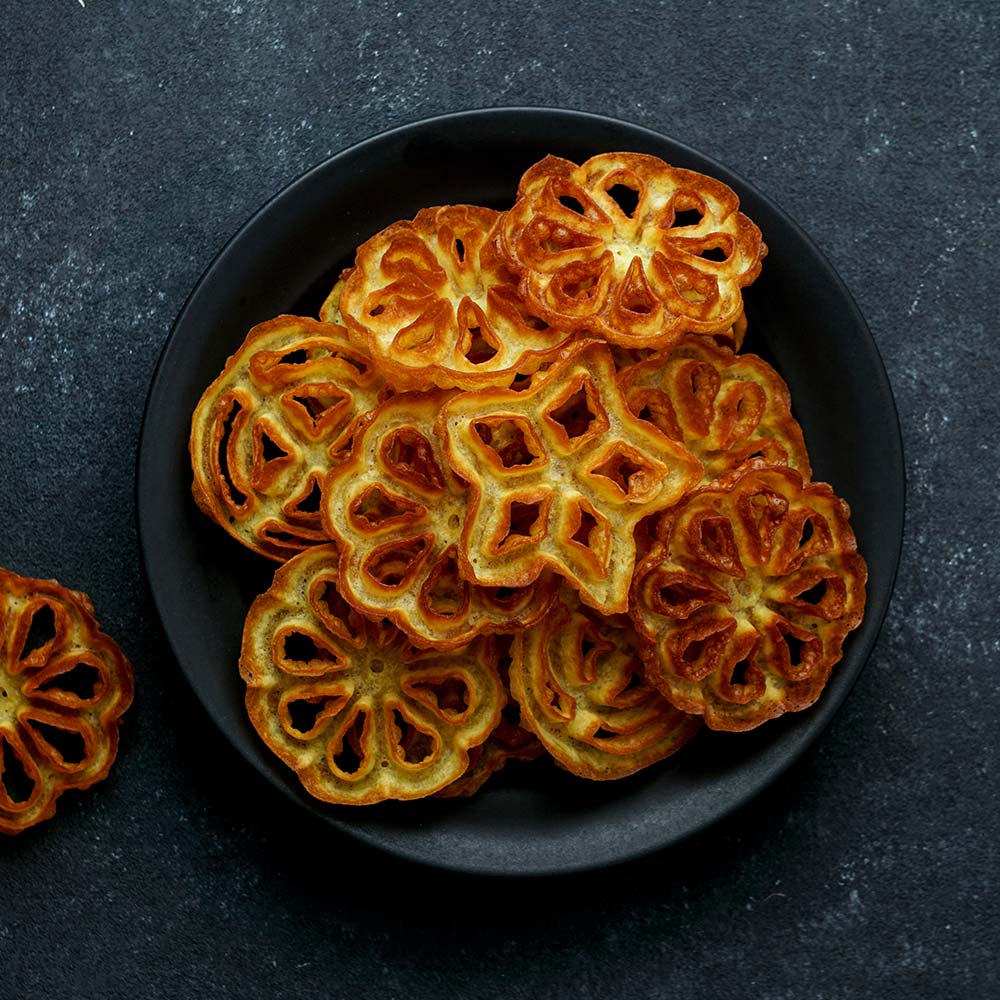 Christmas is also the time for kulkuls and rose cookies. "At one time every Anglo Indian household made these treats come Christmas," says Robinson, "nowadays you can buy these off shelves." One place to sample these typical Anglo India Christmas treats is at the Bow Barracks. One of the original hubs of the city's Anglo Indian community, Christmas in this Central Kolkata neighbourhood is celebrated with music, dancing and Christmas treats like homemade ginger wine. Pork vindaloo, Christmas cake and cookies sold out of stalls set up by residents of the Barracks. Stalls selling Christmas treats including Anglo Indian specialities are also set up at the Kolkata Christmas Festival on Park Street these days.
Christmas luncheon at The Bengal Club
But it's hardly Christmas without a grand Christmas luncheon or a dinner perhaps. Calcutta has served up some fabulous Christmas feasts in its time, since the times of the East India Company. The menu at the Governor General's Christmas dinner would feature everything from boar's head decorated with bay leaf, if not rosemary to roast turkey and Christmas pie.
In his 1867 book Yesterday and To-day in India, British writer Sidney Laman Blanchard writes about typical Calcutta Christmas dinner comprising "excellent" turkey, saddle of ham that came from England overland, roast beef, fowl and prawn curries, pilaf, "profuse pyramids of ortolan and quails".
The author however complains about the wine. Except for a glass of Sherry or Madeira, it was Champagne that ruled a Christmas party in Calcutta. The natives called it Simpkin after perhaps a legendary importer called Simpson, but more likely it was a corruption of the word. 
The old-world charms of a classic Christmas meal, perhaps evocative of the Raj, can be best savoured at one of the city's old clubs. The Bengal Club, for instance, served up a fantastic traditional Christmas lunch comprising dishes like a whole roasted turkey stuffed with prunes and chestnuts, lobster bisque and superlative Christmas pudding with Brandy butter sauce.
At the Royal Calcutta Golf Club, an army band performs at the Christmas lunch. However, to experience Christmas at the clubs, one must be a member or a friend of a member. Luckily nowadays five-star hotels and restaurants in town serve up fancy Christmas special buffets and luncheons that leave one spoilt for choice.
The best thing to do to put on your Santa hats and dig in.
Photo: Shutterstock